Pork shoulder and pork butt are tough cuts of meat that benefit from long, slow cooking times. In this recipe we utilize the Suvie slow cook setting to help break down the meat's muscle fiber, thereby producing tender, juicy pork. You can use either pork shoulder or pork butt in this recipe, however, pork butt will give richer and juicier results, due to the intramuscular fat that naturally exists in pork butt. (Pork butt, for the record, actually comes from the top part of a pig's shoulder and is nowhere near a pig's hindquarters). We're serving our carnitas tacos with raw, white onion, cilantro, queso fresco, and lime, but any number of toppings can be substituted. Avocado, pickled onion, and radish would also be delicious accompaniments. Note: we prefer Mexican oregano for this recipe, which has a citrus-like flavor that boosts the flavor of the orange in the marinade; however, standard oregano can also be used.
Carnitas Tacos
Please always check your food to ensure your food has been cooked to safe serving temperatures. Please see our guide
here
for recommended FDA Time & Temperatures.
Servings: 4-6
Difficulty: 9 hours 15 mintues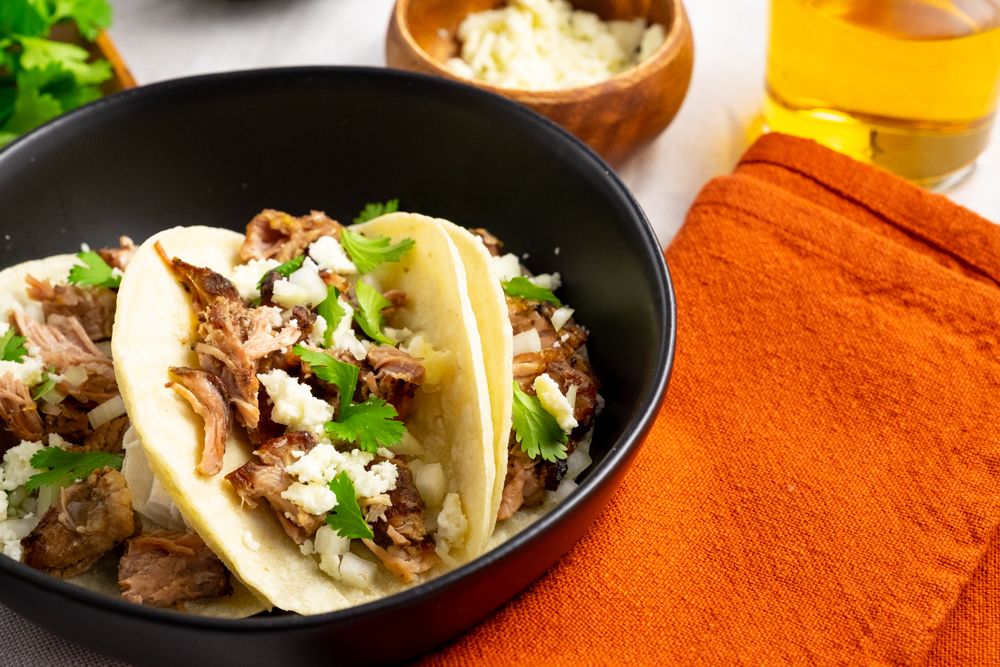 Ingredients
3 lbs pork shoulder or pork butt, cut into 2-inch cubes
2 cups chicken broth
juice from 1 orange, plus 2 (2-inch) strips of orange peel
1 medium yellow onion
2 tbsp brown sugar
4 garlic cloves, crushed
2 bay leaves
1 ½ tsp cumin
1 tbsp kosher salt, plus extra for seasoning
1 tsp oregano, preferably Mexican
8 (6-inch) corn tortillas
1 small bunch of cilantro
¼ cup queso fresco or feta cheese
ground black pepper
1 lime, cut into quarters
Directions
Roughly chop the onion and set aside ⅓ cup in the refrigerator for garnish. In a large bowl stir together the chicken broth, orange juice, orange peel, remaining chopped onion, brown sugar, garlic, bay leaves, cumin, kosher salt, and oregano.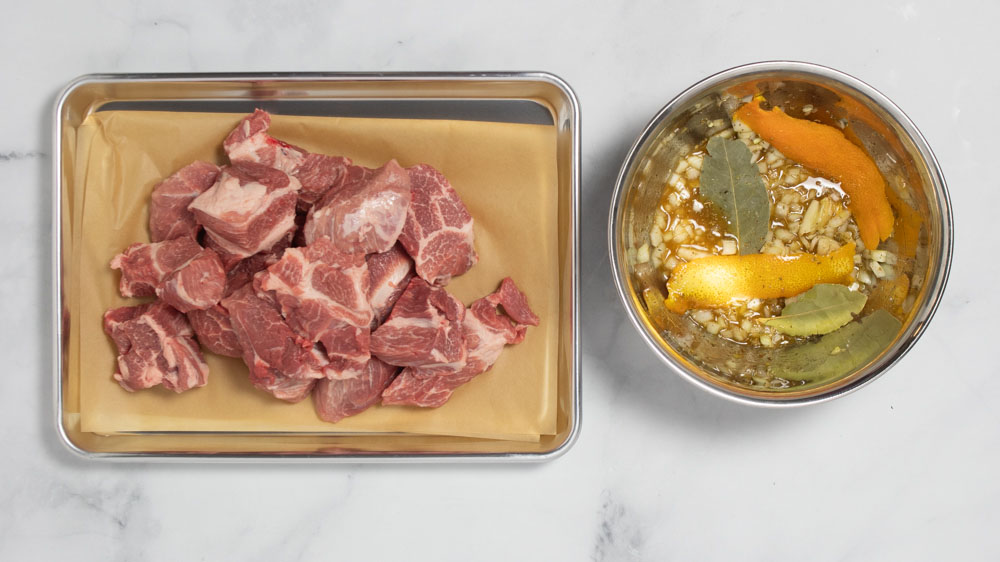 Add the pork to the marinade and stir to coat.
Divide the pork and marinade evenly between the protein and vegetable pans.
Insert pans into your Suvie, input settings, and cook now or schedule.
Suvie Cook Settings
Bottom Zone: Slow Cook Low for 8 hours
Stack tortillas on top of one another and wrap in aluminum foil. Once the pork has finished cooking, carefully remove the pans from your Suvie.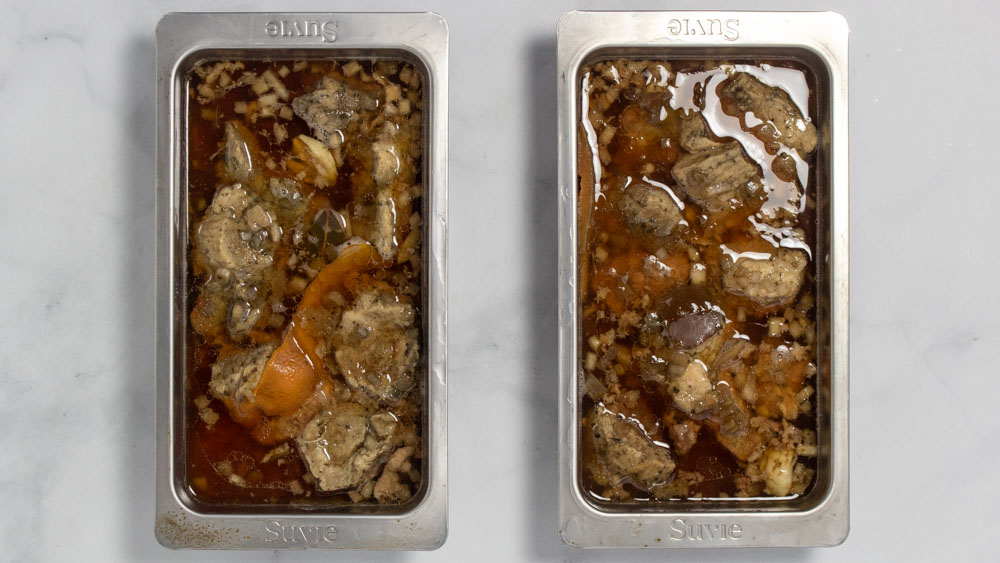 Place aluminum-wrapped tortillas into your Suvie. Drain the liquid and return both pans of pork to your Suvie and set to broil for 10 minutes. The liquid can be kept in the fridge and used for other recipes.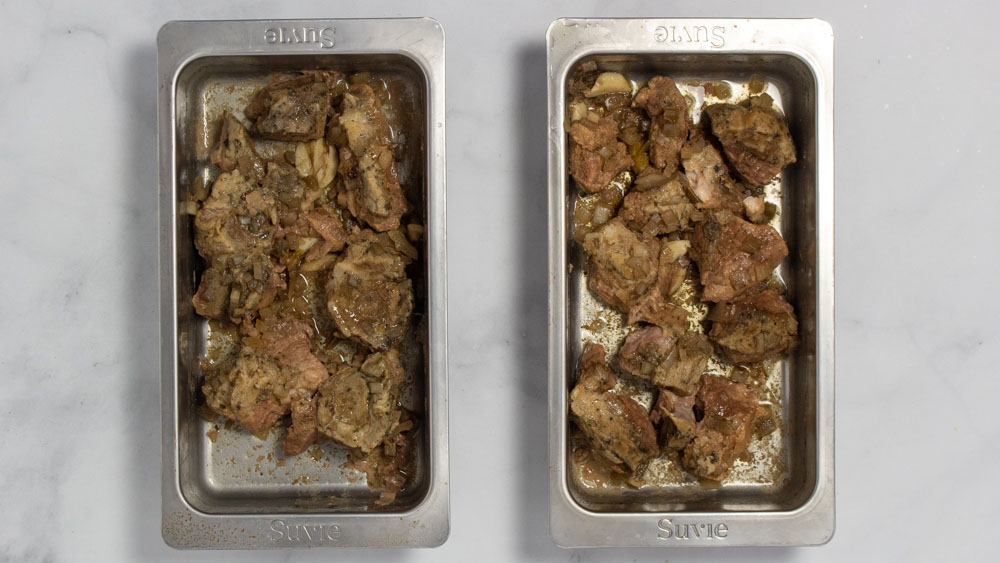 Once the pork has finished broiling, remove both pans of pork and transfer to a large bowl or cutting board.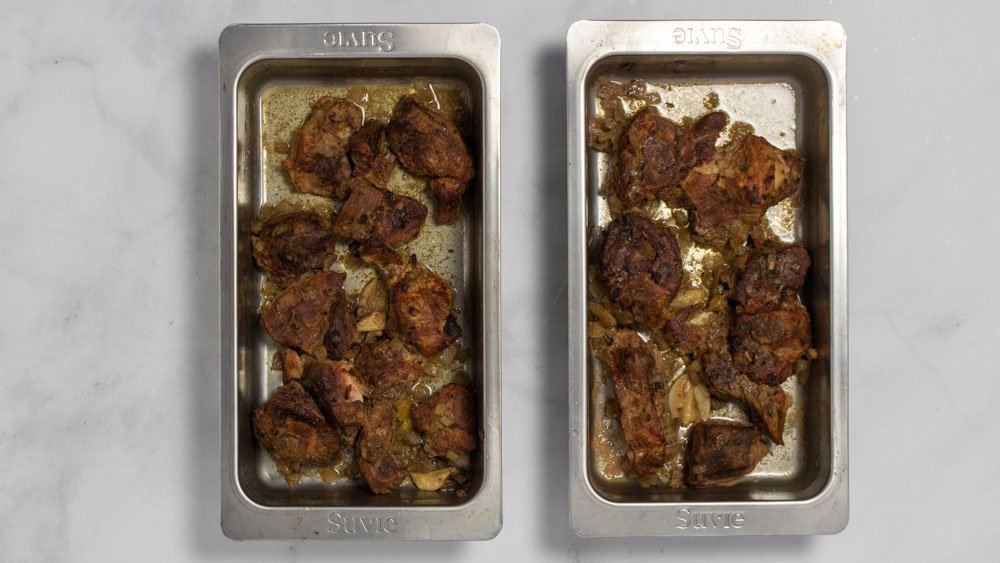 Roughly chop cilantro. Shred the pork with two forks and then season to taste with salt and pepper. Remove tortillas from your Suvie, unwrap, and divide evenly between 4 plates. Top each tortilla with pork and then garnish each serving with reserved raw onion, cilantro, queso fresco, and a squeeze of lime.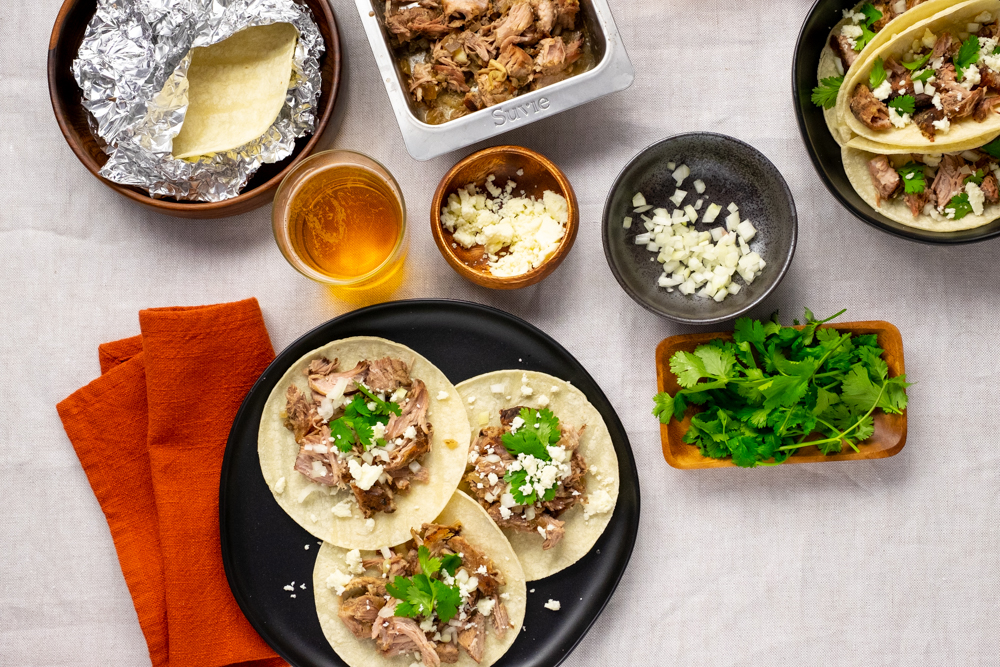 Note: If you would like to make this recipe in Suvie 1.0, insert pans into the top zones of Suvie, fill reservoir, and set to Slow Cook on Low for 8 hours.
Wine Pairing
The wonderful thing about pork is that it can be paired with a wide variety of wines. If your preference is white wines we recommend Sauvignon Blanc. The tart acidity of the Sauvignon will make the citrus notes of the carnitas really pop. If red wines are more your speed try a Cabernet Franc. The unusually high acidity of this wine makes it an ideal pairing for Mexican food. If you're struggling to choose between red and white wines try pairing this meal with a dry Rosé. Finally, for fans of bubbles, this meal will pair well with a glass of Spanish Cava.