Grain bowls are endlessly adaptable and modifiable and can be assembled with whatever ingredients you have on hand. We're using quinoa, green beans, and a few leafy greens, but you can use practically any vegetable and starch combination. All the components are cooked separately and then united under a blanket of tangy and sweet miso-tahini dressing. For added crunch, we finish our grain bowl with a sprinkling of pumpkin seeds, but feel free to substitute with any toasted nuts or seeds you have on hand.
Chicken Grain Bowls with Miso-Tahini Dressing
Please always check your food to ensure your food has been cooked to safe serving temperatures. Please see our guide
here
for recommended FDA Time & Temperatures.
Servings: 4
Difficulty: 2 hours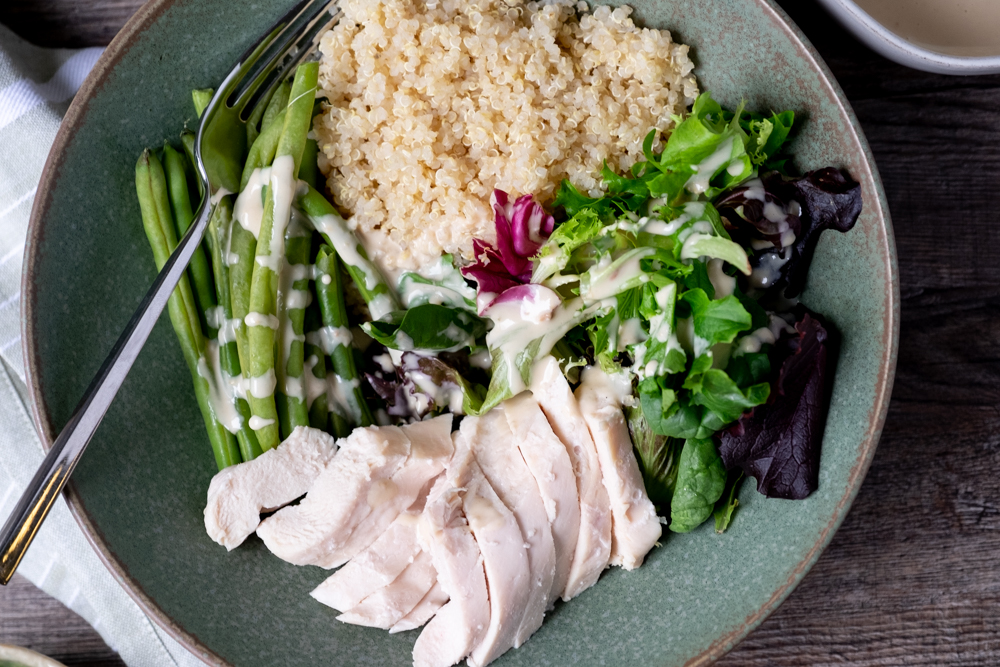 Ingredients
1 lb boneless, skinless chicken breasts
2 tbsp vegetable oil
12 oz green beans, trimmed
1 cup quinoa, rinsed
2 tbsp yellow or white miso paste
⅓ cup tahini
⅓ cup warm water
2 tbsp fresh lemon juice
4 cups leafy greens, such as baby kale, arugula, or mesclun mix
½ cup toasted, salted pumpkin seeds
Directions
1) Pat chicken dry and season liberally with salt and pepper. Vacuum seal chicken in a single layer with 2 tbsp vegetable oil. Place vacuum sealed bag in a Suvie pan, cover with water, and place in the bottom zone of Suvie.2) Pour 1/3 cup water into a second Suvie pan. Place Suvie roasting rack in the pan (handle-side down). Place green beans on the rack and then transfer to the top zone of Suvie. Input settings and cook now or schedule.
Suvie Cook Settings
Bottom Zone: Sous Vide at 150°F for 1 hourTop Zone: Steam for 15 minutes
2
) Place rinsed quinoa in the Suvie rice pot (black handles). Cover pot with lid and place inside the Suvie Starch Cooker, ensuring the pot is centered on the hot plate. Input settings and cook now or schedule.
Suvie Starch Cooker Settings
Grains, Quinoa, 1 cup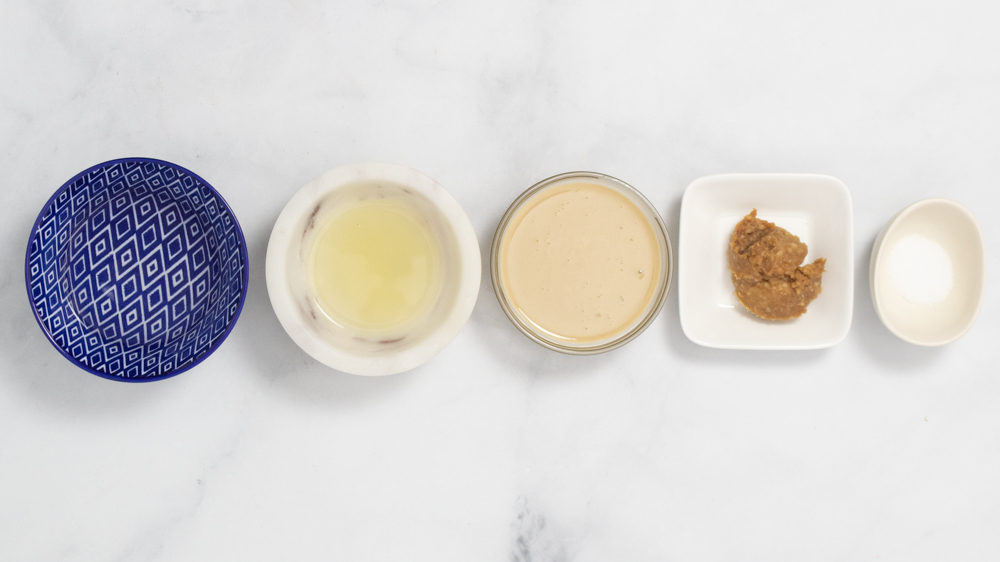 3) While the chicken cooks, prepare the dressing. Whisk together the miso, tahini, lemon juice, and warm water until smooth. Season dressing to taste with salt and pepper.
4) Once the chicken has finished cooking, remove pan from Suvie and pour off water. Remove chicken from bag, and discard any liquid in the bag. Transfer chicken to a cutting board. Cut chicken against the grain into ½"-thick pieces. Fluff quinoa with a fork. Season green beans and quinoa to taste with salt and pepper.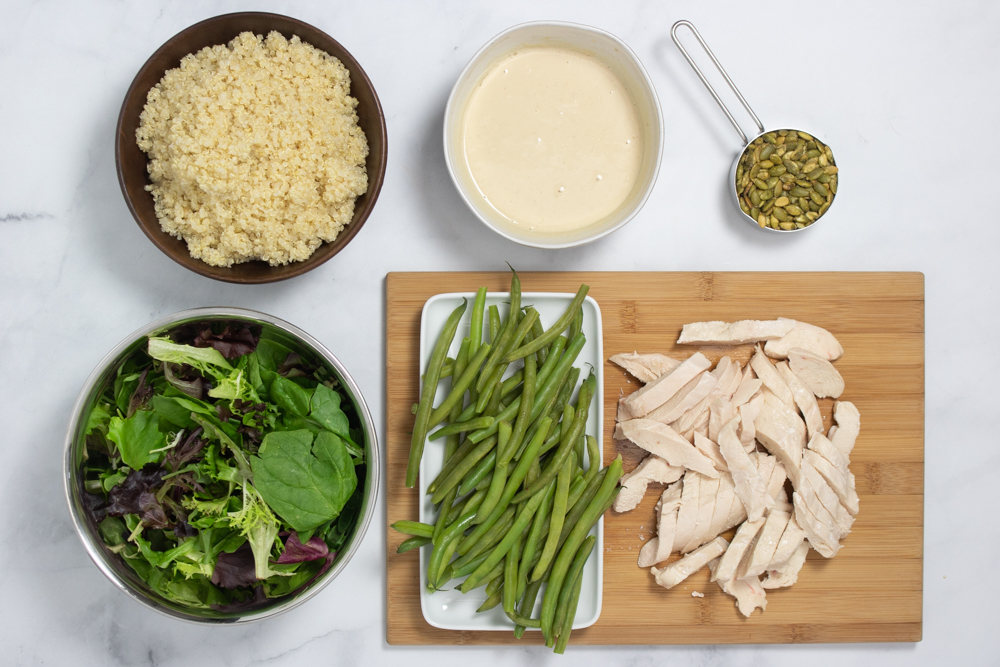 5) Working in quadrants, divide chicken, leafy greens, green beans, and quinoa between 4 large bowls. Drizzle bowls with miso-tahini dressing (you may need to whisk a teaspoon or two of warm water into the dressing if it has been sitting for a while to reincorporate) and garnish with a sprinkle of pumpkin seeds.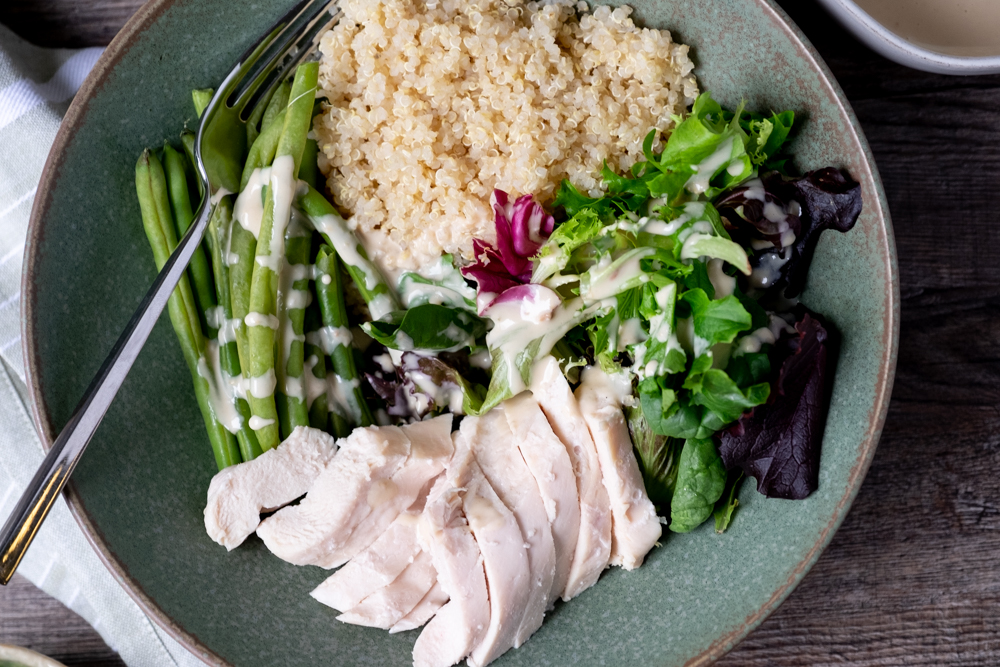 Wine Pairing
A good quality dry Riesling will pair well with the umami notes of the miso and is always a great companion to chicken dishes.