Traditional manicotti recipes call for rolled, homemade crepes instead of store-bought pasta. While homemade crepes stuffed with ricotta and topped with marinara sound delicious, we wanted a recipe that wouldn't take hours to make. Our version only takes about 15 minutes to assemble thanks to the uncooked manicotti tubes, which are a breeze to fill. The filling for the manicotti is a mixture of nutty parmesan, creamy ricotta, egg, and a little bit of water to thin it out. We cover the manicotti in marinara and then finish it with a bubbling layer of mozzarella cheese. With all that extra time on your hands you can easily double this recipe, just divide everything between two pans and cook them in the top of your Suvie!
My Cook: Manicotti
Servings: 2
Difficulty: 2 hours
Ingredients
4 oz manicotti, about 7 tubes
12 oz ricotta cheese
¼ cup water
1 large egg
2 oz parmesan cheese
2 cups (16 oz) marinara sauce
1 oz mozzarella cheese
Salt and pepper
Directions
In a large bowl, whisk together the ricotta, water, egg, parmesan cheese, ¼ tsp salt, and ½ tsp pepper.
Fill a ziplock bag or pastry bag with the ricotta mixture. If using a ziplock bag, cut off one bottom corner to make a hole about ½ an inch wide. If using a pastry bag, fit the bag with a ½" tip.
Fill each manicotti tube with the ricotta mixture and place in the bottom of a Suvie pan.
Cover the tubes evenly with marinara.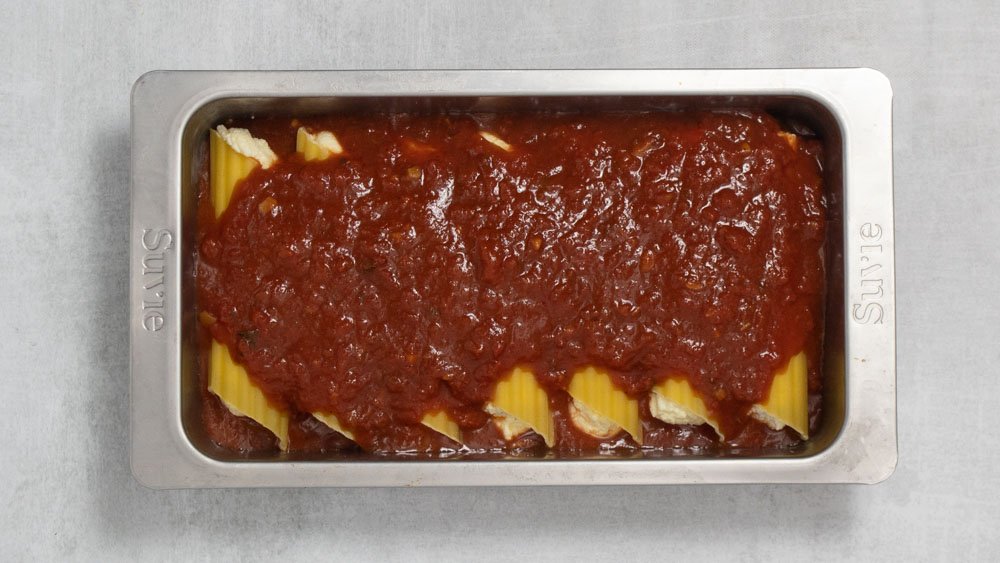 Sprinkle with mozzarella and place in one of the upper cooking zones. Enter the Slow Cook settings and set to cook.
Slow Cook Settings
Protein: LOW for 1 hour
Starch: 0 minutes
When the manicotti have finished cooking, broil for 5 minutes or until the cheese is bubbling and hot (watch carefully, as cheese may broil faster than 5 minutes).
Divide manicotti between 2 plates.
Wine Pairing
Bold reds with a good amount of acidity will pair beautifully with this dish. Sangiovese should fit the bill perfectly. This Italian wine will pair well with the tomato-based sauce without overwhelming the ricotta cheese.