Sirloin steak tips are an economical cut of beef that can be transformed into a five-star dish with a little attention and care. Sirloin steak tips often have a fair amount of intramuscular fat and do well when cooked to medium or medium-rare. Sous viding to 130°F and then finishing in a hot skillet or over a hot grill ensures the meat develops a tantalizing char on the outside while guaranteeing a perfectly cooked interior. Serve with your favorite sides. Looking for a BBQ sauce recipe? Our How-To Guide has three different types for any occasion.
New England BBQ Steak Tips
Please always check your food to ensure your food has been cooked to safe serving temperatures. Please see our guide
here
for recommended FDA Time & Temperatures.
Servings: 4
Difficulty: 2 hours and 15 minutes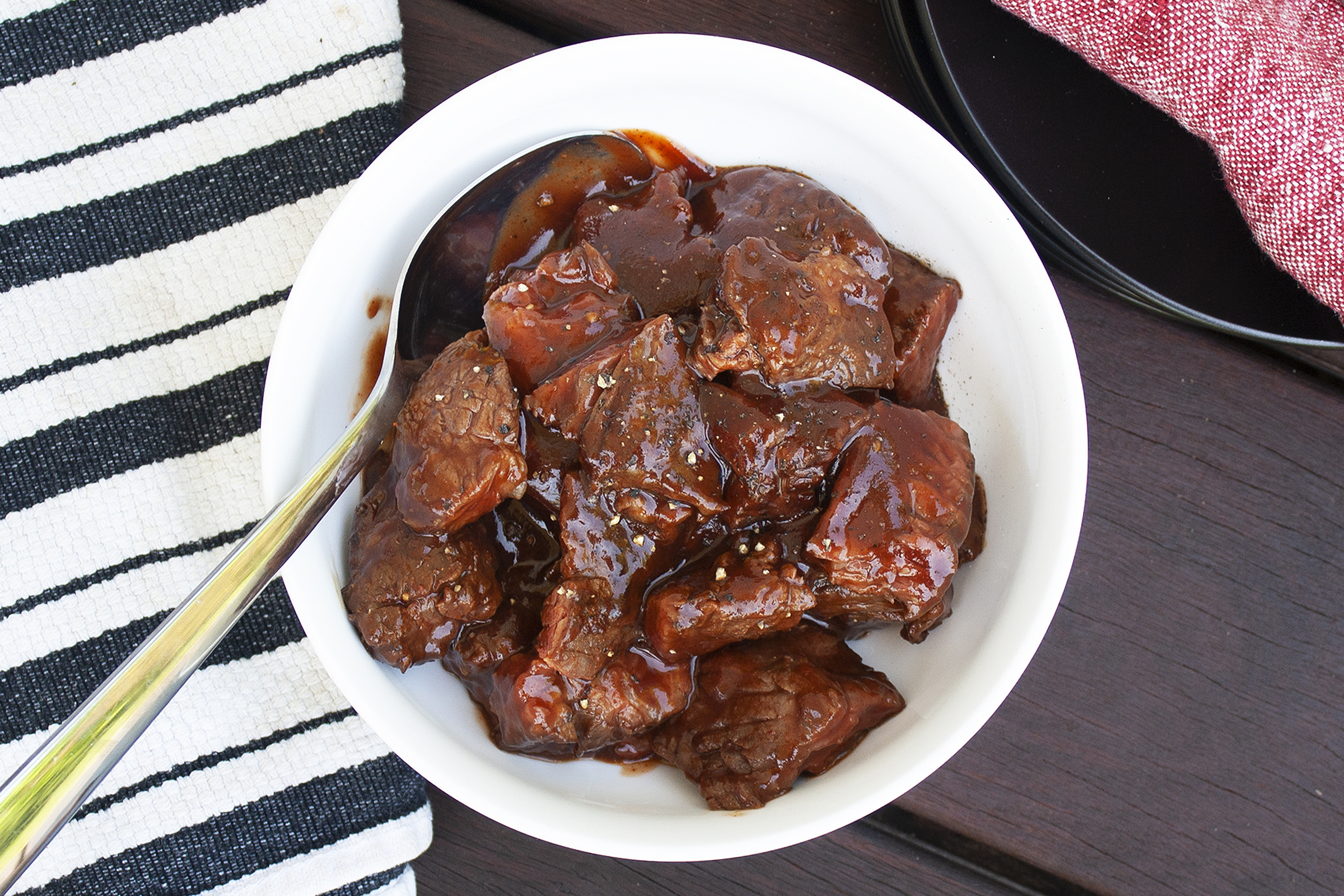 Ingredients
1 lb sirloin steak tips
2 tsp smoked paprika
2 tsp vegetable oil, plus extra for searing
⅓ cup bbq sauce
2 tbsp apple cider vinegar
Directions
1) Pat 1 lb steak tips dry. In a small bowl, stir together 2 tsp smoked paprika, 2 tsp vegetable oil, 1 tsp salt, and ½ tsp pepper.
2) Rub mixture all over steak tips, then vacuum seal.
3) Place steak tips in a Suvie pan, cover with water, and insert into the bottom zone of your Suvie. Input settings, and cook now or schedule.
Suvie Cook Settings
Bottom Zone: Sous Vide at 130°F for 1 hour
Top Zone: None
4) Once the steak tips have finished cooking, remove the pan from your Suvie and pour off the water. In a large bowl, stir together the BBQ sauce and apple cider vinegar.
5) Sear steak tips in a pan or on the grill. If using the grill, allow the grill to heat over high for 5 minutes then oil grates and sear steak tips for 1-2 minutes total, flipping meat constantly until browned. If searing indoors, preheat a cast-iron skillet with 1 tsp vegetable oil until smoking. Add steak tips and sear for 1-2 minutes, flipping meat constantly until browned.
6) Transfer seared steak tips to a cutting board and cut into 1-inch pieces.
7) Transfer steak tips to the bowl with the BBQ sauce, stirring to coat.
8) Season with salt and pepper to taste, transfer to a serving bowl, and serve.
Nutrition
Nutritional Information per serving (4 servings per recipe): Calories 240, Total Fat 9g, Total Carbohydrates 11g, Total Sodium 257mg, Total Protein 25g