This easy, weeknight recipe is a summery twist on the classic pairing of pork chops and apples. First, we sous vide the pork in our Suvie until perfectly cooked and juicy. Then, we sear the pork in a hot skillet to develop a deep crust on the exterior. Finally, we sear the peaches with shallot in the skillet to concentrate the fruit's sugar and absorb some of the meaty flavors left in the pan. Finishing the peaches and pork with grainy mustard and apple cider vinegar adds tanginess to contrast with the sweet fruit and savory chops.
Peaches and Pork Chops
Please always check your food to ensure your food has been cooked to safe serving temperatures. Please see our guide
here
for recommended FDA Time & Temperatures.
Servings: 2
Difficulty: 2 hours and 40 minutes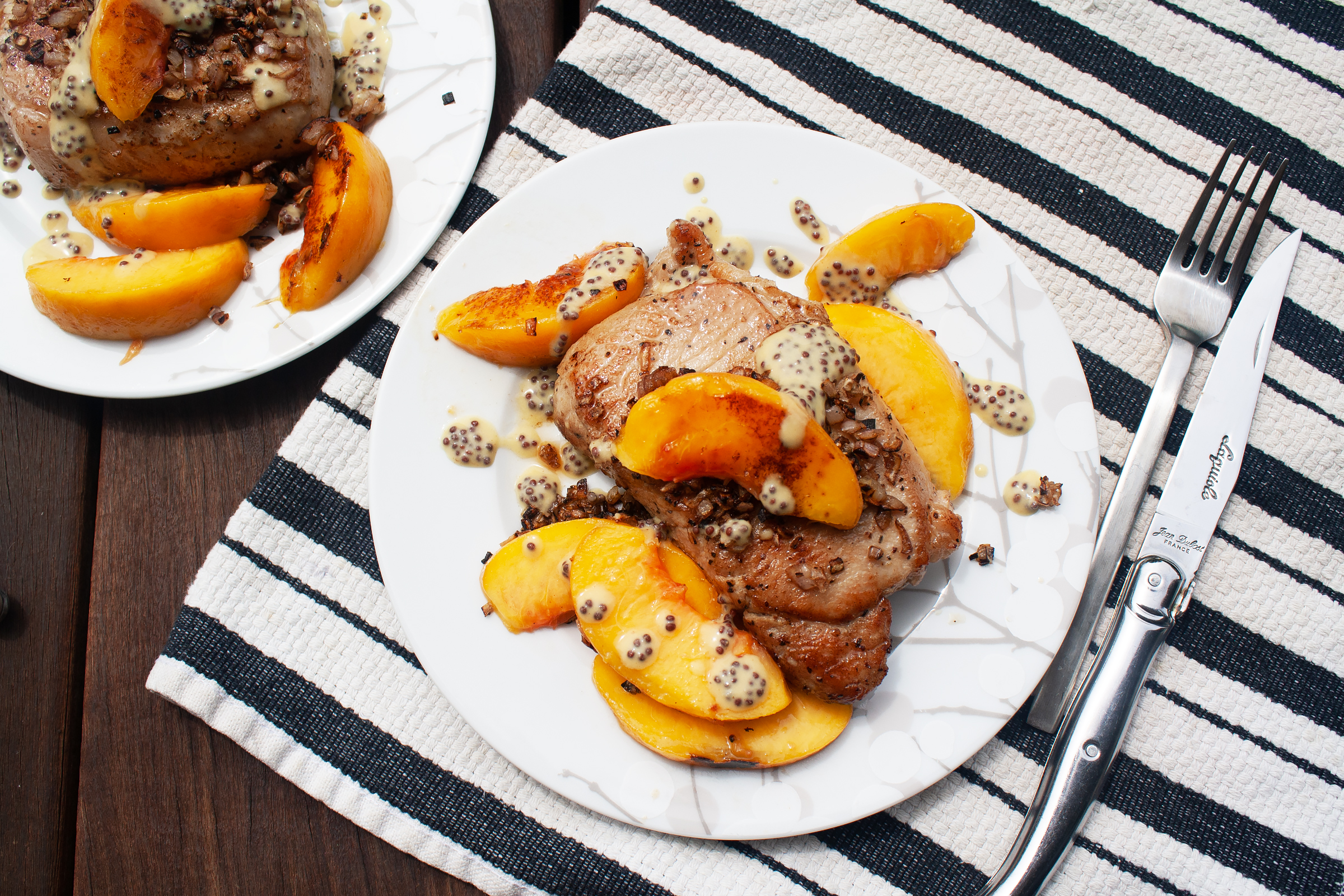 Ingredients
2 (7 oz) pork chops, vacuum sealed
1 tbsp grainy mustard
1 tsp red or cider vinegar
2 tsp vegetable oil
1 small shallot, finely chopped
2 ripe peaches
Directions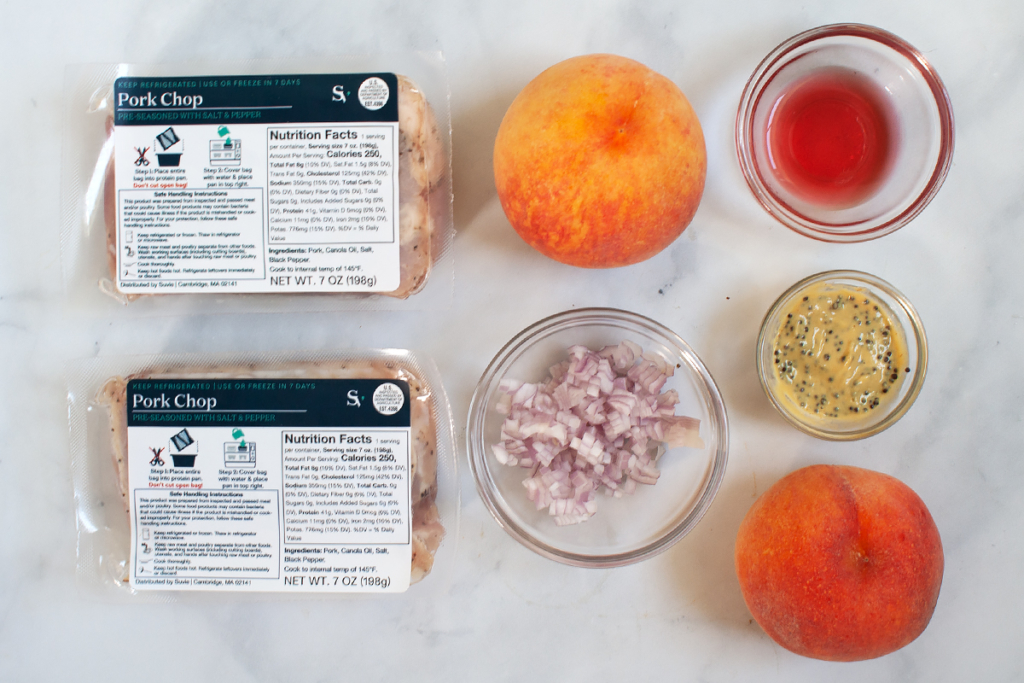 1) Place pork chops in a Suvie pan, and cover completely with water. Insert pan into the bottom zone of Suvie, input settings, and cook now or schedule.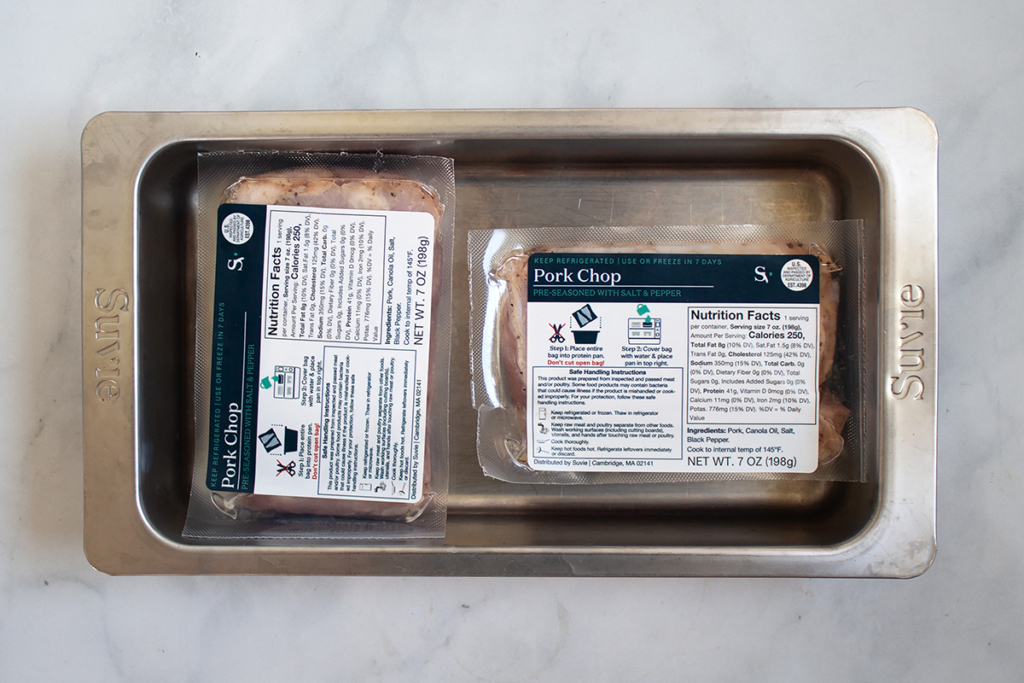 Suvie Cook Settings
Bottom Zone: Sous Vide at 135°F for 2 hours
Top Zone: None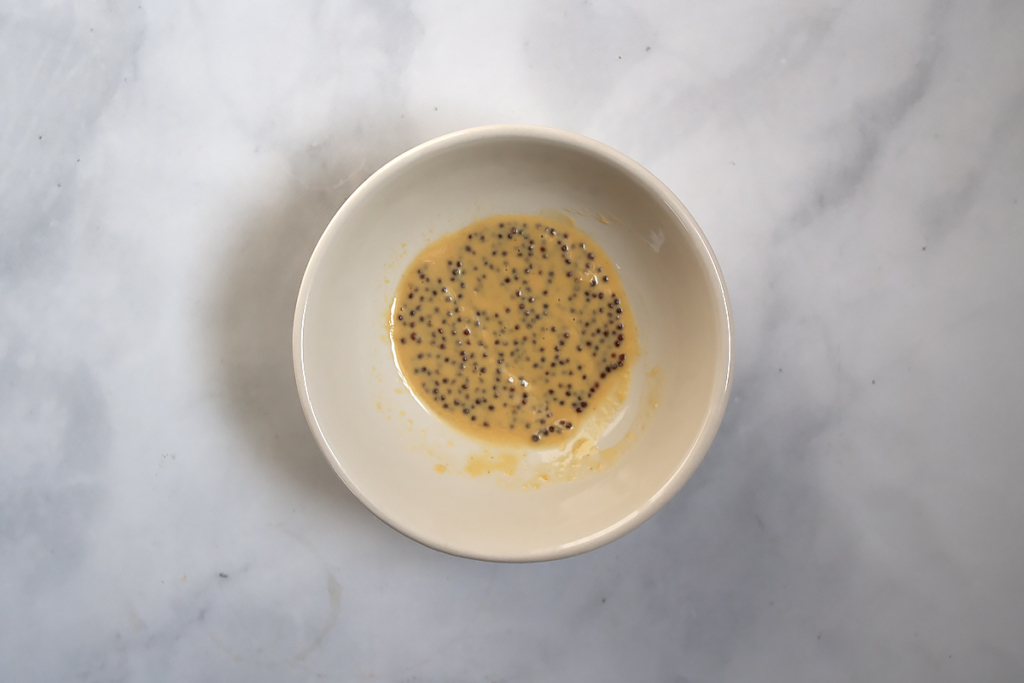 2) While the pork cooks, stir mustard and vinegar together in a small bowl.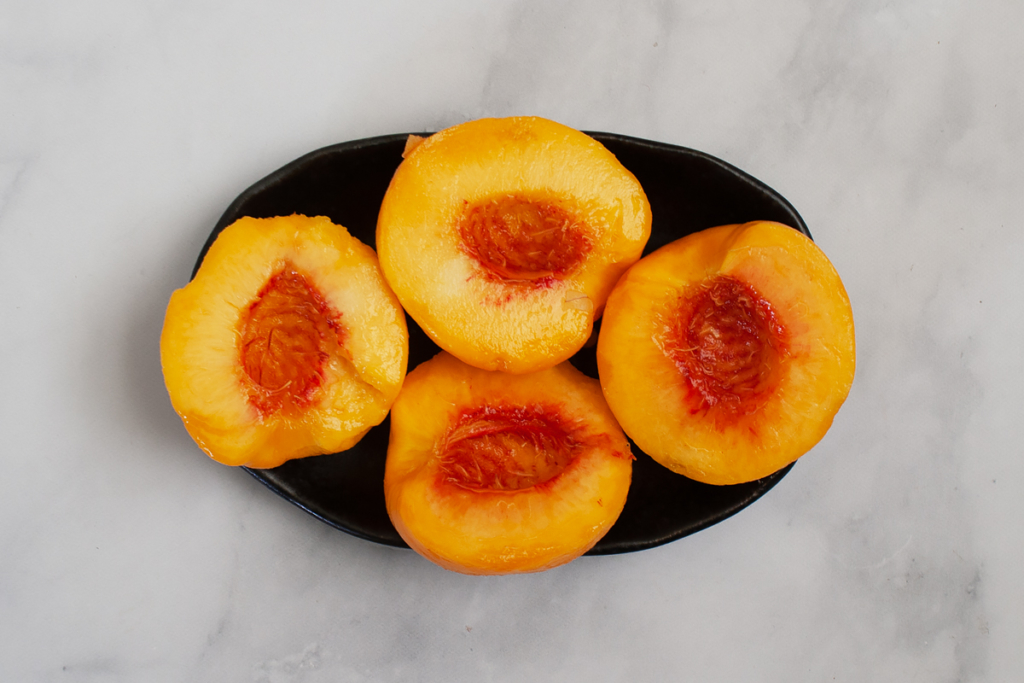 3) Just before the pork is done cooking, peel peaches, pit, and cut in half.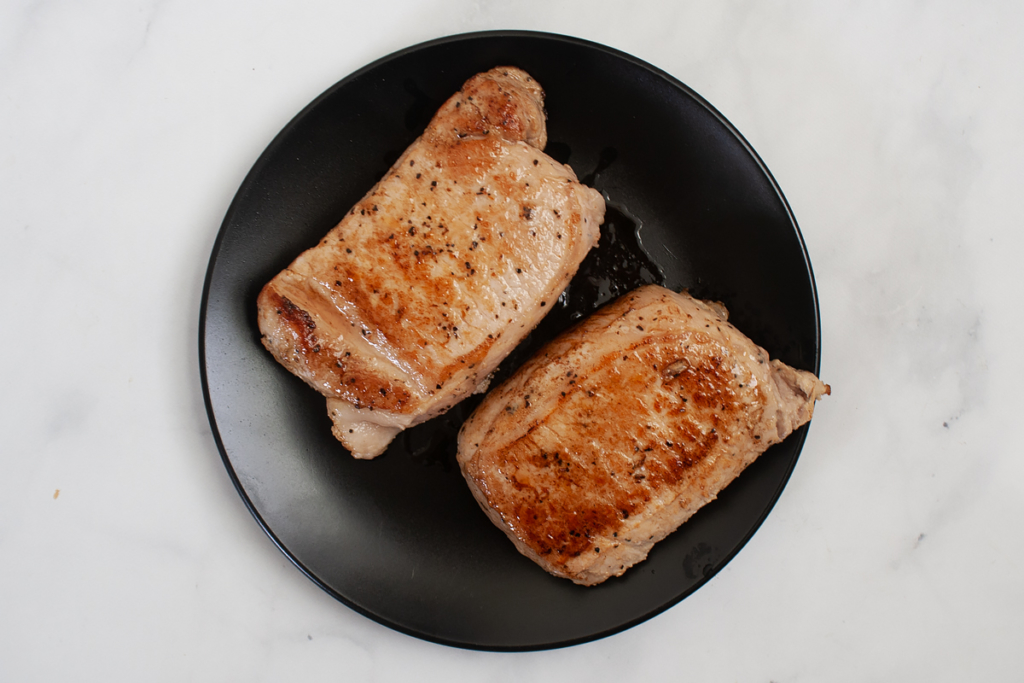 4) After the pork has finished cooking, remove from vacuum bags and pat dry thoroughly. Heat vegetable oil in a large cast iron skillet or heavy bottom pan over high heat until smoking. Add the pork chops and sear for 1 minute on each side until browned. Transfer pork chops to a cutting board, leaving oil in the pan.
5) Reduce heat to medium, add the shallots to the pan, and cook for 1 minute until softened, stirring frequently.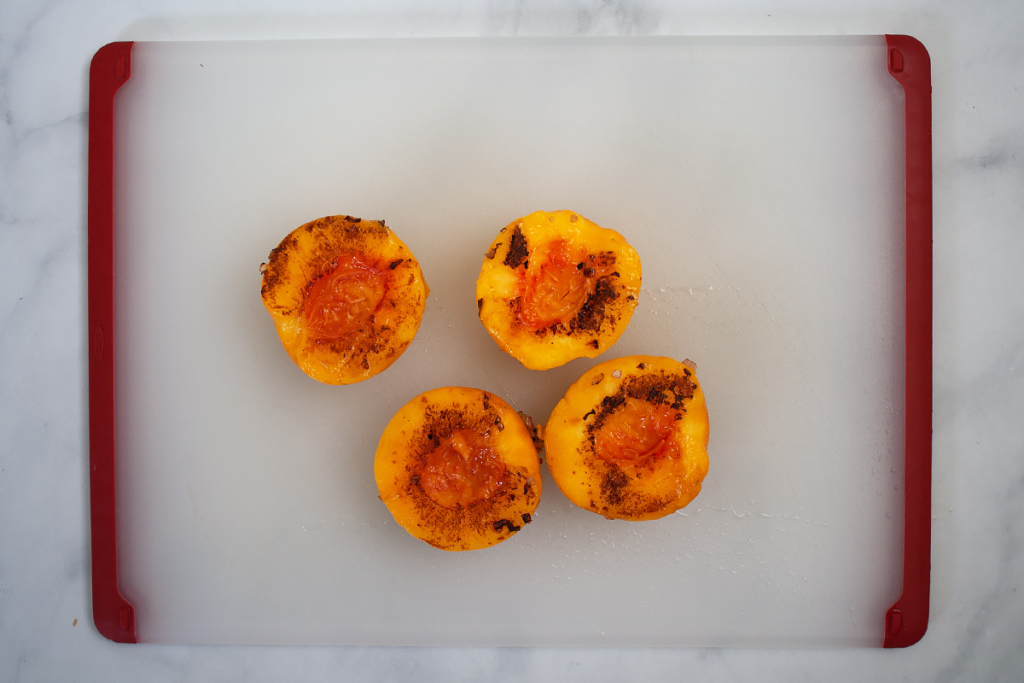 6) Using a spoon or spatula, push shallots to the edge of the pan and add the peaches, cut side down. Cook peaches for 1 minute, then flip and cook for an additional minute, or until both sides are browned. Transfer peaches to a cutting board, slice into wedges, and season lightly with salt.
7) Divide onions, pork chops, and peaches between plates. Drizzle reserved mustard dressing over each plate and serve.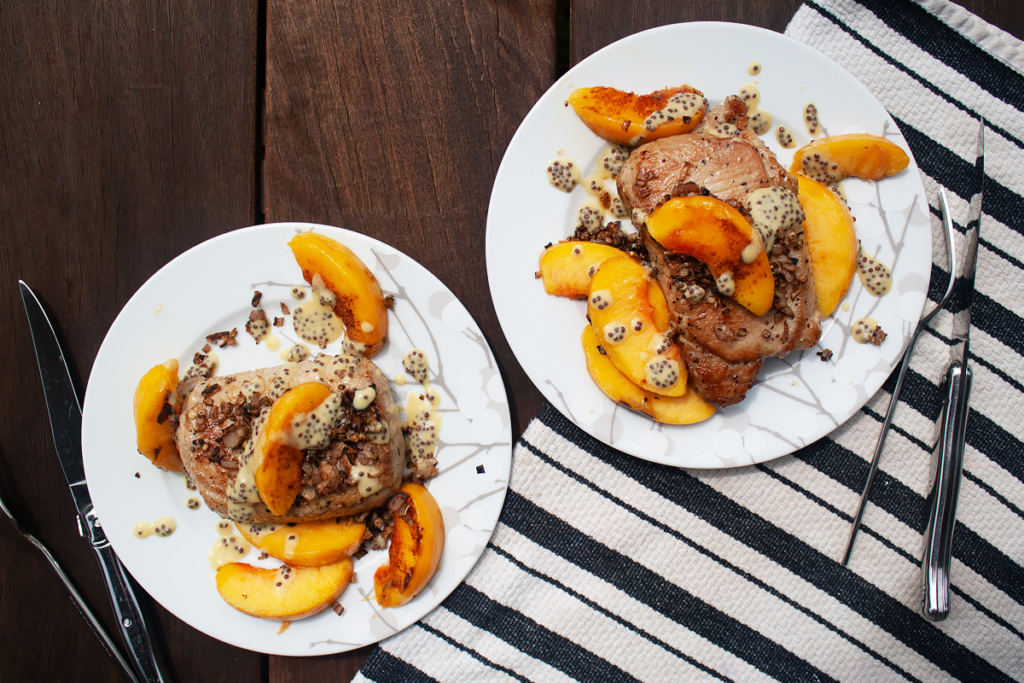 Note: If you would like to make this recipe in Suvie 1.0, insert pan into the top right zone of Suvie, fill reservoir, and set to Protein to 135°F for 1 hour.
Nutrition
Nutritional Information per serving (2 servings per recipe): Calories 380, Total Fat 14g, Total Carbohydrates 19g, Total Sodium 1110mg, Total Protein 43g