We gave traditional bacon wrapped dates, aka devils on horseback, a major makeover. Each date is stuffed with a combination of cream cheese and blue cheese crumbles for a creamy, flavor-packed filling. Once stuffed, the dates are wrapped in thin slices of prosciutto. Each date is then lightly brushed with maple syrup to aid in crisping the prosciutto and to add a layer of earthy sweetness. This dish is the perfect appetizer for your next gathering.
Prosciutto Wrapped Blue Cheese Stuffed Dates
Please always check your food to ensure your food has been cooked to safe serving temperatures. Please see our guide
here
for recommended FDA Time & Temperatures.
Servings: 4-6
Difficulty: 15 minutes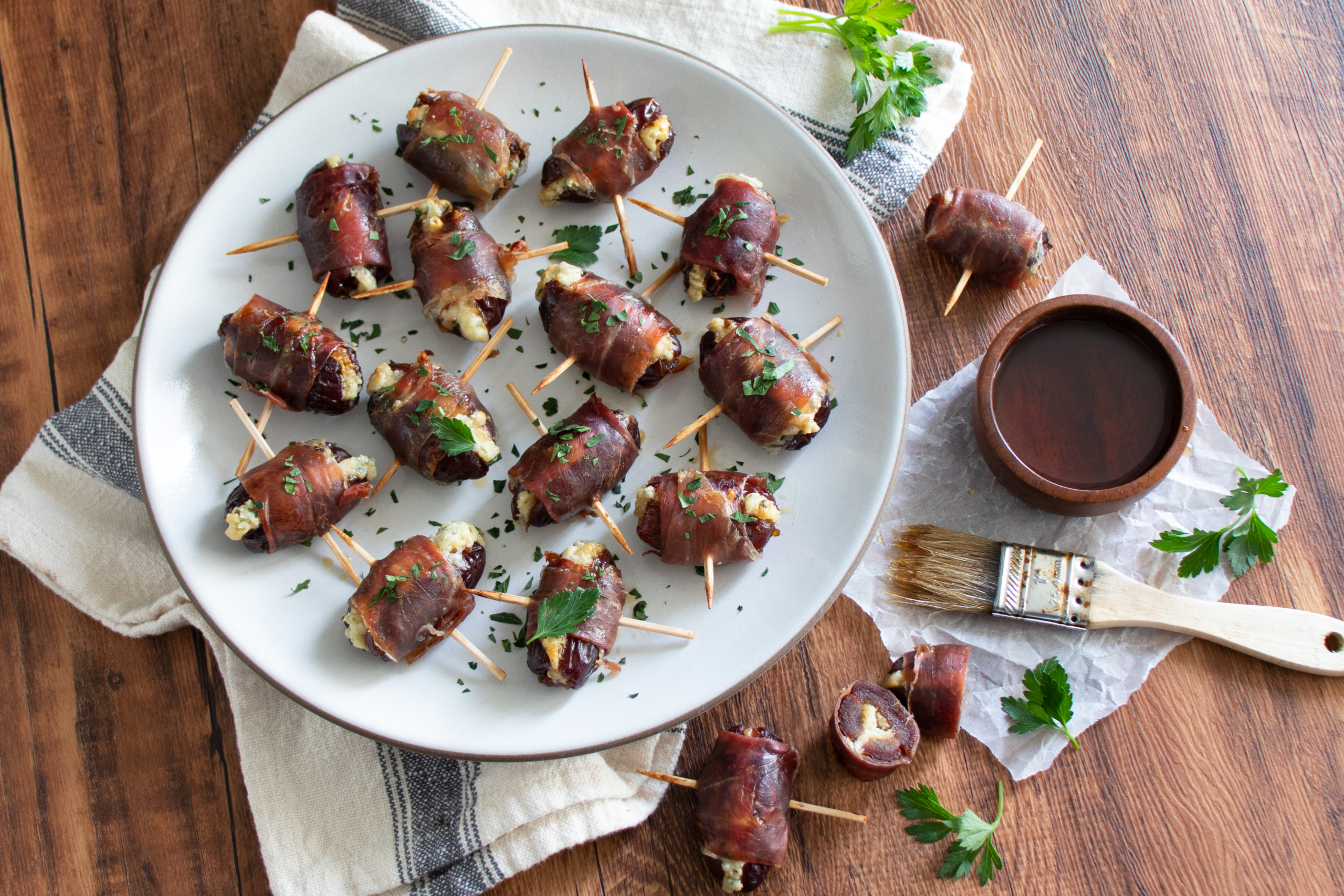 Ingredients
3 oz cream cheese, softened
2 oz blue cheese crumbles
2 tbsp chopped parsley
20 pitted dates
3 oz prosciutto
¼ cup maple syrup
Directions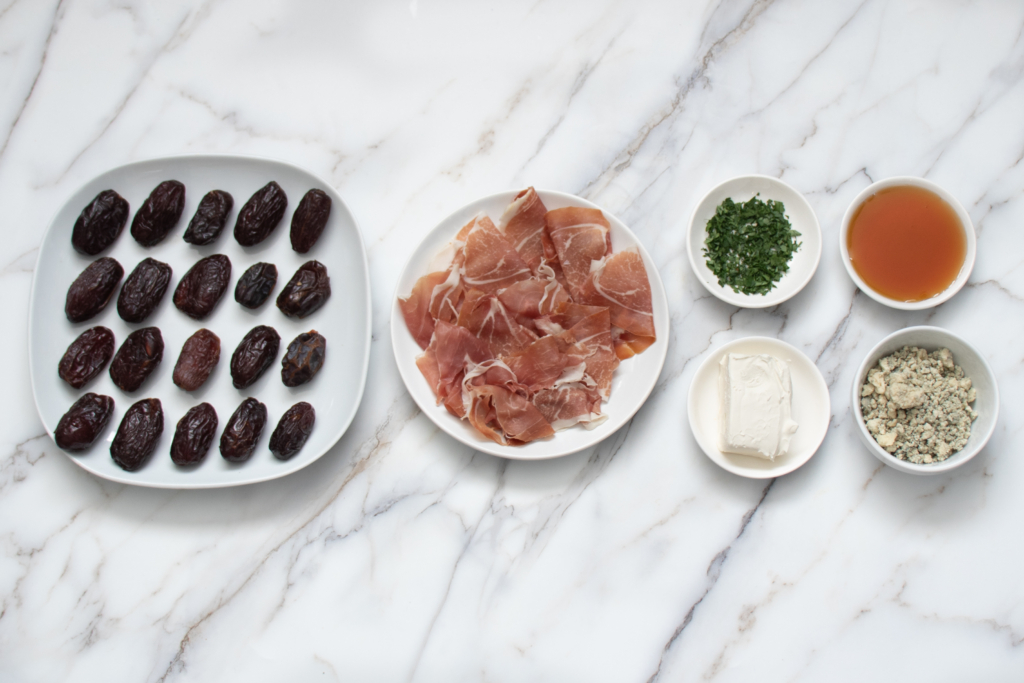 1) Preheat the top and bottom zones of your Suvie to Roast at 350°F for 15 minutes.
2) Place 3 oz cream cheese, 2 oz blue cheese, and 1 tbsp chopped parsley in a medium bowl, and stir until combined.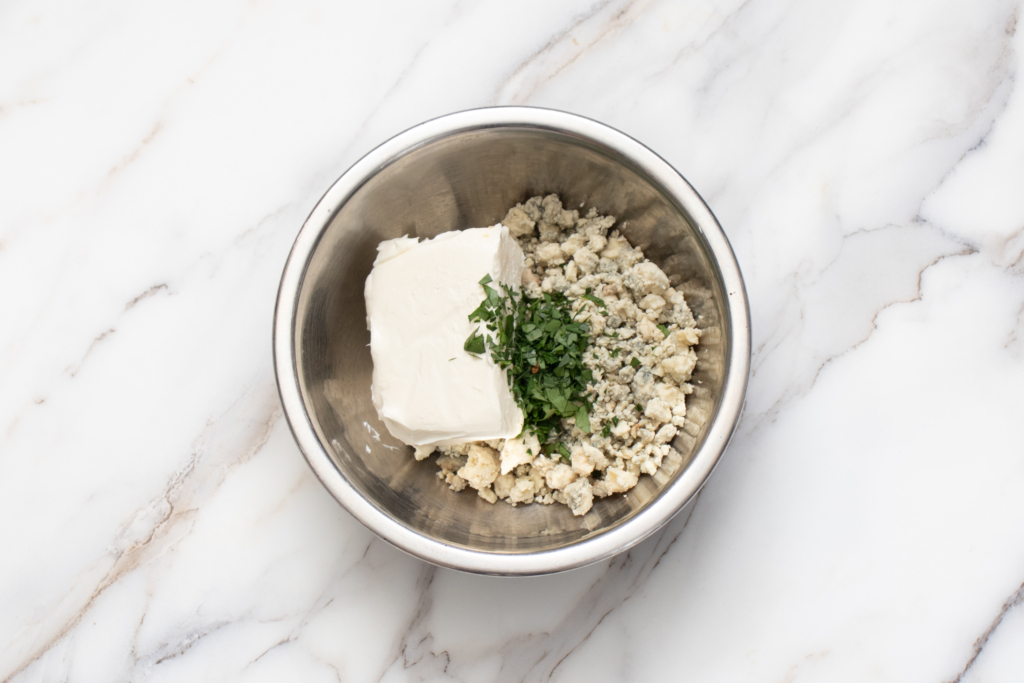 3) Using a paring knife, carefully cut a slit lengthwise into each date. Gently open like a book and fill the centers with 1 tsp of cheese filling.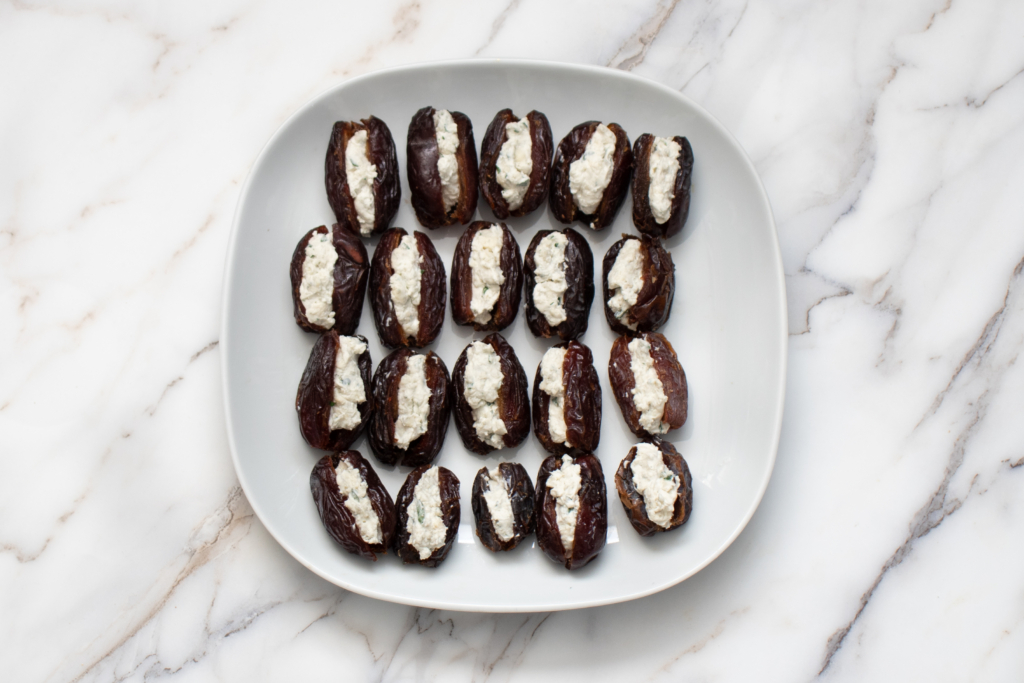 4) Cut 3 oz prosciutto slices in half lengthwise to create llong strips. Wrap each date with a strip of prosciutto and secure with a toothpick. Transfer the wrapped dates to Suvie pans and brush each with maple syrup.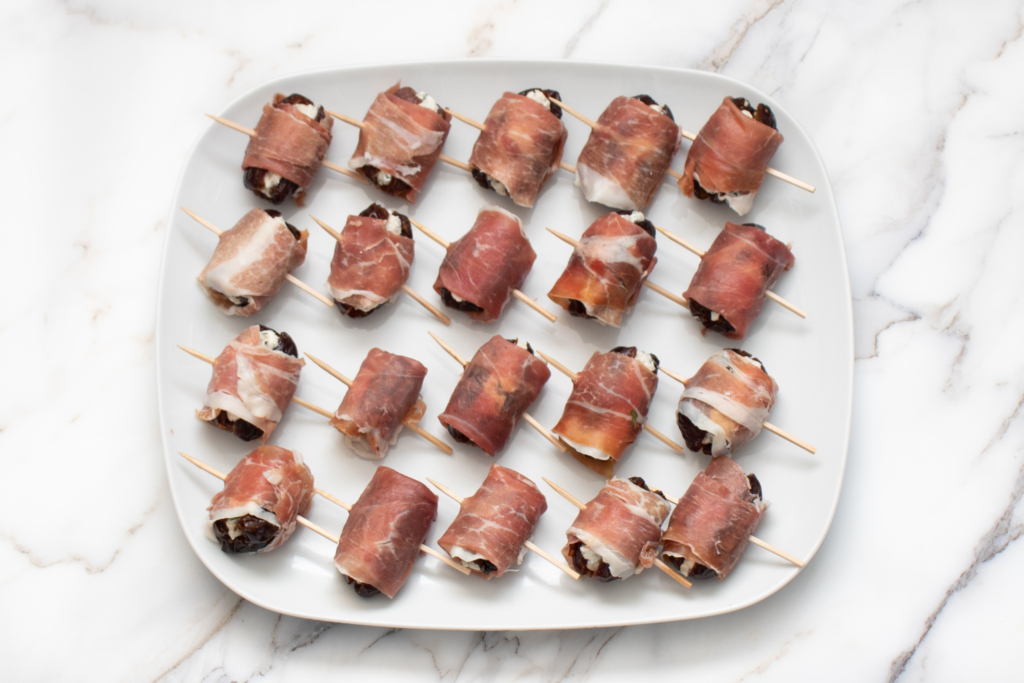 5) Once your Suvie has preheated, place the pans in the top and bottom zones, input settings, and cook now.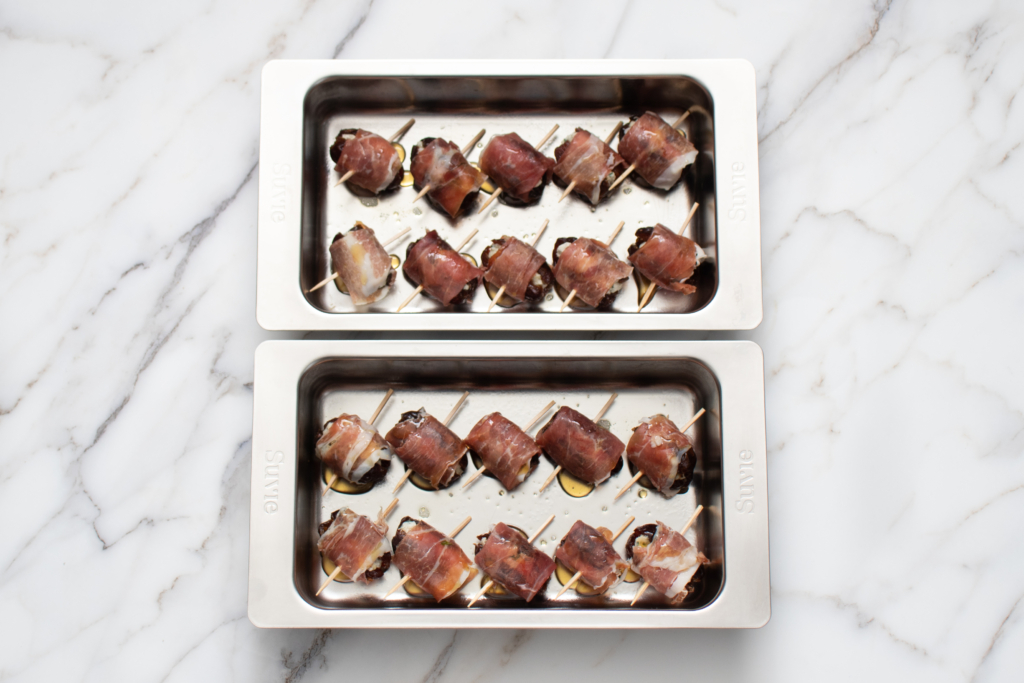 Suvie Cook Settings
Bottom Zone: Roast at 350°F for 15 minutes
Top Zone: Roast at 350°F for 15 minutes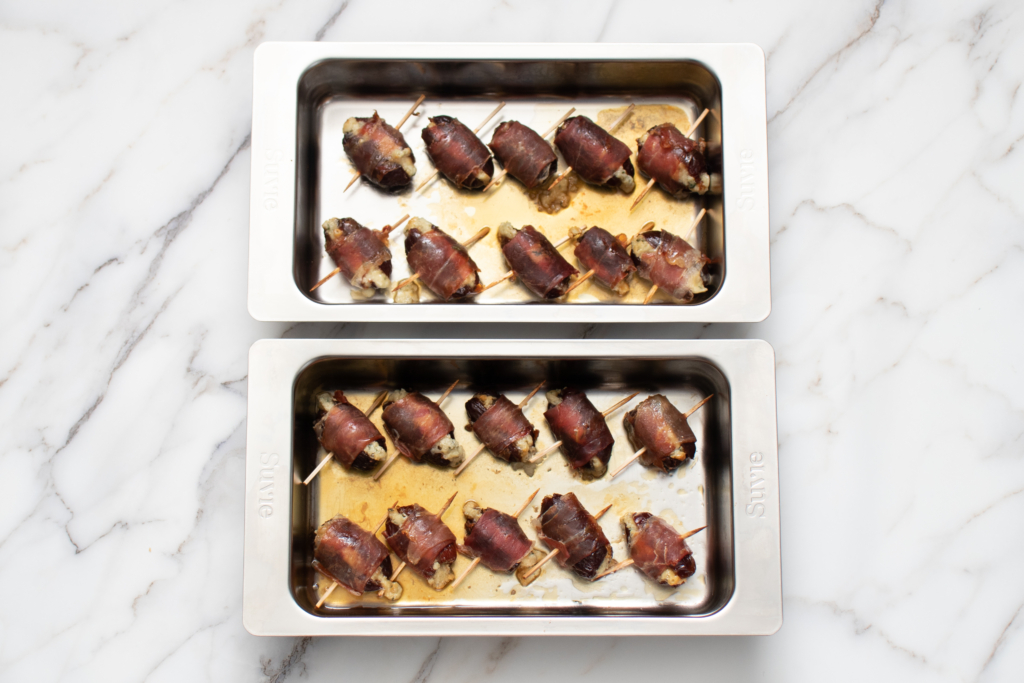 6) After the cook, remove the pans from your Suvie. Transfer the dates to a large plate or platter and garnish with the remaining 1 tbsp of parsley before serving.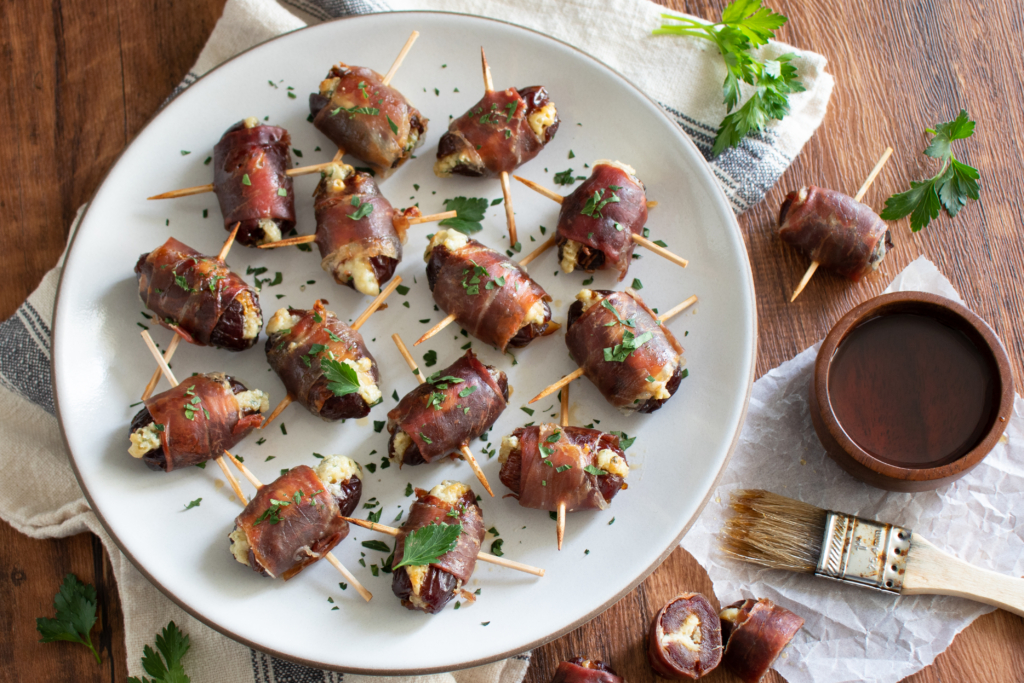 Nutrition
Nutritional Information per serving (6 servings per recipe): Calories 216, Total Fat 9g, Total Carbohydrates 31g, Total Sodium 348mg, Total Protein 6g.