We're bringing you filet mignon with garlicky broccoli rabe and buttery, parmesan studded farro to enjoy. If you can't find broccoli rabe (also known as rapini) you can use broccolini or broccoli instead. Plump and perfectly chewy, farro is the ideal grain to pair with this meal.
Seared Filet Mignon with Farro and Garlicky Broccoli Rabe
Please always check your food to ensure your food has been cooked to safe serving temperatures. Please see our guide
here
for recommended FDA Time & Temperatures.
Servings: 2
Difficulty: 2 hours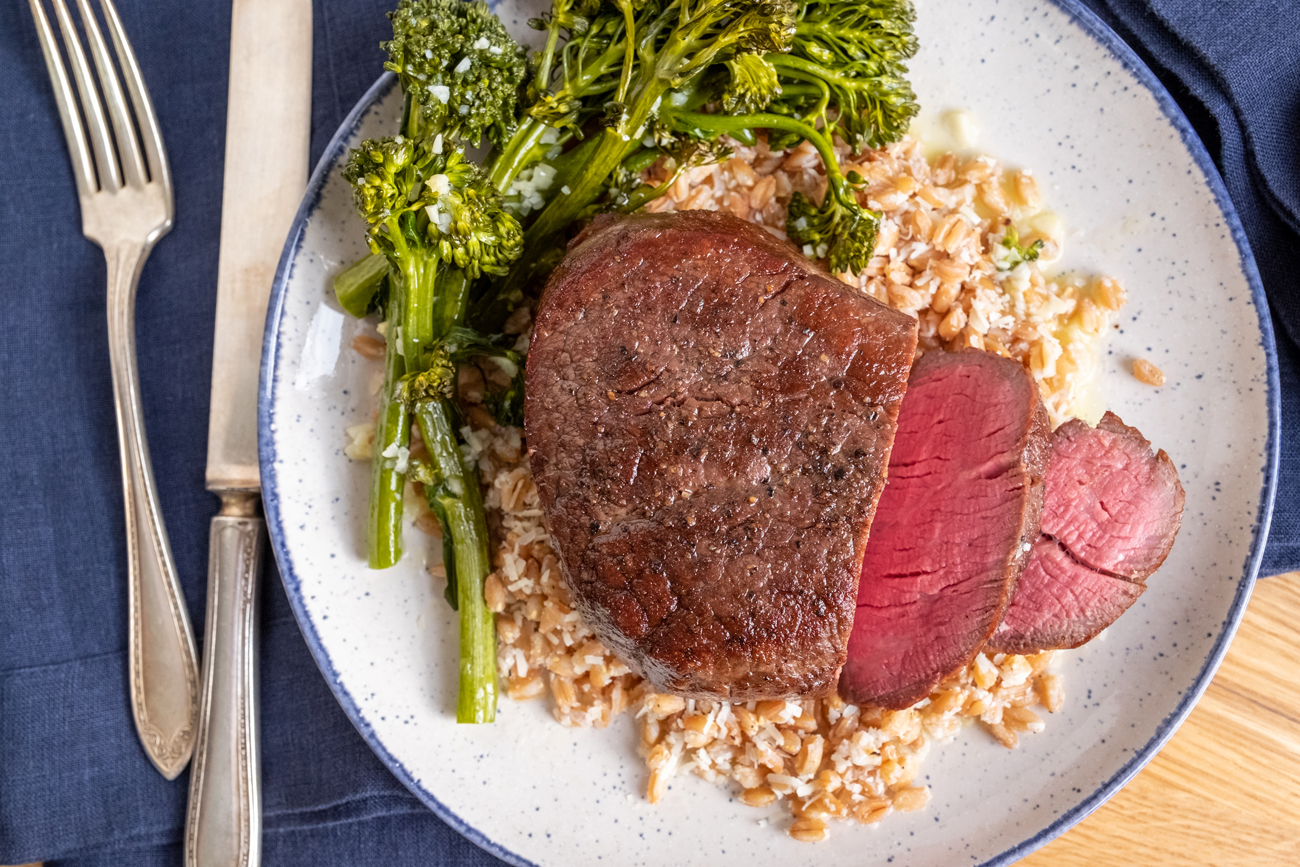 Ingredients
2 filet mignon steaks, about 8 oz each
4 tsp olive oil, divided
8 oz broccoli rabe, trimmed
3 cloves garlic, minced
1 tsp vegetable oil
½ cup grated Parmesan cheese
4 tbsp unsalted butter, cut into 4 pieces
½ cup farro
2 tbsp parsley leaves
Directions
1) Pat steaks dry and season liberally with kosher salt and ground black pepper. Vacuum seal steaks with 2 tsp olive oil, place in a Suvie pan, and cover with water. Place pan in the bottom zone of Suvie.
2) Pour 1/3 cup water into a Suvie pan and place roasting rack, handles facing down, in the pan. Place broccoli rabe on the roasting rack. Place pan in the top zone of Suvie, input settings and cook now or schedule.
Suvie Cook Settings
Bottom Zone: Sous Vide at 130°F, 1 hour and 30 minutes
Top Zone: Steam for 15 minutes
3) Pour 1/2 cup farro into the Suvie starch strainer set within the Suvie pasta pot (green handles). Cover pot with lid and place inside the Suvie Starch Cooker, ensuring the pot is centered on the hot plate. Input settings and cook now or schedule.
Suvie Starch Cooker Settings
Grains, Farro, 25 minutes
4) After the cook, remove all pans from your Suvie. Pour off any liquid from the broccoli rabe. Toss broccoli rabe with 1/2 tsp salt, 2 tsp olive oil, and minced garlic and place in a clean, dry Suvie pan. Broil for 10 minutes or until broccoli rabe is slightly charred in spots.
5) Stir the parmesan and butter into the farro until melted and then season to taste with salt and pepper.
6) While the broccoli rabe broils, prepare the steaks. Remove the steaks from the bag, transfer to a cutting board, and thoroughly pat dry. Heat a medium cast iron, or heavy-bottom skillet over high heat for 5 minutes. Add vegetable oil to the hot pan and swirl to evenly coat. Place steaks in the hot skillet, pressing down on the top of each steak briefly to ensure even contact with the pan. Sear steaks for 1 minute or until well browned. Flip steaks and continue to cook on the other side for 1 minute more.
7) Divide farro between 2 plates and top with the broccoli rabe and filet mignons. Garnish with parsley leaves and serve.