Most home cooks are hesitant to sear seafood because the delicate nature of most fish makes it prone to tearing, sticking, or overcooking. Swordfish, however, is substantial enough to withstand high heat applications without many of these issues. The hearty quality of swordfish makes it a perfect pair for herbaceous gremolata, a simple combination of parsley, lemon zest, and garlic. We like the addition of mint or basil to the classic gremolata recipe, but you can solely use parsley if you prefer. To echo the lemony flavors in the gremolata we season the orzo with a generous squeeze of fresh lemon juice. Finally, we incorporate both cooked and fresh sugar snap peas in the finished dish to amplify all these bright, fresh flavors.
Note: For successful searing be sure to allow your pan to get ripping hot before adding the swordfish. Press down gently on the fish to ensure even contact with the pan. Resist the urge to move the fish while it sears; it will be easier to flip once a crust has formed on the seared side. 
Seared Swordfish with Gremolata and Sugar Snap Peas over Orzo
Please always check your food to ensure your food has been cooked to safe serving temperatures. Please see our guide
here
for recommended FDA Time & Temperatures.
Servings: 2
Difficulty: 1 hour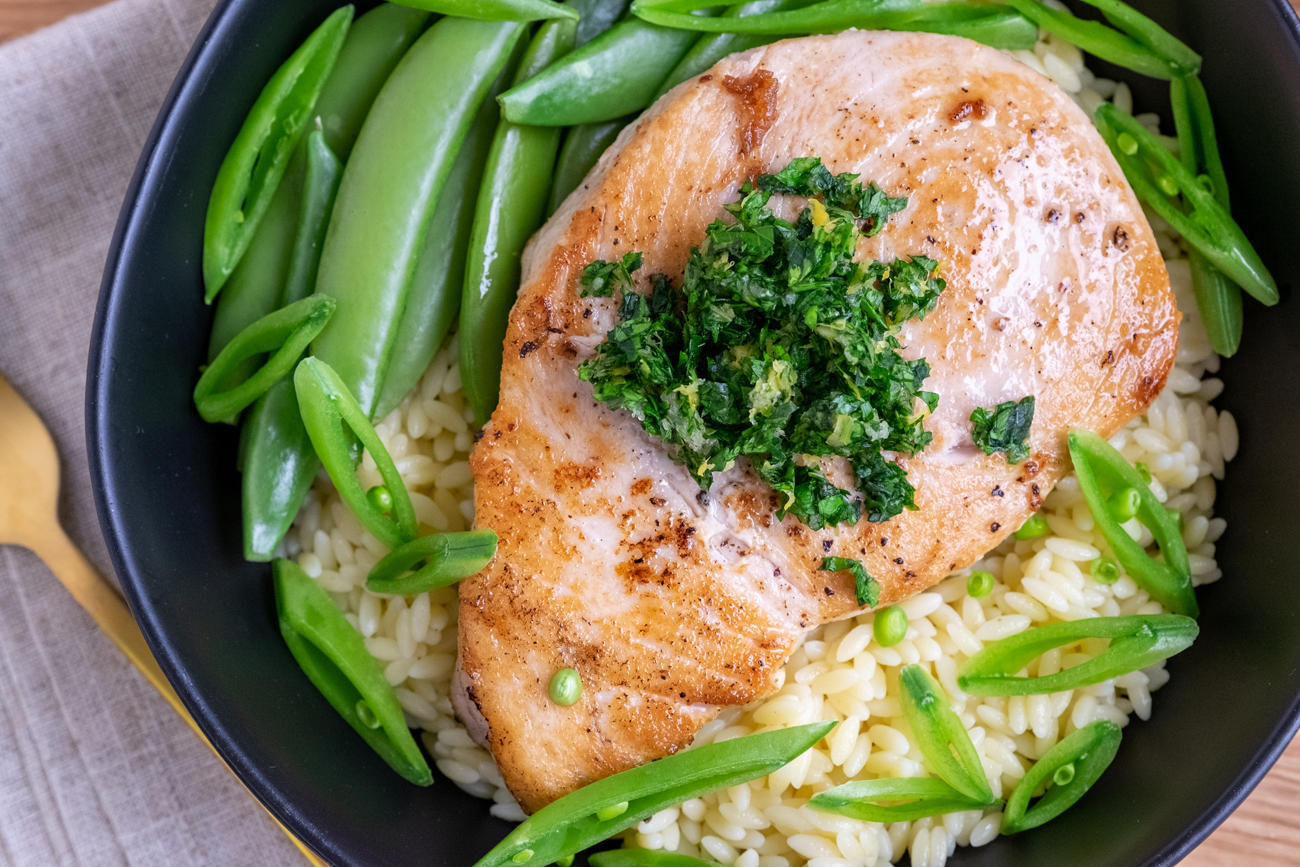 Ingredients
2 swordfish steaks (about 6 oz each)
2 tbsp olive oil, divided
8 oz sugar snap peas
1 cup orzo
1 lemon
2 tbsp minced fresh parsley
2 tbsp minced fresh mint or basil
2 cloves garlic, minced, or grated on a microplane
2 tsp vegetable oil
Directions
1) Pat swordfish dry and season generously with salt and pepper. Vacuum seal swordfish with 1 tbsp olive oil. Place vacuum-sealed swordfish in a Suvie pan and cover with water. Insert pan into the bottom zone of your Suvie.
2) Reserve about 6 sugar snap peas and set aside. Place remaining sugar snap peas in a Suvie pan and insert into the top zone of your Suvie. Input settings and cook now or schedule.
Suvie Cook Settings
Bottom Zone: Sous Vide at 130°F for 30 minutes
Top Zone: Sous Vide at 130°F for 30 minutes
3) Place orzo in the Suvie starch strainer set within the Suvie pasta pot. Cover pot with lid and insert into your Suvie Starch Cooker, ensuring the pot is centered on the hot plate. Input settings and cook now or schedule.
Suvie Starch Cooker Settings
Pasta, 1 Cup, 8 minutes
4) While the swordfish cooks, prepare the gremolata. Zest lemon into a small bowl and then cut lemon in half, set aside. Add the garlic, parsley, mint or basil, and a pinch of salt to the lemon zest, stirring to combine.
5) Cut reserved sugar snap peas thinly on the bias and set aside.
6) After the swordfish has finished cooking, transfer the orzo to a medium bowl. Juice one lemon half over the orzo and add the remaining 1 tbsp olive oil, stirring to coat. Season with salt to taste.
7) Drain off any excess water from the sugar snap peas and season with salt and pepper to taste.
8) Heat a medium cast-iron pan or heavy-bottomed skillet over high heat. Remove swordfish steaks from the bag and thoroughly pat dry. Add vegetable oil to the hot pan, swirling to coat. Add the swordfish and sear for 1 minute, without moving, until browned. Using a spatula, flip swordfish over and sear on the other side for 1 minute. Remove swordfish from skillet and set aside.
9) Divide orzo between two plates and top with swordfish and sugar snap peas. Garnish fish with reserved gremolata and sliced fresh sugar snap peas. Season both servings with a squeeze of lemon.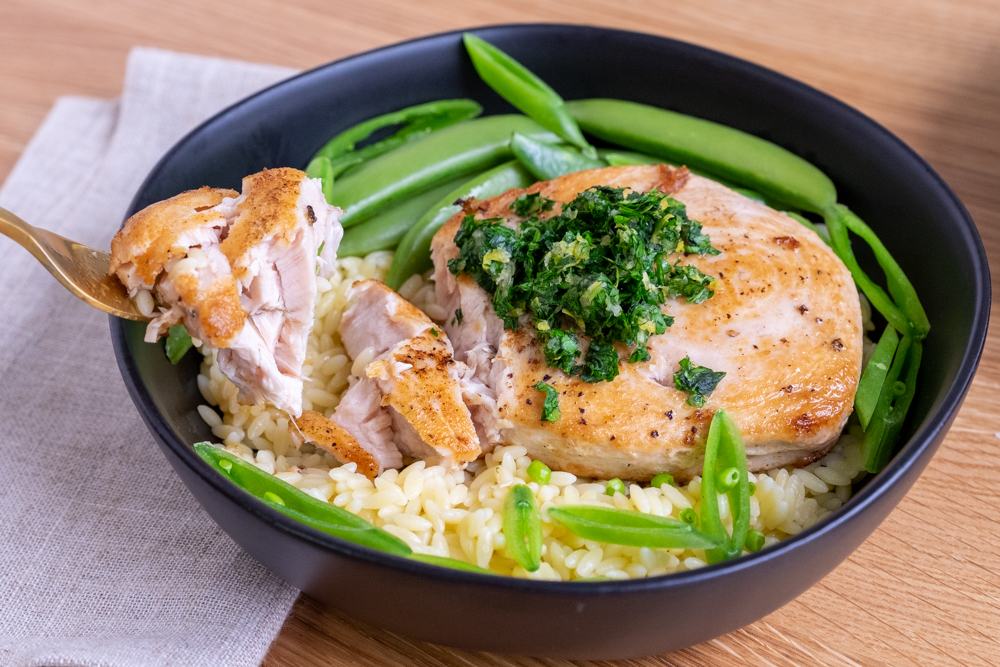 Nutritional Information per serving (2 servings per recipe): Calories 518, Total Fat 29g, Total Carbohydrates 25g, Total Sodium 144mg, Total Protein 37g.