Shrimp and grits are a staple of the Southeast United States with a long historical legacy that predates the arrival of European settlers. The preparation of corn grits comes from the native Muscogee people whose historical range includes Alabama, Georgia, northern Florida, and Tennessee. The Muscogee knowledge of cooking grits was passed onto settlers and slaves who adapted the dish over time. Our version of shrimp and grits includes bacon and andouille sausage for added flavor and texture. To the grits we add butter and sharp cheddar for creaminess and tang. If you don't plan to serve the grits immediately, whisk in a tbsp or two of hot water when serving to revive their creamy texture.
My Cook: Shrimp and Grits with Andouille Sausage
Please always check your food to ensure your food has been cooked to safe serving temperatures. Please see our guide
here
for recommended FDA Time & Temperatures.
Servings: 4
Difficulty: 2 hours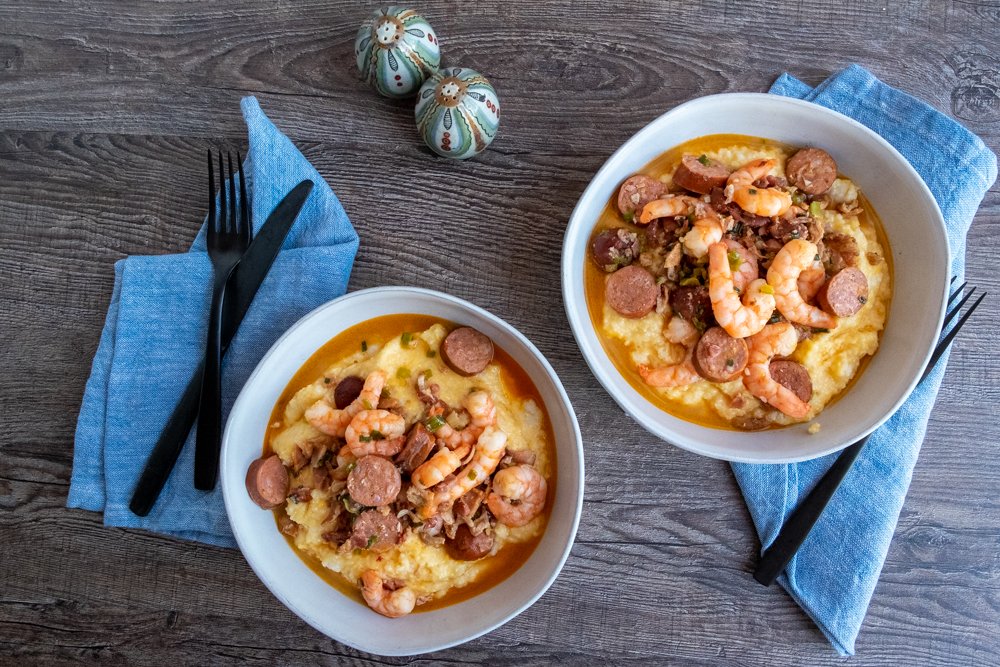 Ingredients
6 strips bacon
½ cup thinly sliced scallions
1 large clove garlic, minced
½ lb pre-cooked andouille sausage, about 3 links
1 pound raw shrimp, peeled and deveined
⅔ cup stone-ground corn grits
3 tablespoons unsalted butter, softened
1 cup sharp cheddar cheese, shredded
4 teaspoons fresh lemon juice
2 tablespoons chopped parsley
Salt and pepper
Directions
1) Finely chop bacon and divide between 2 Suvie pans. Insert pans into Suvie and broil bacon for 20 minutes, or until crisp and rendered, stirring scallions and garlic into the bacon halfway through cooking.
2) While the vegetables broil, cut the andouille sausage into ½-inch thick rounds. Once the bacon and vegetables have finished broiling, evenly divide andouille sausage and shrimp between both pans, stirring to combine. Return pans to Suvie and input settings below.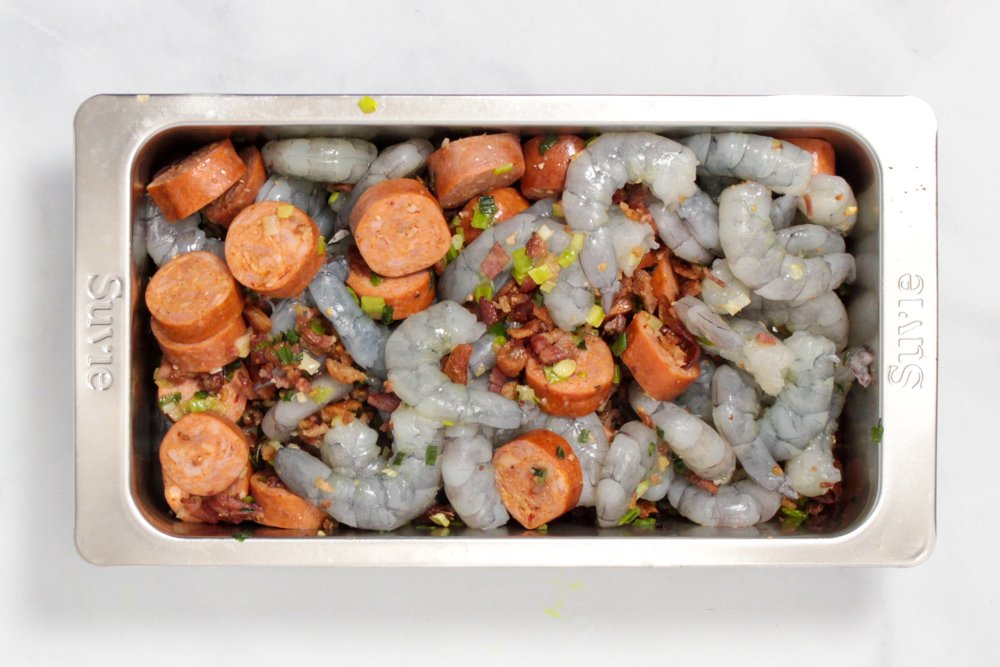 3) Place 2/3 cup stone ground grits in a Suvie rice pot and place in the Suvie Starch Cooker, ensuring pot is centered on the hot plate. Select "Polenta" from the display screen, input the amount of grits, and cook now or schedule.
Suvie Cook Settings
Bottom Zone: Slow Cook on Low, 30 minutes
Top Zone: Slow Cook on Low, 30 minutes
4) Once the shrimp and grits have finished cooking, transfer the grits to a medium bowl and whisk in 3 tbsp butter and 1 cup cheddar cheese. Season to taste with salt and pepper.
5) Divide grits between bowls and top with the shrimp and sausage mixture. Sprinkle lemon juice and parsley over each serving.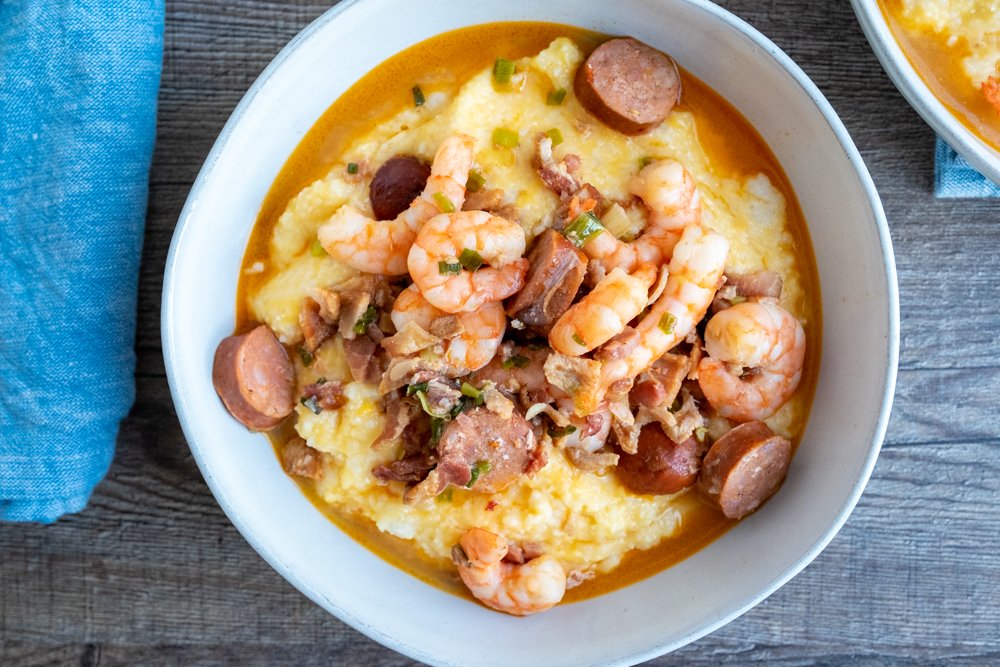 Nutrition
Nutritional Information per serving (4 servings per recipe): Calories 623, Total Fat 38g, Total Carbohydrates 25g, Total Sodium 1667mg, Total Protein 35g