In this easy to prepare meal tangy cherry tomatoes, succulent shrimp, and tender fettuccine are enrobed in flavorful garlic oil. Broiling the cherry tomatoes with the garlic brings out their natural sweetness, which provides a burst of flavor in every bite. We sous vide the shrimp for only 30 minutes and then finish them under the broiler to coax out even more flavor. We liked the wide, flat edges of the fettuccine to absorb the garlic oil, but any pasta will work.  
Shrimp Pasta with Cherry Tomatoes
Please always check your food to ensure your food has been cooked to safe serving temperatures. Please see our guide
here
for recommended FDA Time & Temperatures.
Servings: 2
Difficulty: 2 hours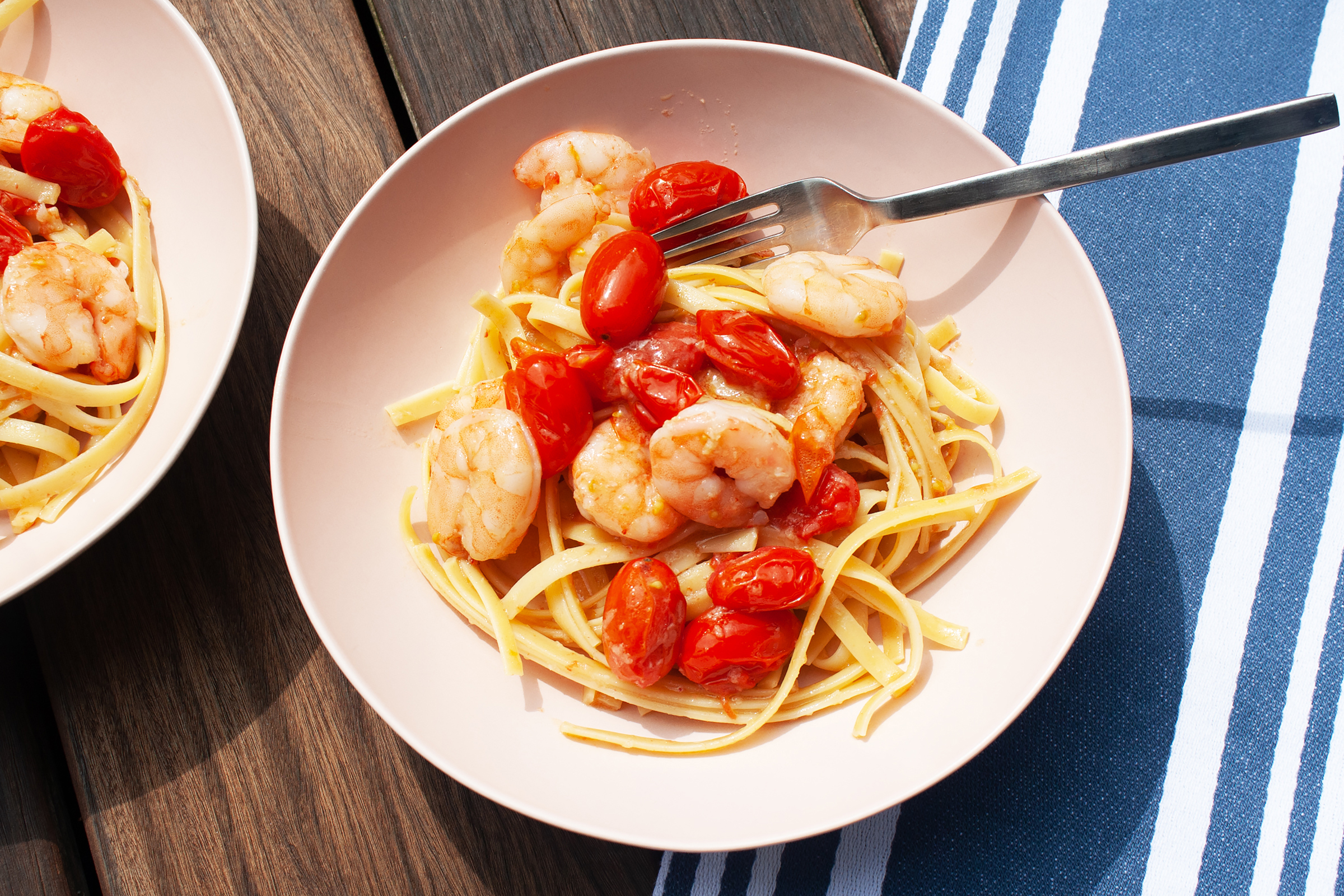 Ingredients
8 oz peeled, de-veined shrimp, vacuum-sealed
4 oz fettuccine
2 garlic cloves, minced
2 tbsp olive oil
8 oz cherry tomatoes
Directions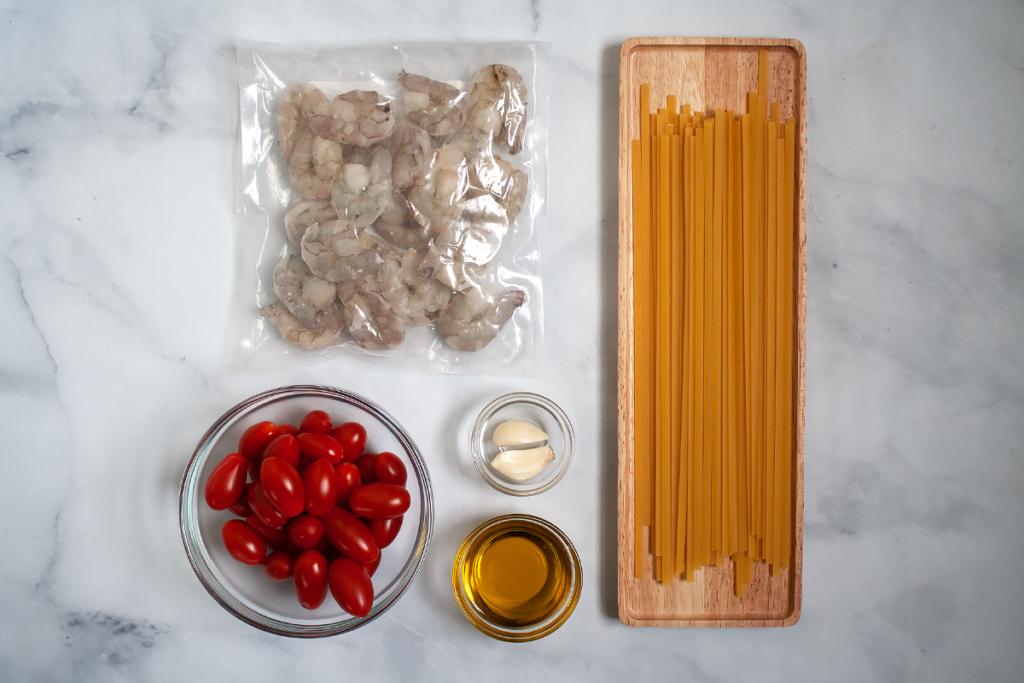 1) Place shrimp in a Suvie pan, cover with water, and insert into the top right zone of your Suvie. Place tomatoes and garlic in a second Suvie pan and insert into the top left zone of your Suvie.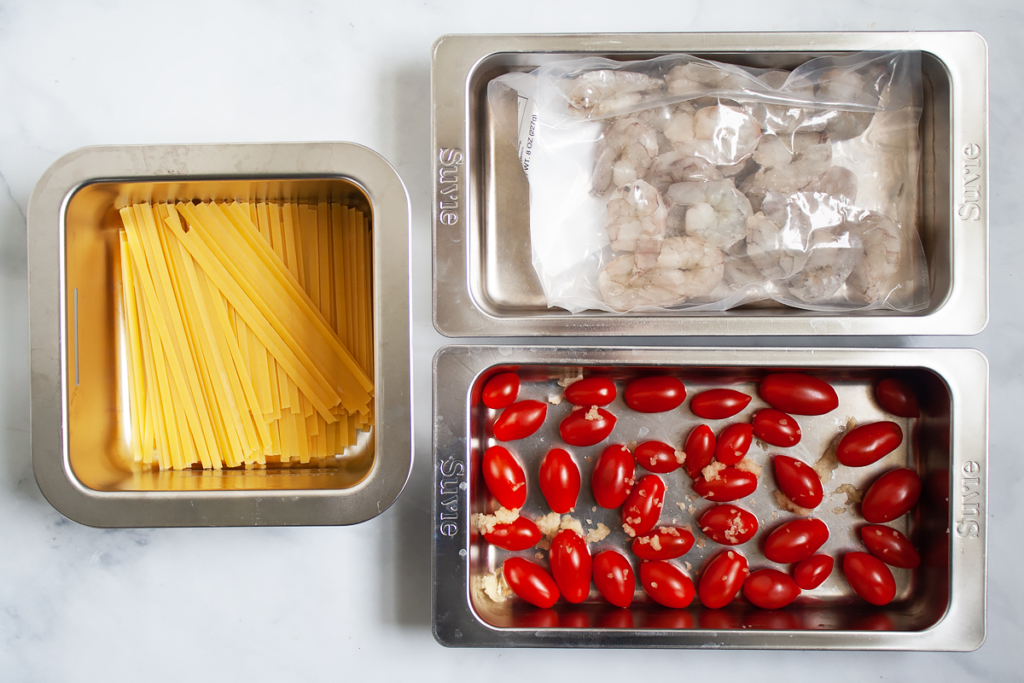 2) Break fettuccine in half and place in a starch pan. Insert into your Suvie. Fill reservoir, input settings, and cook now or schedule.
My Cook > Multi-Zone Settings
Protein: 130° for 30 minutes
Vegetable: 0 minutes
Starch: 12 minutes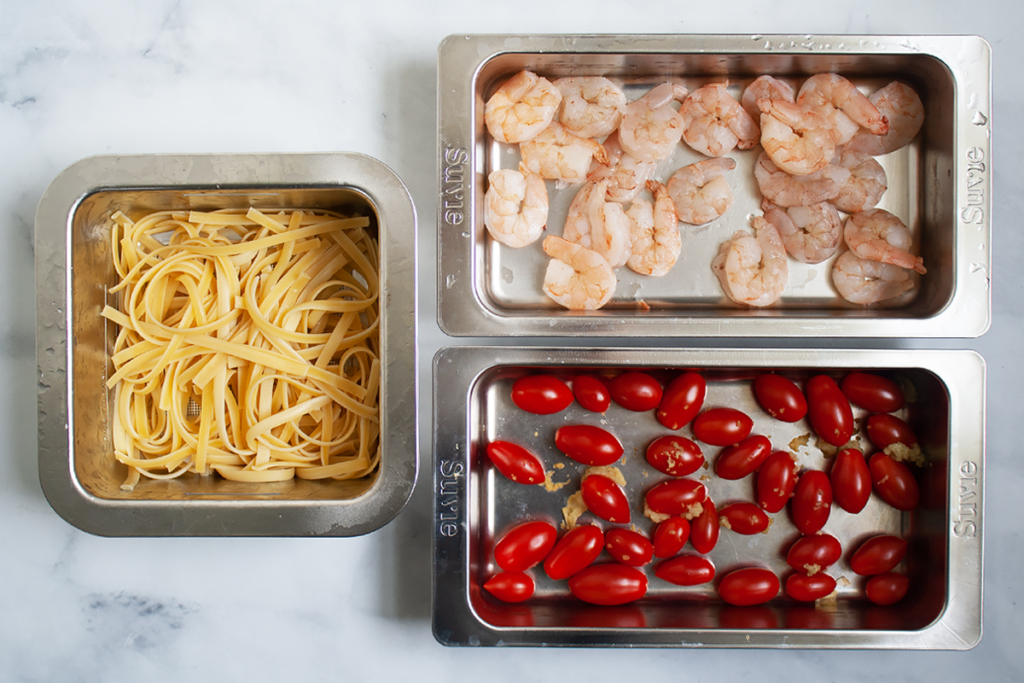 4) Immediately after the cook, run fettuccine under warm water, separating any strands that have stuck together. Transfer to a large bowl.
5) Remove shrimp from packaging and transfer to a clean, dry Suvie pan; pat shrimp dry. Drizzle 1 tbsp olive oil over the tomatoes and 1 tbsp over the shrimp. Season both pans with salt. Return both pans to your Suvie and broil for 10 minutes, rotating pans halfway through.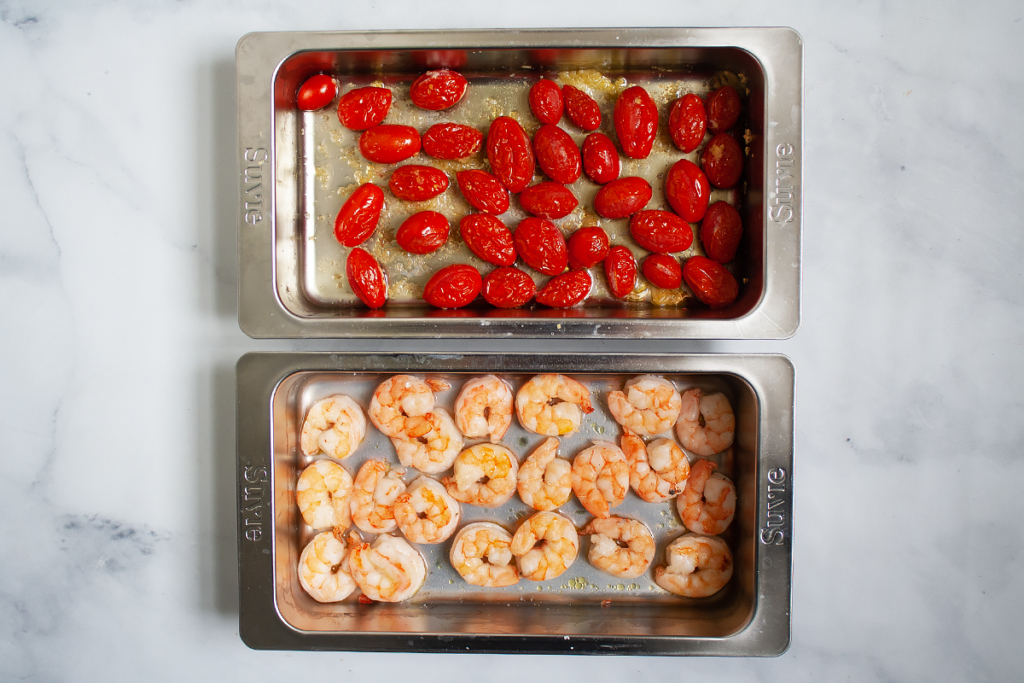 6) Add tomatoes and shrimp to the fettuccine, scraping liquid from pans into the bowl.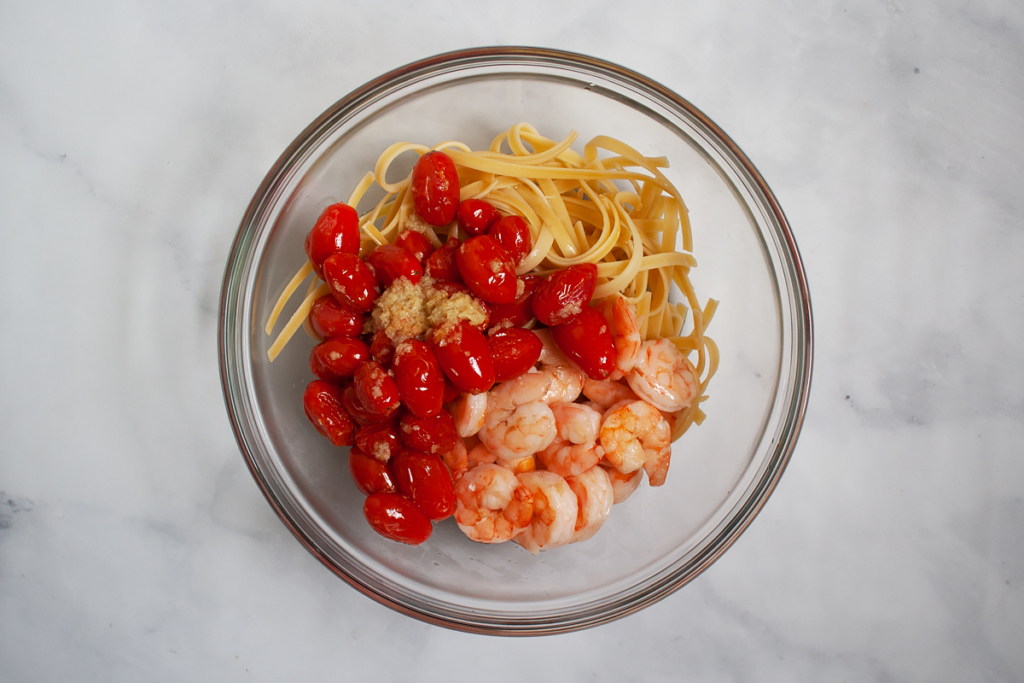 Stir to incorporate and season with salt and pepper to taste.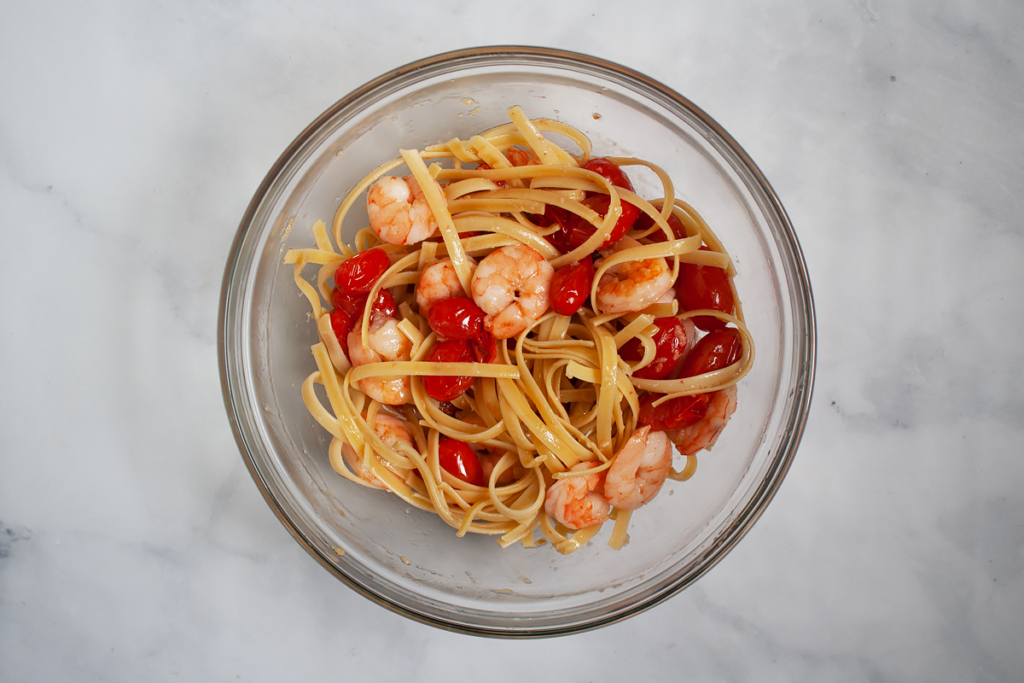 Divide between plates and serve.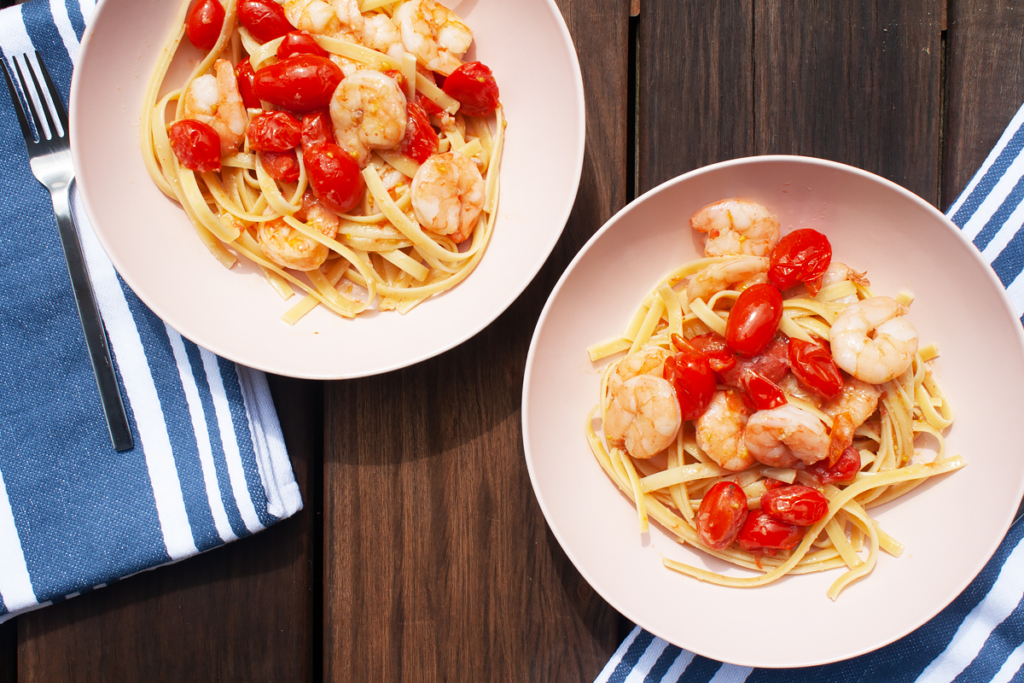 Alternative Cooking Intstructions:
To make this meal on the stovetop, bring a large pot of salted water to a boil over high heat. Add the fettuccine and cook until al dente, about 7 minutes.
Heat 1 tbsp olive oil in a large nonstick skillet over medium heat until shimmering. Add shrimp and ¼ tp salt in a single layer and cook for 2 minutes per side until pink and cooked through. Transfer shrimp to a plate.
Add remaining olive oil, tomatoes, garlic, and ¼ tsp salt to skillet. Cook, shaking the pan occasionally until tomatoes are soft and slightly blistered. Add drained fettuccine and shrimp to pan, stirring to coat.
Season to taste with salt and pepper and serve. 
Nutrition
Nutritional Information per serving (2 servings per recipe): Calories 460, Total Fat 17g, Total Carbohydrates 48g, Total Sodium 180mg, Total Protein 36g