Total Time: 4 hours
Some dishes are just better done simply. We find that always holds true for chicken. This dish takes inspiration from the classic Chicken Marbella recipe found in the Silver Palate cookbook. We've paired down some of the ingredients and added a butternut squash pasta that's flavored with butter and fresh sage leaves. The briny acidity of the capers balances the dark sweetness of the prunes. After the chicken is braised in this flavorful liquid the skin gets browned and crispy under the broiler. Serve with a squeeze of lemon to brighten everything up and a hit of parmesan cheese to round out the dish.
Slow Cook: Braised Chicken with Butternut Squash Pasta
Please always check your food to ensure your food has been cooked to safe serving temperatures. Please see our guide
here
for recommended FDA Time & Temperatures.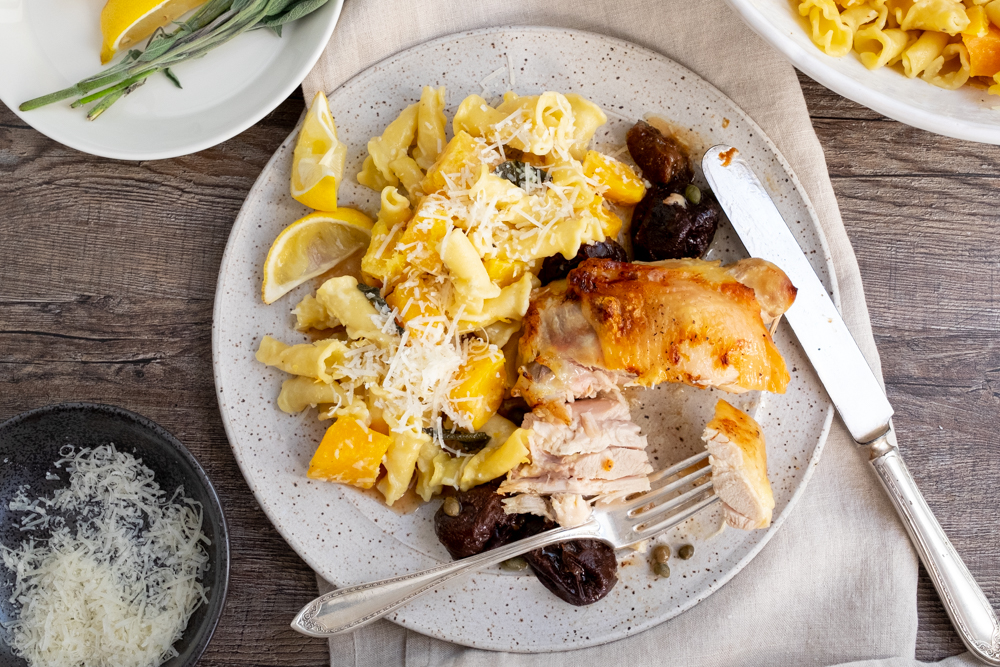 Ingredients
4 chicken thighs, bone-in, skin-on
16 oz butternut squash, peeled and cubed
1 lemon
4 tbsp butter
1 sprig fresh sage
¼ cup prunes
2 tbsp capers
¼ cup chicken stock
8 oz dry pasta (we used campanelle)
2 oz parmesan cheese, grated
Directions
Cut the butter into small cubes and combine with the cubed butternut squash in a Suvie pan. Remove the sage leaves from the stem and sprinkle over the butternut squash.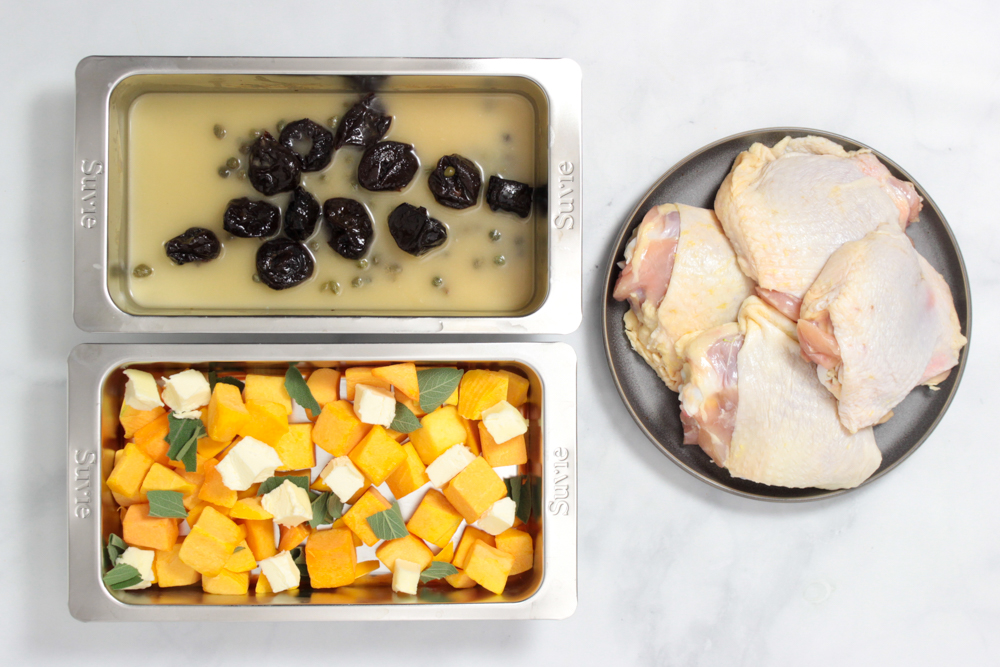 Cover with aluminum foil and load into the upper left cooking zone of your Suvie.
Season the chicken thighs on all sides with salt and pepper. In another Suvie pan combine the prunes, capers, and chicken stock. Nestle the seasoned chicken thighs into the pan and load into the upper right cooking zone. Make sure the skin side is facing up.
Add the pasta to the starch strainer and place in the starch pan in your Suvie. Add water to the reservoir, enter the cook settings, and cook now or schedule.
My Cook > Slow Cook & Starch
Slow Cook: HIGH for 2 hours
Starch: 11 minutes
After the cook remove the butternut squash and pasta from Suvie.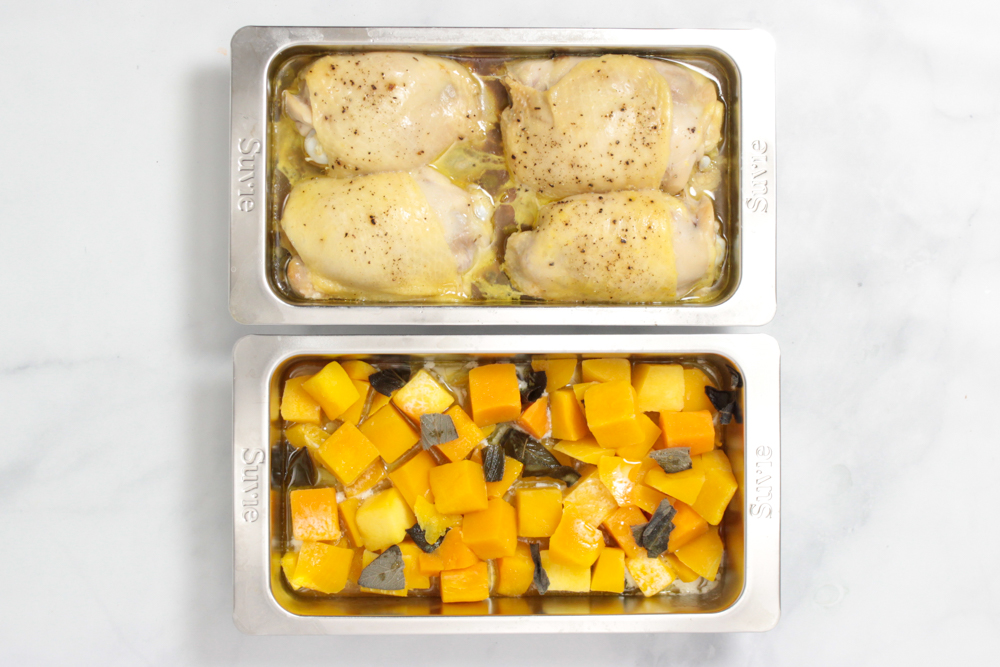 Broil chicken thighs for 8-10 minutes to crisp up the skin. Be careful the the chicken doesn't burn though as they will be pretty close to the broilers.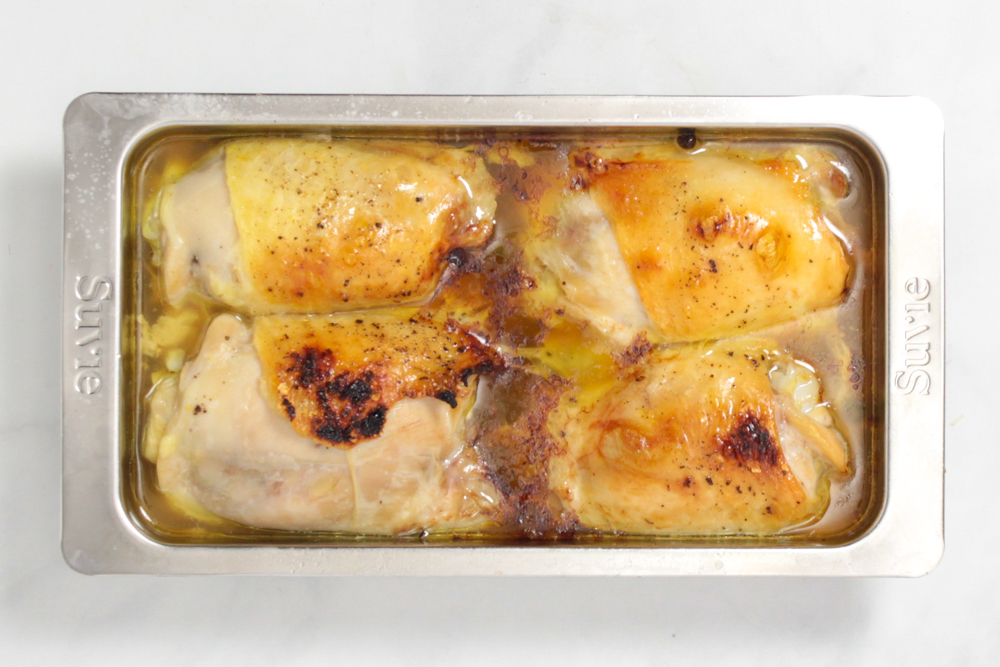 While the chicken is broiling remove foil from the butternut squash. In a large bowl gently combine butternut squash and pasta. Add ½ the grated parmesan cheese and season to taste with salt and pepper.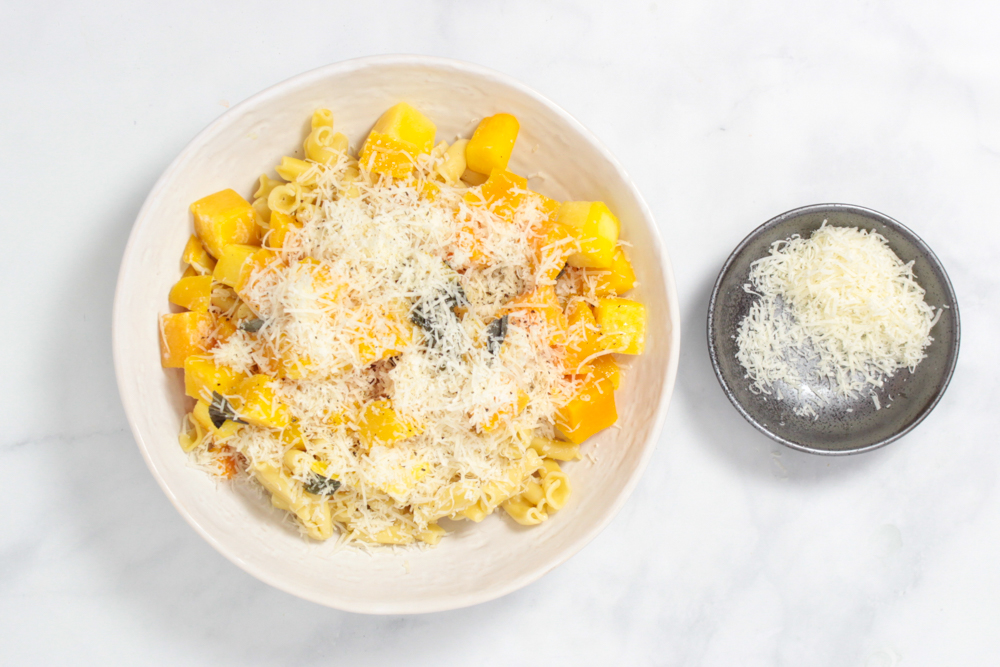 Once the chicken skin is browned and crisp divide the pasta and chicken between plates. Spoon the capers, prunes, and sauce from the chicken pan over the chicken thighs. Garnish with lemon wedges and the remaining parmesan cheese.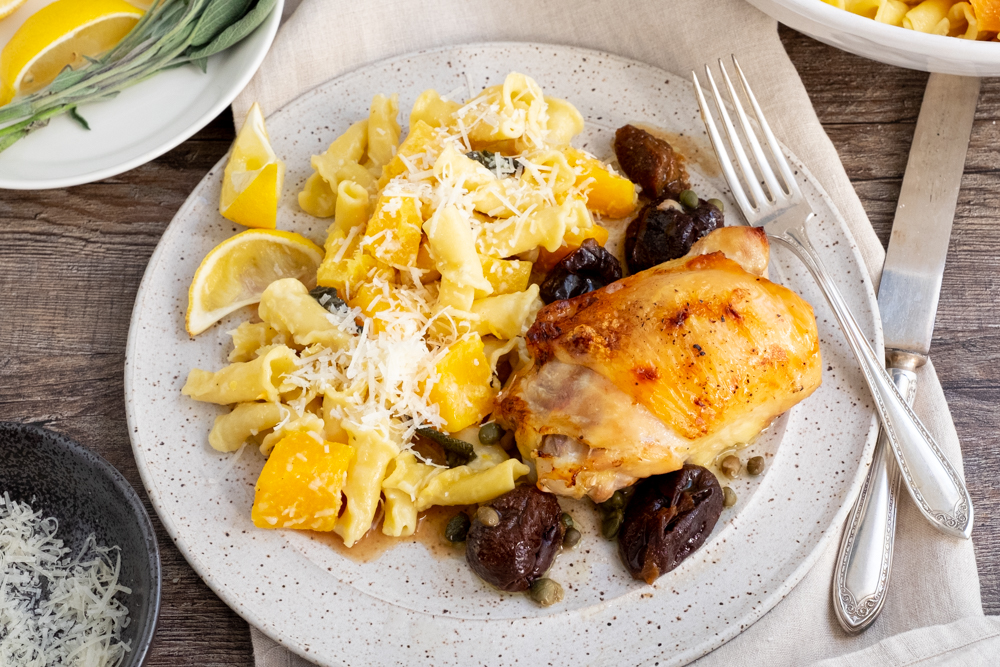 Wine Pairing
Saignée Rosé is the perfect wine to pair with chicken dishes and this meal is no exception. Alternatively, a crisp Riesling will cut through the fat of the chicken and add a hint of sweetness to the flavor palate.