Try dressing up your standard pork chop with a delicious Chinese-inspired sauce. The soy sauce-based marinade for these pork chops is also used as the sauce poured over the dish before serving. This helps cut down on recipe ingredients and prep time as you only need to make one sauce. The five-spice powder this recipe calls for is a mixture of, you guessed it, five spices. Star anise, cloves, cinnamon, Sichuan pepper, and fennel seeds are the most common combination although other varieties are available. Asian markets will have five-spice powder and Shaoxing wine but if you can't find any you can omit the five-spice powder and substitute the Shaoxing wine for mirin or cooking sherry.
Soy Marinated Pork Chops
Please always check your food to ensure your food has been cooked to safe serving temperatures. Please see our guide
here
for recommended FDA Time & Temperatures.
Servings: 2
Difficulty: 2 hours and 15 minutes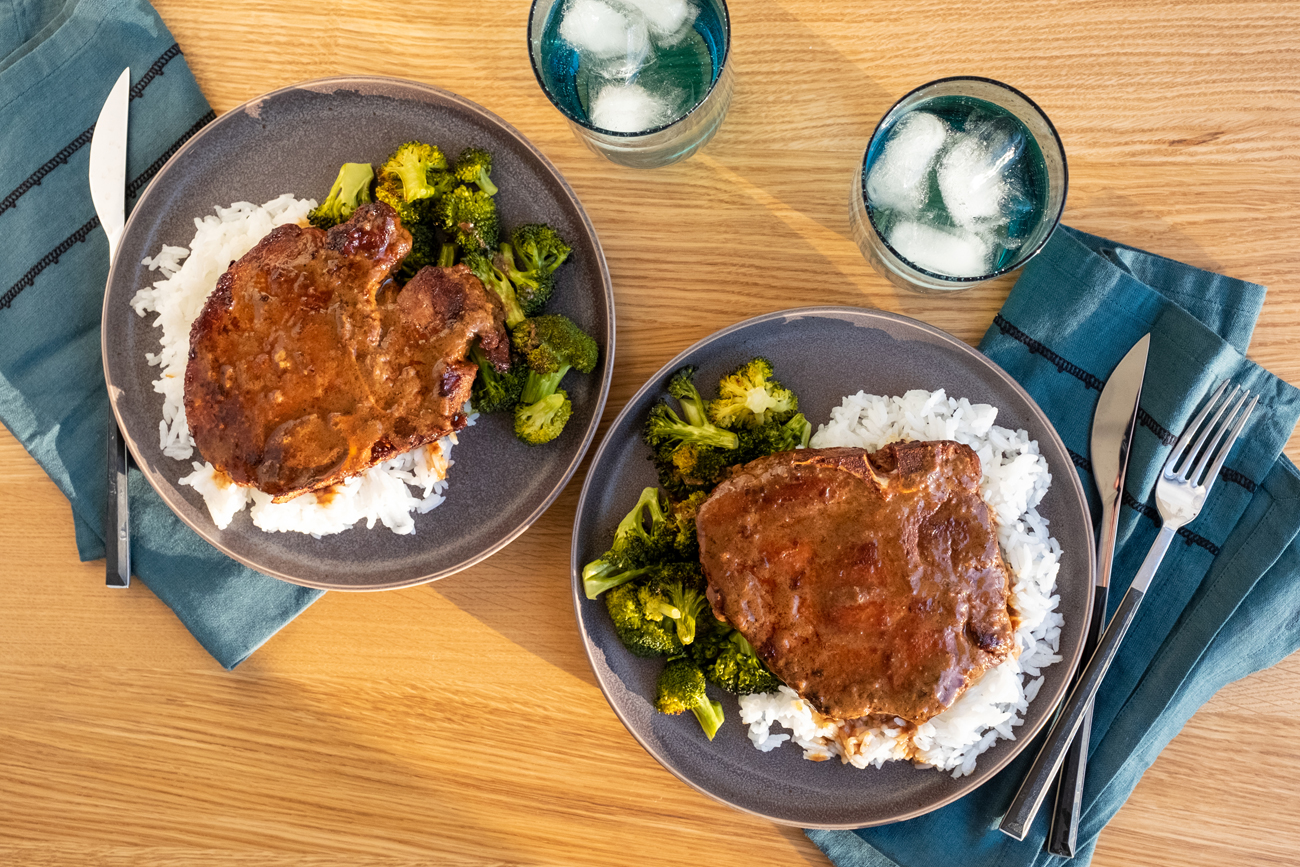 Ingredients
2 garlic cloves, minced
¼ cup soy sauce
1 tbsp Shaoxing wine
1 tsp sesame oil
¼ tsp white pepper
¼ tsp five-spice powder
2 center-cut pork chops (about 1 inch thick)
8 oz broccoli, cut into florets
⅔ cup jasmine rice
1½ tsp cornstarch
2 tablespoons vegetable oil, plus more to taste
Directions
Whisk together the garlic cloves, soy sauce, Shaoxing wine, sesame oil, white pepper, and five-spice powder in a small bowl. Season each pork chop with salt. Place into vacuum seal bag then pour marinade over the pork. Make sure the pork is evenly coated then vacuum seal (here's our DIY vacuum sealing guide) and place into Suvie pan.
Fill pan with enough water to cover the pork chops then load into upper right cooking zone. Add broccoli to another Suvie pan and load into upper left cooking zone. Add rice and 2 tsp salt to the starch pan and load into starch zone.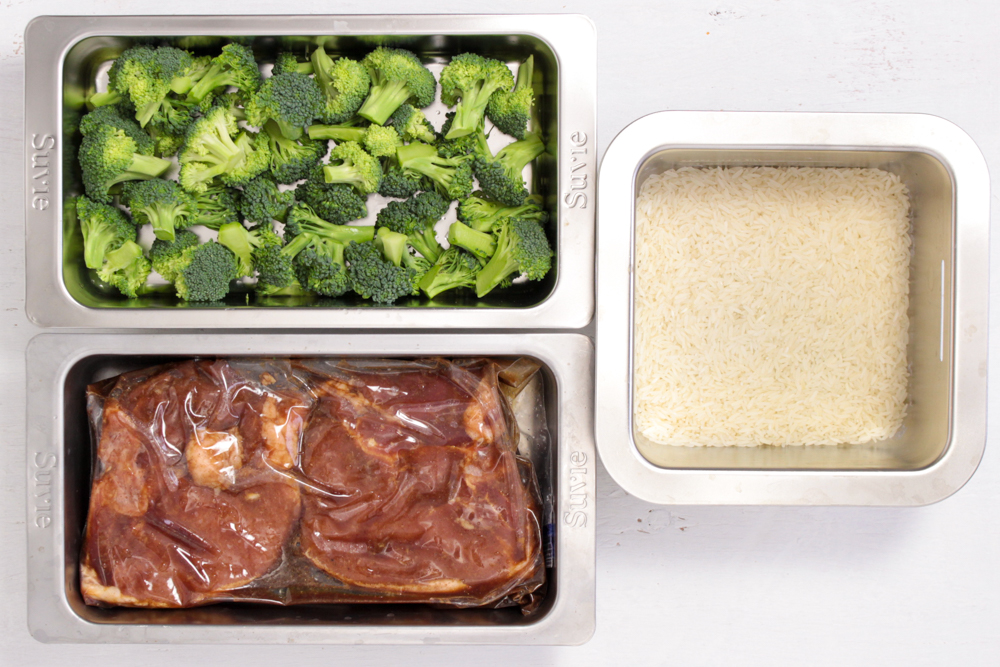 Fill reservoir, enter cook settings and cook now or schedule.
My Cook > Multi-Zone
Protein: 135˚F for 1 hour
Vegetable: 10 minutes
Starch: 13 minutes
After the cook remove the pork and broccoli from Suvie.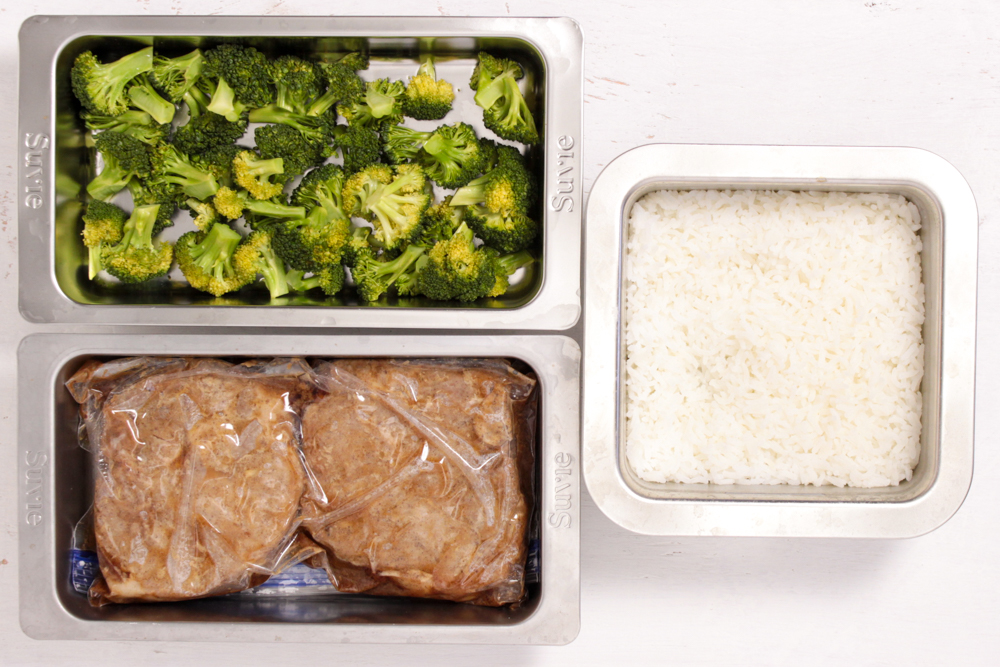 Drain water from pork pan and pat dry. Pour the marinade from the pork back into the Suvie pan. Place the pork chops on a plate and pat dry. Whisk the cornstarch with 1 tbsp water then whisk into the marinade. Return pan to Suvie.
Pour off any excess water from the broccoli. Toss with salt, pepper, and vegetable oil and return to Suvie. Broil both pans for 10 minutes, stirring halfway through, until the broccoli is slightly browned and the marinade has thickened into a sauce.
Meanwhile, heat 2 tbsp oil in a skillet over high heat. Sear pork chops in the skillet until well browned on all sides, about 2 minutes per side. Lower heat if the pan begins to smoke in excess.
When finished searing, divide the rice and broccoli between two plates. Place each pork chop on top of the rice then top with the sauce.