Most people spend the days leading up to Valentine's Day scrambling to make reservations at expensive restaurants with over the top prix fixe menus. Here at Suvie, we want you to relax with your loved ones, glass of wine in hand, while your kitchen robot handles the planning and cooking. We've put together five delicious Valentine's day menus with wine pairings that will allow you to spend time on what's truly important this holiday. Happy Valentine's to you and your loved ones from Suvie!
Seared Scallops, Pasta with Lemon Caper Sauce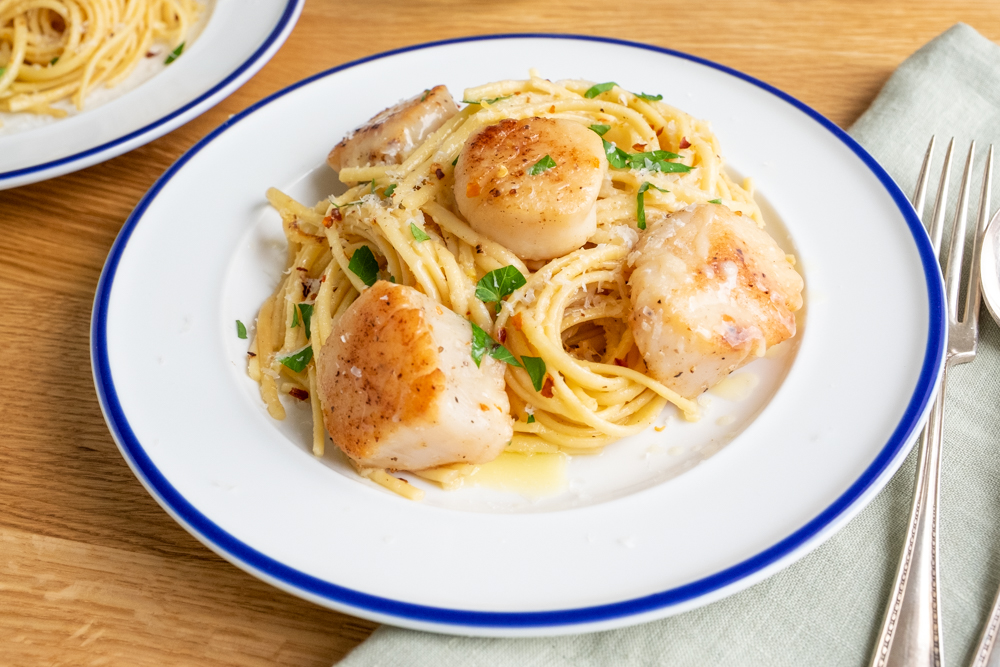 Wine recommendation: Sauvignon Blanc
Sauvignon Blanc is an aromatic white grape variety that results in wines with medium body, high acidity, and herbaceous characteristics. Its flavor profile can vary depending on where it's grown but is primarily that of green fruits of apple, lime, gooseberry, and vegetable notes of green pepper, and asparagus. Though often best known for being produced in New Zealand, Sauvignon Blanc originated in the Loire Valley of France and there is labeled by the name of the village where it is produced. Two of the best-known wine appellations for Sauvignon Blanc are Sancerre and Pouilly-Fume.
Sauvignon Blanc wine pairs well with this lovely seafood dish and tangy sauce. It's refreshing and bracing acidity balances well with the lemon and capers. Try a Sauvignon Blanc from the Marlborough region of New Zealand for a wine with medium body, pungent, and fruity varietal flavors or a Sancerre from the Loire Valley for a slightly fuller body and mineral-driven style of this grape varietal.
Crispy Statler Chicken Breast with Apple Cranberry Wild Rice Salad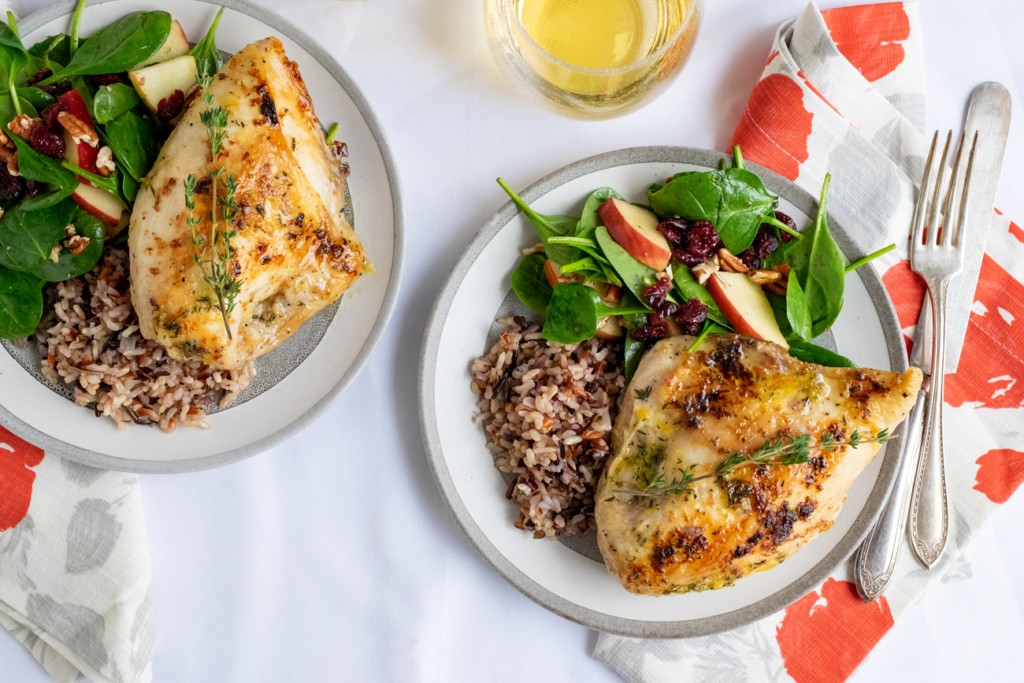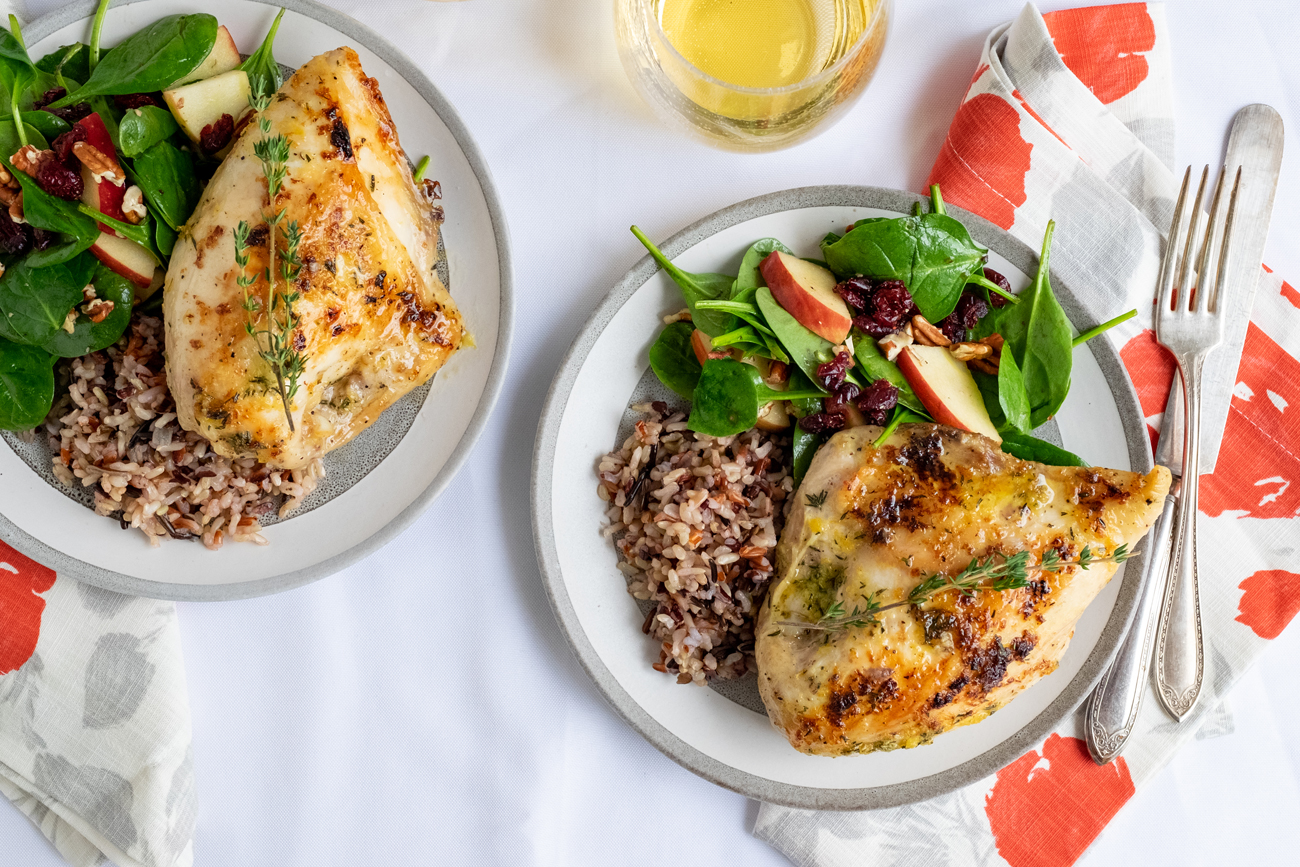 Wine Recommendation: Unoaked Chardonnay from France or the United States
Chardonnay is one of the most famous white wine grapes and is made into wine all over the world. It is produced in two main styles, a crisp unoaked version or a rich oaked style. The aromas and flavors of Chardonnay are also influenced by the climate and soil it is grown in. In cool climates, the wine has green and citrus fruits like lemon, lime, pear, and green apple. A moderate climate produces a wine with stone fruits such as peach and apricot, and in a warmer climate, it has flavors of tropical fruits like banana, melon, and pineapple on the palate.
For this dish choose an unoaked chardonnay from Chablis France. Its light to medium body, refreshing acidity, and minerality will pair well with the combination of apple, cranberry, and chicken flavors.
Vegetarian Involtini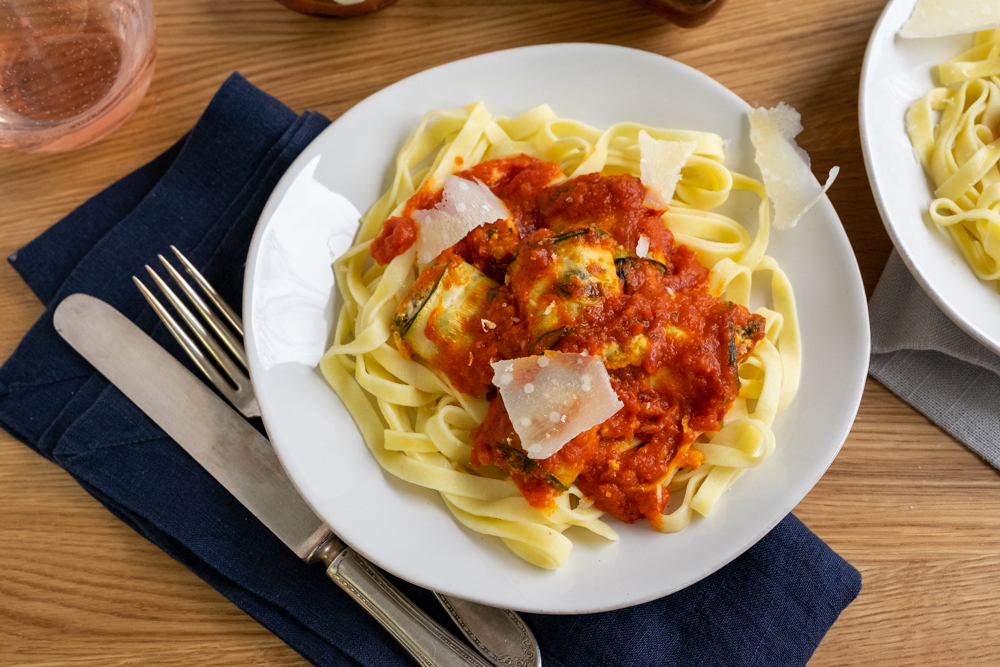 Wine Recommendation: Pinot Noir
Pinot Noir is grown around the world and prefers a cool climate to thrive. It is a black grape variety with thin skins that produces lighter red wines with medium body, high acidity, and low to medium tannins. Wines from the Pinot Noir grape have delicate red fruit aromas and flavors of strawberry, raspberry, and cherry. Premium Pinot Noir wines, such as those from Burgundy France, when aged will develop additional notes of mushroom, fig, smoke, forest floor, leather, and violets. But in general Pinot Noir is best consumed while youthful and fruity.
Pinot Noir is a very food-friendly wine as it has enough body and crisp acidity to pair well with both light and heavy dishes. A cheese-filled dish with tomato sauce like the Involtini has both fat and acid components. A lighter fruitier style of Pinot Noir with medium acidity will cut through the richness of the cheese and tame the acidity in the tomato sauce. Choose one from the Oregon Willamette Valley or an unoaked version from New Zealand.
Butter-Basted Pork Chops with Baby Potatoes and Haricot Verts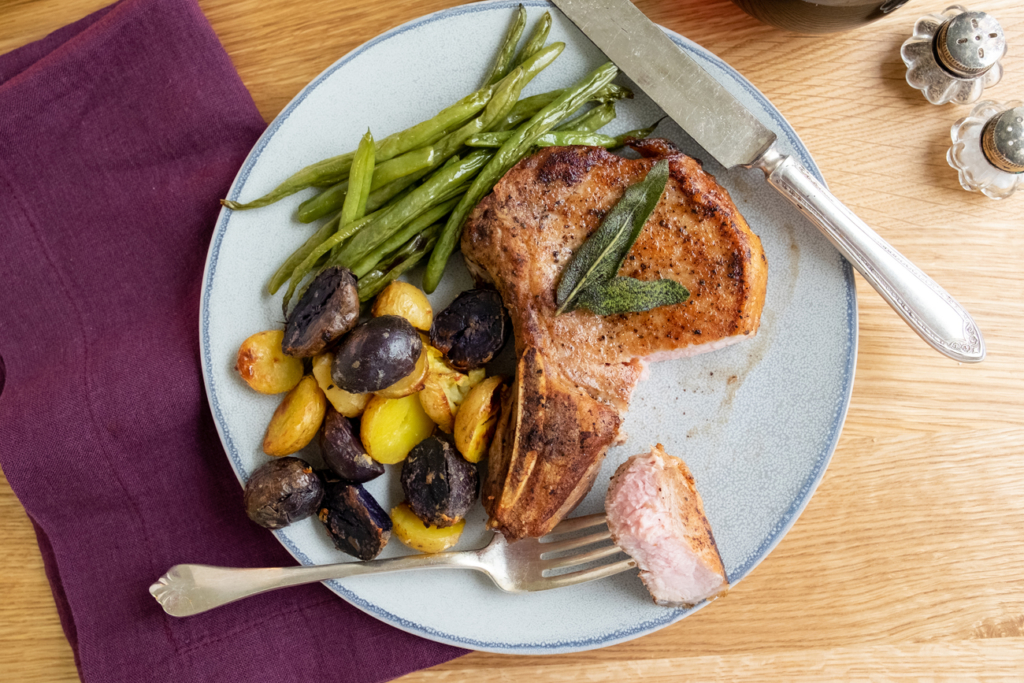 Wine Recommendation: Syrah blend from the Southern Rhone Region of France
Syrah, which is also known as Shiraz in Australia, is a full-body wine with aromas and flavors of black and red fruits such as blackberry, black currant, red currant, and red raspberry. With age, Syrah wine will take on secondary and tertiary flavors of smoke, leather, caramel, and black plum. The bold Syrah grape is often blended with the less acidic redder fruit-forward Grenache grape to produce a wine with softer tannins, balance, and elegance.
For this dish choose a Cotes du Rhone from the southern Rhone Valley of France. Its medium to full body, juicy red and black fruits, and medium to high acidity will pair well with the pork and enhance the flavors in this dish. For a lighter style wine choose one labeled Cotes du Rhone Villages or for a more complex and deep wine look for one from the Chateauneuf-du-Pape or Gigondas appellations of this wine region.
Seared Steak with Garlic Parmesan Farro and Broccoli Rabe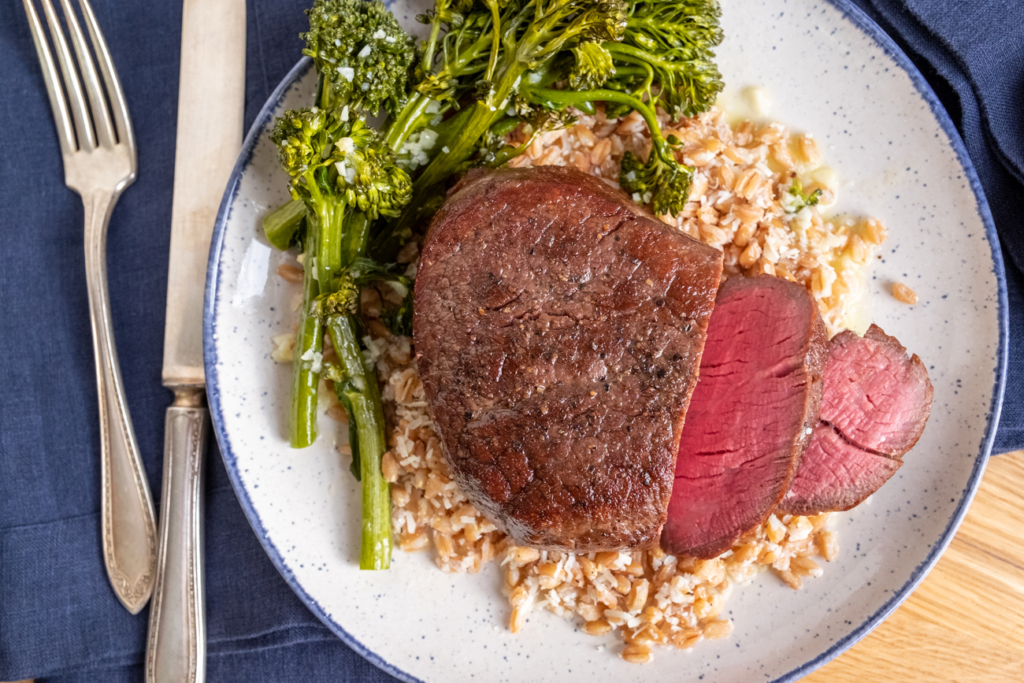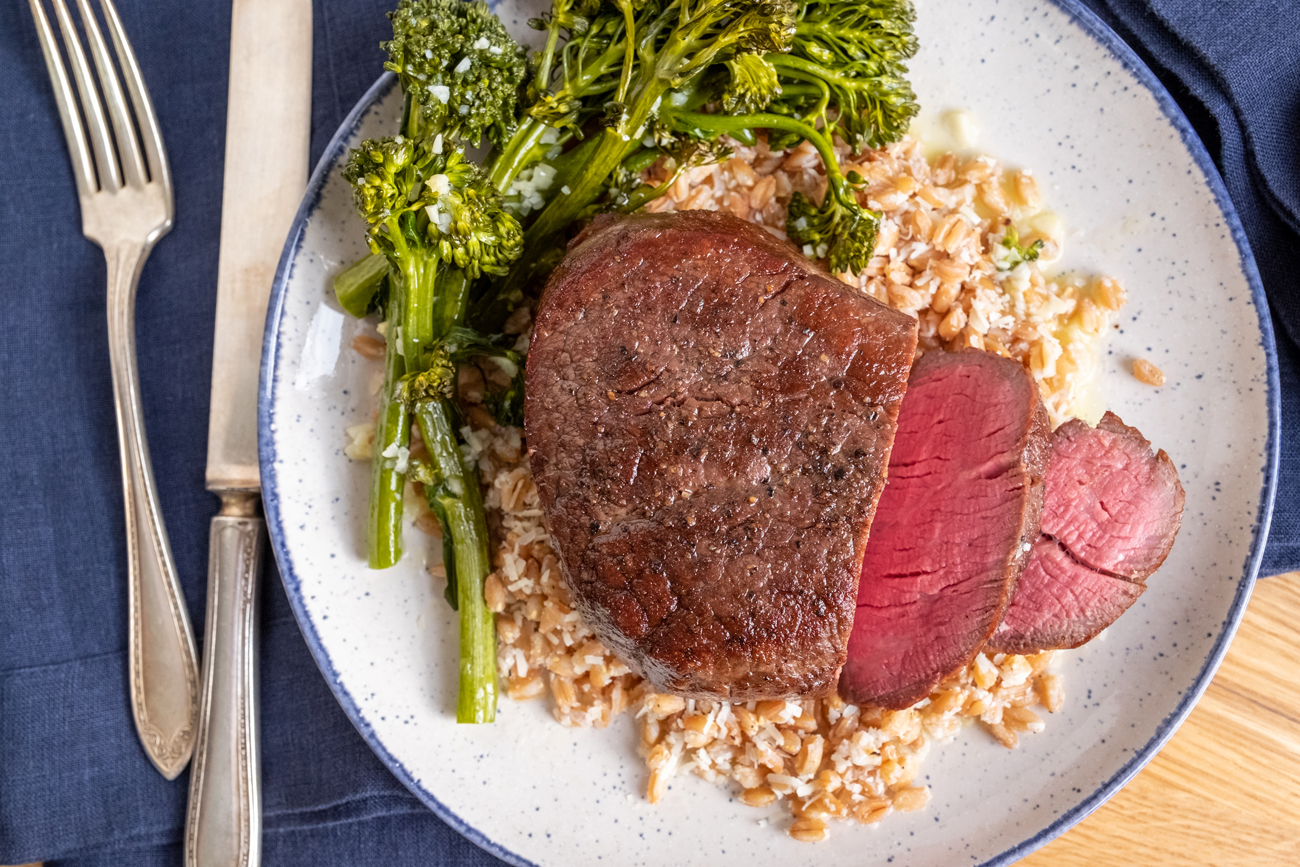 Wine Recommendation: Cabernet Sauvignon
Cabernet Sauvignon is a black grape that gives deeply colored wines with a high level of acidity, tannin, and full body. These wines have strong aromas and flavors of black fruits including black cherry, black currant, and black raspberry along with herbaceous notes of bell pepper and mint. Cabernet wines are frequently aged in oak which helps to soften the tannins and add flavors of smoke, coffee, cedar, and spice.
Cabernet Sauvignon is a big wine with robust flavors and structure that pairs well with richer and more intense dishes. Cabernet and steak are a classic food pairing. The fatty proteins in steak (and other meats) coat the mouth in fat and the powerful tannins in the wine bind with the fat to cleanse the palate, making your mouth ready for another bite. Choose a Cabernet from Napa California or Mendoza Argentina to go with this dish.
In addition to her work as an RDN, Susan Richards is also a student of wine. She has completed her WSET Level 3 Award in Wine and loves to educate people on wine.