Involtini means "rolls" in Italian, so this recipe gives you little rolls of zucchini stuffed with creamy, cheesy filling. Four different kinds of cheese comprise the filling to give you a variety of flavors and textures: ricotta for creaminess and tang, parmesan for rich umami flavor, fontina for funkiness and chew, and mozzarella for that satisfying stretchiness. The filling also includes spinach to vary the texture and flavor with all that rich cheese. We call for frozen spinach because it's easier to wring out, which is a crucial step in this recipe. We want to eliminate as much extra water as possible to keep the involtini from getting soggy. Zucchini also holds a lot of water, so we salt and drain the thin slices before rolling them up with filling. This recipe does require a bit of prep work, but we think the results are worth it. To streamline your work you can prepare the filling up to a day in advance and store in an airtight container.
Zucchini Involtini
Please always check your food to ensure your food has been cooked to safe serving temperatures. Please see our guide
here
for recommended FDA Time & Temperatures.
Servings: 6
Difficulty: 2 hours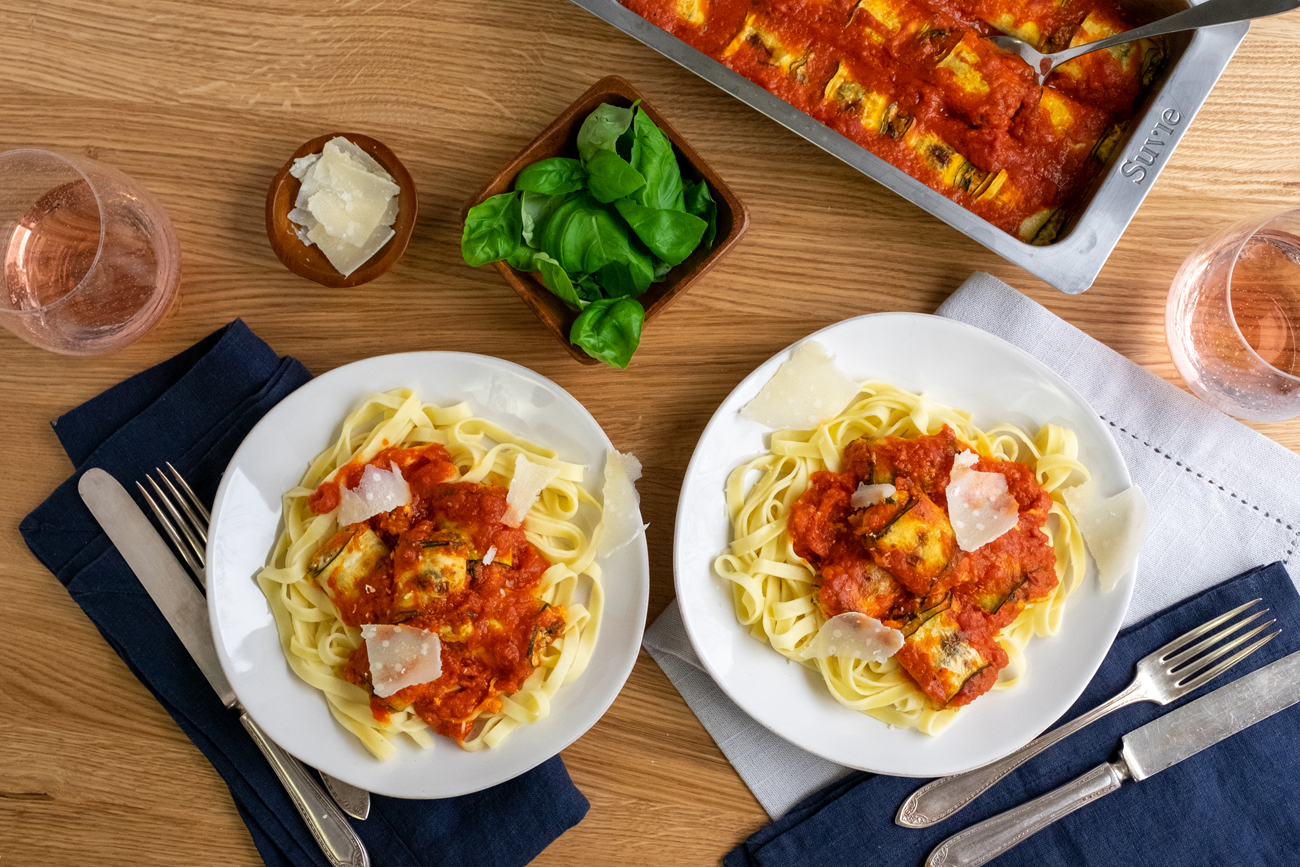 Ingredients
2-3 medium zucchini (1 ¼ lbs total), about 2" in diameter
8 oz chopped frozen spinach, defrosted
7 oz (3/4 cups) ricotta cheese
1 large egg, beaten
1 oz (1/2 cup) grated parmesan cheese, plus extra for serving
2 oz (¾ cups) fontina, shredded
3 oz (1 cup) shredded low-moisture mozzarella (not in water)
20 oz (2 cups) marinara sauce
1 tbsp olive oil
¼ cup torn basil leaves
Shaved parmesan
6 oz tagliatelle
Salt and pepper
Directions
Trim and discard zucchini stems. Lay zucchini flat on a cutting board and, using a peeler, firmly and carefully peel off long, thin pieces lengthwise from the zucchini (alternatively, use a mandolin on it's the thinnest setting to cut the zucchini). Discard the first few skinny pieces. Aim for 30 long pieces, about 2" wide.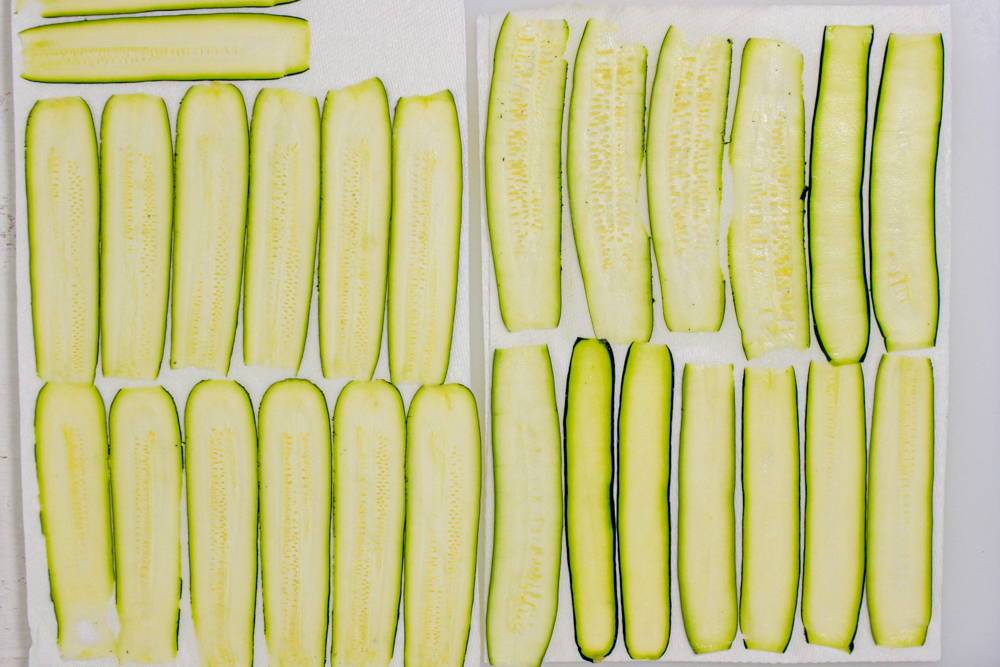 Spread zucchini in an even layer across a double layer of paper towels. Sprinkle the zucchini with 1/2 tsp of salt and allow to sit for 10 minutes while preparing the filling.
Place spinach in the middle of a clean kitchen towel, gather the ends of the kitchen towel together and twist over the sink to wring out the water. Alternatively, place spinach in a fine mesh colander and press down with the back of a ladle or your hands to expel as much water as you can. You want to get the spinach as dry as possible to avoid soggy filling.
In a medium bowl whisk the ricotta and eggs until smooth. Stir in the grated parmesan cheese, fontina, mozzarella, drained spinach, 1 tsp salt, and ½ tsp pepper.
Pour ½ cup marinara into a Suvie pan and ½ cup marinara into another Suvie pan. Spread marinara into an even layer.
At this point, zucchini should have beads of moisture gathered along the top of each slice. Pat zucchini dry with paper towels.
Scoop 1 tbsp filling into a mound on the bottom of each slice of zucchini. Roll the zucchini up into a tight roll.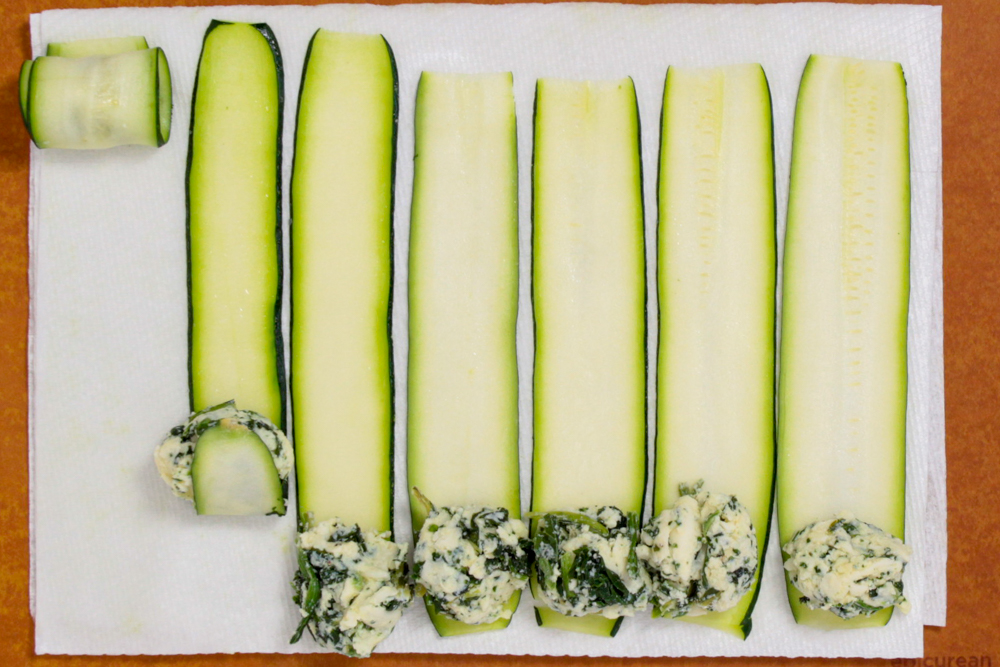 Divide the zucchini between both prepared pans, seam-side down in a 3 by 5 grid. Brush the tops of the zucchini with olive oil.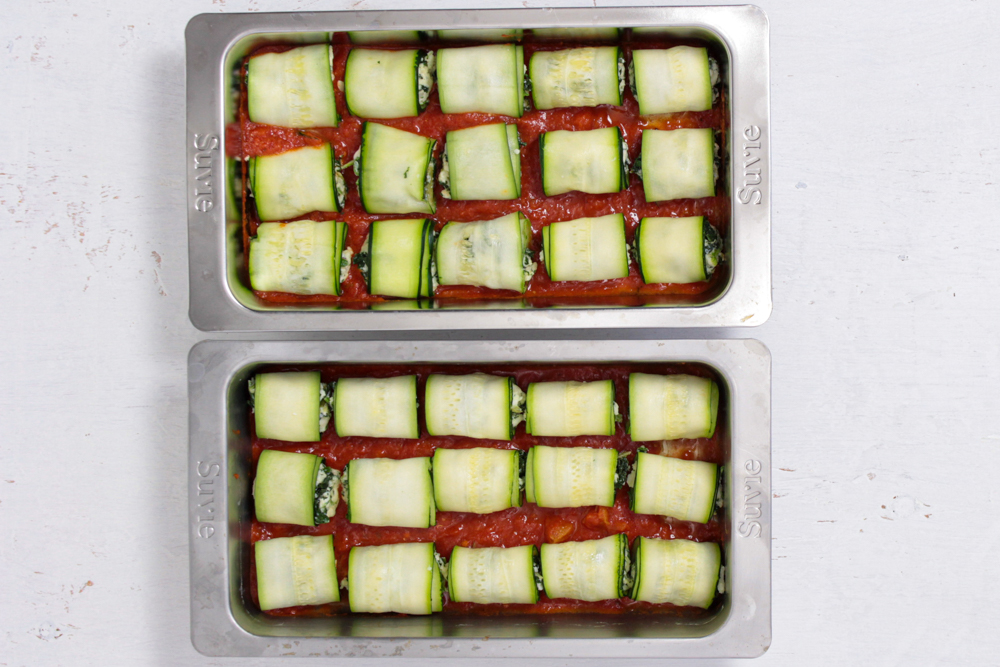 Insert the pans into your Suvie and broil for 10 minutes, or until zucchini is browned (you may have to broil twice). Pour remaining marinara over the top of the zucchini.
Place pasta in a starch pan. Insert pans into your Suvie, set to cook.
My Cook > Slow Cook and Starch
HIGH, 2 hours
Starch: 9 Minutes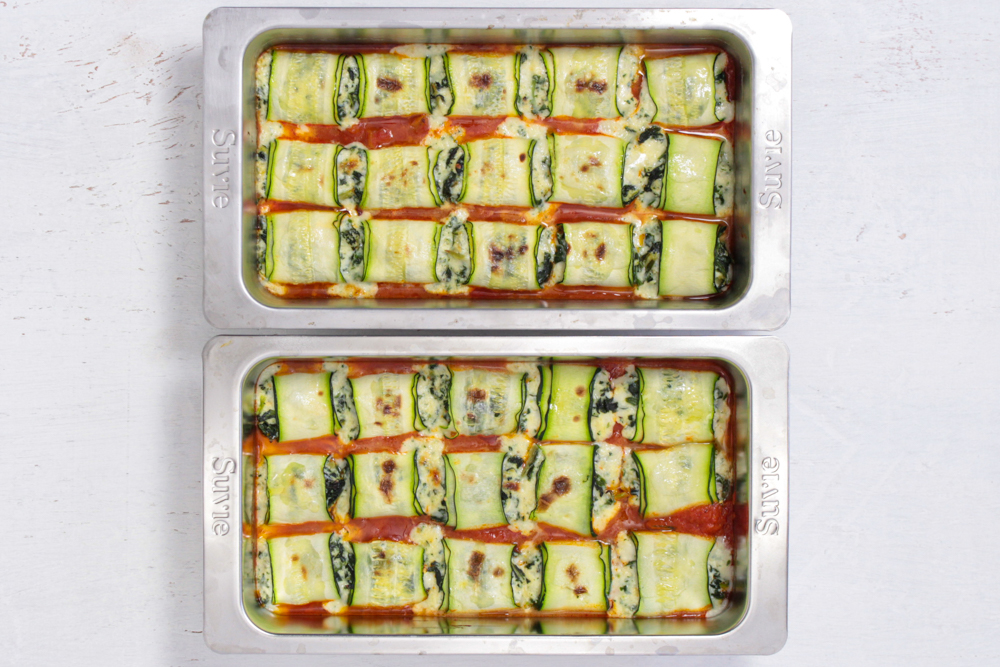 Once done cooking, remove pans from your Suvie, divide involtini between plates, and sprinkle with shaved parmesan and basil leaves.
Nutritional Information per serving (6 servings per recipe): Calories 320, Total Fat 17g, Total Carbohydrates 25g, Total Sodium 622mg, Total Protein 19g.