These cookie bars are magical! A decadent combination of buttery graham cracker crumbs, chocolate chips, butterscotch chips, shredded coconut, and sweetened condensed milk, these cookie bars will not last long. This dish is a crowd pleaser and with just 7 ingredients, and minimal prep, this recipe is probably one of the easiest dessert recipes to make. These are bulky bars, so we wrap our Suvie pan in foil for the first 30 minutes of cooking to ensure even baking. Then, we remove the foil for the final 10 minutes of baking to get that coveted, golden topping.
Coconut Magic Cookie Bars
Please always check your food to ensure your food has been cooked to safe serving temperatures. Please see our guide
here
for recommended FDA Time & Temperatures.
Servings: 12
Difficulty: 40 minutes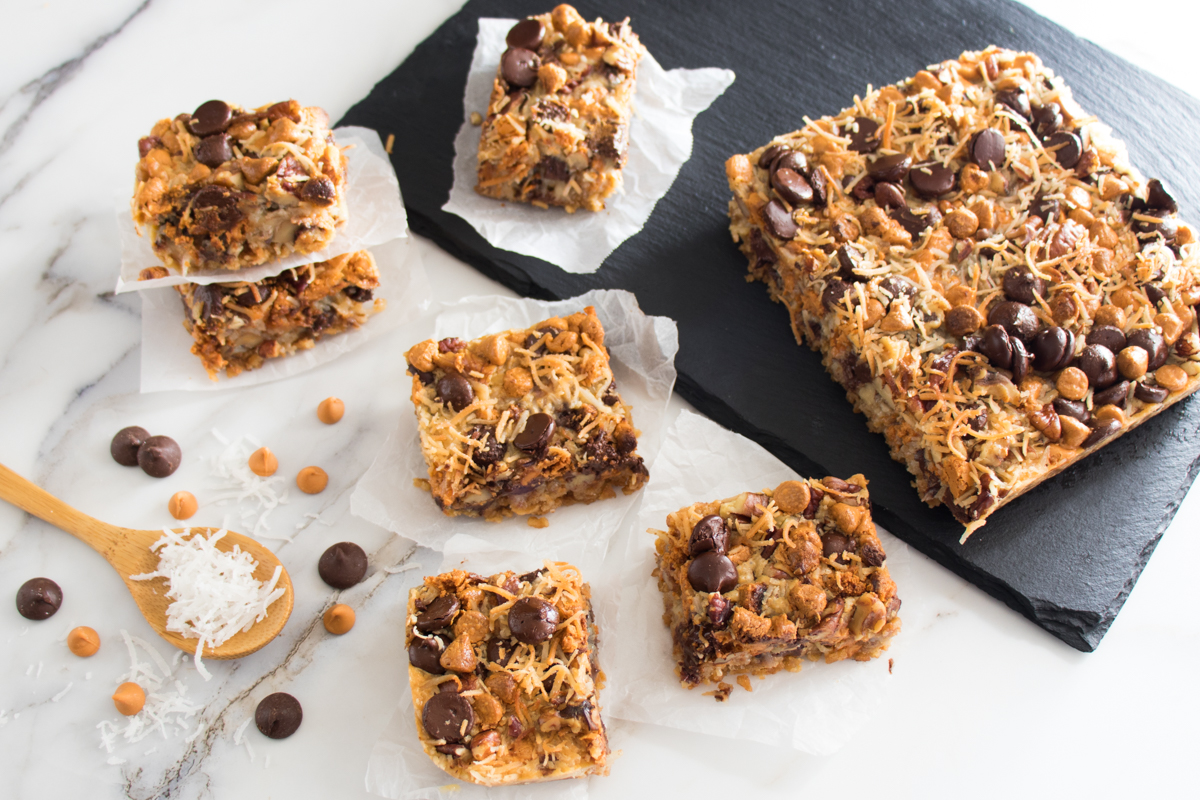 Ingredients
2 cups crushed graham crackers
½ cup (1 stick) butter, melted
1 can (14 oz) can sweetened condensed milk
1 cup dark chocolate chips
1 cup butterscotch chips
1 cup sweetened shredded coconut
1 cup chopped pecans
Directions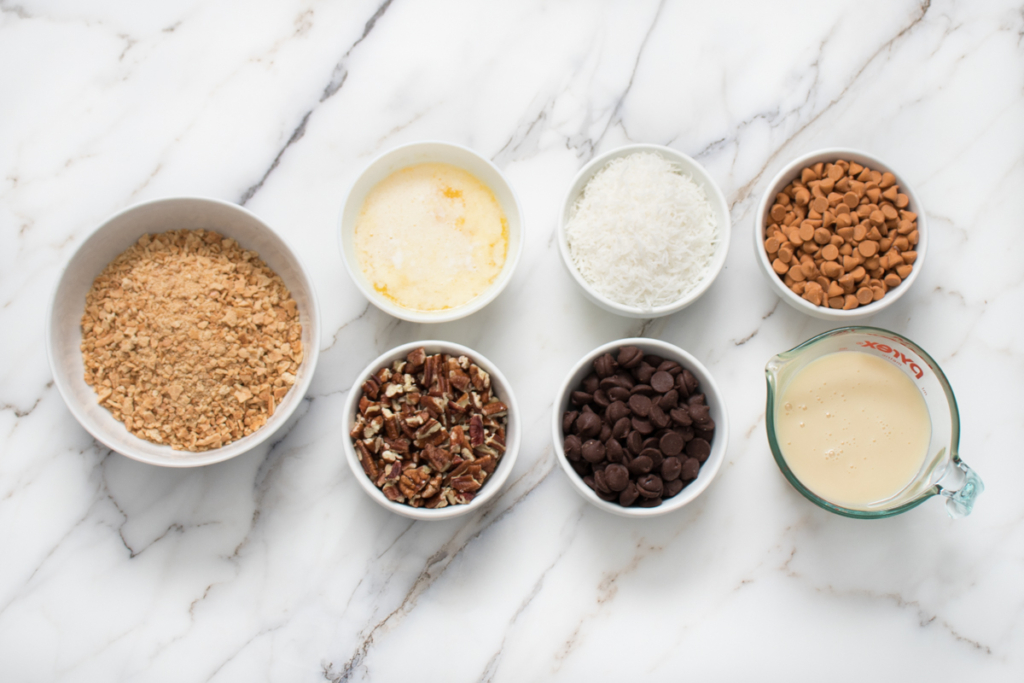 1) In a medium bowl, combine 2 cups crushed graham crackers with ½ cup melted butter and stir until well blended.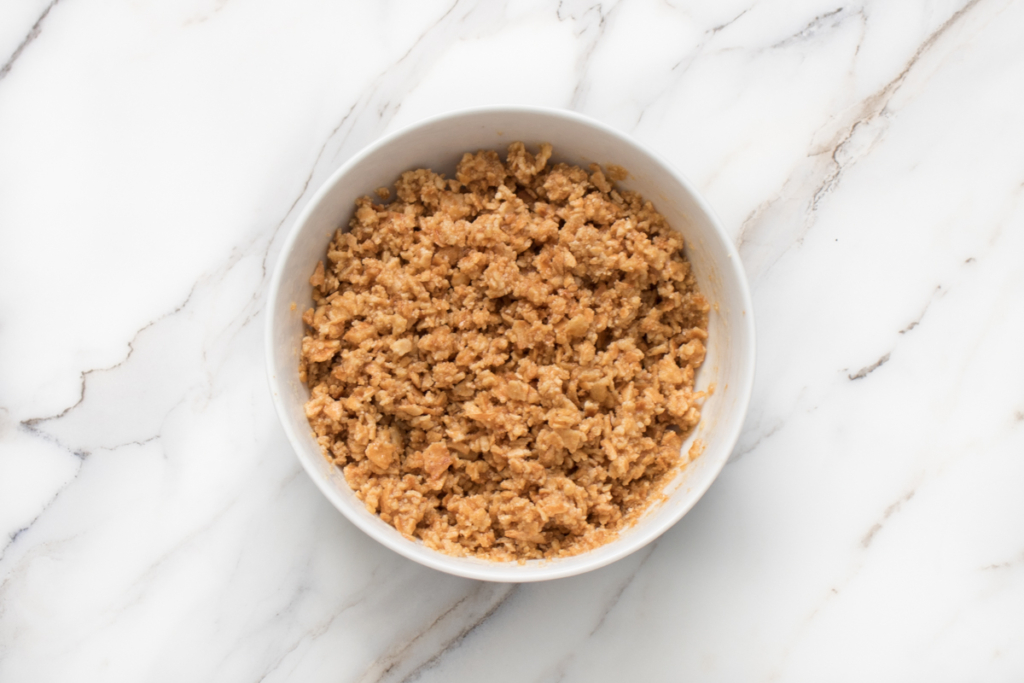 2) Line a Suvie pan with parchment and lightly grease. Transfer graham cracker crumbs to the pan and use a spatula to press the crumbs into the bottom, creating an even crust.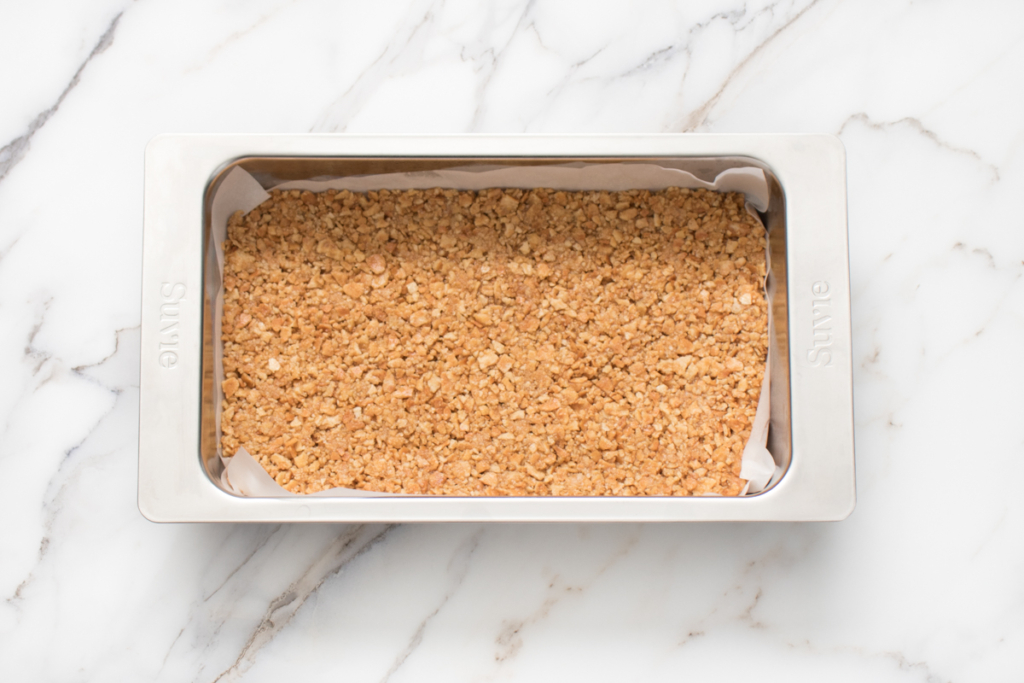 3) Spread 14 oz sweetened condensed milk evenly over the graham cracker crust.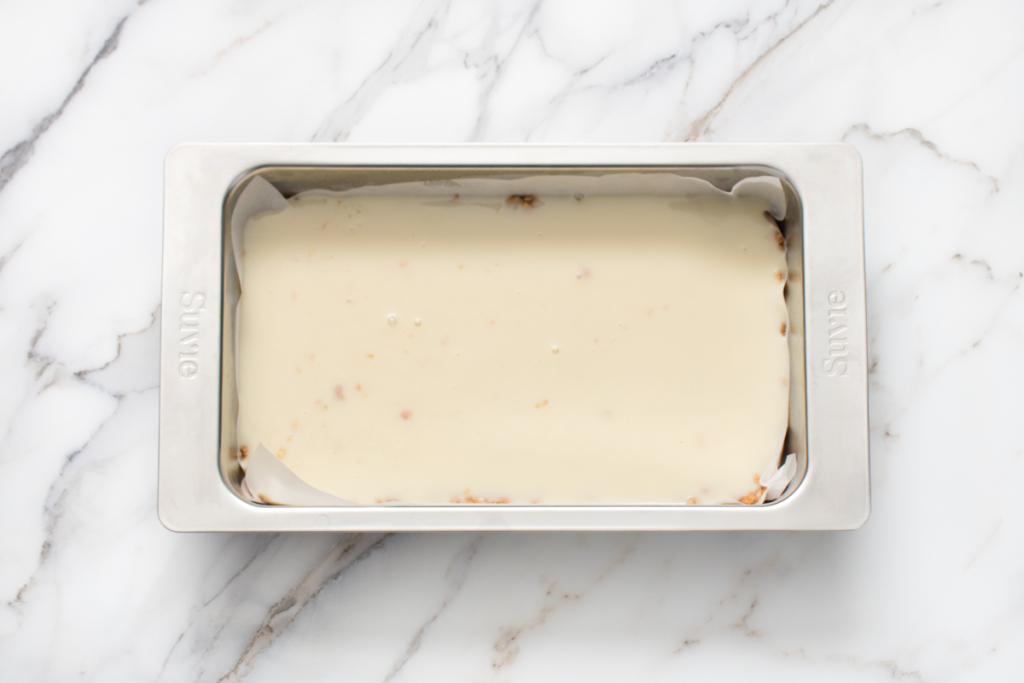 4) Add 1 cup of chocolate chips, 1 cup butterscotch chips, 1 cup shredded coconut, and 1 cup pecan pieces to the pan, sprinkling the ingredients in alternating layers. Gently press the toppings into the sweetened condensed milk. Cover the pan with aluminum foil and place in the bottom zone of your Suvie. Input settings and cook now.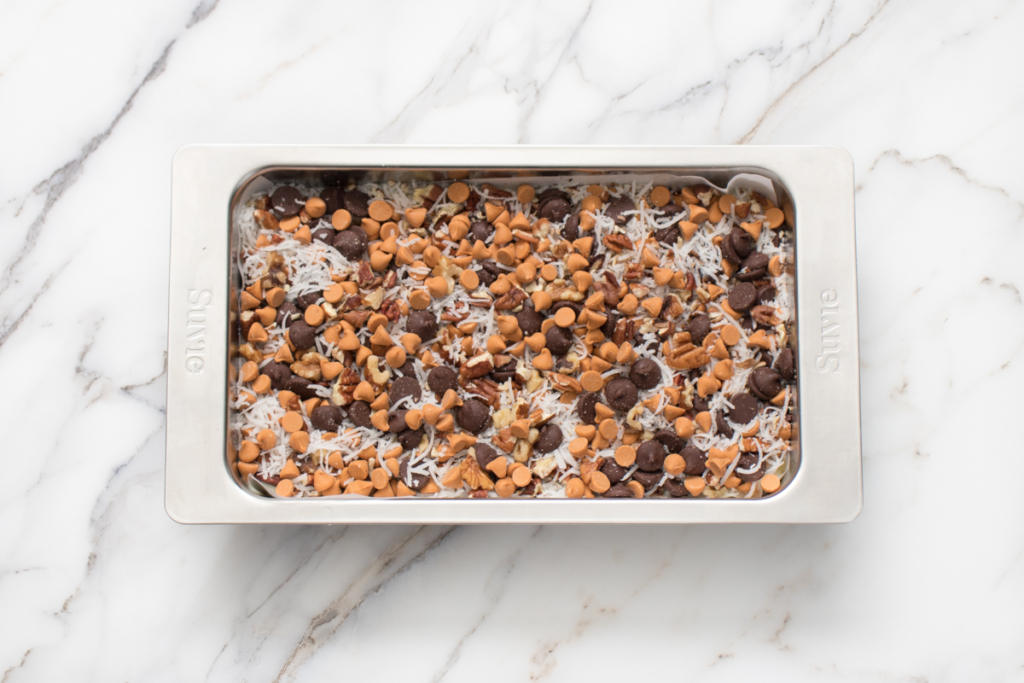 Suvie Cook Settings
Bottom Zone: Bake at 325°F for 30 minutes (for Suvie 3.0, Bake at 275°F for 30 mins)
Top Zone: None
5) After the cook, remove the aluminum foil, and return the pan Suvie.
Suvie Cook Settings
Bottom Zone: Bake at 325°F for 10 minutes (for Suvie 3.0, Bake at 275°F for 10 mins)
Top Zone: None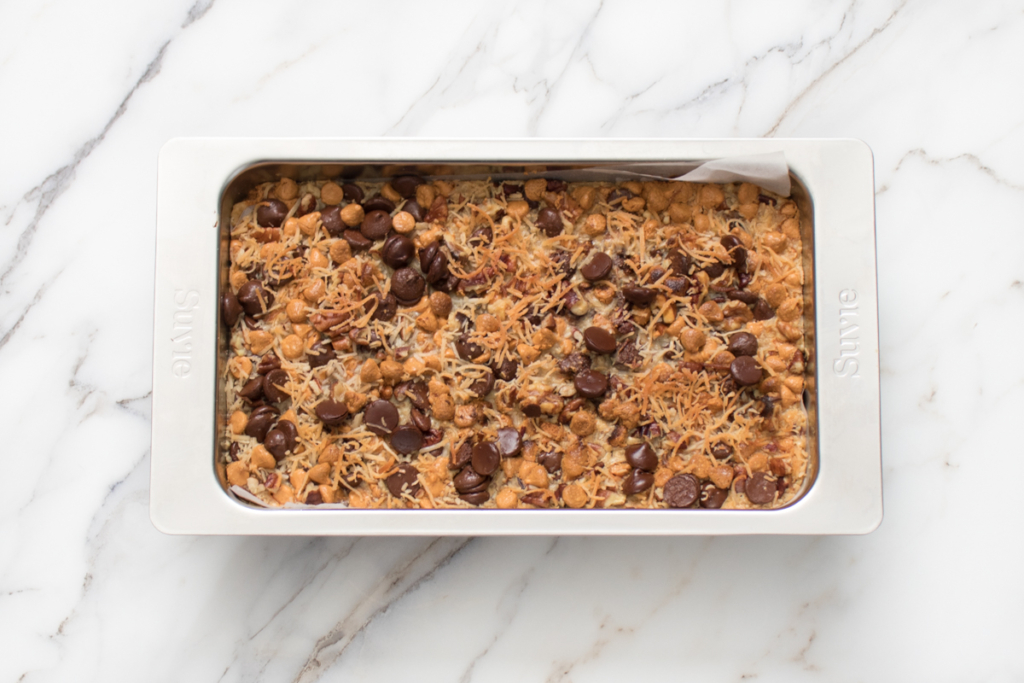 6) Once the topping has browned, remove the pan from your Suvie, and set aside to cool completely (preferably on a wire rack) for about 1-2 hours. Once cooled, slice into individual bars and serve (or refrigerate until ready to serve).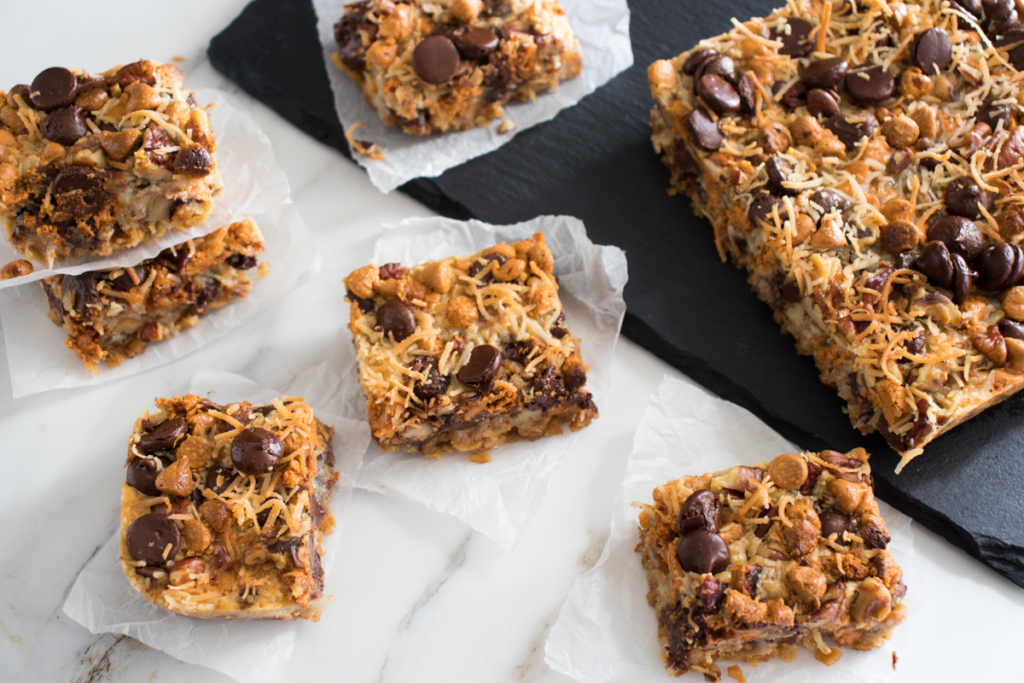 Nutrition
Nutritional Information per serving (12 servings per recipe): Calories 445, Total Fat 28g, Total Carbohydrates 46g, Total Sodium 227mg, Total Protein 6g.