Peruvian ceviche is the country's proud national dish. Once you've tried it, and your mouth is bursting with aromatic flavors from the marinated fish, and your lips are tingling from the spice, you'll be hooked (no pun intended!).
What is Ceviche?
Ceviche is the process of cooking seafood in a highly acidic marinade. The acidity comes from limes, lemons, or oranges. Aromatics are added to the marinade, such as garlic, celery, onion, and sometimes ginger, in influence from Japan. Although the fish goes into the marinade raw, the acid 'cooks' it, so it's essential to use the freshest and best quality fish you can find. Ceviche is usually served with plantain chips, tostadas, or corn tortilla chips, depending on where you are in the world.
The Difference Between Peruvian Ceviche and Mexican Ceviche
Peruvian ceviche's marinade is called "leche de tigre" (more on that later!). Peruvian ceviche is usually spiced with the hot local chili peppers, either aji Amarillo (which gives a yellow hue) or aji limo (which gives a reddish hue). As these chiles may not be readily available where you live, you can buy them in paste form (as used in this recipe below), and they are easy to purchase online. If you'd rather use fresh chiles, habanero is said to be most likely the closest to aji spice level.
Although Mexican and Peruvian ceviches are similar in some ways. Mexican ceviches are usually served in a bowl with the marinade, so they are generally more 'soupy' and served with tostadas or tortilla chips alongside. Peruvian ceviche is commonly created with white fish (although, of course, other seafood is also used), and they usually include cooked sweet potato and fresh corn kernels. Peruvian ceviche is generally served on a plate, removed from the bowl it's been marinating in (the bowl will usually contain a few ice cubes to keep the ceviche ice-cold and to counteract the acidity of the citrus), so rather than swimming in the marinade, the ceviche is removed with a slotted spoon and a little of the 'leche de tigre' spooned on top. It's served with plantain chips on the side.
So, What is Leche de Tigre?
"Leche de Tigre", which means tiger's milk in Spanish, is the spicy citrus-based marinade that cures the fish. The "tigre" part of the translation is said to be named after its aphrodisiac qualities. The marinade is created by blending onions, garlic, celery, cilantro, and sometimes ginger, along with aji limo or aji Amarillo chiles (or paste), along with some ice cubes. Some recipes also add some fish to the blender, which helps create a creamier milk-like consistency. If you wish to do this, you can add 2 or 3 ounces along with the other ingredients. In Peru, the leche de tigre is often served in shot glasses alongside the ceviche and sometimes used as a cocktail ingredient.
Why are Key Limes suggested in this recipe?
Traditionally, local Peruvian ceviches and cocktails (such as Pisco Sours) use their local lime called "Limon Peruano"; key limes are the closest in size, although not as sweet as it's Peruvian counterpart. It takes a lot of time to juice key limes, so regular limes will also work just as well. Pro tip: An easy hack to squeeze key limes and get the most juice is to cut them in quarters and use a garlic press to extract the juice. 
Types of White Fish You Can Use For Peruvian Ceviche
Any sustainable firm white fish is recommended, but the fish must be skinned, filleted, and have any pin-bones removed. These are some suggestions:
Sea Bass
Mahi Mahi
Sole
Fluke
Cod loin
Flounder
Grouper
Rockfish
Halibut
Recipe: Peruvian Ceviche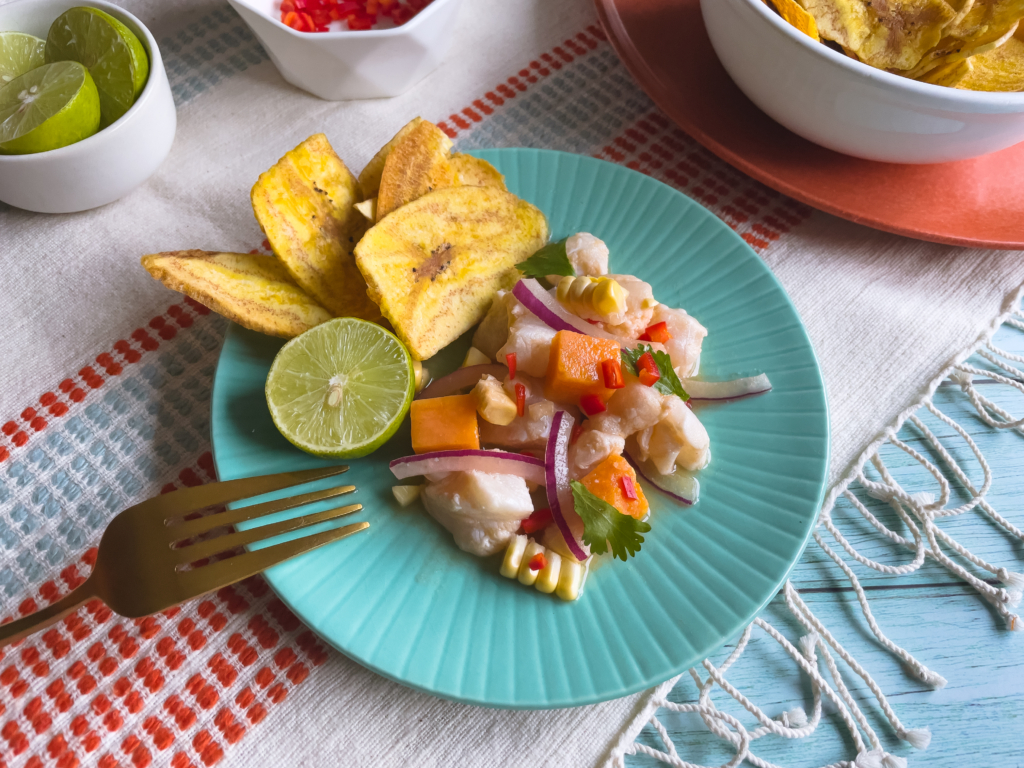 | | | |
| --- | --- | --- |
| Servings | Active Time | Cook Time |
| 4 to 6 | 20 minutes | 40 minutes, plus 1 hour cooling, and 3 minutes marinating |
Ingredients and Tools
Equipment
Suvie pan
Chef's knife and cutting board
Blender
Fine-mesh strainer
Small and medium bowls
Silicone spatula
Aluminum foil
Ingredients
For the Ceviche: 
1 medium sweet potato
½ tsp kosher salt
1 small ear of corn, husked and kernels removed
1 lb good quality fresh white fish, cut into 1/2-inch cubes
¾ small red onion, thinly sliced and soaked in cold water
⅓ cup ice cubes 
¼ cup cilantro leaves for serving
1 aji limo, habanero, or red jalapeño pepper, seeded and minced
Plantain chips, for serving
For the "Leche de Tigre":
1 small red onion, coarsely chopped 
2 large garlic cloves, smashed 
1 celery rib, coarsely chopped
1 (1-inch) piece fresh ginger, peeled 
¼ loosely packed cup chopped cilantro leaves and stems 
1 ½ tsp aji limo paste, or ½ aji limo, habanero, or red chile pepper, seeded
⅔ cup freshly squeezed lime juice (around 15 to 20 key limes or 5 large limes), plus wedges for serving 
½ cup jarred clam juice or fish stock 
2 tsp kosher salt
⅓ cup ice cubes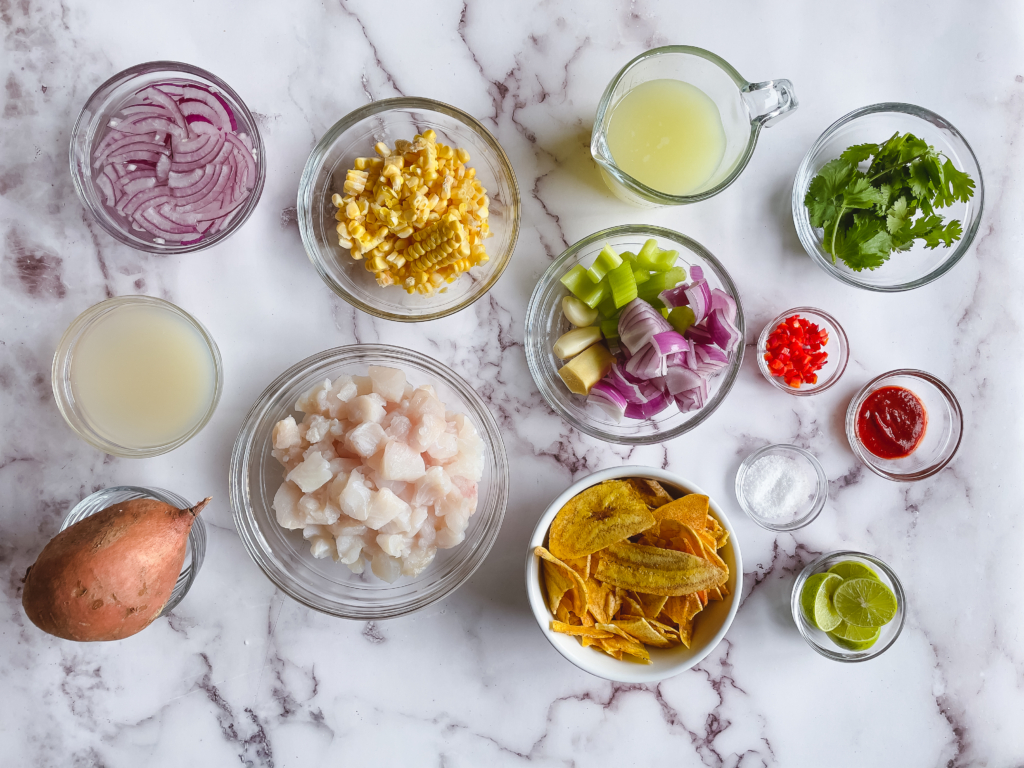 Directions
1) Peel sweet potato and chop into 1-inch cubes. Lay a 12-inch piece of foil on a work surface, place cubed potato in the center, and sprinkle with ½ teaspoon salt and 1 tbsp water. Wrap into a parcel and place in a Suvie pan.
2) Insert pan in the top of your Suvie. Input settings, and cook now or schedule.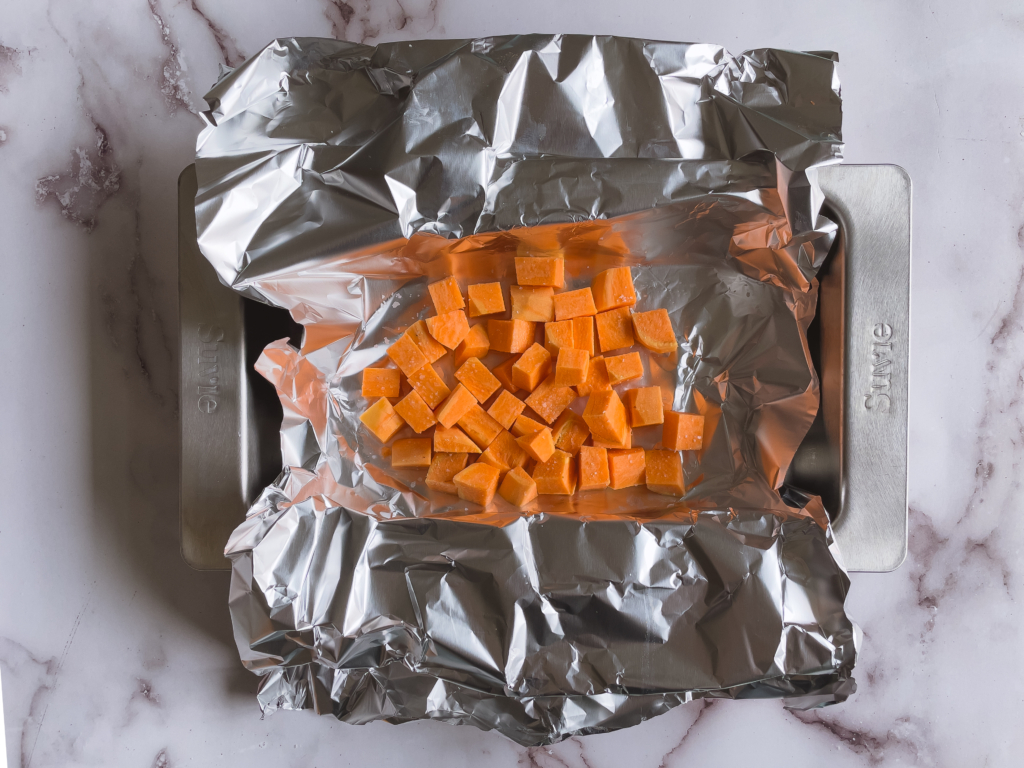 Suvie Cook Settings
Bottom Zone: Roast at 400°F for 40 minutes
Top Zone: Roast at 400°F for 40 minutes
3) Meanwhile, prepare the leche de tigre: In a blender, add 1 coarsely chopped small red onion, 2 smashed cloves garlic, 1 coarsely chopped celery rib, 1 (1-inch) piece ginger, ¼ cup chopped cilantro leaves and stems, and 1 ½ tsp ají limo paste, the juiced limes, ½ cup clam juice, and ¼ cup cold water. Blend until the mixture is completely smooth, about 1 to 5 minutes, depending on the speed of your blender. Add 2 tsp salt and ⅓ cup ice cubes; blend for 30 seconds more.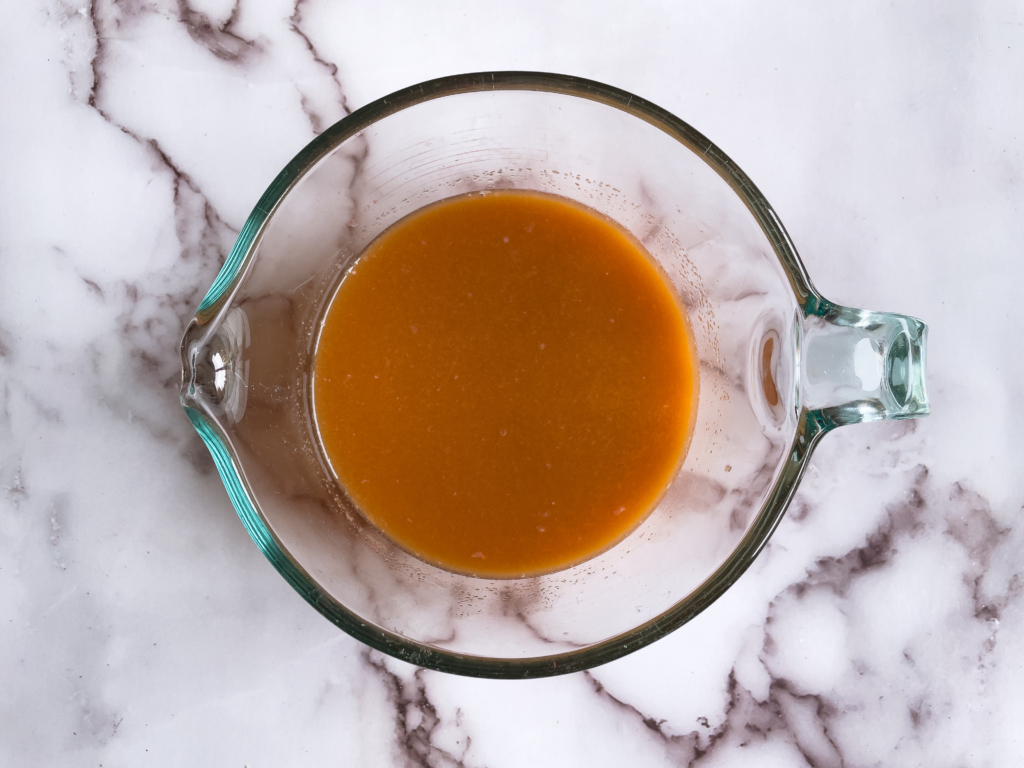 4) Set a fine-mesh strainer over a medium bowl. Pour blended mixture into strainer, pressing with a back of a spoon to release all the flavor. Discard foamy solids. Cover bowl and transfer to the refrigerator until ready to use.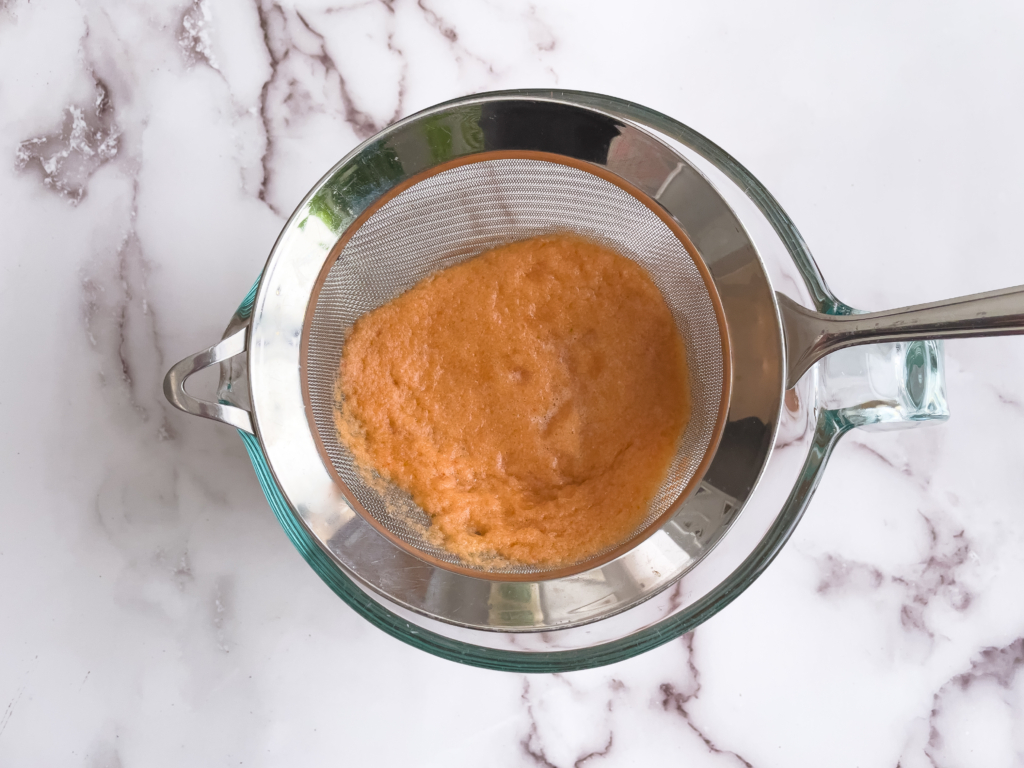 5) Once sweet potato is cooked, remove from Suvie pan, open foil package, and allow to cool to room temperature, about 30 minutes.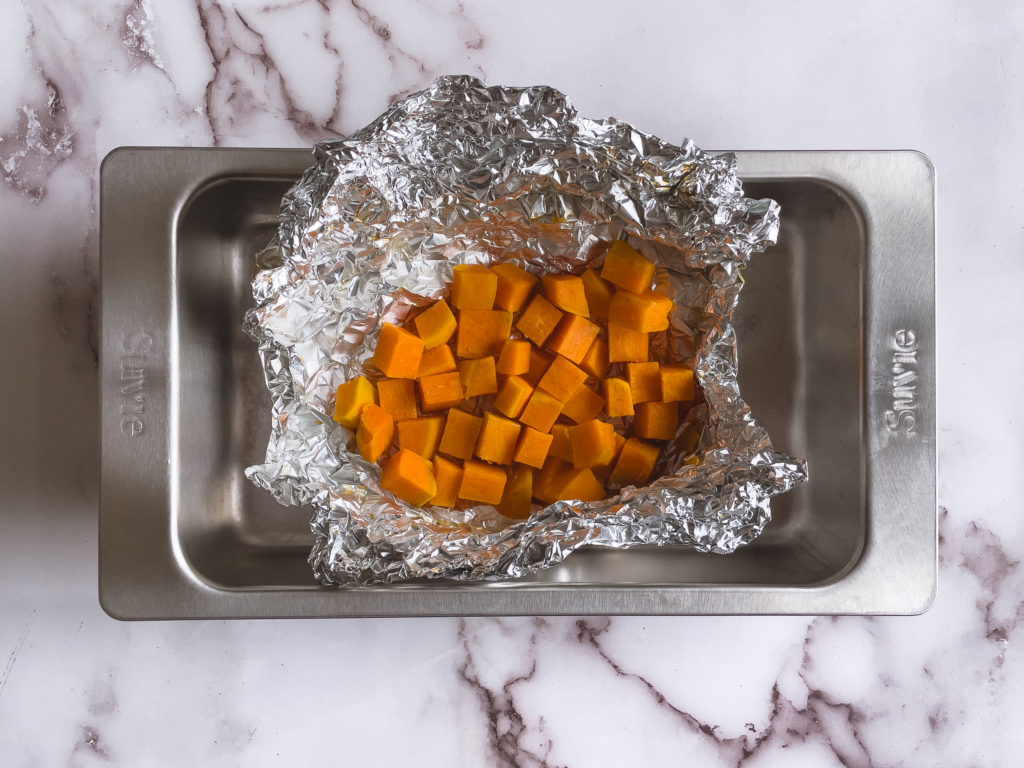 6) Strain the sliced red onion and discard the water (soaking in water helps remove the strength and bitterness from the raw onion). Place in a medium bowl, along with the cubed white fish and ¼ cup ice cubes. Pour leche de tigre over the fish so everything is submerged. Stir to combine. Allow to marinate for 5 minutes. Remove ice, then gently fold in sweet potato and corn kernels; season with more kosher salt to taste.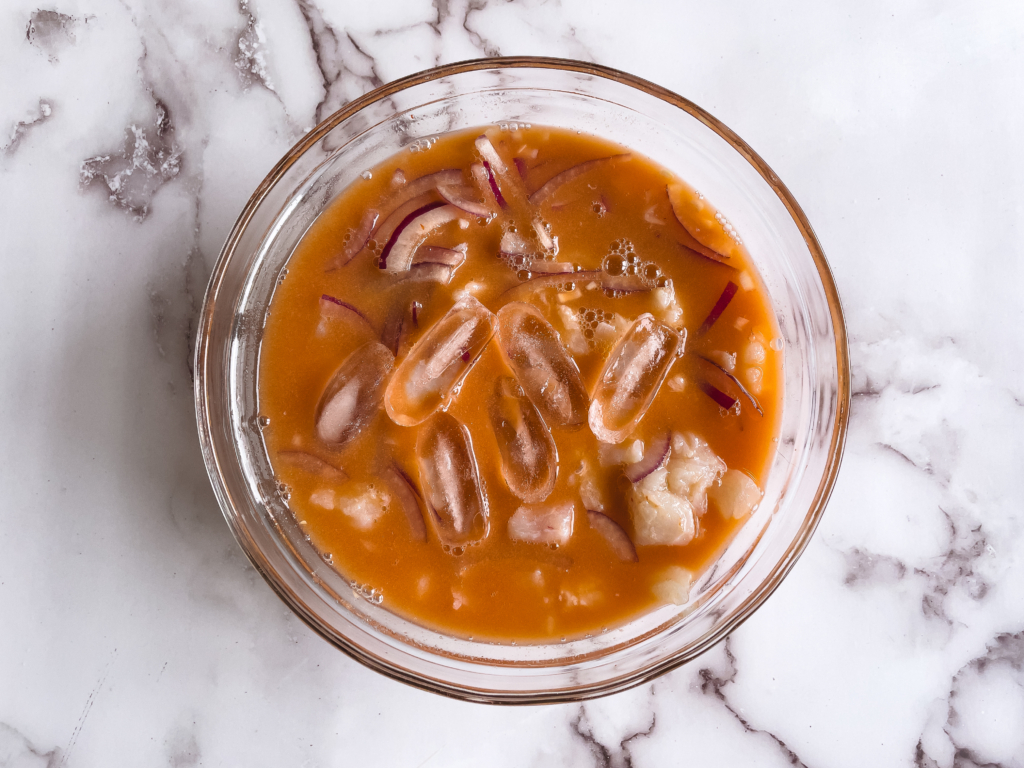 8) Using a slotted spoon, divide the ceviche onto 4 to 6 small plates. Drizzle with a tablespoon or two of the leche de tigre from the marinating bowl. Garnish with cilantro leaves, minced red chile, and serve with a lime wedge and plantain chips alongside.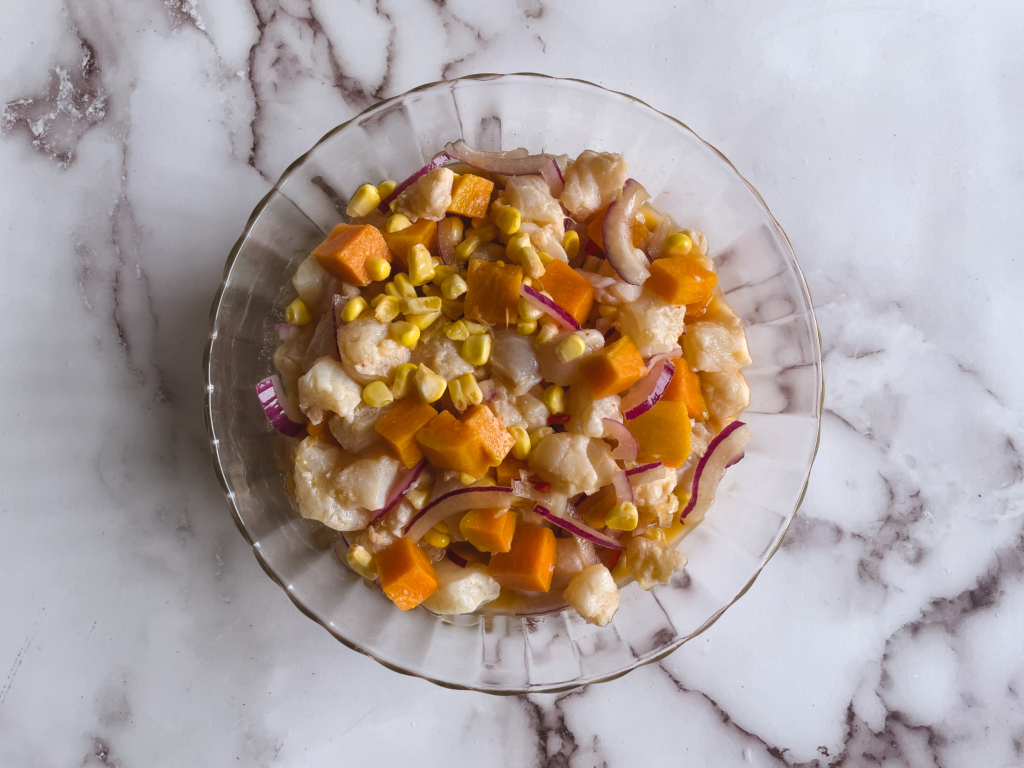 RECIPES TO TRY: 
Peruvian Empanadas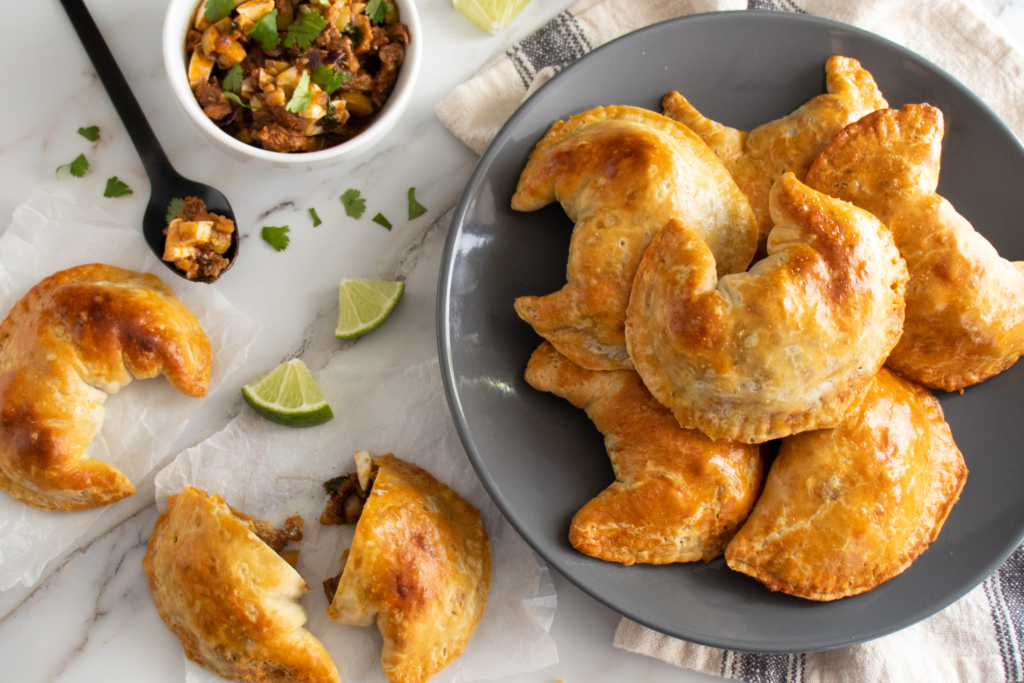 Beef Anticuchos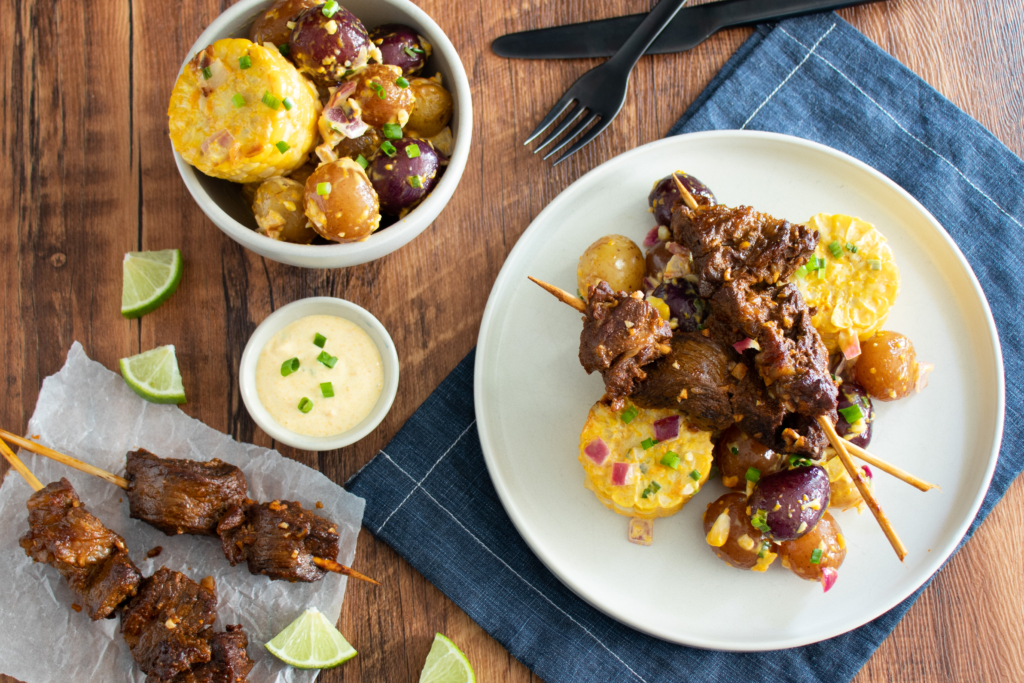 Alfajores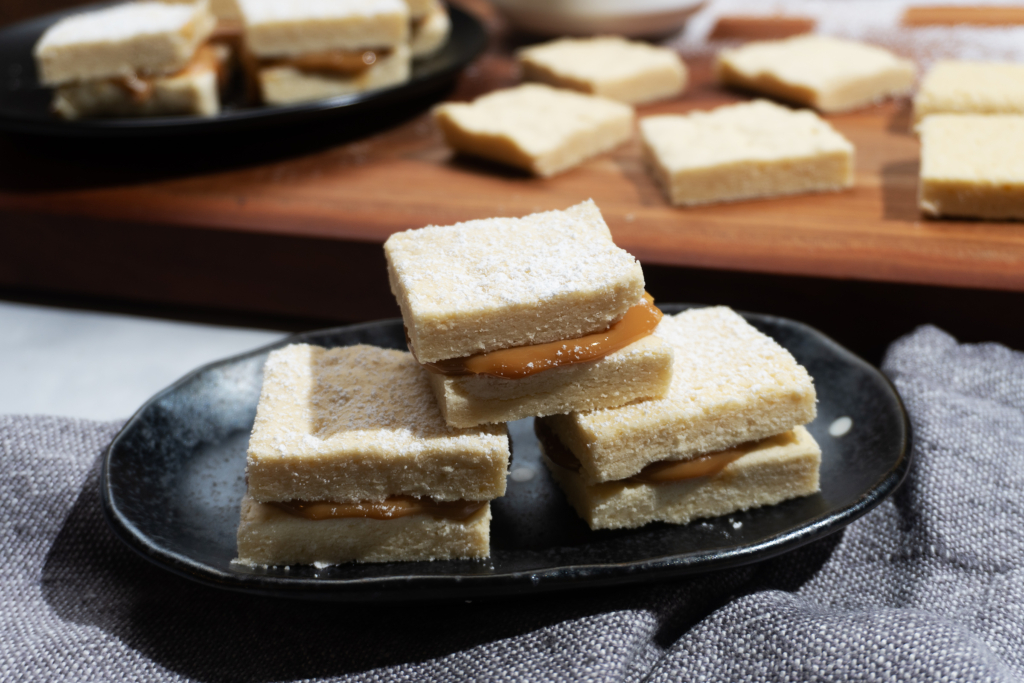 Papa Rellenas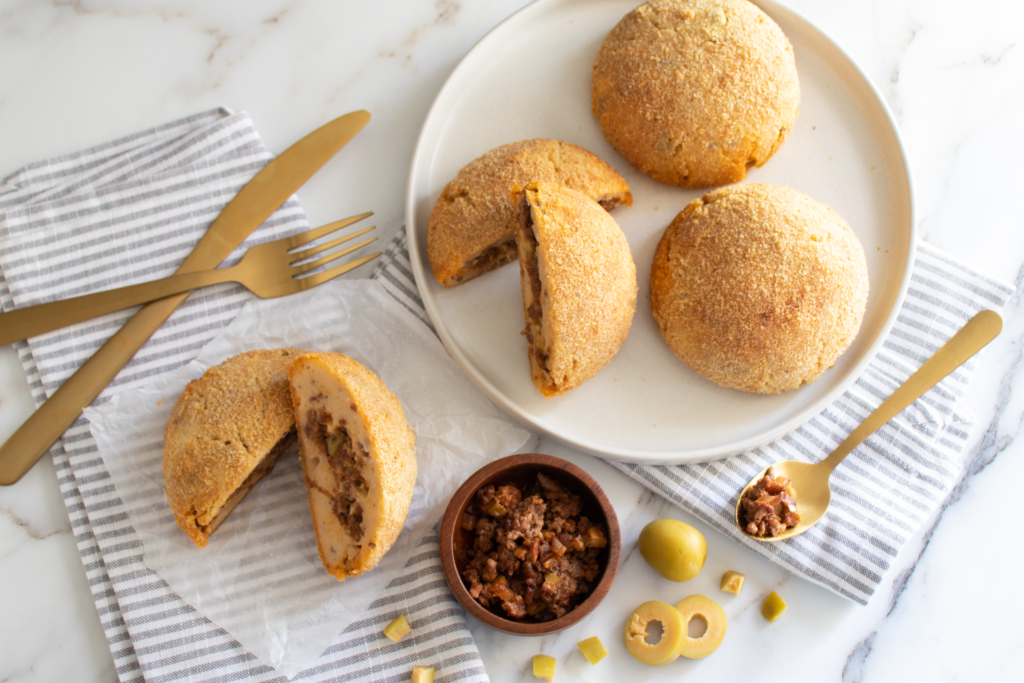 A Look at Lucuma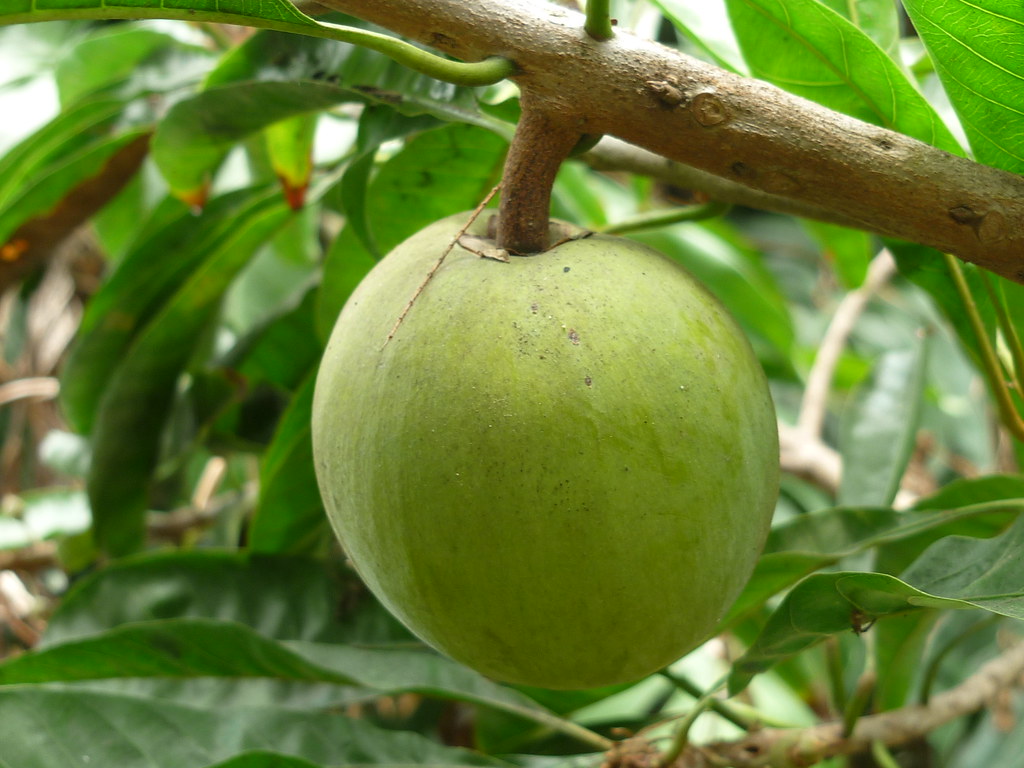 FAQs
My family cannot tolerate spicy foods. Does that mean I cannot make Peruvian ceviche?
If Peruvian ceviche is going to be too fiery for you, then you could either use a fraction of the amount of aji paste (⅛ teaspoon), or you use a much milder chile pepper, such as a red jalapeño. If even that is too spicy, omit the chile altogether and substitute the ingredients with half a red or yellow bell pepper.
How long will ceviche last in the fridge?
If stored correctly, ceviche will last 1 to 2 days in the refrigerator. However, it is recommended to eat ceviche the day you make it, as the texture may change if marinated for too long. Also, as we do not always know how fresh the fish is from the store, so it's advisable to eat it as soon as possible.