Now that it's officially holiday party season, you may want to keep some extra appetizer ideas up your sleeve. Buffalo chicken wings are always a favorite, but can be messy and awkward to eat at a party while balancing a cocktail in one hand (it is the holiday season, after all!). Making this sous vide pulled Buffalo chicken means you can use it as a filling for either sliders or lettuce wraps and can be made in advance.
Why Bother Using the Sous Vide Method for Buffalo Pulled Chicken?
Using the sous vide method to cook chicken breasts in Buffalo sauce creates tasty, tender chicken that easily pulls apart. The sauce infuses the breasts with flavor, as do the scallions, celery, and carrots added to the bag. These ingredients create a delicious poaching liquid, which is not discarded, but boiled down with extra Buffalo sauce, honey and butter to make a spicy, slightly sweet, thickened sauce. Cooking this way also means you don't have to worry that the chicken is cooked through, which can sometimes be a concern, especially when catering for an event.
Other Uses For Pulled Buffalo Chicken
Although we use the filling for sliders or lettuce wraps, here are some other suggestions for using pulled Buffalo chicken:
Use as a pizza topping with blue cheese crumbles
Add to a cheesy quesadilla
Serve cold and toss in a crunchy salad
Stir into cooked ziti with blue cheese crumbles, top with shredded Cheddar, and bake at 350°F for 20 to 25 minutes for a Buffalo Chicken casserole
Combine with softened cream cheese, ranch dressing, and shredded Cheddar and bake at 375°F for 20 minutes to serve as a hot-dip
What to Do with Leftover Pulled Buffalo Chicken
You can refrigerate any leftover pulled Buffalo chicken in an airtight container or resealable bag for 3 to 4 days in the refrigerator.
Temperature and Cooking Times for Pulled Buffalo Chicken
| | | |
| --- | --- | --- |
| Device | Temperature | Time |
| Suvie | 155°F | 2 hours |
| Immersion Circulator | 155°F | 2 hours |
Recipe: Sous Vide Pulled Buffalo Chicken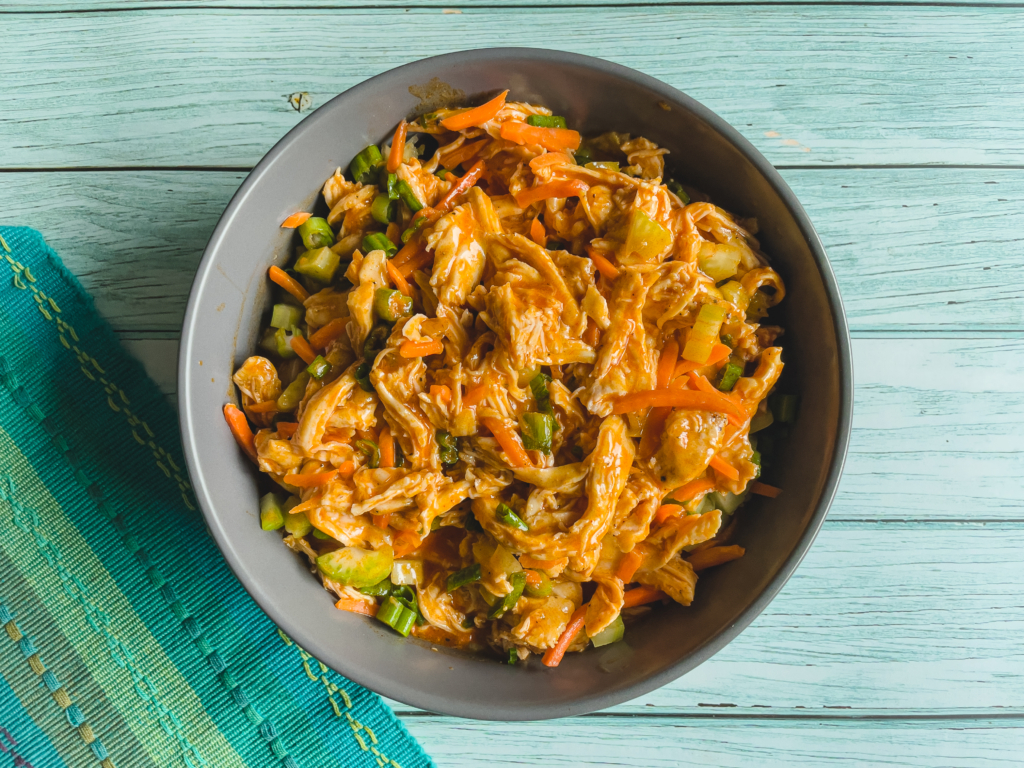 | | | | |
| --- | --- | --- | --- |
| Servings | Active Time | Preheat Time | Cook Time |
| Makes 3 ½ cups (14 to 16 sliders or lettuce wraps) | 10 minutes | 30 minutes (or 60 minutes for Suvie) | 2 hours and 10 minutes |
Ingredients and Tools
Equipment
Suvie or immersion circulator
Large pot or sturdy container (if using an immersion circulator)
1 large vacuum sealer bag or 1-gallon freezer-safe resealable bag
Chef's knife and cutting board
Tongs
Small skillet
Whisk
2 forks
Ingredients
3 small chicken breasts (1 ½ lb total), trimmed
1 ½ cups shredded carrot, divided
1 ½ cups finely diced celery, divided
3 scallions, finely chopped, white and light greens separated from dark greens
1 cup Buffalo sauce, divided
4 tbsp honey, divided
2 tbsp unsalted butter
Optional serving accompaniments: Gorgonzola cheese crumbles, ranch or blue cheese dressing, lettuce leaves for wraps, slider or burger buns, lime wedges, additional Buffalo sauce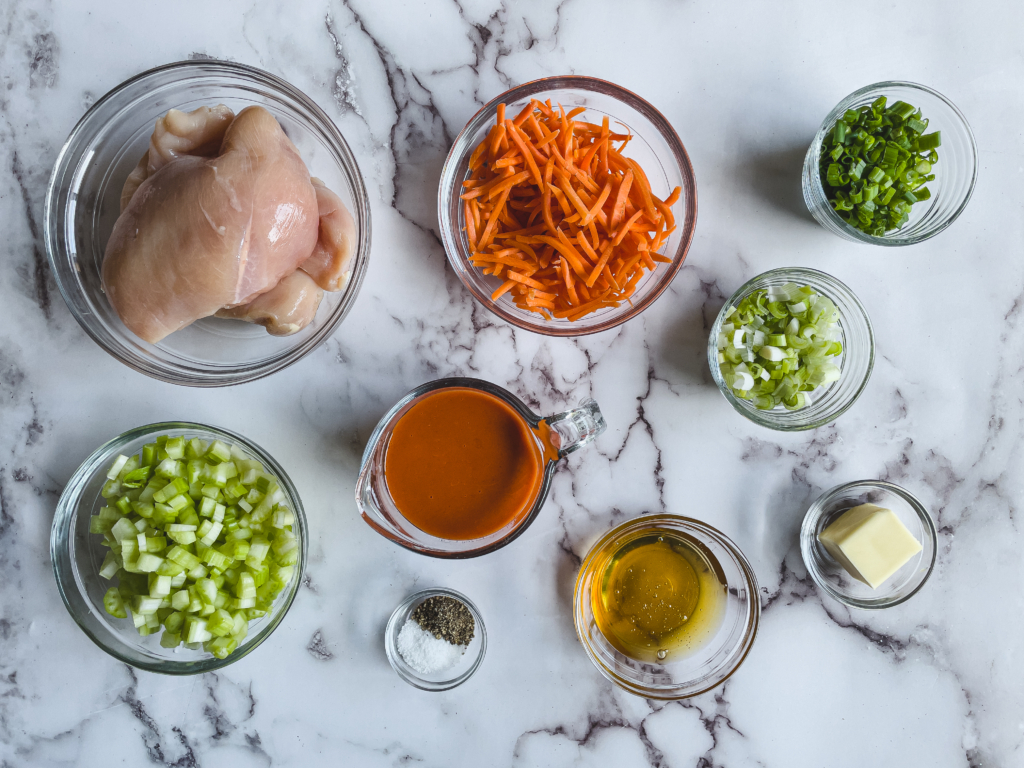 Directions
1) If you're using a sous vide immersion circulator, preheat your water bath to 155°F.
2) Season the chicken breasts generously with ¾ tsp salt and ¾ tsp black pepper. Transfer to a vacuum bag or resealable bag. Add ¾ cup shredded carrot, ¾ cup finely diced celery, the white and light green chopped scallions (reserve the dark greens for serving), ¼ cup Buffalo sauce, and 1 tbsp honey and seal bag. If you're using a resealable bag, use the water displacement method to seal.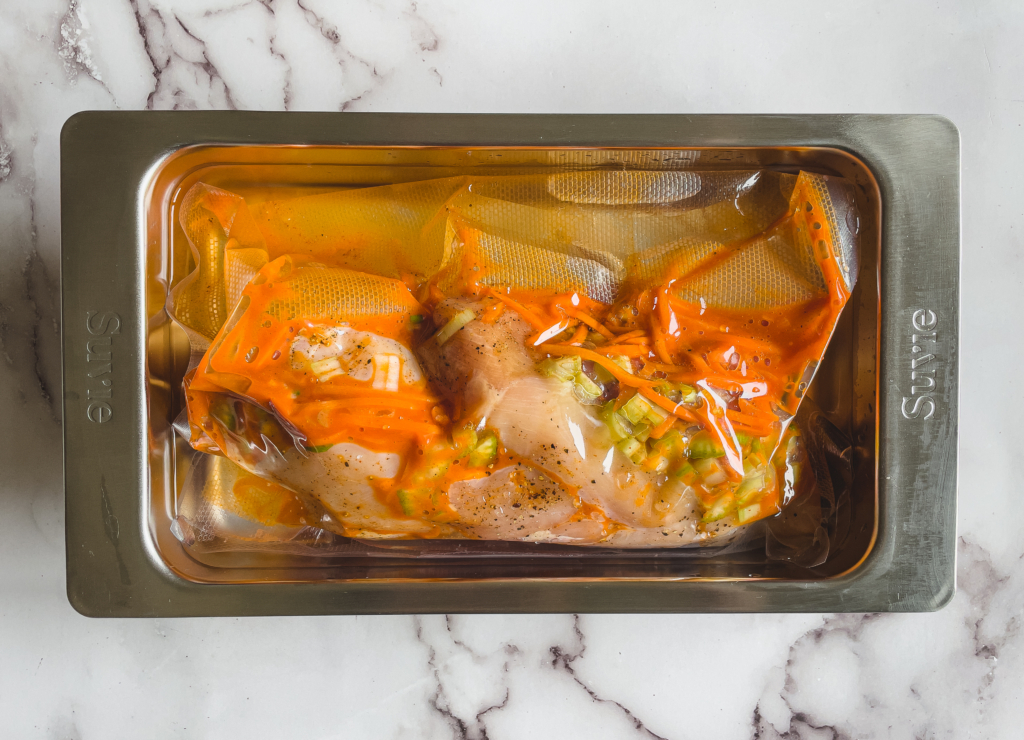 3) Lower the bag into the heated water bath and cook for 2 hours.
If you are using your Suvie, place the bag into a Suvie pan and cover entirely with water. Insert pan into the bottom of your Suvie and input the following settings.
Suvie Cook Settings
Bottom Zone: Sous Vide at 155°F for 2 hours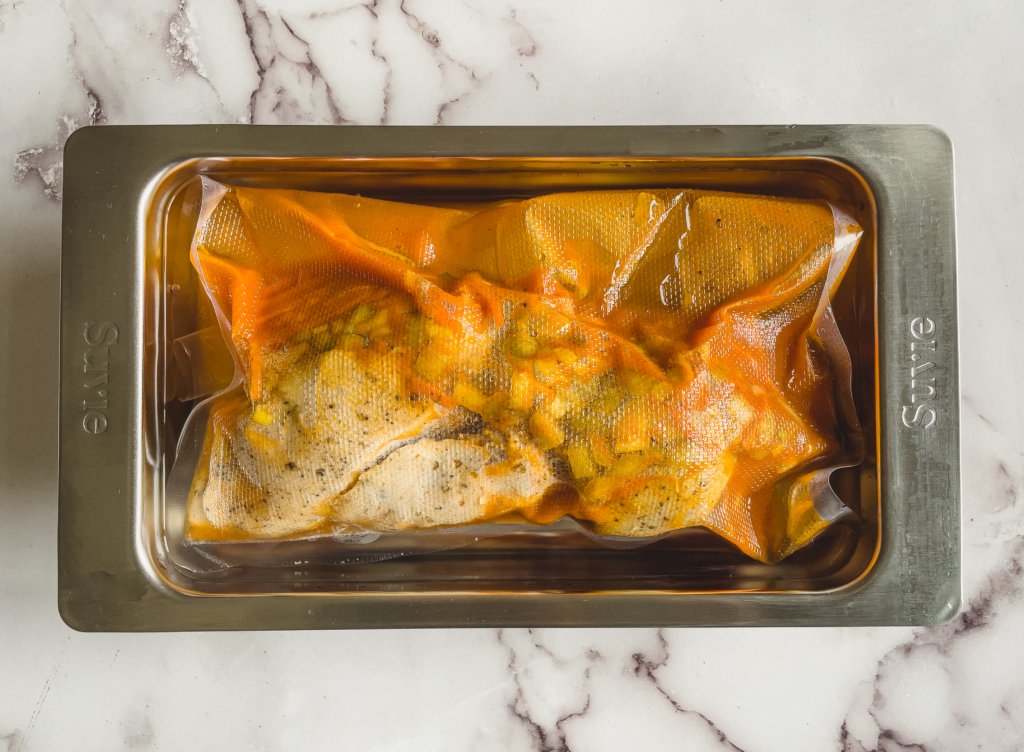 4) Remove chicken with tongs, carefully open the bag and pour the liquid into a small skillet with the remaining 3 tbsp honey and ¾ cup Buffalo sauce. Bring to a boil over medium heat, whisking occasionally, until it reduces and thickens slightly, about 7 minutes —season with salt and pepper to taste.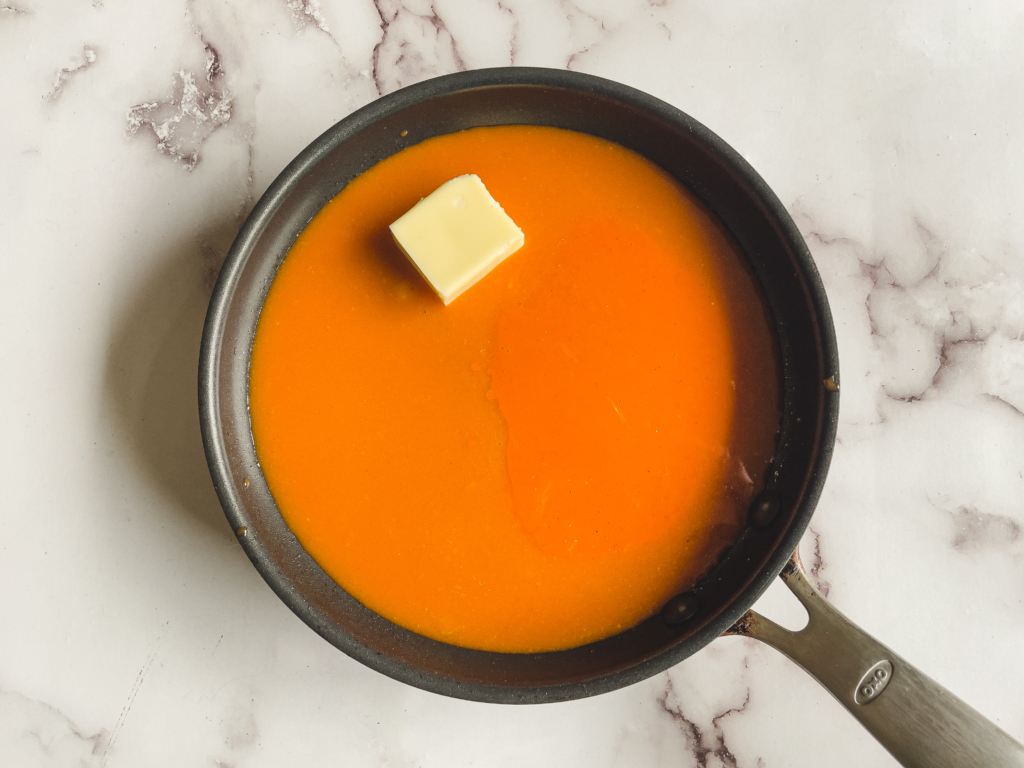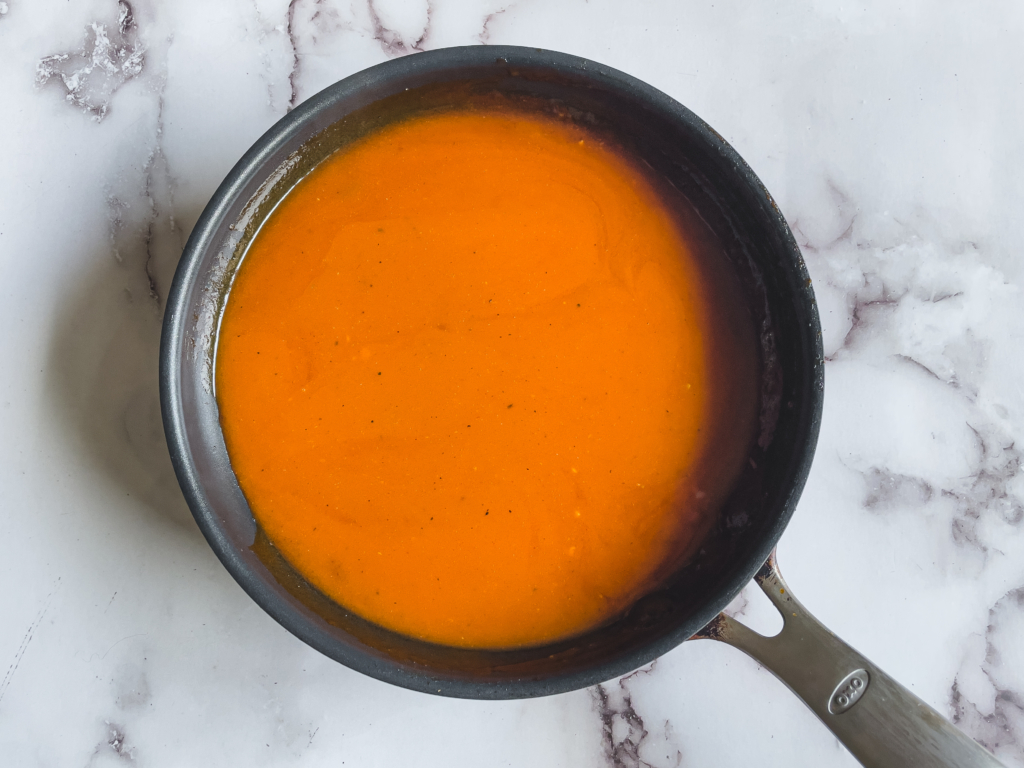 6) Meanwhile, transfer chicken breasts to the previously used Suvie pan, drained of water, or a medium bowl. You can either include the cooked vegetables used to infuse flavor or, if you prefer only to use the chicken, you may discard them. Using two forks, shred chicken into bite-size pieces. Stir in the warm, thickened buffalo sauce. You can either stir in the remaining dark green scallions, shredded carrots, and diced celery at this stage to add texture or serve as accompaniments on the side.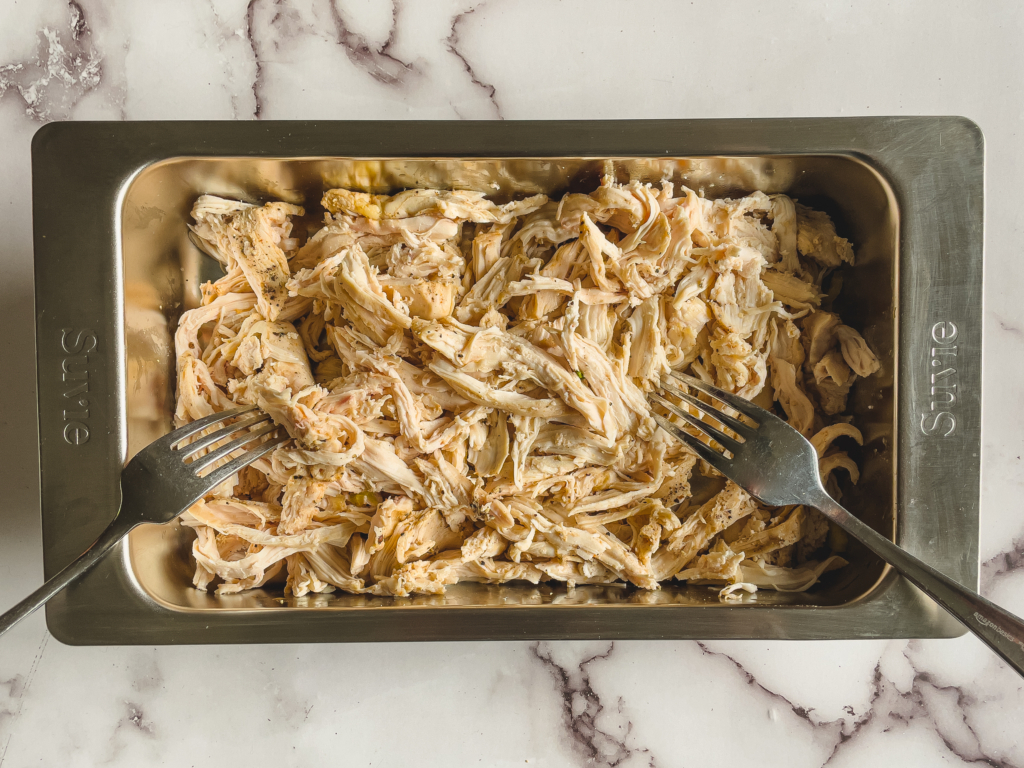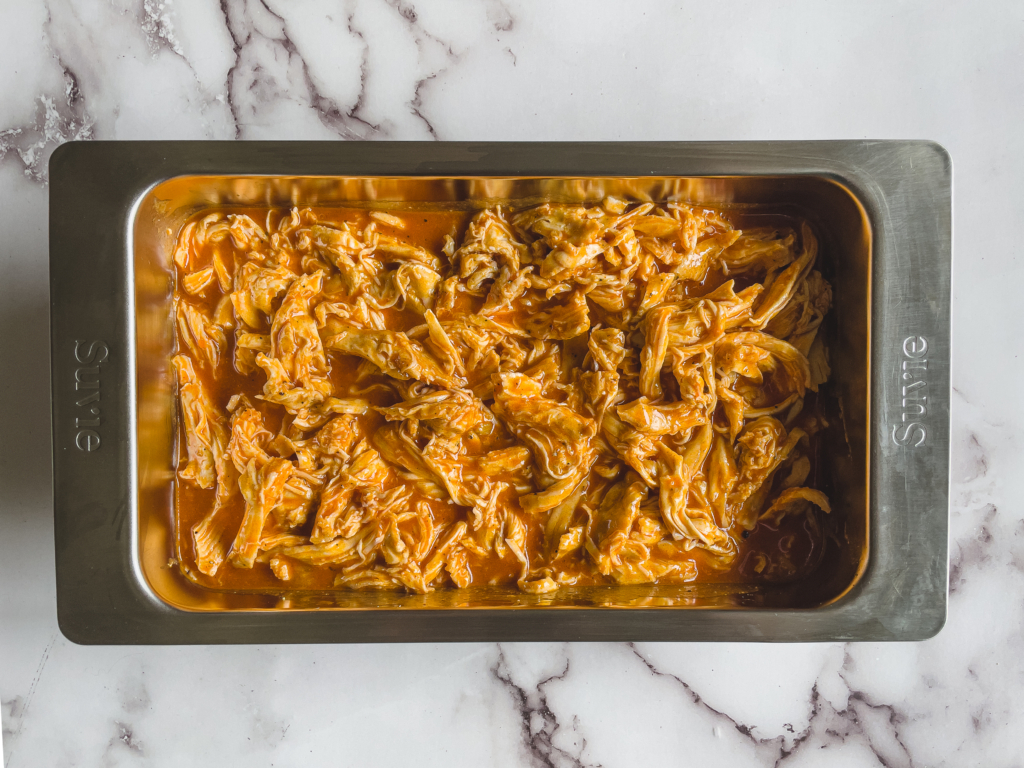 RECIPES TO TRY:
How to Sous Vide Chicken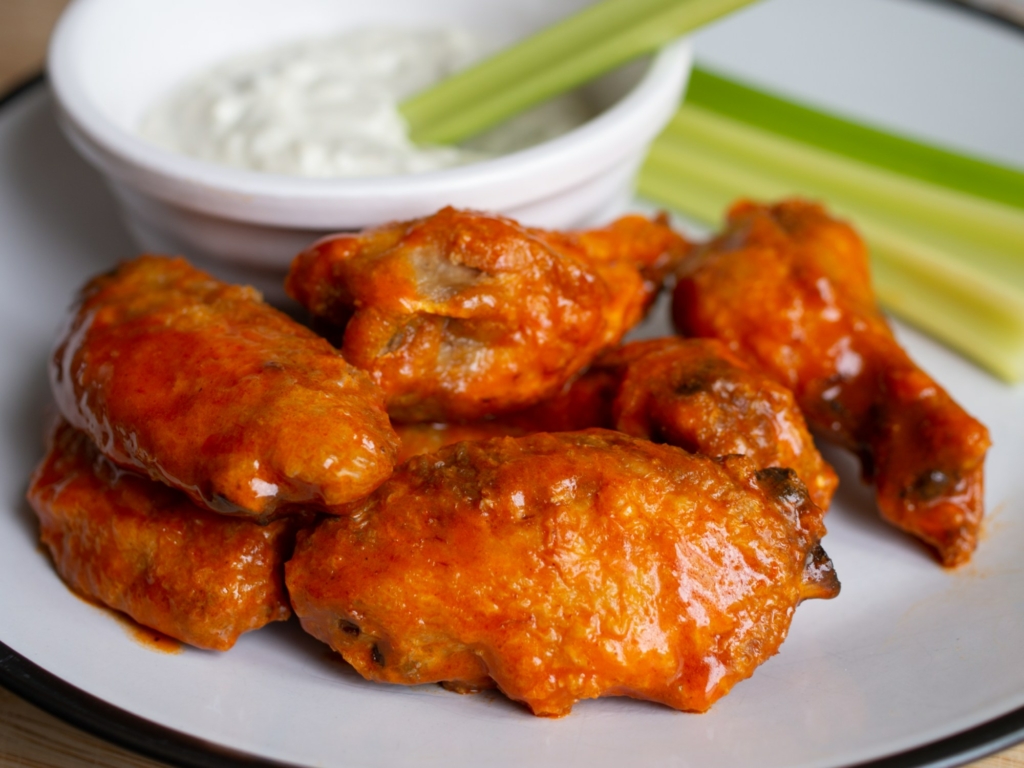 How to Slow Cook Pulled Chicken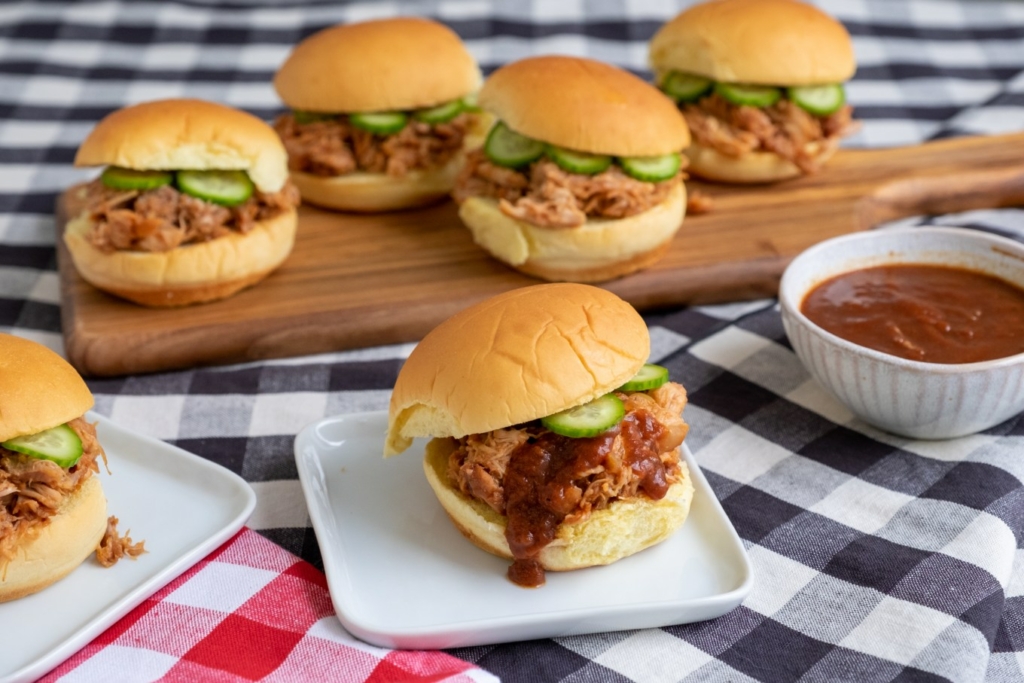 How to Make Gougères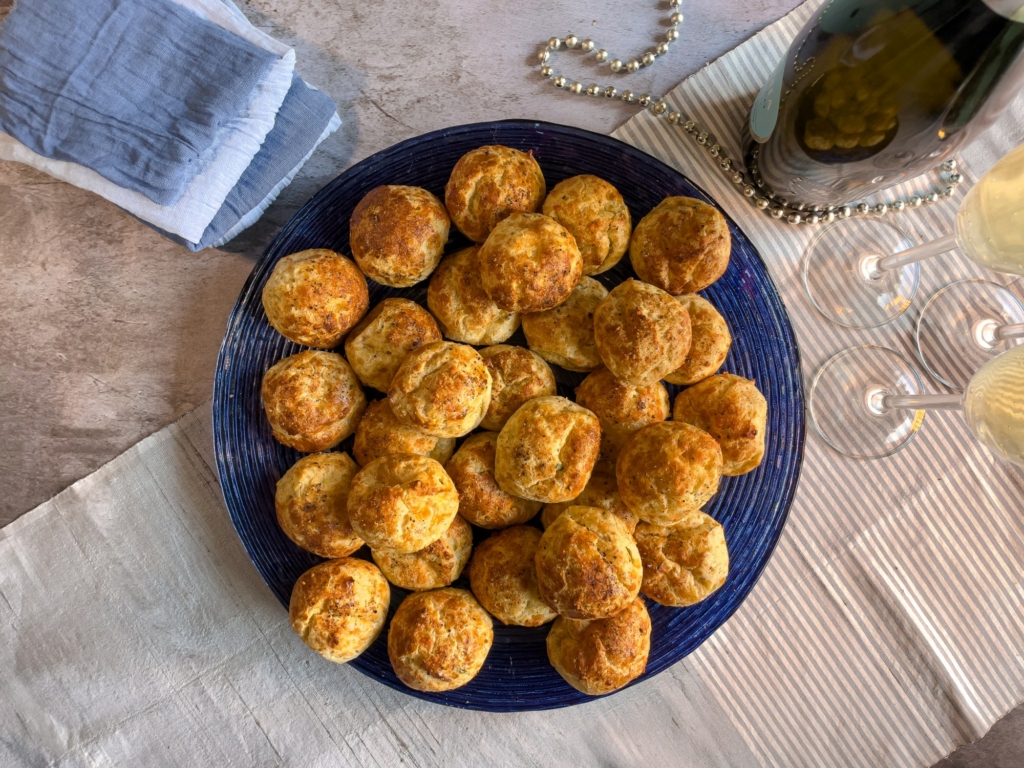 Buffalo Chicken Sliders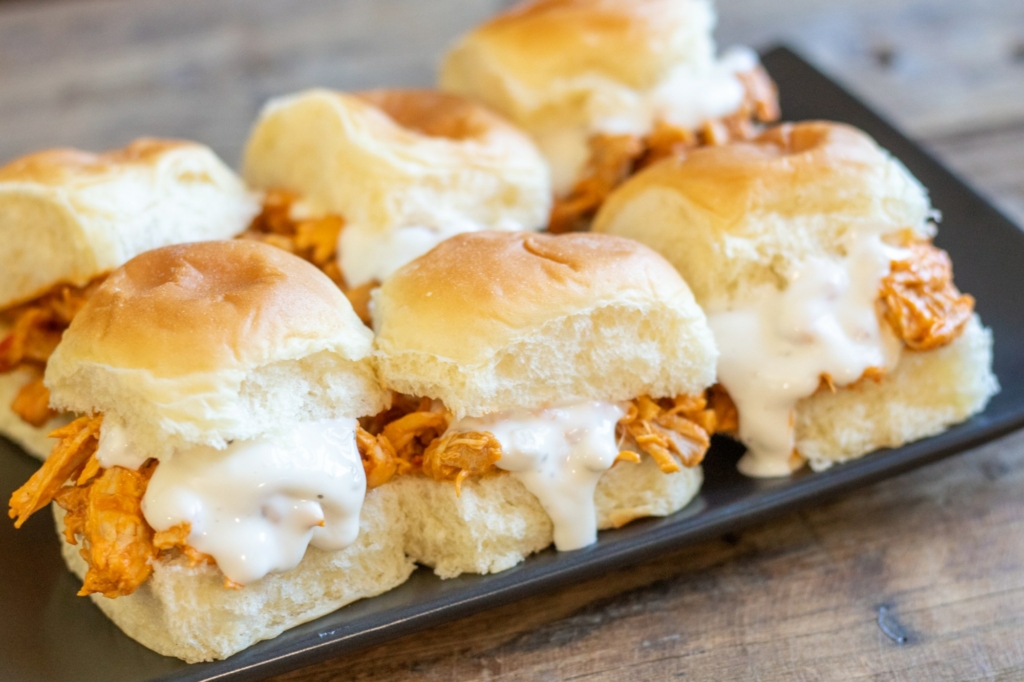 Stuffed Mushroom Bites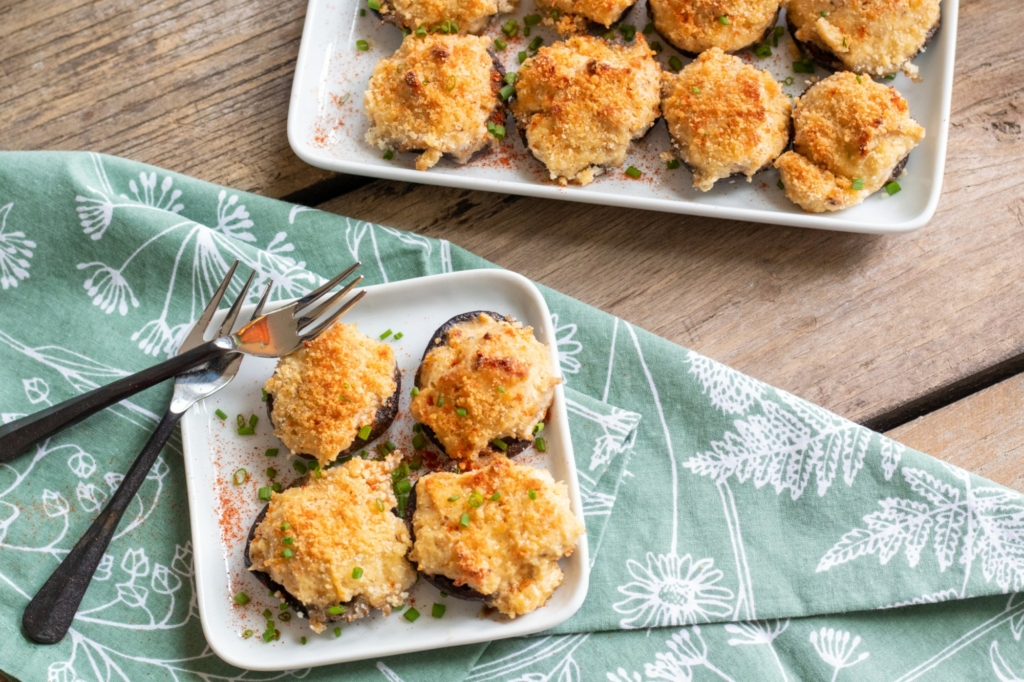 Jalapeño Poppers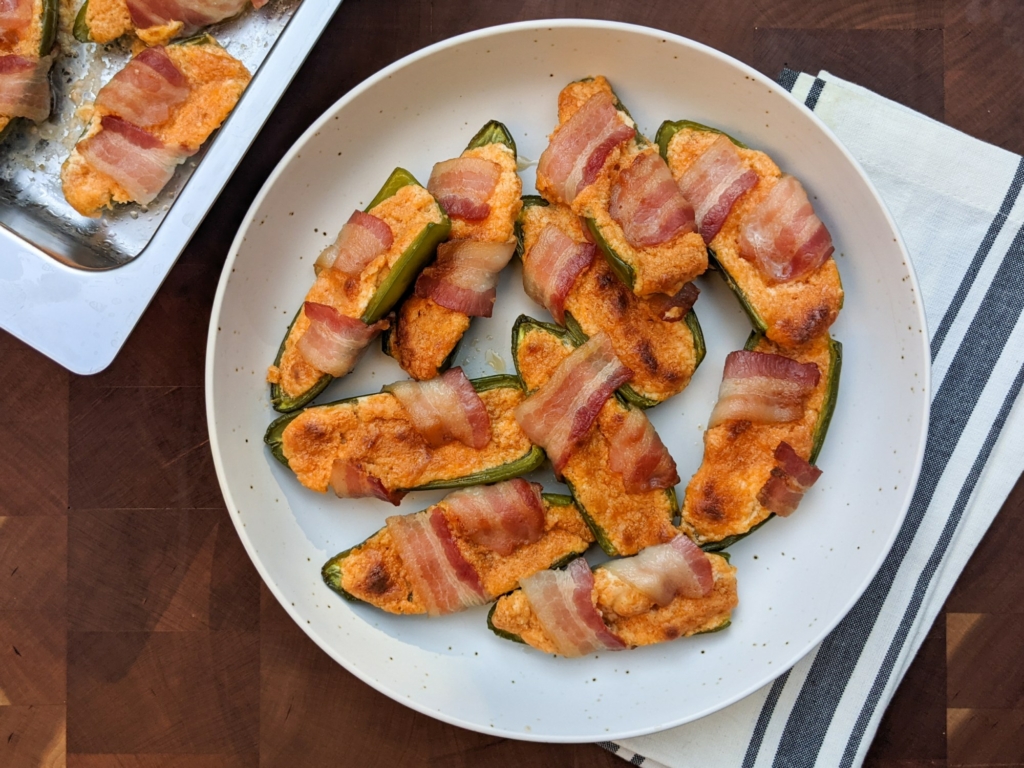 FAQs
Can I use any type of plastic bag?
You can, however, make sure that they are made from polyethylene. Some branded bags are made using polyethylene, a BPA and dioxin-free plastic that can safely handle sous vide cooking temperatures up to 190°F. Some generic branded plastic bags are made using cheaper polyvinyl chloride (PVC), which cannot handle high temps and contains chemicals that can leach into food.
Can I leave my chicken in the water bath indefinitely?
You can, but it's best when it's removed after 2 hours; otherwise, the chicken may not retain the desired texture.