These herby, cheesy, peppery gougères made with choux pastry are the perfect canapé to serve warm alongside a glass of something cold and fizzy during the holiday festivities. These gougères can be made in a conventional oven or in Suvie.
What is a Gougère?
A gougère, also known as a cheese puff, is the savory version of a cream puff or profiterole. It is a bite-size choux pastry, usually flavored with cheese, such as Gruyère or Parmesan. The puffs can be stuffed with various fillings, such as cream cheese, goat cheese, scrambled eggs, and mushroom duxelle, to mention a few. However, they are also delicious served just as they are and straight out of the oven.
What is Choux Pastry?
Choux pastry, or pâte à choux, as it's known in France, is a very light, airy, delicate egg-based pastry dough that uses a high moisture content, along with the eggs, as a raising agent. Water or milk is first heated on the stovetop with butter, and the flour is vigorously beaten into the hot buttery liquid. The mixture can then simply be transferred to a food processor with eggs, cheese, and seasonings to create a very moist dough that is usually piped into small puff shapes. An excellent hack to avoid getting out the piping bag is to use a small cookie scoop or tablespoon measure to spoon into mounds instead.
The Difference Between Choux Pastry and Puff Pastry
Although similar in texture, choux pastry should not be confused with puff pastry. Puff pastry uses layers of fat to "puff" up the volume, whereas choux pastry uses moisture to create steam within the pastry to give it height, along with the help of the eggs as a leavening agent.
What Desserts Use Choux Pastry Method
These desserts and pastries use choux pastry (or method) as a base:
Profiteroles
Cream puffs or choux buns
Chocolate eclairs
Croquembouche
Churros
Why Some Choux Pastry Recipes Contain Milk Instead of Water
Water is traditionally used in the choux pastry method. However, this recipe has milk instead of water. Water is perfect when creating a crisp shell for stuffing, such as profiteroles, as the water evaporates quicker and gives a more hollow interior. Milk makes a softer puff with more flavor. The milk also helps the pastries develop a nice nutty brown color, along with the egg wash. You can also use a combination of water and milk to get the best of both worlds.
The Perfect Make-Ahead Party Canapé
The big bonus about making gougères for a cocktail party is that you can bake them days in advance. Once baked, allow them to cool, freeze in a resealable freezer bag, then reheat on a baking sheet at 375ؘ°F for about 10 minutes.
Recipe: Gruyère Thyme Black Pepper Parmesan Gougères
Makes: 32-40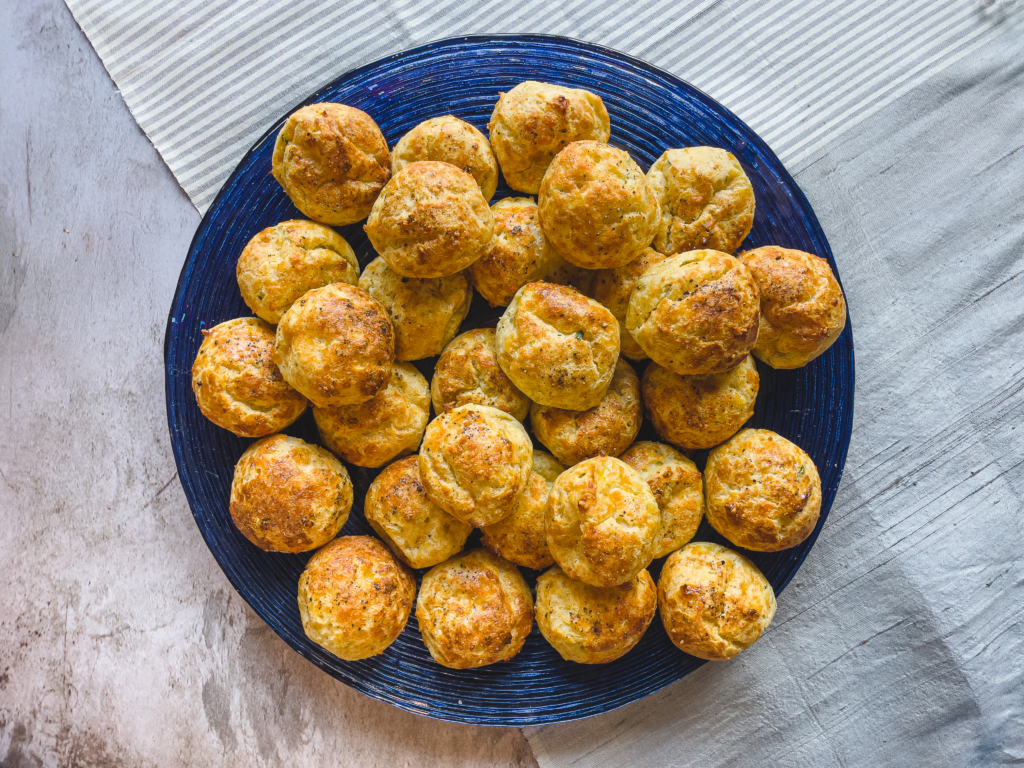 Equipment and Tools
Small saucepan
Wooden spoon
Food processor
2 non-stick cookie sheets, or 2 large baking sheets lined with parchment paper
Pastry brush
Small bowl
1 tablespoon measuring spoon and a teaspoon, or a mini cookie scoop
Ingredients
1 cup whole milk, plus 2 tsp for egg wash
½ cup (1 stick) unsalted butter, roughly chopped
1 tsp kosher salt, plus more for seasoning
1 tsp freshly ground black pepper, plus more for seasoning
1 cup all-purpose flour
5 large eggs at room temperature, divided
½ cup finely grated Parmesan, plus 2 tbsp for sprinkling
1 cup shredded gruyère cheese (3 ½ oz)
1 tbsp fresh thyme leaves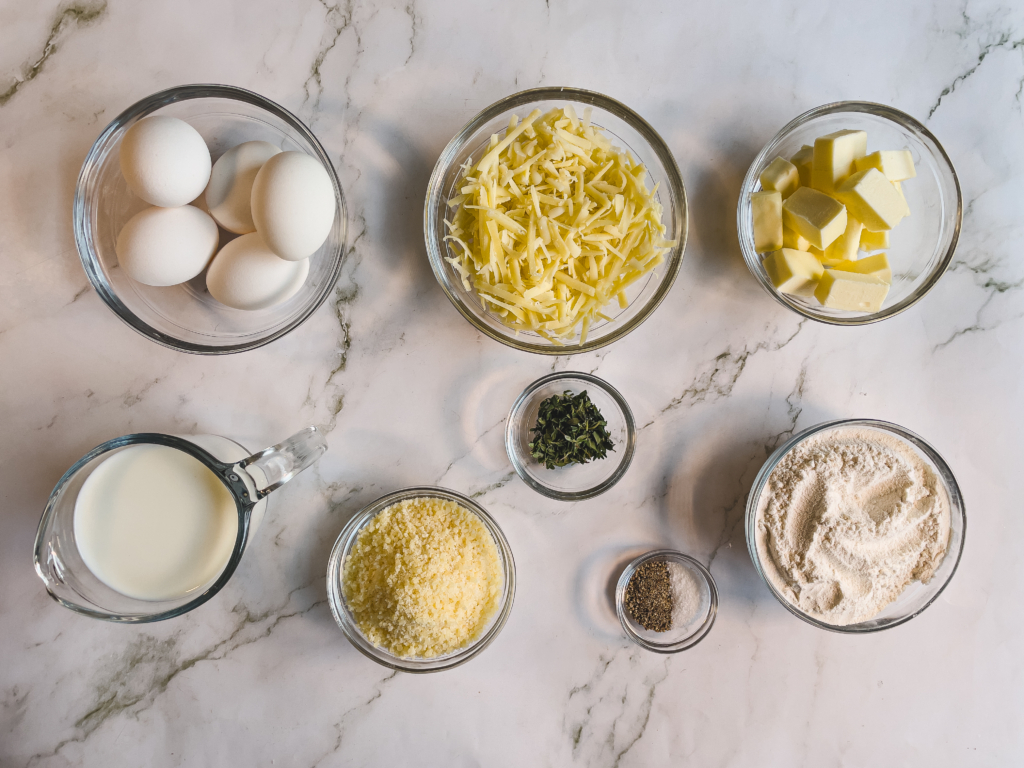 Directions
1) Arrange 2 racks evenly spaced apart in the top half of the oven and preheat oven to 425°F.
2) In a small saucepan, heat 1 cup milk with ½ cup chopped butter, 1 tsp salt, and 1 tsp pepper over medium-low heat, until butter has melted and tiny bubbles start to form around the edges of the pan, about 3 minutes. Do not let the milk boil; it just needs to be scalded.
3) Add 1 cup flour and vigorously beat the mixture with a wooden spoon until combined. Reduce to low heat and cook, stirring constantly, for 2 minutes.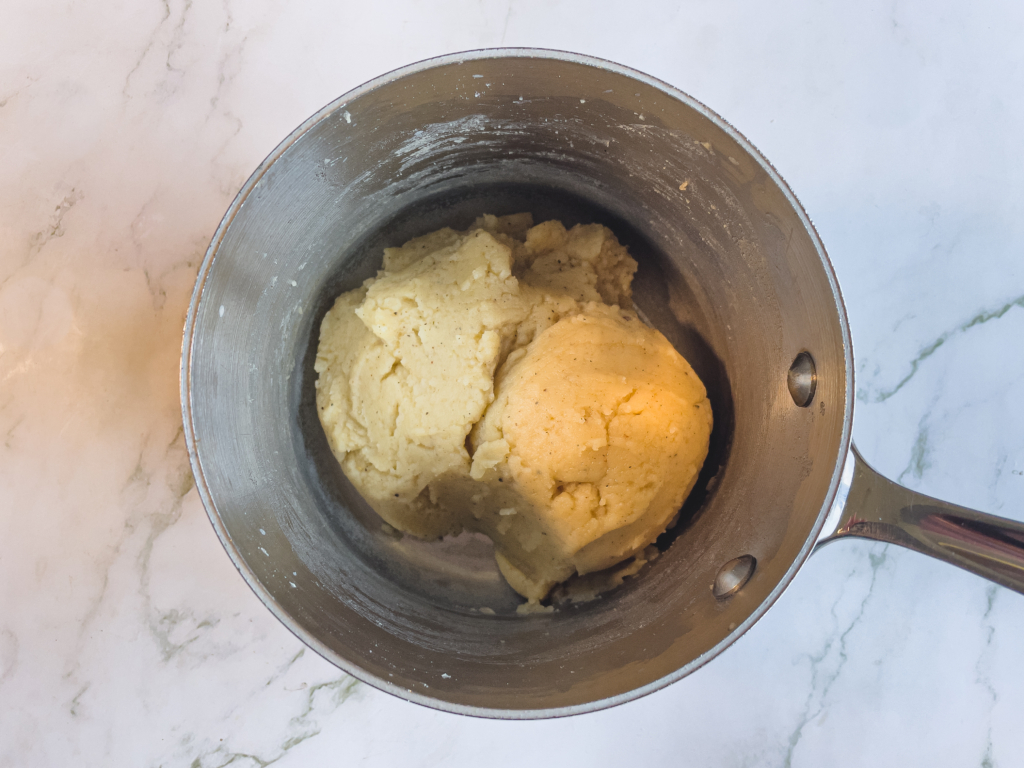 4) Transfer mixture to a food processor. Immediately add 4 eggs, 1 cup shredded gruyère, ½ cup finely grated Parmesan, and 1 tbsp thyme leaves. Pulse a few times until everything is incorporated.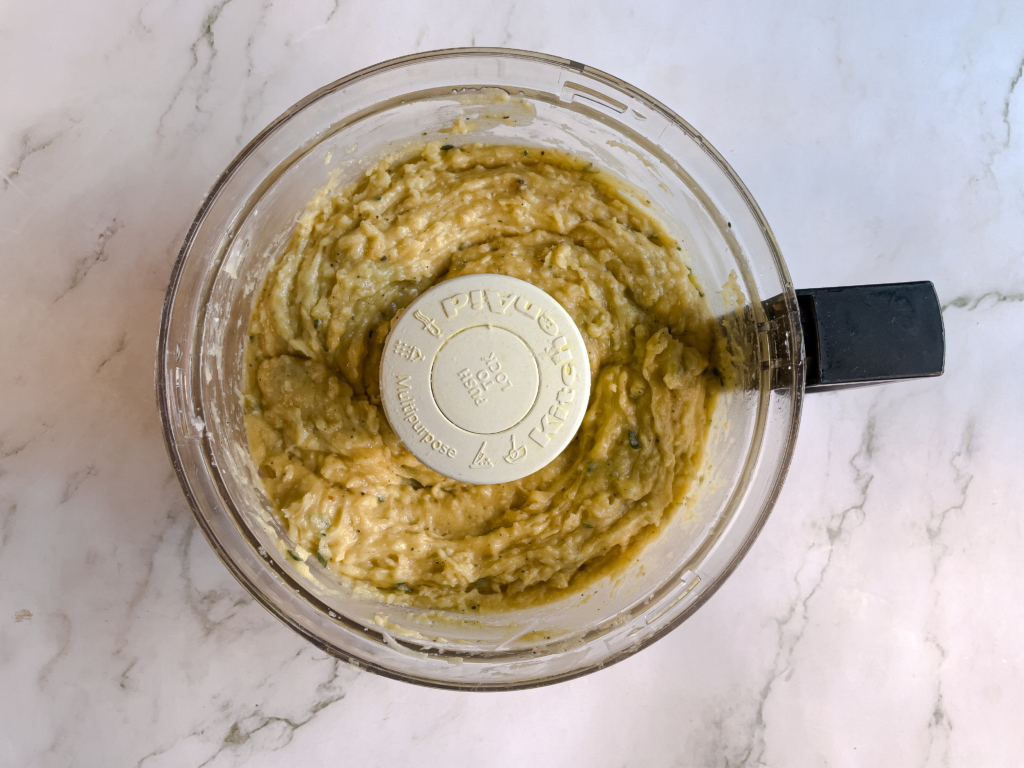 5) On the prepared baking sheets, using a one tablespoon measure, spoon 1 heaping tbsp (using another teaspoon to help remove the mixture from the spoon) into 1-inch mounds, spaced 1-inch apart. You can also use a mini cookie scoop. If the scoop or spoon gets sticky after a while, rinse under a warm tap shaking off any excess water. Continue until all the mixture is gone.
6) In a small bowl, lightly beat the remaining egg with the remaining 2 tsp milk. Brush the tops of each puff with the egg wash. Sprinkle the tops with the remaining Parmesan, a sprinkle of salt, and ground black pepper.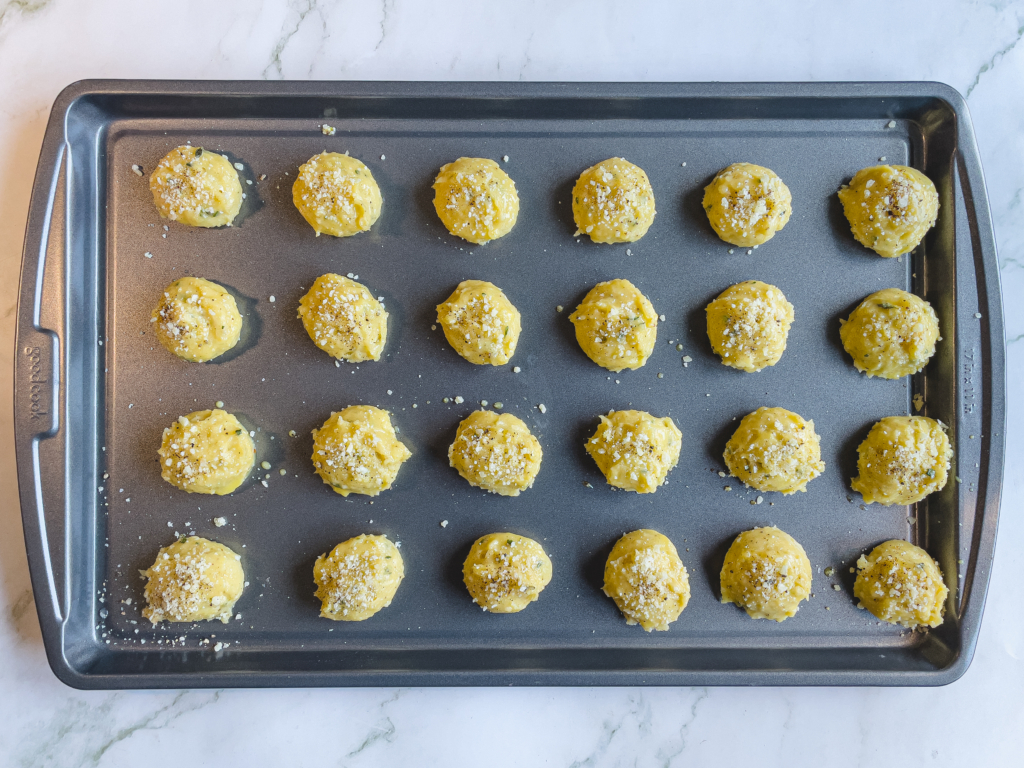 7) Bake until a deep golden brown, about 15 to 20 minutes, rotating the trays halfway. Serve warm —and get ready for the compliments!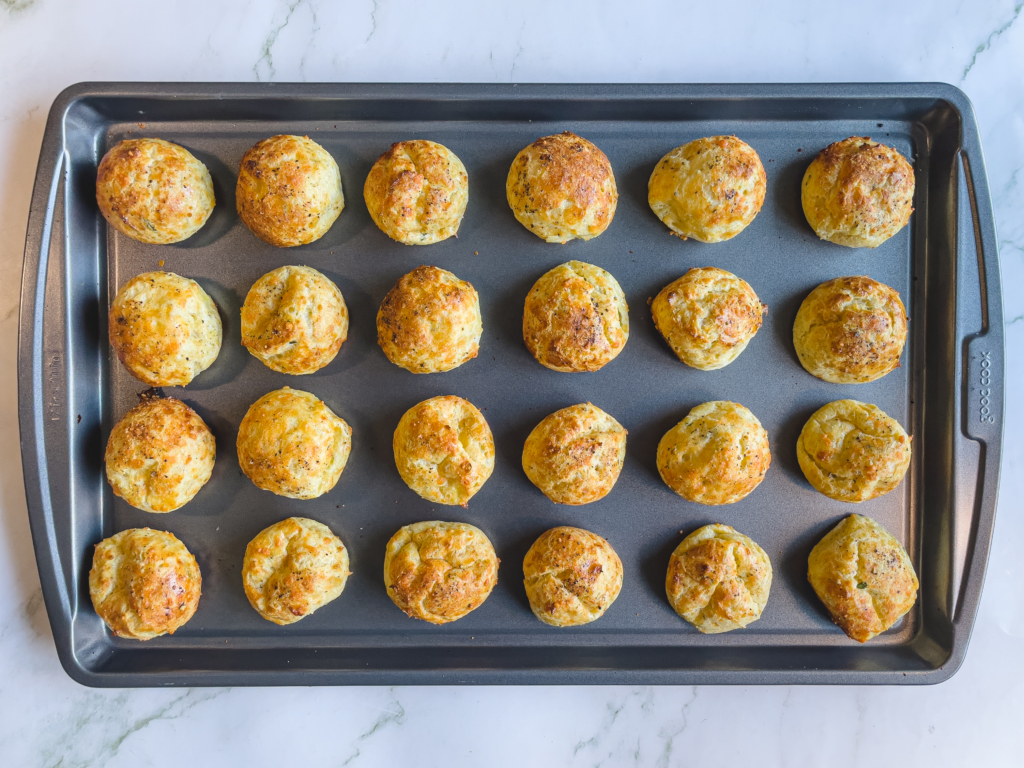 How to Make Gougères in Suvie
1) Follow conventional instructions above from Step 2 through Step 4.
2) After the mixture has come together in the food processor, preheat Suvie by setting top and bottom zones to Roast at 400°F for 10 minutes. 
3) Line 2 Suvie pans with parchment paper. Scoop level tablespoons of the mixture onto the prepared pans, spacing about 1″ apart (you should be able to fit 6 gougères per pan). 
4) Use a greased spoon to press and smooth the gougères into an even shape. Insert pans into Suvie and set both zones to Roast at 400°F for 25 minutes. 
5) Remove pans from Suvie and allow gougères to cool in pans for 5 minutes before transferring to a cooling rack. Repeat process with remaining gougére batter.
Looking for Other Recipes For Your Next Cocktail Party? Here are some to try:
Class up your party with these three Champagne cocktails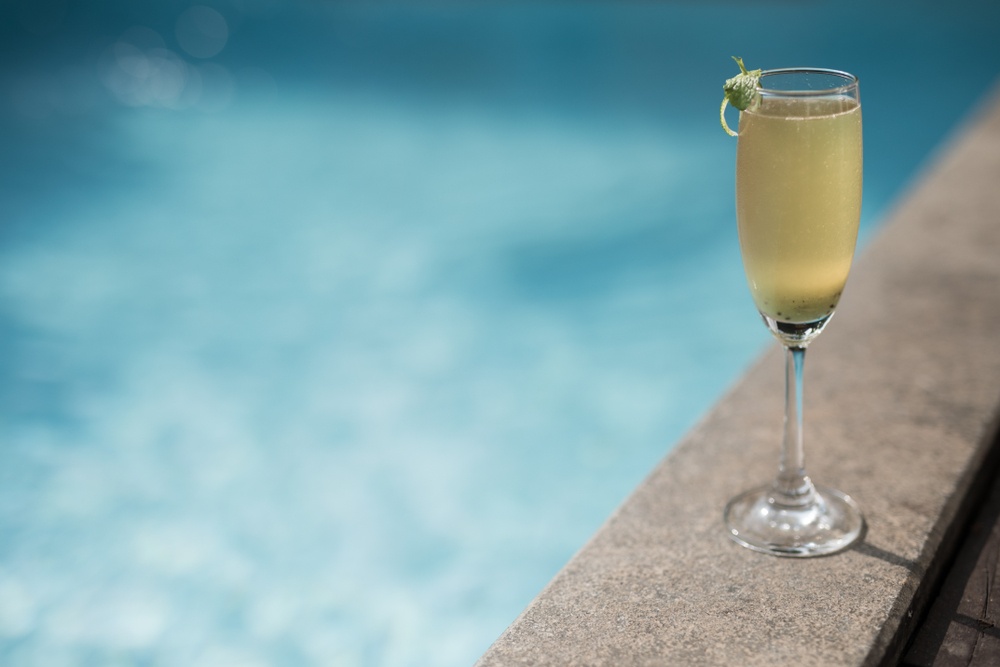 Jalapeño Poppers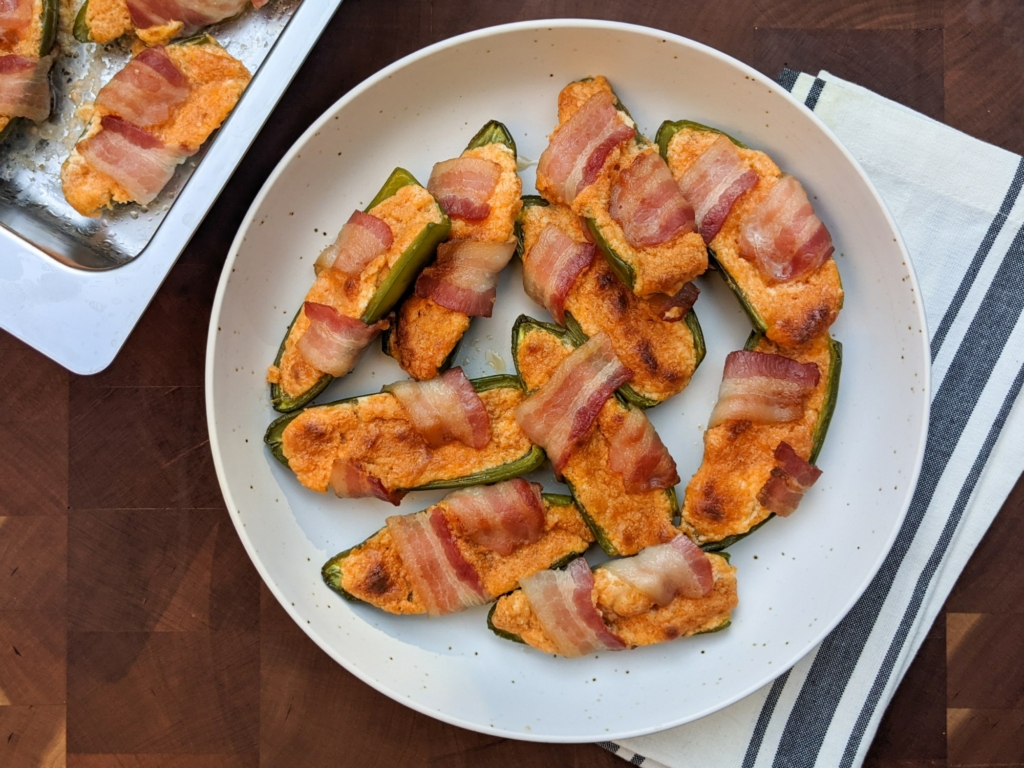 Scrumptious Appetizers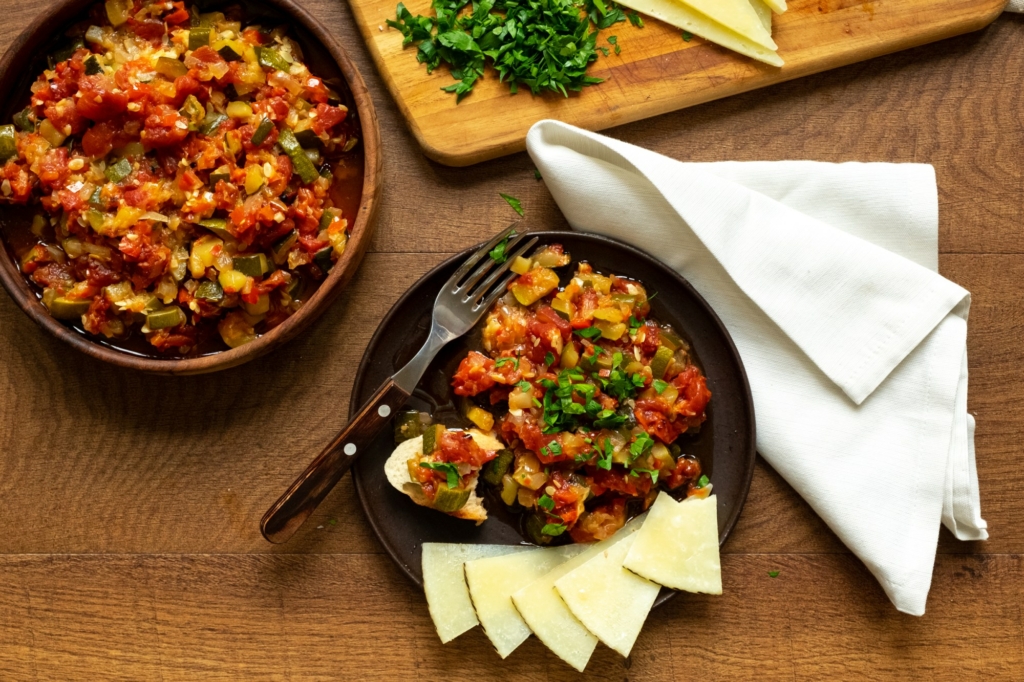 Three fall-themed punches to get you in the holiday spirit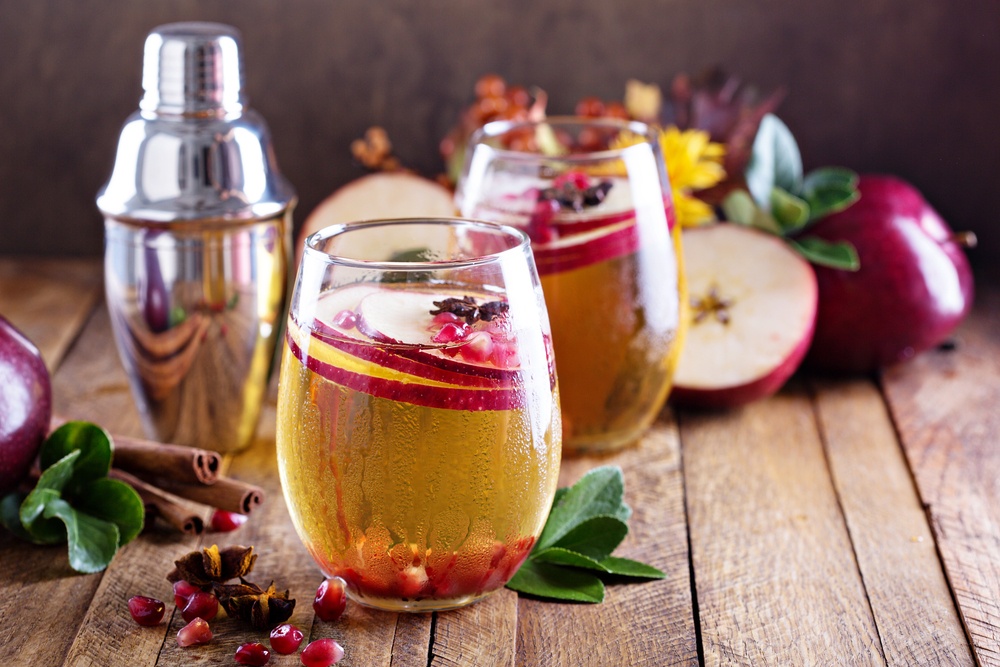 How to Entertain: Cheese Edition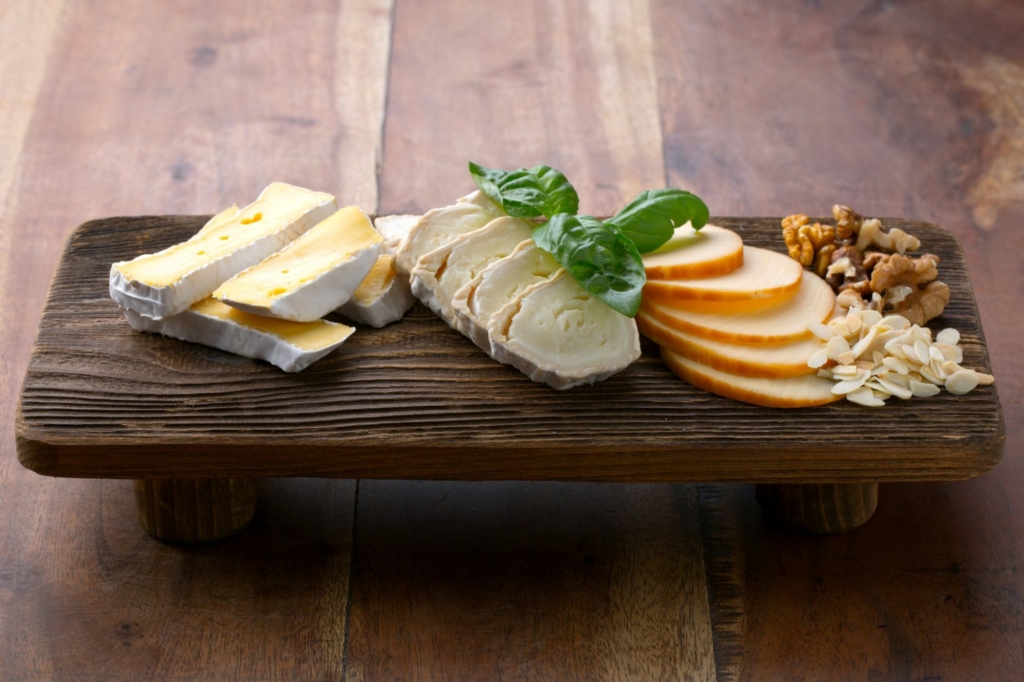 FAQs
I don't have any gruyère, what can I use as a substitute?
Most hard cheeses would work, especially manchego, Asiago, pecorino, sharp cheddar, and Emmental.
One of my guests follows a dairy-free diet, can I use plant-based milk?
Yes, you can. You could also completely replace milk with water, which will yield a crisper exterior.
What other flavorings could I add to my Gougères?
The beauty about this recipe is apart from the flour, eggs, milk, salt, and pepper; you can replace the cheese or herbs and swap in all kinds of flavorings, such as adding 1 teaspoon of Dijon mustard into the milk as it heats, or an additional ¼ teaspoon of red pepper flakes, or a dash of hot sauce, or even adding 'everything bagel' seasoning. You could even add chopped cooked bacon or ham. The choices are endless!