Breakfast is all about spending time with your family and those you love. This recipe is a great way to enjoy a delicious, beautiful breakfast without the morning fuss. We chose challah bread for its beautiful crust and spongy texture, but you can substitute brioche for more richness, or any other white bread that you need to use up (stale, dry bread works best for this recipe!). Whip up an easy custard flavored with lots of vanilla and our star ingredient: Cardamom, a spice popular in Scandinavian pastries. Pour the custard over the bread, load it in your Suvie and when you wake up your breakfast is ready to eat and enjoy.
Cardamom French Toast
Please always check your food to ensure your food has been cooked to safe serving temperatures. Please see our guide
here
for recommended FDA Time & Temperatures.
Servings: 4-6
Difficulty: 3 hours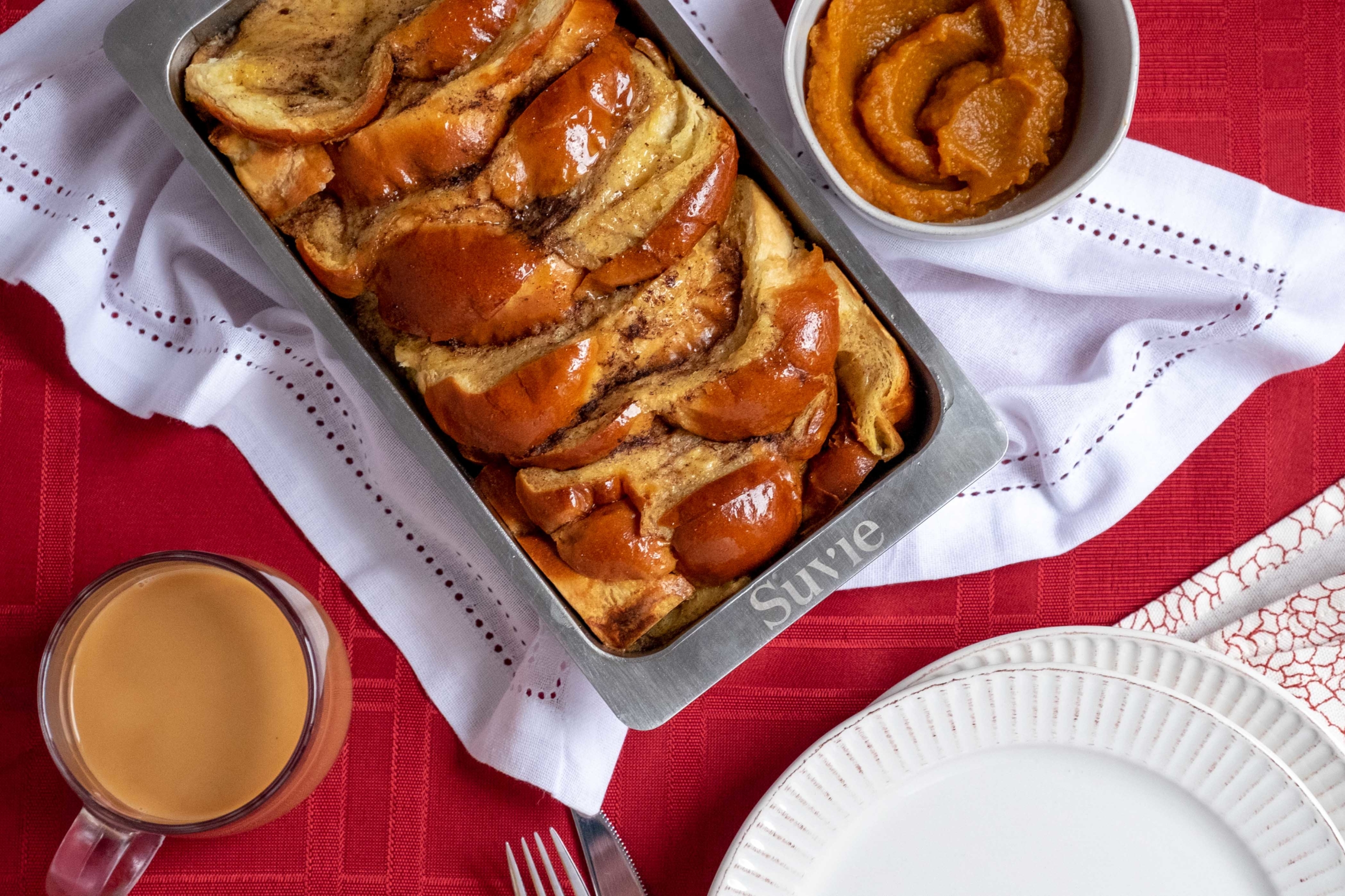 Ingredients
1 loaf Challah bread
4 eggs
¼ cup brown sugar
1 cup whole milk
1 tbsp vanilla
1 tsp cardamom
1 tsp cinnamon
¼ tsp nutmeg
¼ tsp ginger
pinch of salt
1 tbsp butter (for greasing pan)
Directions
Slice the challah bread into ½ inch thick slices. Trim the bottom or ends so that it fits easily in your Suvie tray. Grease the Suvie tray with the butter, making sure all of the corners are well greased. Place any odd pieces of the trim in the bottom of the tray, then place the pretty bread slices on top, make sure they don't stick too far above the top of the tray.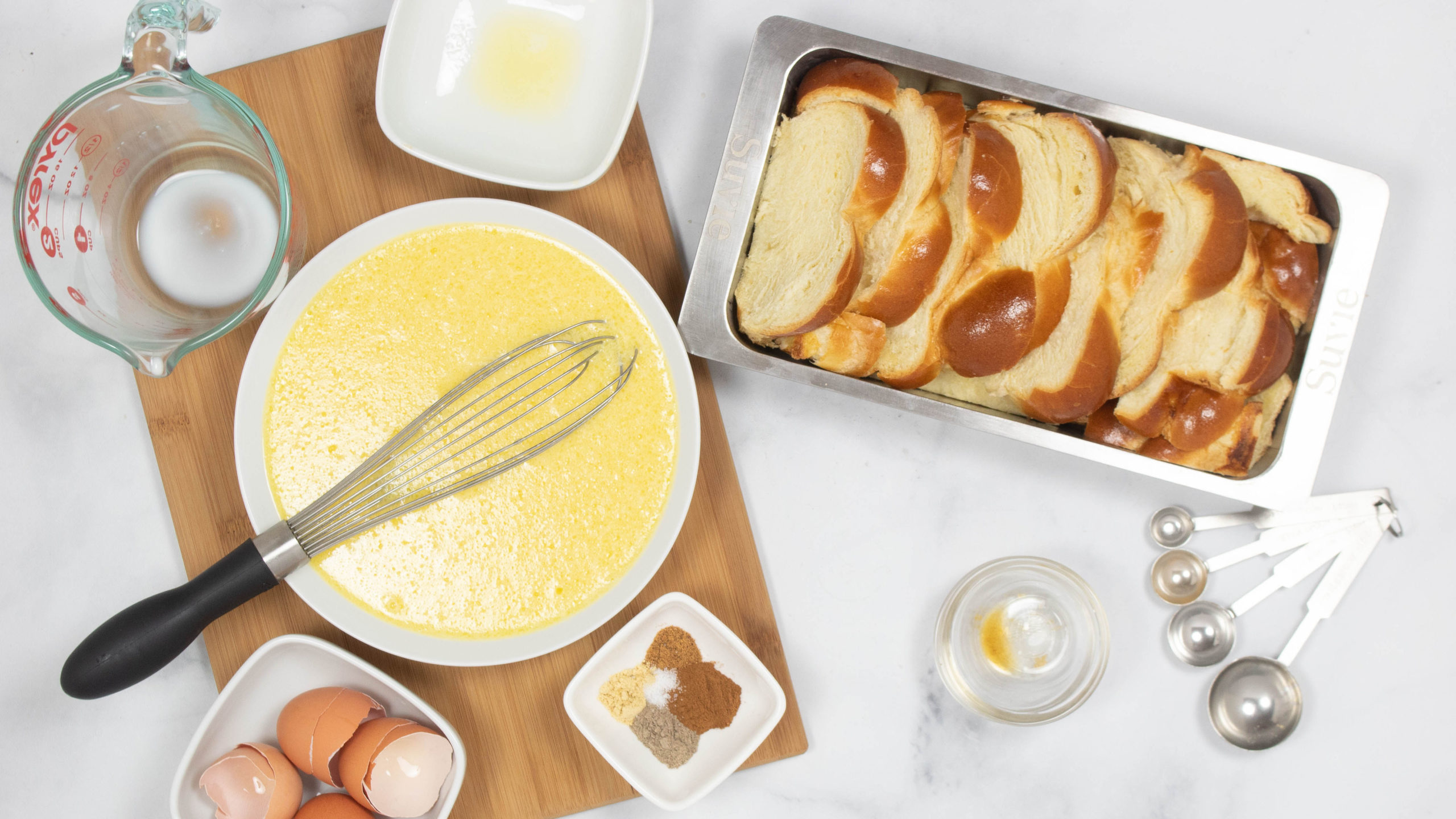 In a large bowl whisk together 4 eggs, milk, vanilla, and brown sugar until smooth. Add the spices and a pinch of salt and whisk vigorously to combine. (The spices tend to settle at the bottom so make sure to whisk again right before you pour the custard over the bread.)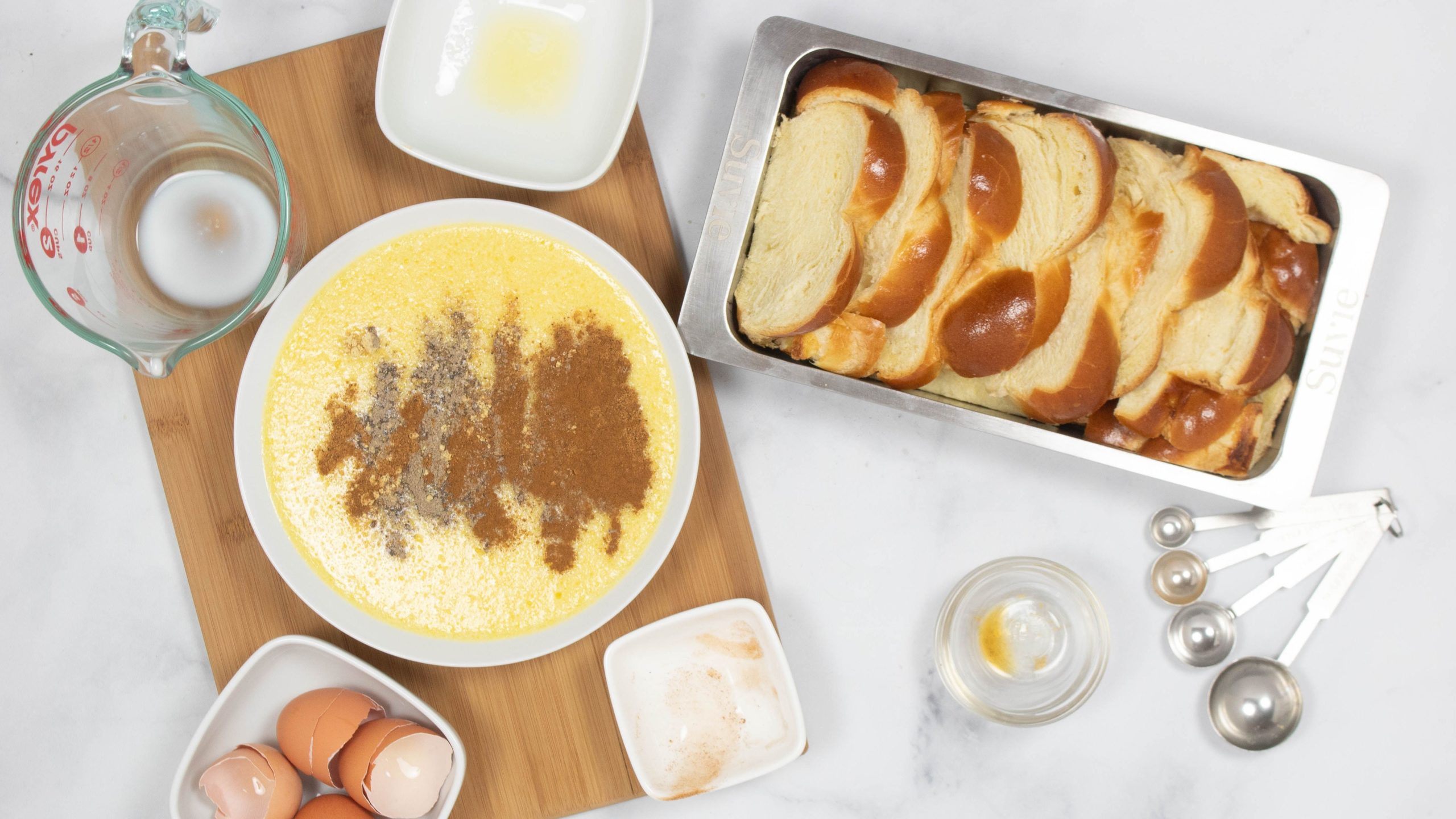 Make sure all of the bread is tucked into the pan, then pour the custard mixture over the bread.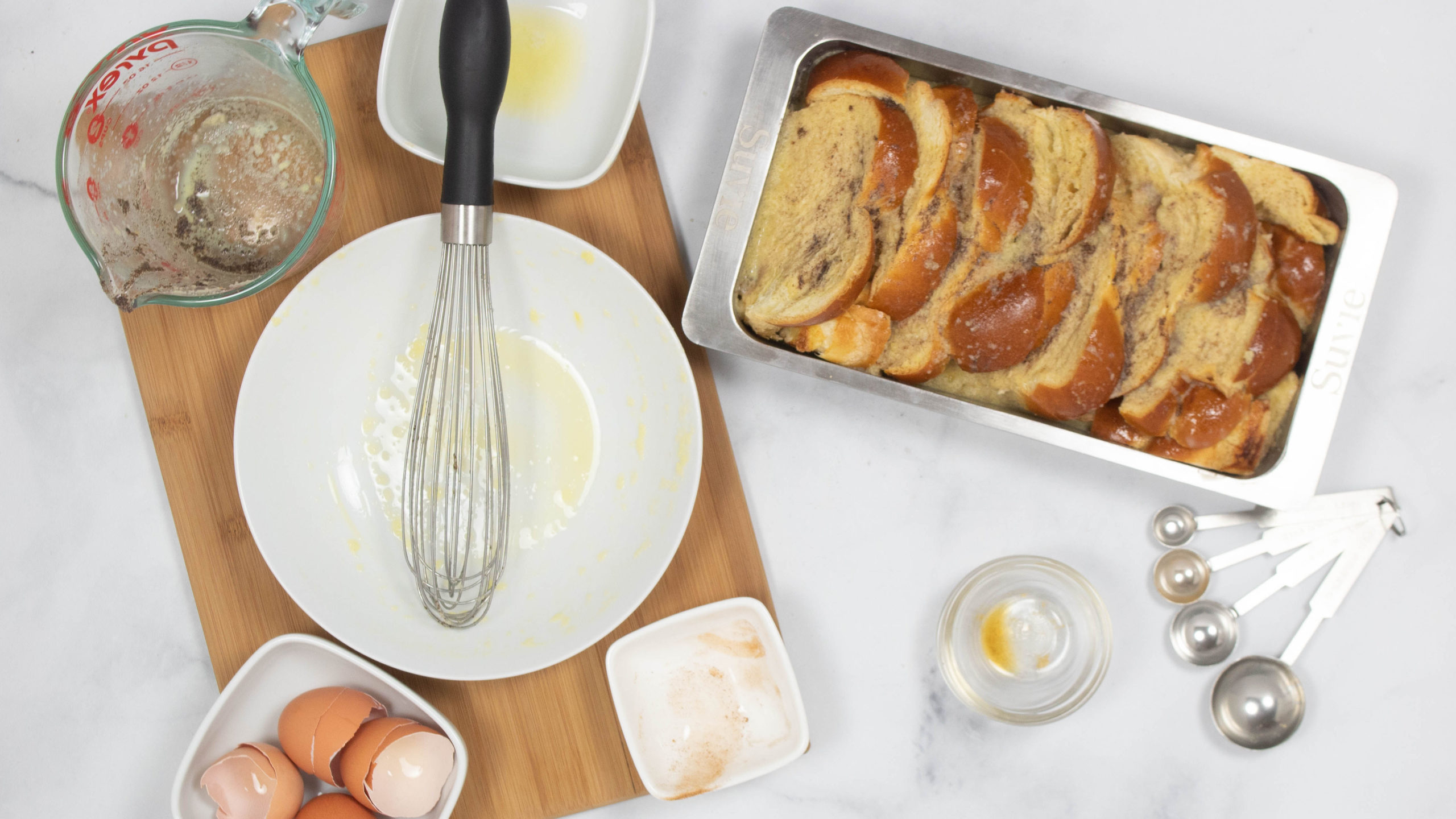 Gently press the bread down to remove any air pockets.Cover with aluminum foil and Insert pan into your Suvie, input settings, and cook now or schedule.
Suvie Cook Settings
Bottom Zone: Slow Cook High for 1 hour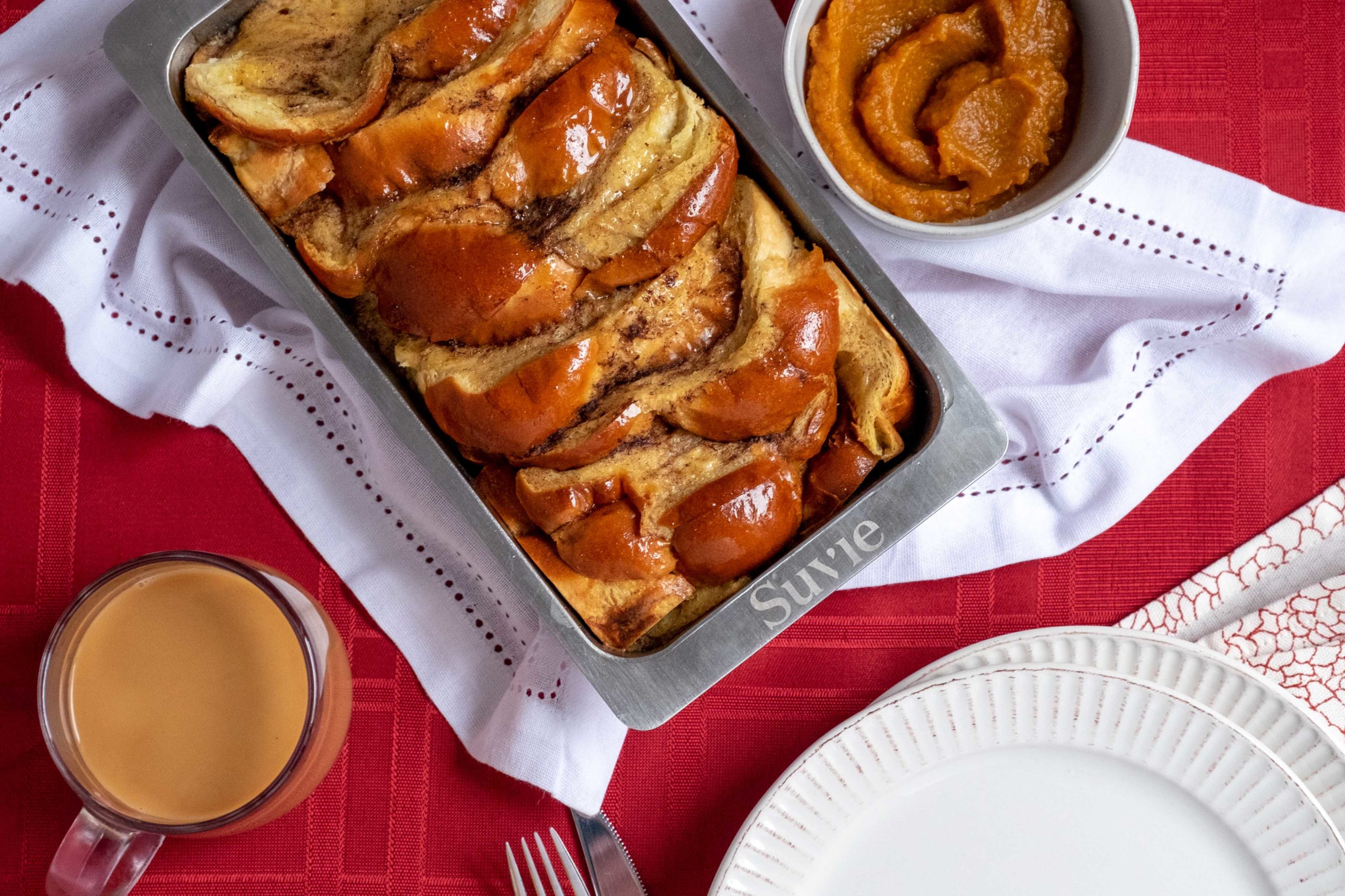 Note: If you would like to make this recipe in Suvie 1.0, insert pan into the top zone of Suvie, fill reservoir, and set to Slow Cook on High for 1 hour.
Coffee Pairing
We recommend pairing this dish with a good cup of freshly brewed Sumatran coffee. The herbal notes of the coffee will pair beautifully with the cardamom.