While salmon and asparagus are the stars of this dish there's a secret ingredient that steals the show. Crème fraîche is the richer, thicker, French cousin of sour cream and it single-handedly takes this dish to a whole new level. Crème fraîche is not quite as tangy as sour cream, but still has a little pucker that works well with the lemon and complements the mellow flavor of the dill. The crème fraîche, fresh dill, and lemon juice form the sauce for the orecchiette pasta. This simple summer recipe is best eaten outside on a summer night with a nice cold glass of wine.
Salmon and Asparagus Orecchiette
Please always check your food to ensure your food has been cooked to safe serving temperatures. Please see our guide
here
for recommended FDA Time & Temperatures.
Servings: 2
Difficulty: 1 hour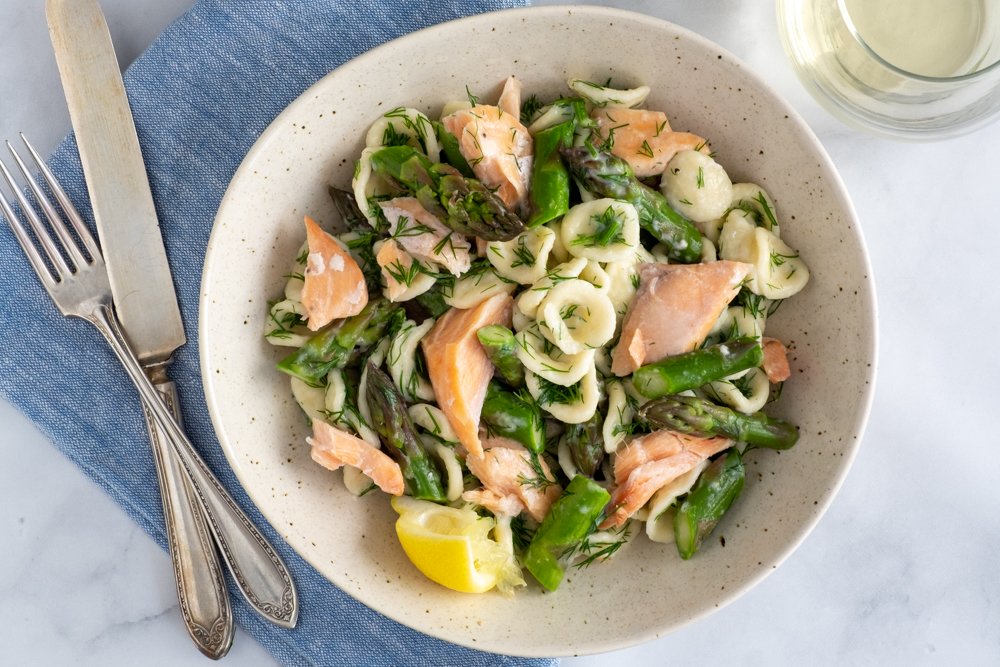 Ingredients
12 oz skinless salmon, cut into two portions
8 oz asparagus, trimmed
1 1/2 cups orecchiette pasta (6 oz)
2 tsp olive oil
1 small bunch fresh dill
1 small bunch fresh mint
¼ cup crème fraîche
1 lemon
Directions
1) Vacuum seal the salmon with 1 tsp olive oil, salt and pepper. Place salmon in a Suvie pan and cover completely with water, then place in the bottom cooking zone of Suvie. Input settings and cook now or schedule.
Suvie Cook Settings
Bottom Zone: Sous Vide at 130˚F for 30 minutes
Top Zone: None
2) Place 1 1/2 cups pasta and 1 tbsp salt in the Suvie starch strainer set within the Suvie pasta pot (green handles). Cover pot with lid and place inside the Suvie Starch Cooker, ensuring pot is centered on the hot plate. Input settings and cook now or schedule.
Suvie Starch Cooker Settings
Pasta, 1 1/2 cups, 10 minutes
3) During the cook roughly chop ¼ cup fresh dill and 2 tbsp fresh mint but keep them separated. Cut the lemon in half and juice one half, cut the other half into quarters to serve as garnish. Set the herbs and lemon aside until the cook is finished.
4) After the cook, remove all pans from Suvie. Arrange asparagus on the Suvie roasting rack (handles up) set within a Suvie pan and drizzle with 2 tsp olive oil and season with salt and pepper. Place in bottom zone of Suvie and broil for 12 minutes or until starting to brown.
5) Add the crème fraîche and dill to a large bowl. Stir in the hot orecchiette until combined. Add the juice from half a lemon and season to taste with salt and pepper.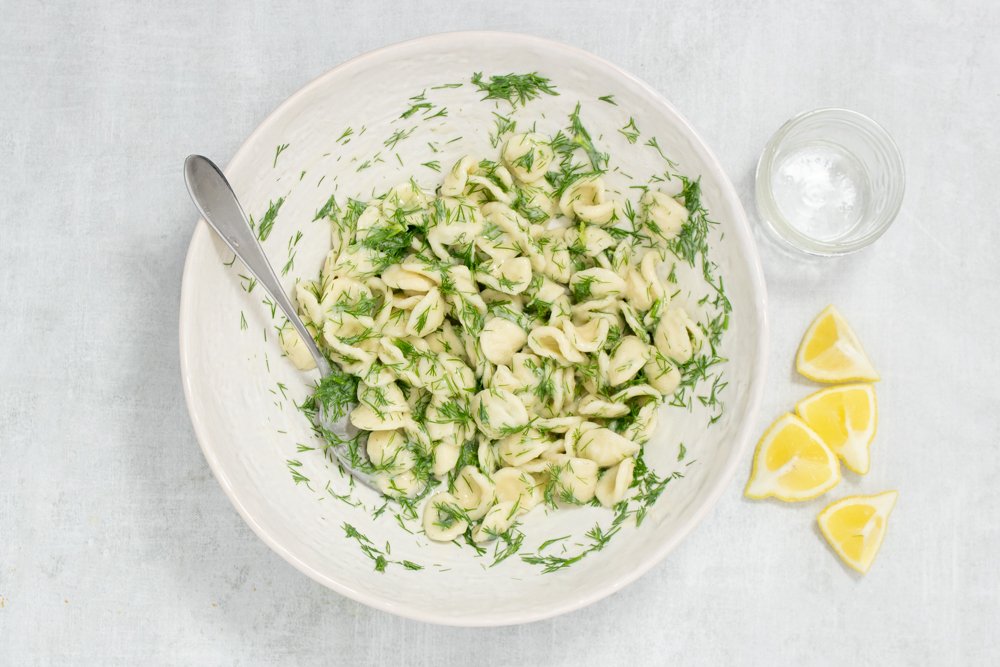 6) Remove the salmon from the vacuum packaging and pat with a paper towel to dry. Remove the asparagus from Suvie. Cut the asparagus into bite-size pieces. Add the asparagus to the pasta and stir to combine.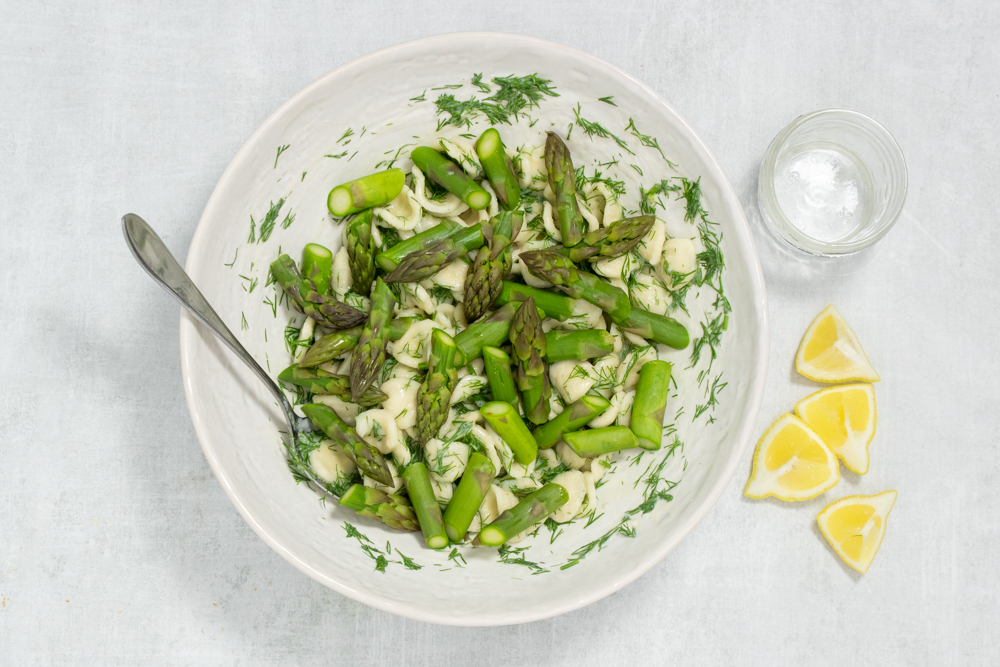 7) Flake the salmon on top of the pasta.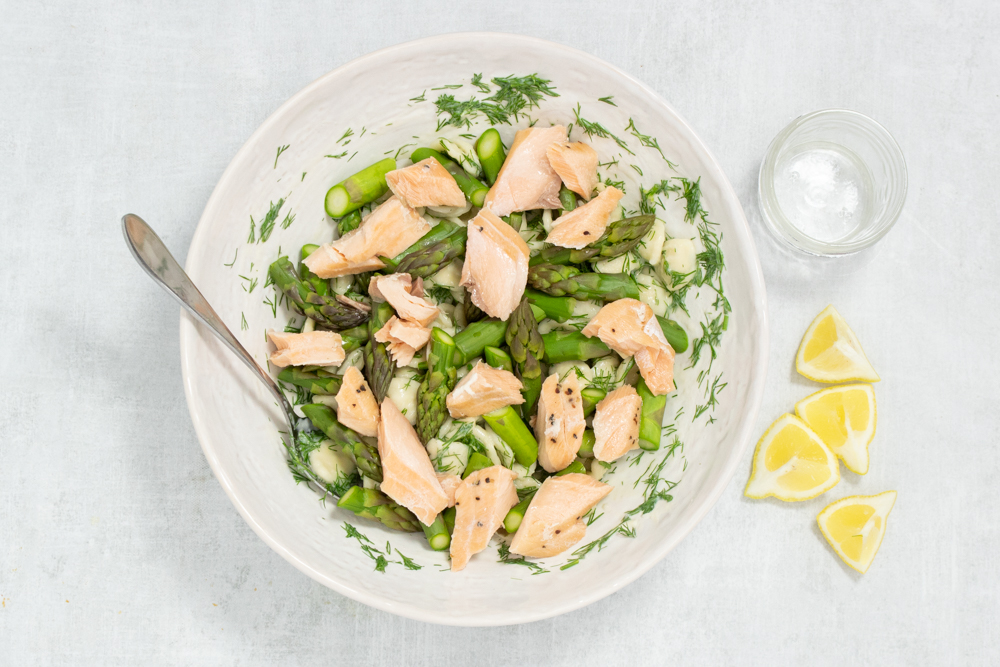 8) Divide between two plates and garnish with fresh mint and lemon wedges.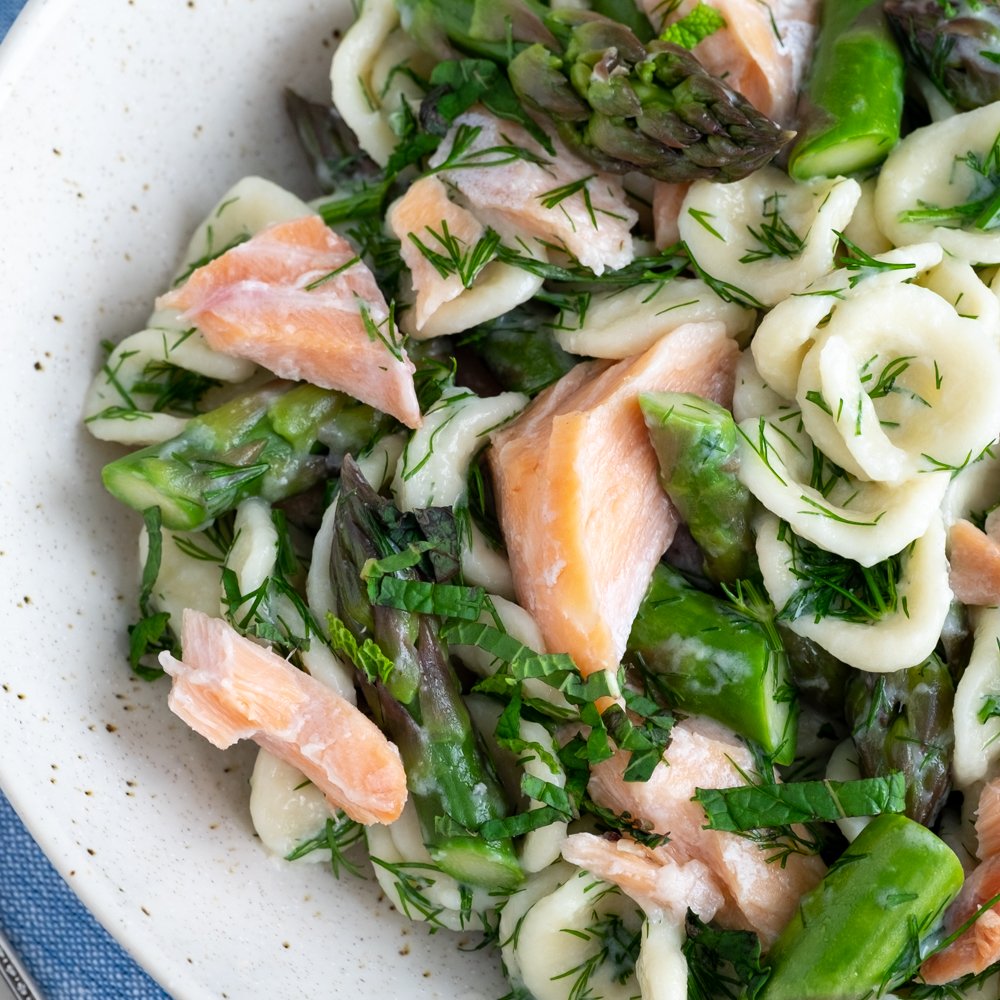 Wine Pairing
Salmon pairs with a number of wines such as Chardonnay and Pinot Noir, but the green herbs and vegetables in this dish require a pop of acidity to really bring out the flavors. Try pairing this meal with a glass of dry Grüner Veltliner.