The smooth richness of peanuts works perfectly with the bright tangy flavors of fresh lime, garlic, and sriracha. A dash of fish sauce adds a characteristic funkiness, but you can use soy sauce for a similar dose of umami if you're short on fish sauce. Fresh bok choy, rice noodles, and shrimp are the perfect complement for the spicy peanut sauce. Garnish with a squeeze of fresh lime and cilantro, and enjoy this light and delicious dinner.
Note: This recipe requires Suvie 2.0 and the Suvie Starch Cooker. If you would like to make this meal in Suvie 1.0, set the noodles to cook for 5 minutes in Step 2.
Shrimp Satay
Please always check your food to ensure your food has been cooked to safe serving temperatures. Please see our guide
here
for recommended FDA Time & Temperatures.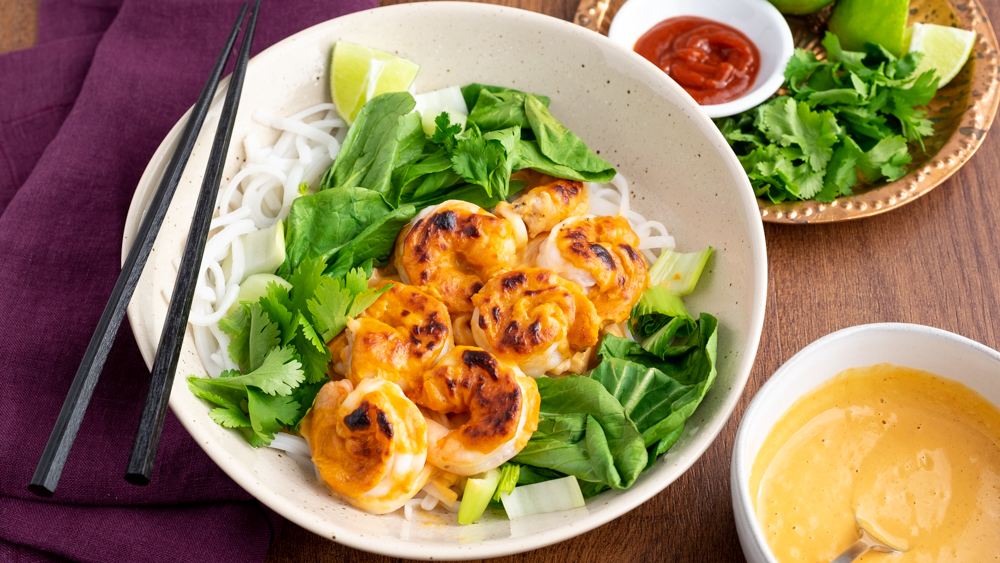 Ingredients
¼ cup unsalted peanut butter
1 tbsp sriracha, plus extra for garnish
1 tbsp fish sauce or soy sauce
1 lime, juiced, plus 2 wedges to serve
1 clove garlic, peeled
8 oz shrimp, vacuum sealed
6 oz baby bok choy, rinsed
4 oz rice noodles
2 tbsp fresh cilantro
Directions
1) Place 8 oz vacuum sealed shrimp in a Suvie pan, cover with water, and place into the bottom zone of Suvie. Place 6 oz baby bok choy in a second Suvie pan and place in the top of Suvie. Enter settings below and cook now or schedule.
2) Place rice noodles in the Suvie pasta strainer set within the Suvie pasta pot (you may need to break the rice noodles in half for them to fit). Select "Pasta" from the display screen on the Suvie Starch Cooker and set to cook for 4 minutes. Cook now or shedule
Suvie Cook Settings
Bottom Zone: Sous Vide at 125˚F for 30 minutes
Top Zone: Sous Vide at 125°F for 30 minutes
3) While the shrimp cooks, prepare the peanut satay sauce. In a small food processor or blender combine 1/4 cup peanut butter, 1 tbsp sriracha, 1 tbsp fish sauce, juice from 1 lime, 1 garlic clove, and 2 tbsp water. Blend on medium until smooth and uniform. Adjust seasoning to taste.
4) Once the cook is complete, remove the shrimp from the vacuum bag. Pat dry with a paper towel and spread out in an even layer in a Suvie pan.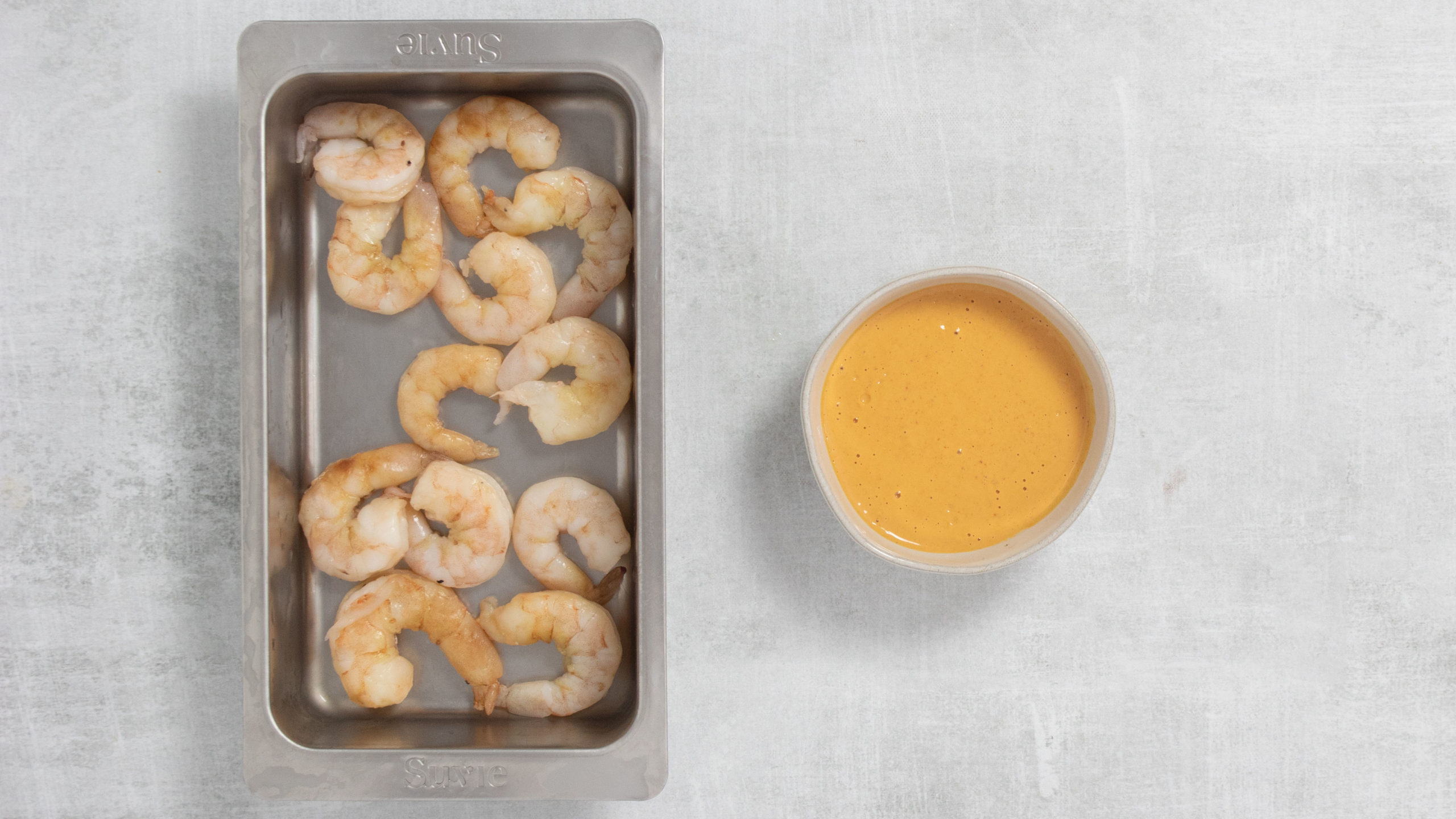 5) Spoon some of the satay sauce over the shrimp and return pan to Suvie. Broil shrimp for 5-7 minutes and boy choy for 10 minutes, until fragrant.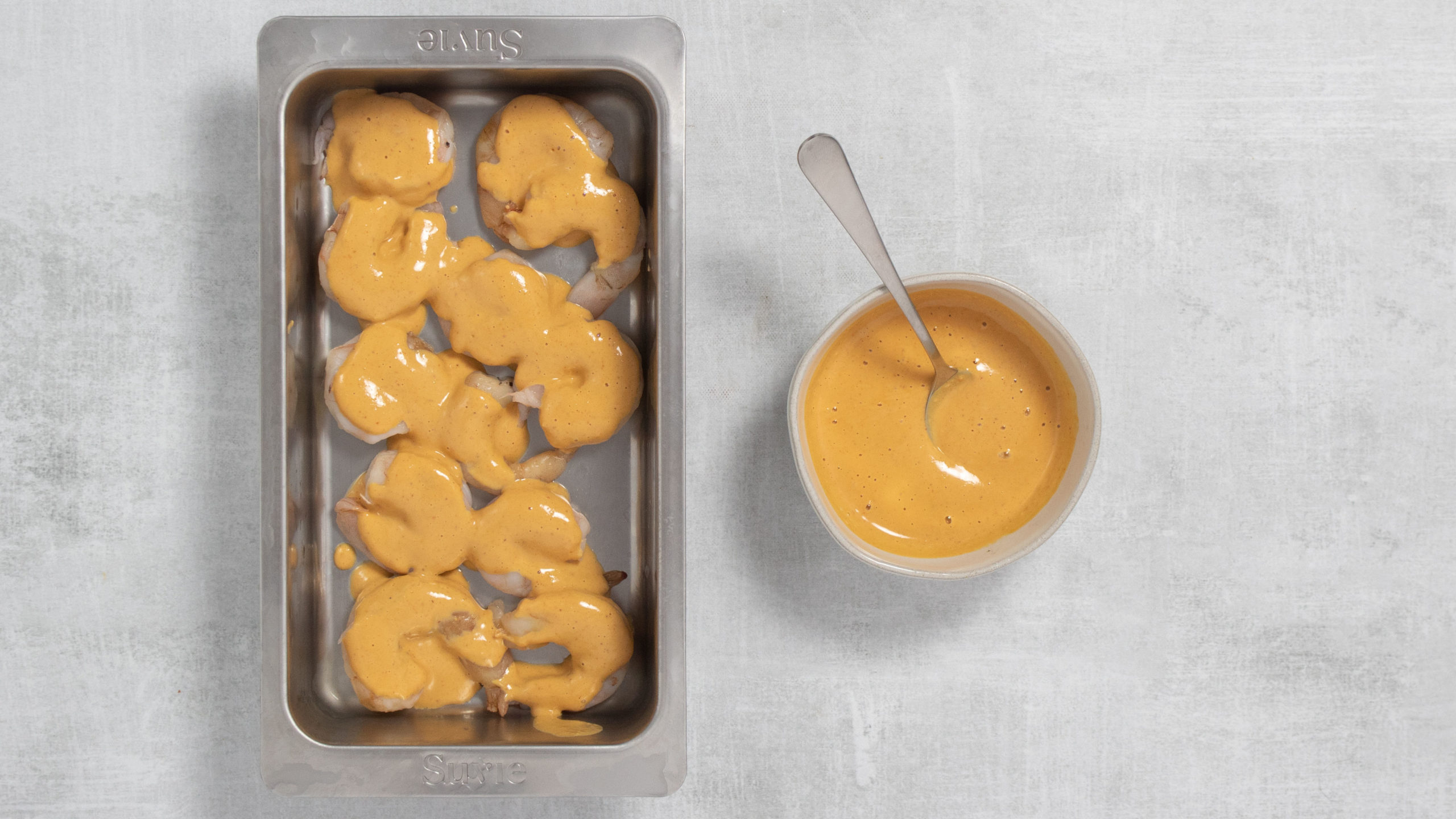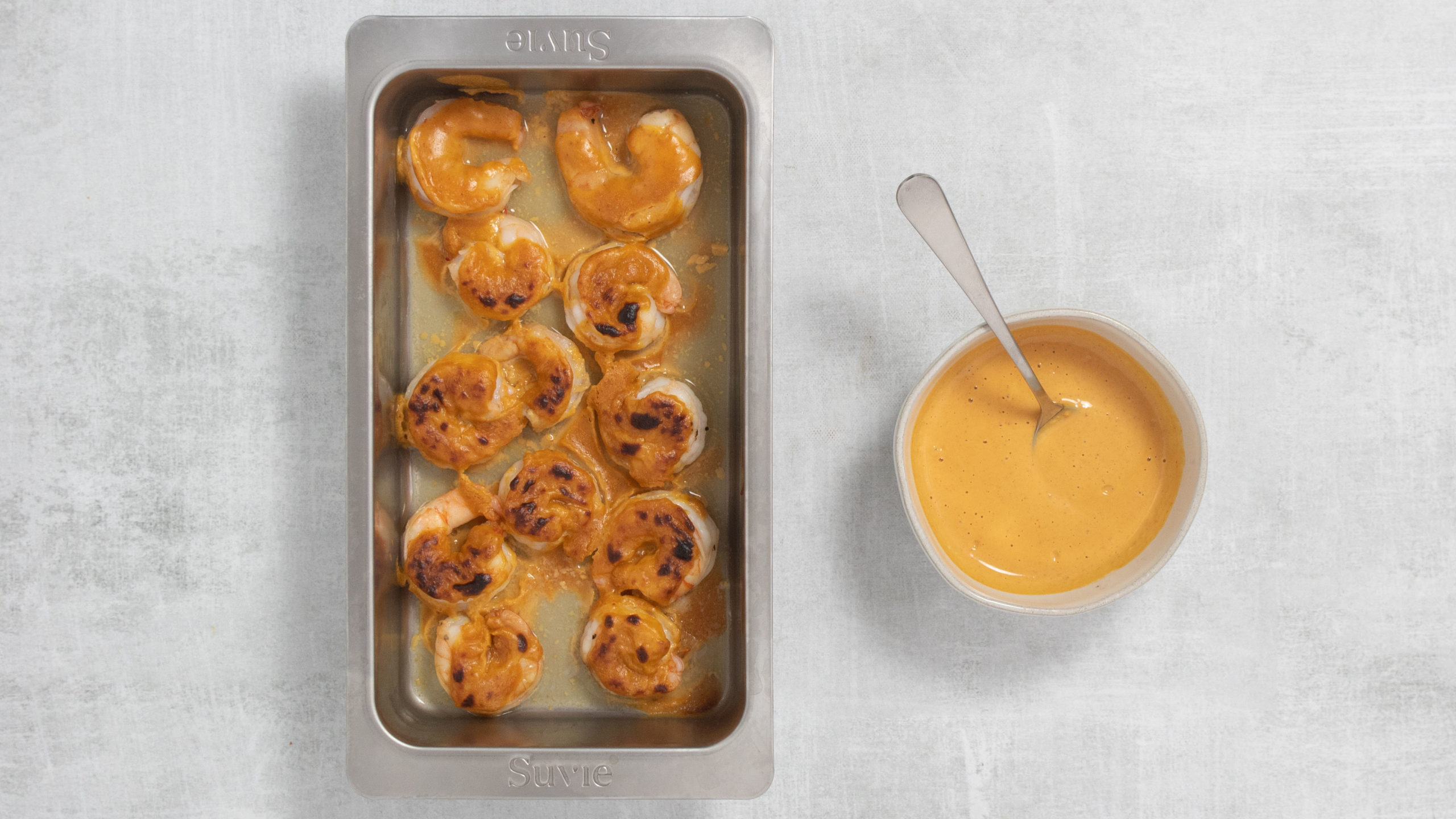 6) While the shrimp broils, rinse the rice noodles in cold water. Slice the bok choy into bite-size pieces. Divide the noodles between two bowls. Top with the shrimp and bok choy, garnish with more peanut sauce, cilantro, and lime juice.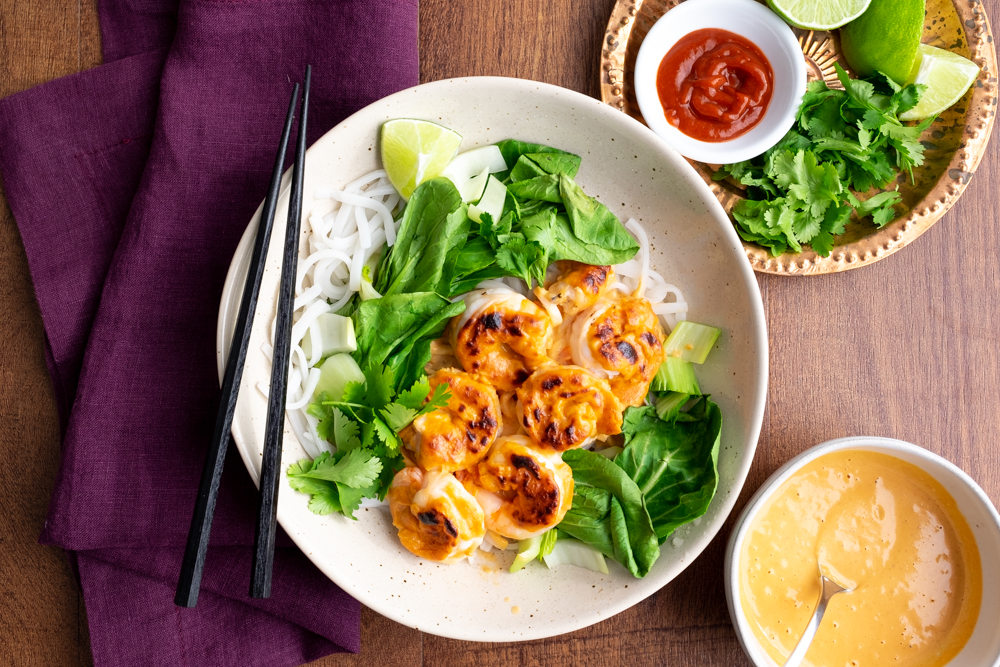 Wine Pairing
Wines that offer a good balance of acidity and sweetness will pair well with the spicy notes of the sriracha and the rich flavors in the peanut sauce. We recommend either a dry Riesling or an oaked Chardonnay.