Osso Bucco translates to "bone with a hole" in reference to the bone marrow visible in the cross-cut of the veal shank. You can substitute lamb or pork shanks for the veal, but it is important to get the cross-cut shank for the most traditional preparation. The marrow from the bone helps to flavor the braising liquid and adds richness to the sauce. Slow cooking the polenta yields a creamy consistency without needing to constantly stir the pot over a hot stove. A touch of butter at the end adds even more silkiness and also gives the polenta a beautiful shine. This date-night meal is as simple to prepare as it is delicious to eat.
Note: If you would like to schedule this cook, but do not want to wait for the broiler to cool before refrigerating, sauté the garlic, shallot, and oil in a small skillet over medium heat for 6 minutes instead of broiling.
Slow Cook: Osso Bucco with Creamy Polenta
Please always check your food to ensure your food has been cooked to safe serving temperatures. Please see our guide
here
for recommended FDA Time & Temperatures.
Servings: 2
Difficulty: 9 hours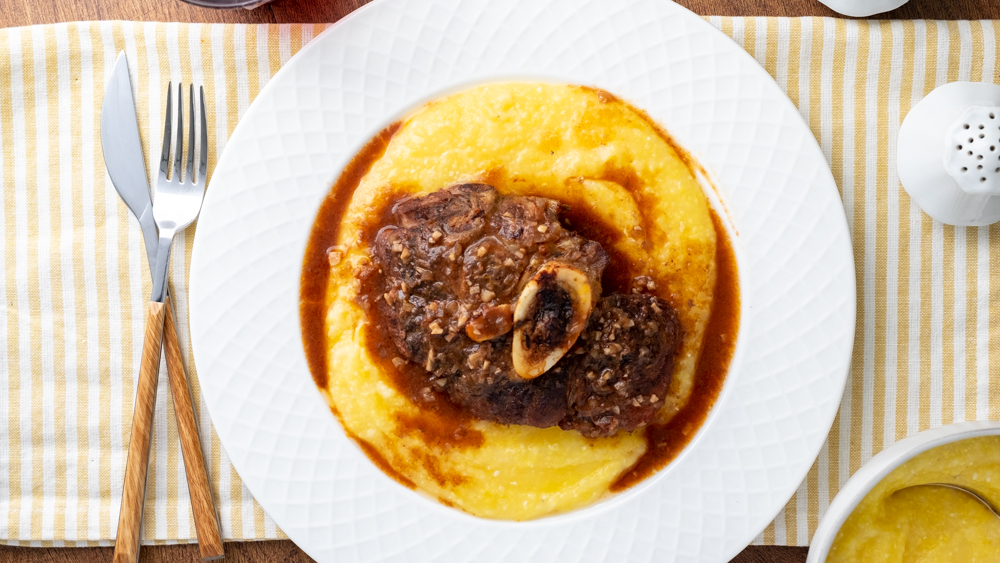 Ingredients
2 veal shanks (about 1.5 lbs)
4 cloves garlic
1 shallot
½ cup red wine
2 tbsp tomato paste
½ cup chicken or veal stock
4 sprigs fresh thyme
1/2 cup yellow polenta
2 cups water
2 tbsp butter
Directions
Season the veal shanks generously on both sides with salt; set aside. Peel and mince the garlic and shallot. Transfer to a Suvie pan with 1 tbsp olive oil and broil for 10 minutes until softened and fragrant. Do not add water to the reservoir before broiling.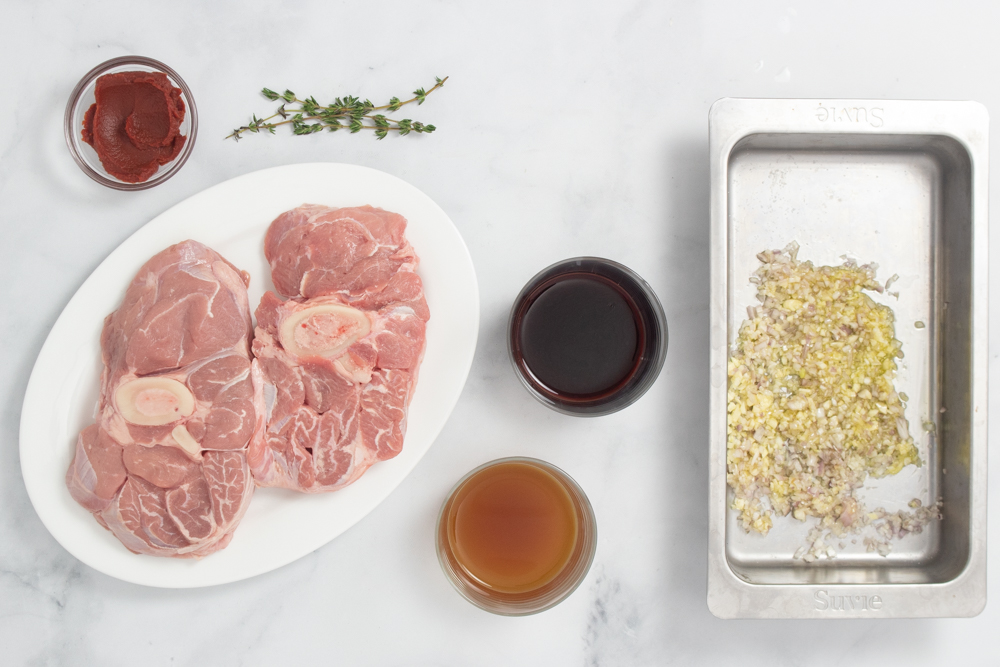 Add the tomato paste, red wine, chicken or veal stock to the Suvie pan, and stir to combine.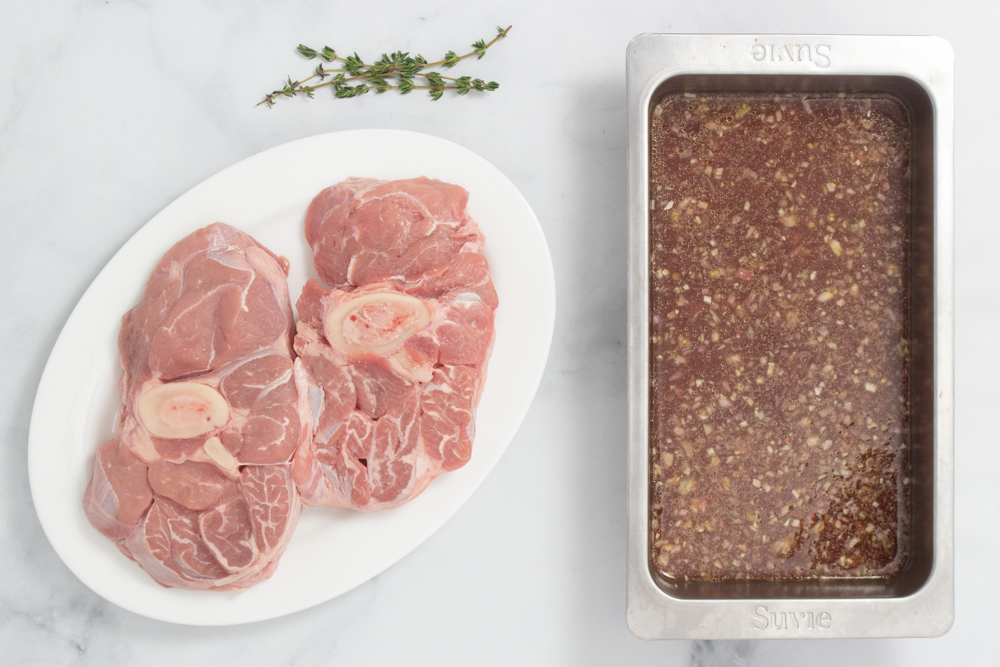 Add the veal shanks to the pan and top with the fresh thyme sprigs.
In a separate Suvie pan combine the yellow polenta, 2 cups water, and 1/2 tsp salt; cover pan with foil.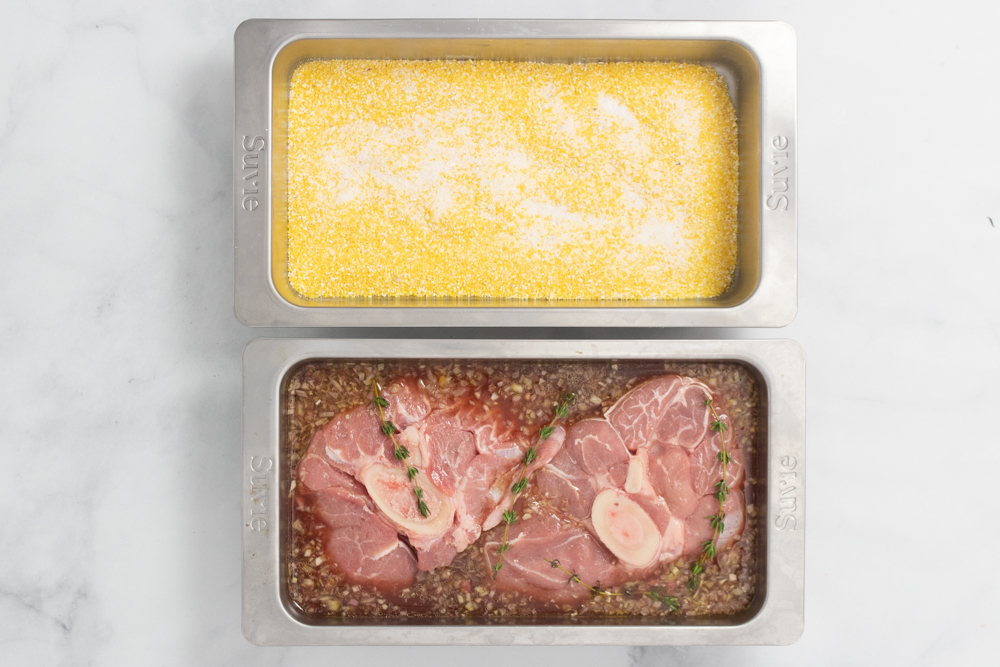 Insert both pans into your Suvie, input settings, and cook now or schedule.
Suvie Cook Settings
Bottom Zone: Slow Cook Low for 8 hours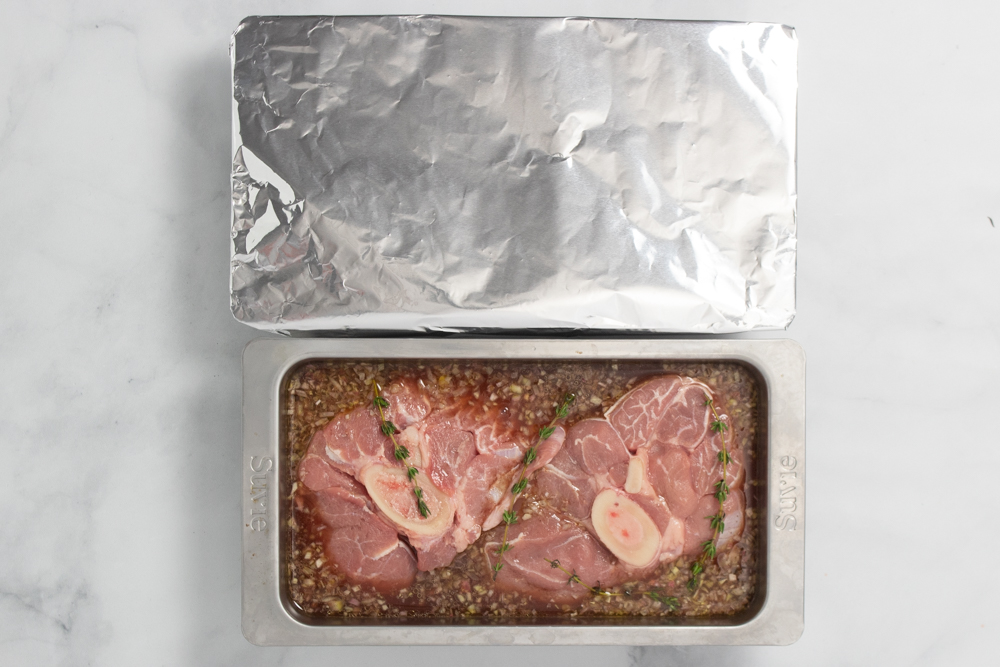 After the cook, remove both pans from Suvie. Remove aluminum foil from pan and add butter to the polenta, stirring to incorporate.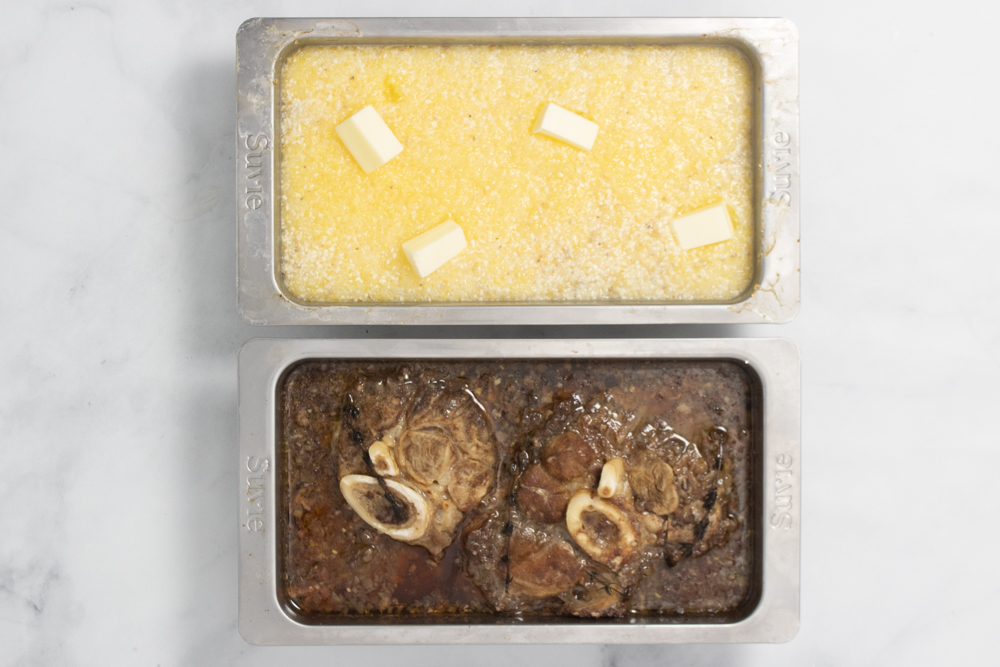 Season polenta with salt and pepper to taste, and return to Suvie to keep warm.
Carefully remove the veal shanks from the Suvie pan. Pour the braising liquid into a small saucepan and bring to a boil over medium-high heat. Let the liquid reduce by half and adjust seasoning to taste with salt and pepper.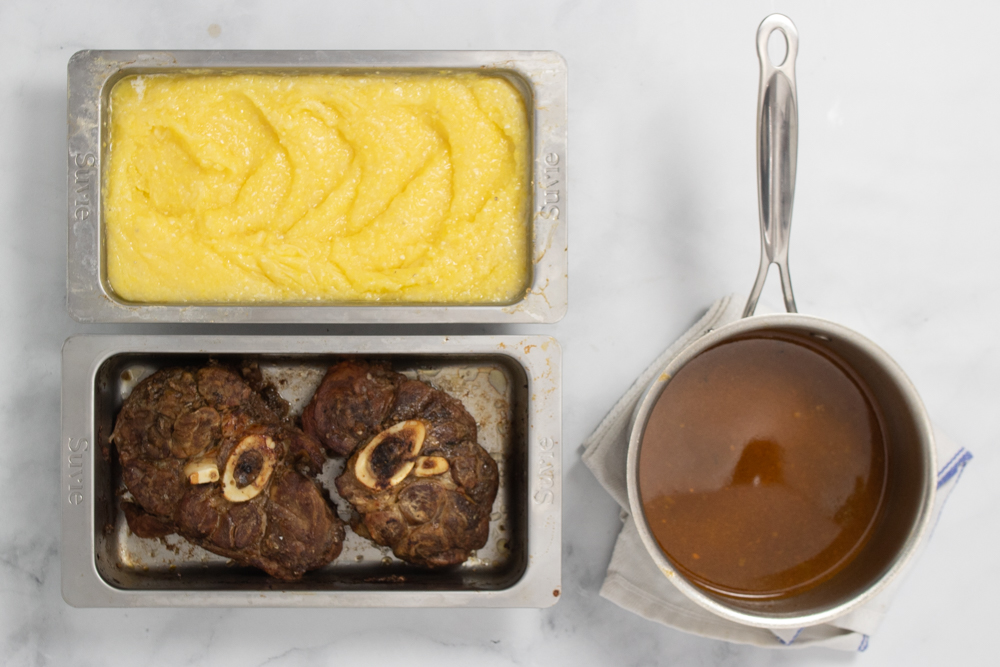 To serve, divide the polenta between plates and top with each with a veal shank. Pour the reduced sauce over the veal and enjoy!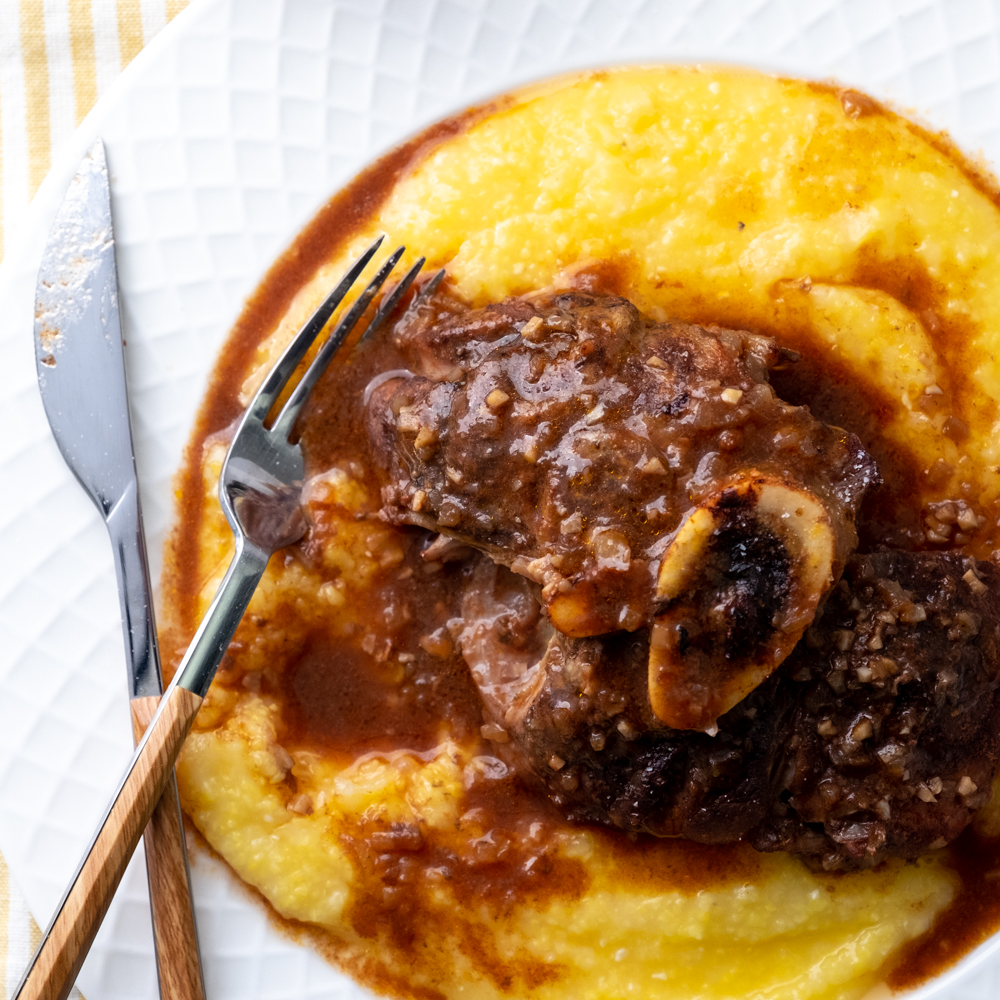 Note: If you would like to make this recipe in Suvie 1.0, insert pans into the top zones of Suvie, fill reservoir, and set to Slow Cook on Low for 8 hours.
Wine Pairing
Veal is one of the few red meats that can be paired with white wines and Rosé wines, however braised veal like the one found in this recipe is more than a match for a robust red wine like Zinfandel.