Nicoise salad, indigenous to Nice in the south of France, is a vibrant and delicious meal whose components are dictated by what is seasonally available. We have chosen a fairly classic assembly of ingredients including olives, tomatoes, green beans, eggs, and potatoes, but feel free to swap in other vegetables and toppings as you see fit. Our starring protein is tuna, which is hearty enough to handle a quick sear after sous viding and goes great with the tangy Dijon dressing.
Tuna Nicoise
Please always check your food to ensure your food has been cooked to safe serving temperatures. Please see our guide
here
for recommended FDA Time & Temperatures.
Servings: 4
Difficulty: 1 hour and 50 minutes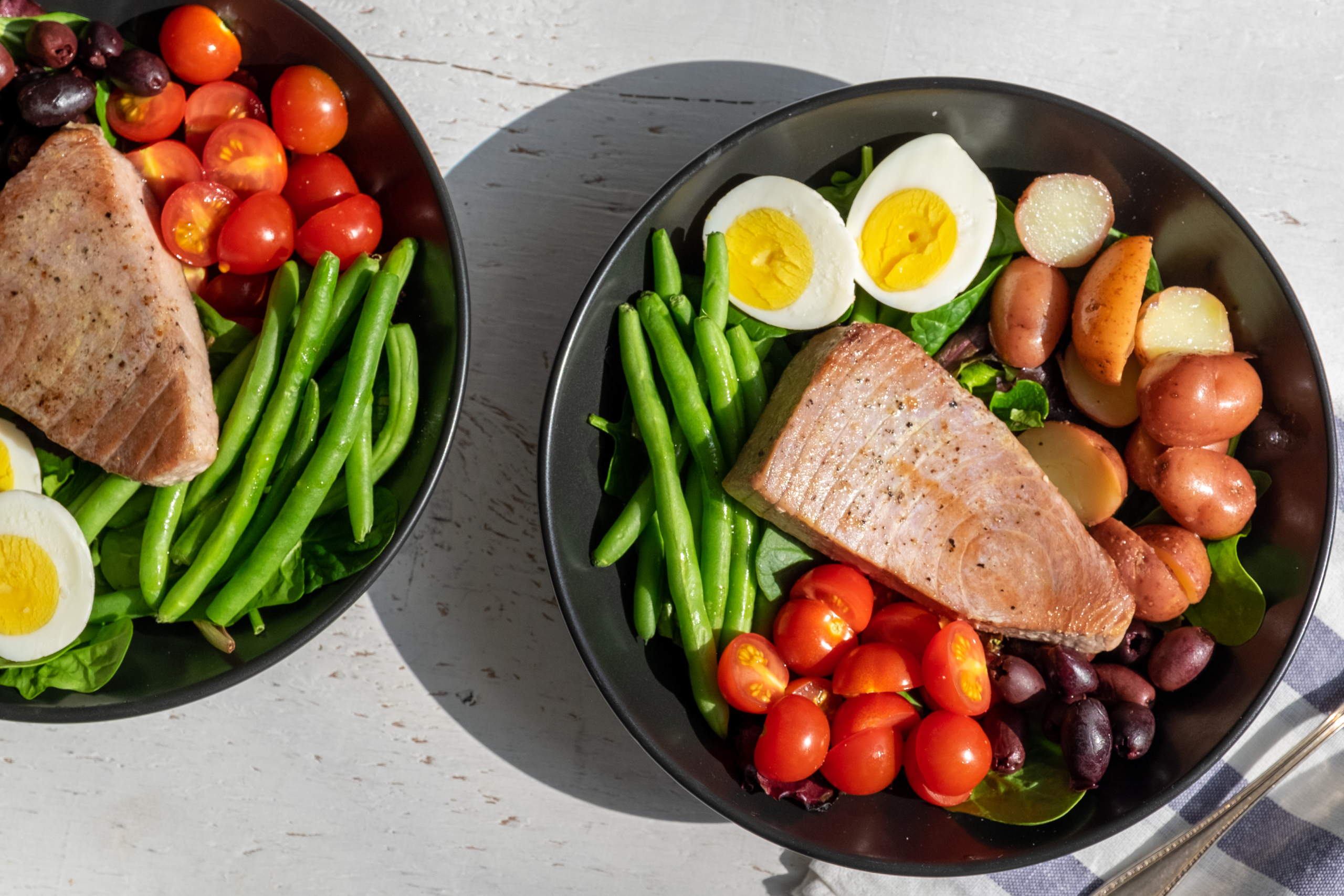 Ingredients
4 (4-6 oz) tuna steaks, about 1" thick
1/4 cup olive oil, separated
1 small lemon
1 tsp dijon mustard
1 lb small red or yellow potatoes
8 oz green beans 
6 oz cherry tomatoes, about 2 heaping cups
½ cup olives, pitted, preferably Nicoise 
4 ounces spring mix
4 hard-boiled eggs
2 tsp vegetable oil
Directions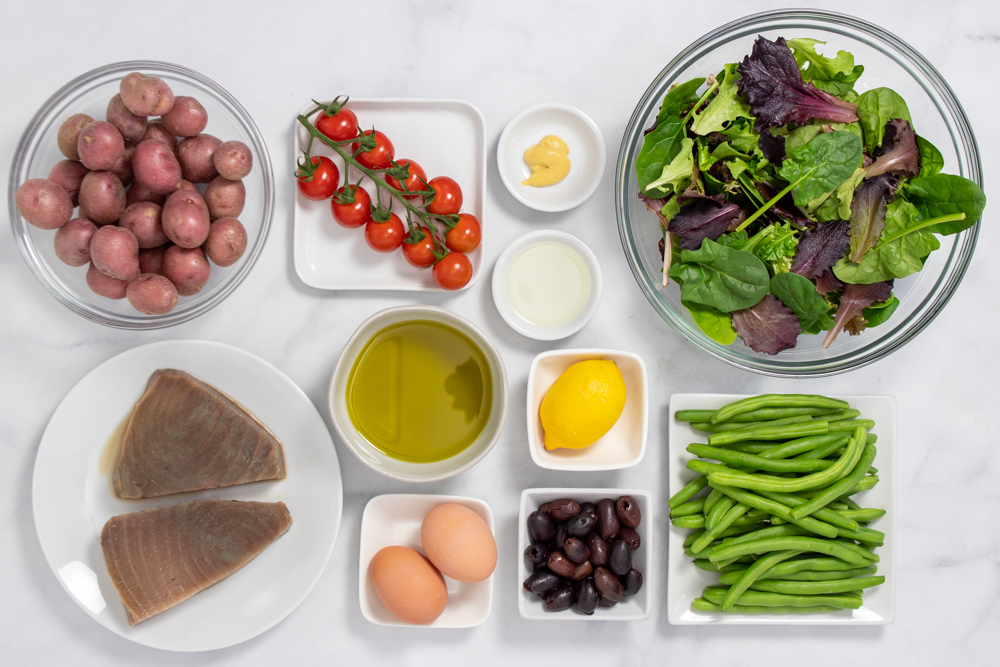 Pat tuna dry and season with salt and pepper. Vacuum seal tuna with 1 tbsp olive oil. Place tuna in a Suvie pan, cover with water, and insert into top right zone of your Suvie. Place green beans in a Suvie pan and place in top left zone of your Suvie. Place potatoes in a starch pan and insert into your Suvie. Input settings and cook.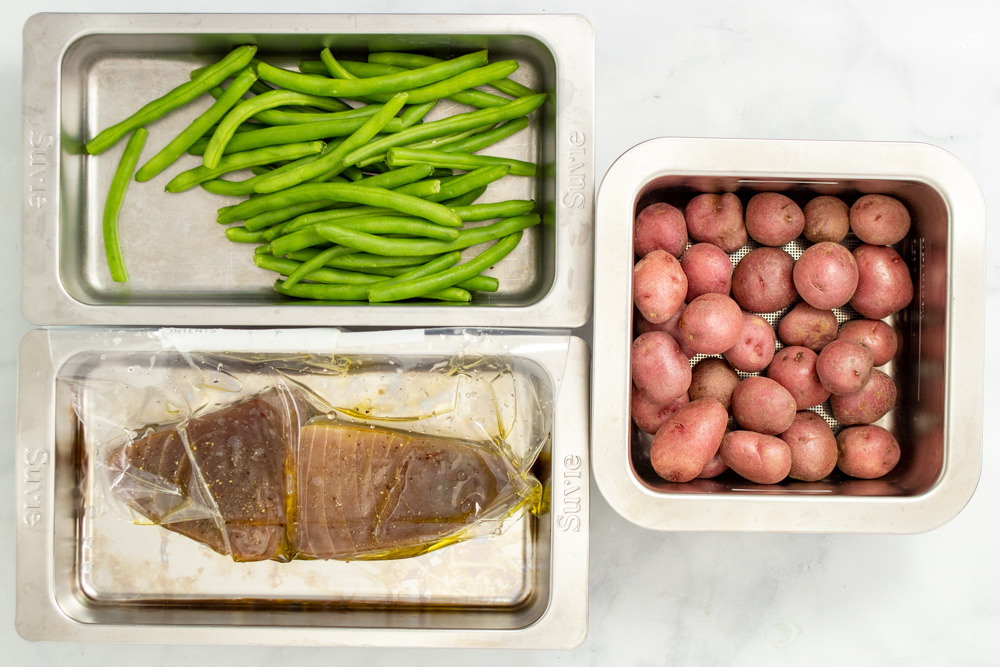 My Cook > Multi-Zone Settings
Protein: 120°F for 30 minutes
Vegetable: 12 minutes
Starch: 40 minutes
While the tuna cooks, prepare the dressing and remaining vegetables. Juice half the lemon into a large bowl. Add the dijon mustard, and then slowly whisk in the remaining olive oil. Season dressing with salt and pepper to taste and set aside. Separate 2 tbsp dressing from bowl and set aside.
Slice cherry tomatoes in half and season with salt. Peel hard-boiled eggs, cut in half, and season with salt. 
Once the tuna has finished cooking, Remove all pans from your Suvie.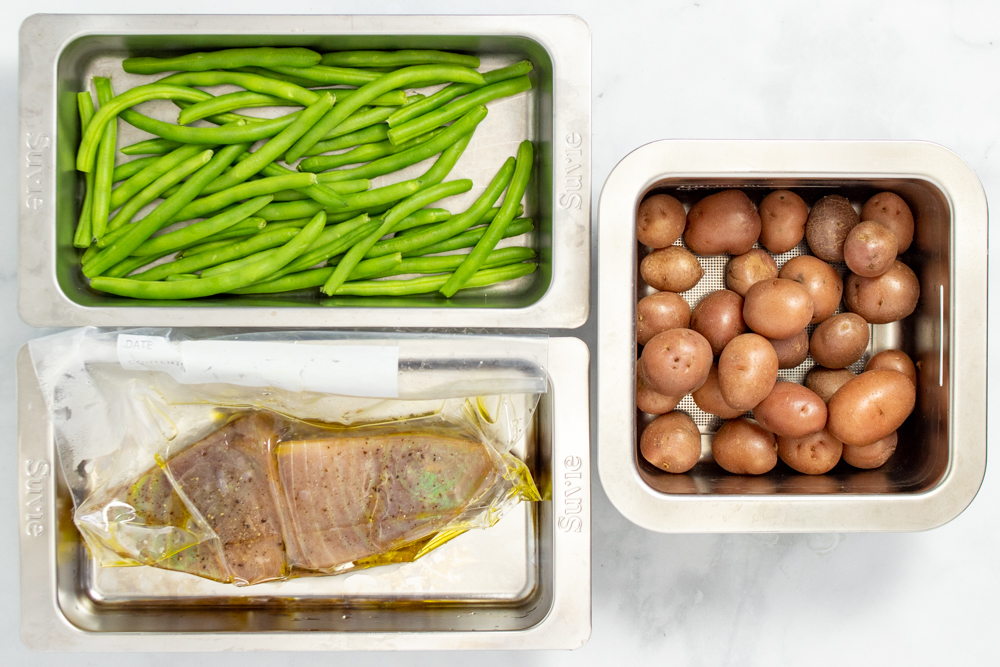 Remove tuna and pat dry. Pour off any liquid from the green beans, pat dry, and season with salt.
Cut potatoes in half, add to the bowl with the dressing, and toss to coat. Season potatoes with salt and pepper to taste and then transfer potatoes to a separate bowl. 
Add mesclun mix to the now-empty bowl, drizzle with reserved 2 tbsp dressing, toss to coat, and divide between plates. 
Heat 2 tsp vegetable oil in a heavy-bottom skillet or cast-iron pan until smoking. Add tuna steaks and sear for 1 minute per side, or until browned. Remove tuna and set aside. 
Arrange tomatoes, olives, potatoes, green beans, and eggs in clusters on top of mesclun mix with tuna in the center. Drizzle any residual dressing over each serving.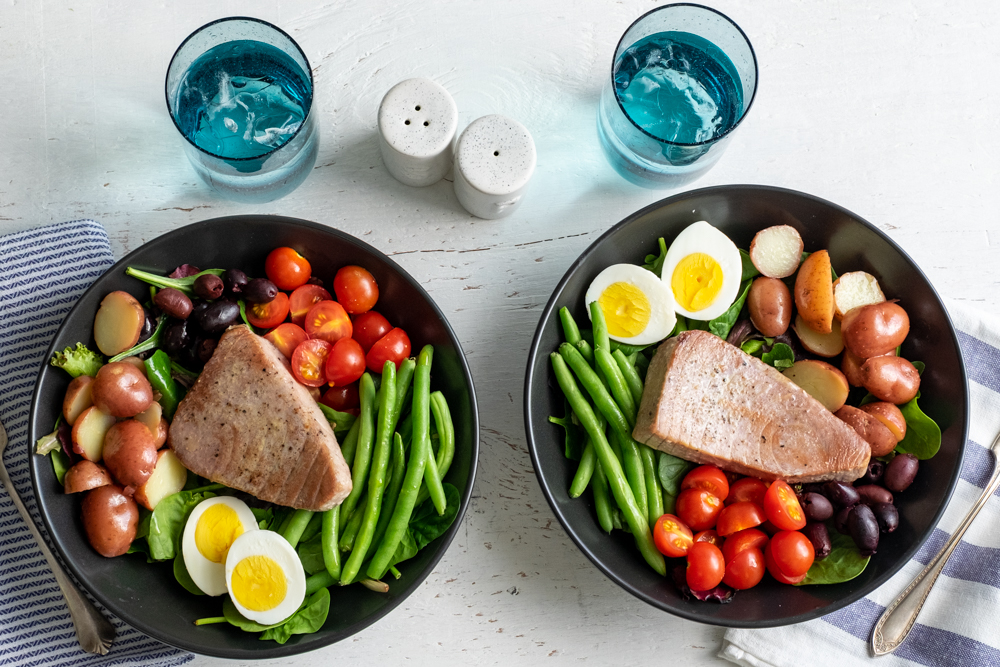 Nutrition
Nutritional Information per serving (4 servings per recipe): Calories 410, Total Fat 18g, Total Carbohydrates 26g, Total Sodium 854mg, Total Protein 35g.