En papillote may sound like an intimidating or complicated culinary term, but it happens to be one of the easiest, quickest, and most delicious cooking methods. It's a French technique that roughly translates to "cooked in paper".' The fish and vegetables are folded in parchment (or even foil) to build a paper package. The packets are placed in a hot oven and the contents are gently cooked by the steam produced within the packets, creating perfectly steamed fish and crisp vegetables.
To create the steam, you need to add a splash of wine (or stock). Once you add some butter (or olive oil), seasonings, and aromatics, a tasty sauce is naturally created within the parcel. And the very best part? No pans and hardly any utensils are used, which means minimal clean-up! This reason, along with the fast prep and quick cook time, makes fish en papillote the perfect midweek supper.
Proteins You Can Cook En Papillote
The good thing about cooking fish en papillote is that it cooks very quickly (around 10 to 12 minutes, depending on the fish and size of the fillet). You can use skin-on fillets, as this adds a deeper flavor to the vegetables. The skin melts down a little and is perfectly edible, similar to when you poach skin-on fish. However, if you only like eating crispy skin, you can discard the skin after cooking, or use skinless fillets.
This guide provides instructions for making salmon en papillote, but this works with any fillets of fish. Tuna or swordfish steaks are also tasty alternatives. You can cook chicken breasts with this method, however, chicken takes longer to cook (around 20 to 25 minutes), depending on the size of the chicken breast.
How To Serve This Dish?
You can serve the packets straight from the oven still sealed. Have some scissors at hand so you can easily cut into the packages at the table, being careful of the hot steam within. As it's practically a meal in one package, you can serve as is (especially if you have thinly sliced baby potatoes as part of your veggies), or you can serve with a salad, buttered baby potatoes, rice, or a side of crusty bread. 
Other Veggies That Work Well
Baby bok choy, sliced in half lengthwise 
Fennel, sliced
Baby spinach
Carrots, cut into thin slices or matchsticks 
Baby potatoes, very thinly sliced
Don't worry too much about measuring out the vegetables. All you need is to be able to comfortably seal the package so it has a little room to puff up and steam the food inside.
Aromatics and Flavorings You Could Add or Swap Out
Capers
Fresh herbs such as bay leaves, thyme, parsley, basil, rosemary
Condiments such as Dijon or wholegrain mustard, pesto, harissa, or sriracha (rub all over the fish fillet after seasoning)
Liquors such as Pernod, Sambuca, Ouzo, vermouth,
Bottled clam juice or lobster broth
Freshly grated ginger with a squeeze of lime, dash of soy sauce, and 1 tsp of sesame oil
Recipe for Salmon en Papillote with Cherry Tomatoes & Tarragon
Serves: 2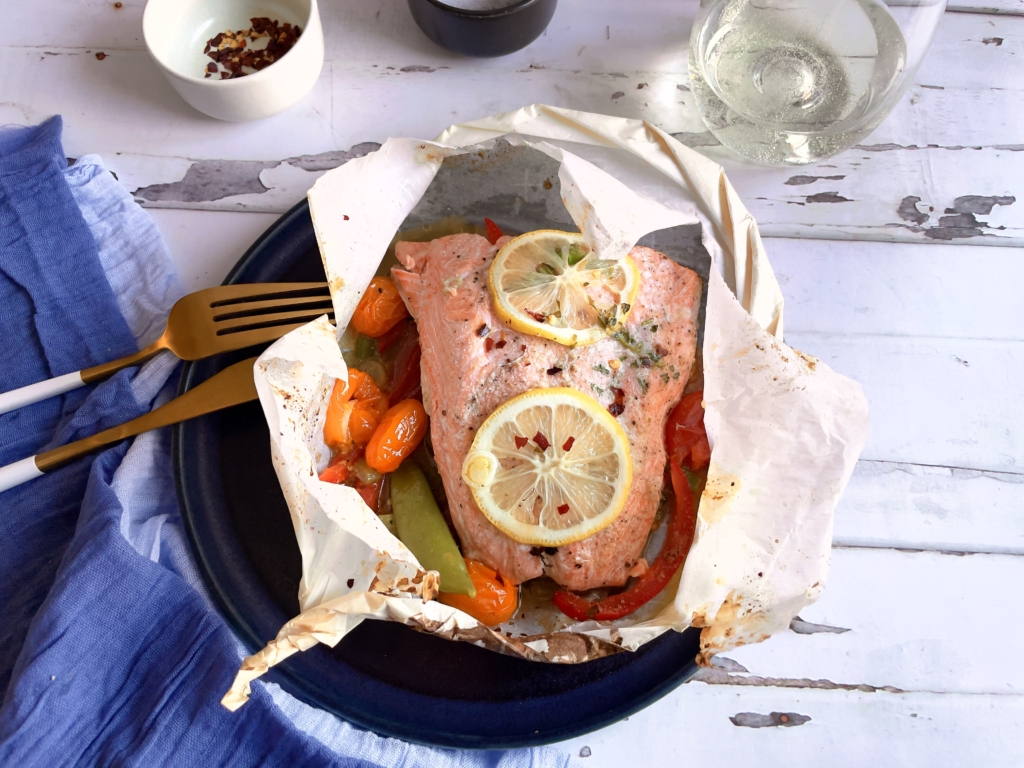 Equipment and Tools
Rimmed baking sheet
Parchment paper
Scissors 
Chef's knife and cutting board for prepping 
Ingredients 
2 (approximately 4 oz each) salmon fillets (skin-on or skinless) 
¾ cup cherry tomatoes
¾ cup snap peas
½ medium red bell pepper, cut into ¼-inch slices
1 scallion, thinly sliced 
6 tbsp white wine, divided
1 tbsp finely chopped fresh tarragon, divided
Kosher salt and freshly ground black pepper 
1 tsp garlic powder, divided
¼ tsp red pepper flakes (optional), divided 
2 tbsp unsalted butter, divided 
4 thin lemon slices (seeds removed) or 1 ½ tsp finely grated lemon zest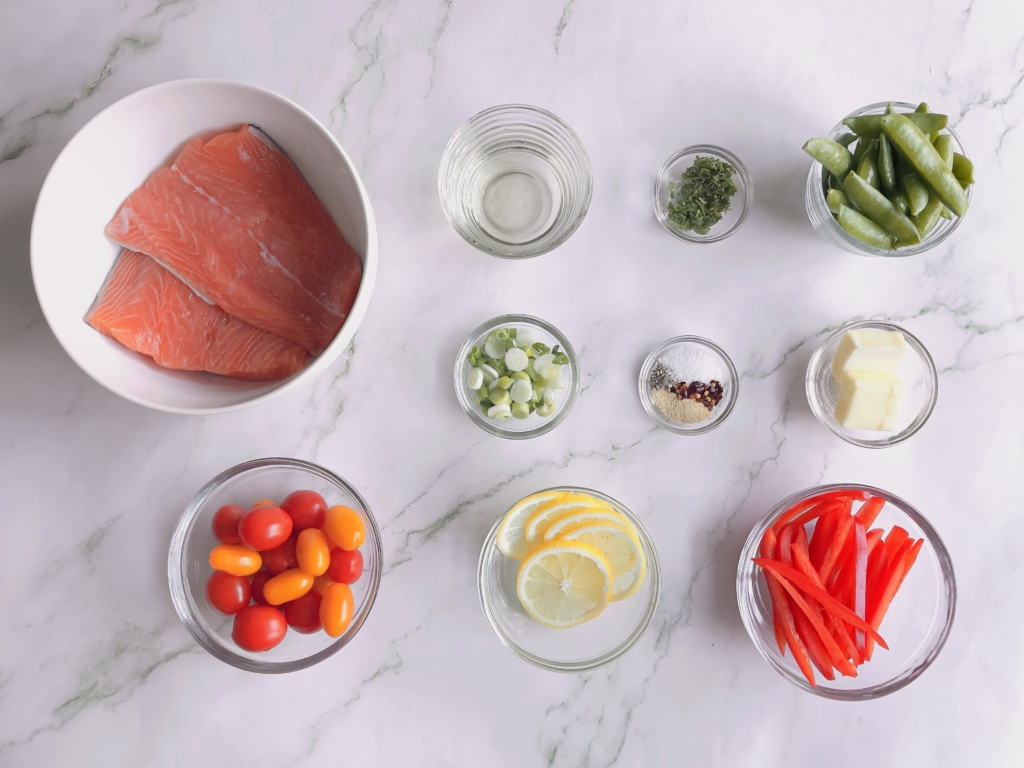 Directions
1) Arrange a rack in the middle of the oven and preheat to 400°F. Cut two large pieces of parchment paper into rectangles about 15-by-21 inches in size. Fold each piece (on the 15 inch side) in half, so it meets the other side.
2) On each folded piece of paper, draw the shape of half a heart against the fold, as if making a Valentine. Using scissors, cut along the line. Repeat with the second piece of folded parchment paper. Open the papers to make two hearts.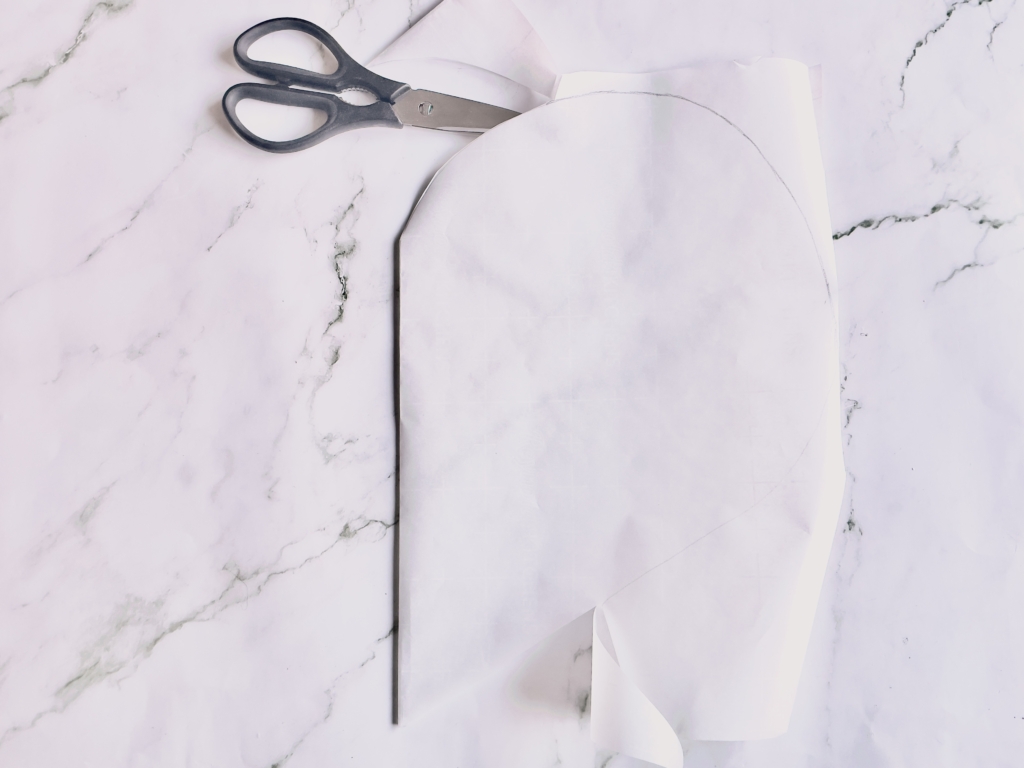 3) On the right side of the hearts (tight against the fold line), in any order, arrange the vegetables, dividing them equally between both sheets of paper. Season generously with salt and pepper, ¼ tsp garlic powder, a generous pinch of red pepper flakes (if using), and 1 tsp of fresh tarragon. Spoon 2 tbsp of white wine over the vegetables.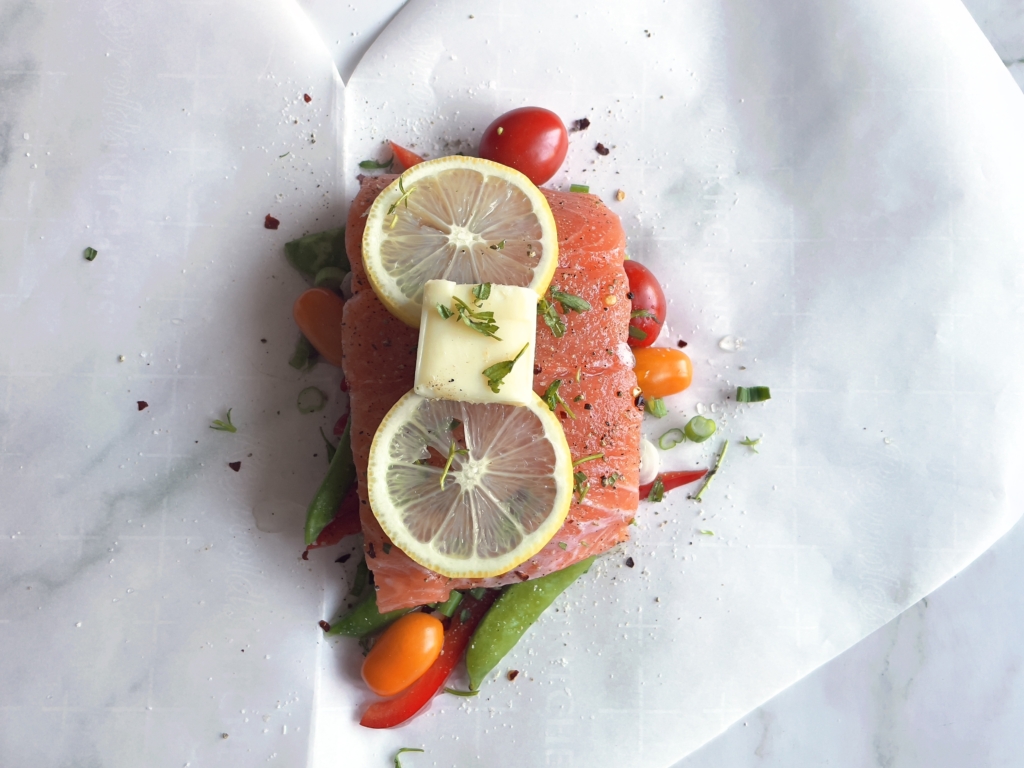 4) Season the 2 salmon fillets on both sides with salt, pepper, and the remaining garlic powder. Place the fish on top of the vegetables, skin side down. Pour 1 tbsp wine on top of each fillet, top with 2 slices of lemon (or divide the lemon zest), and 1 tbsp butter on each piece. Divide the remaining fresh tarragon between fillets.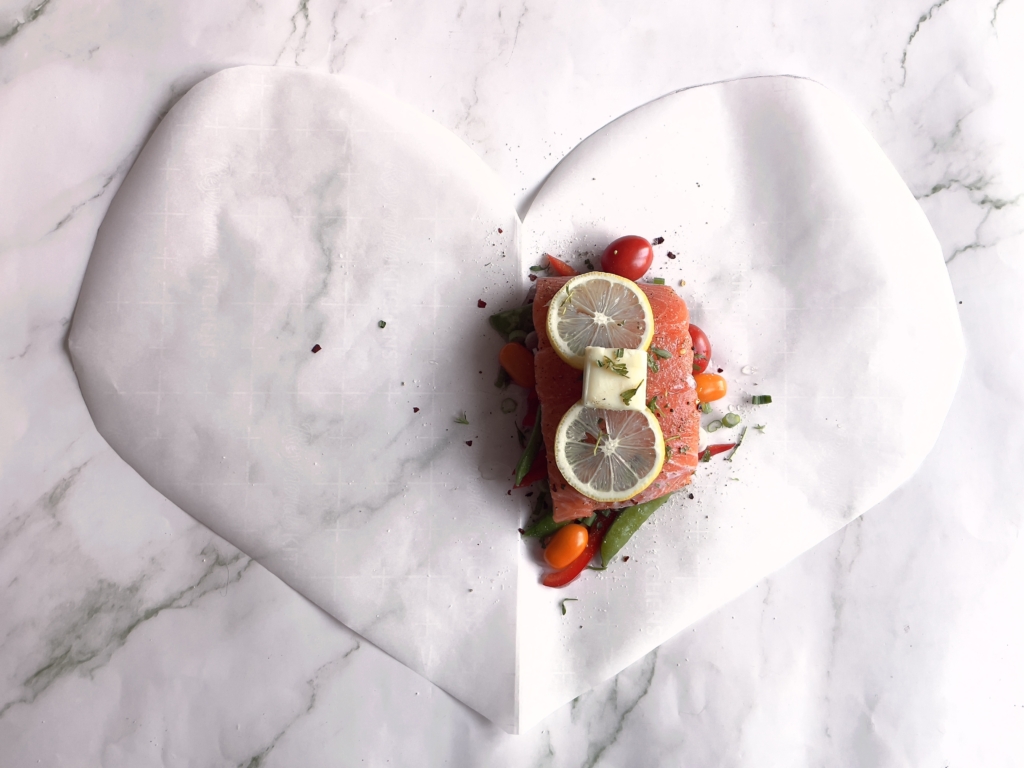 5) Fold the paper over to meet the other side, covering the contents on one of the hearts. Starting at the top, fold the paper over, tightly crimping in 1-inch folds, until you get to the bottom of the heart shape. Twist the point to seal the packet. Repeat to complete the second package.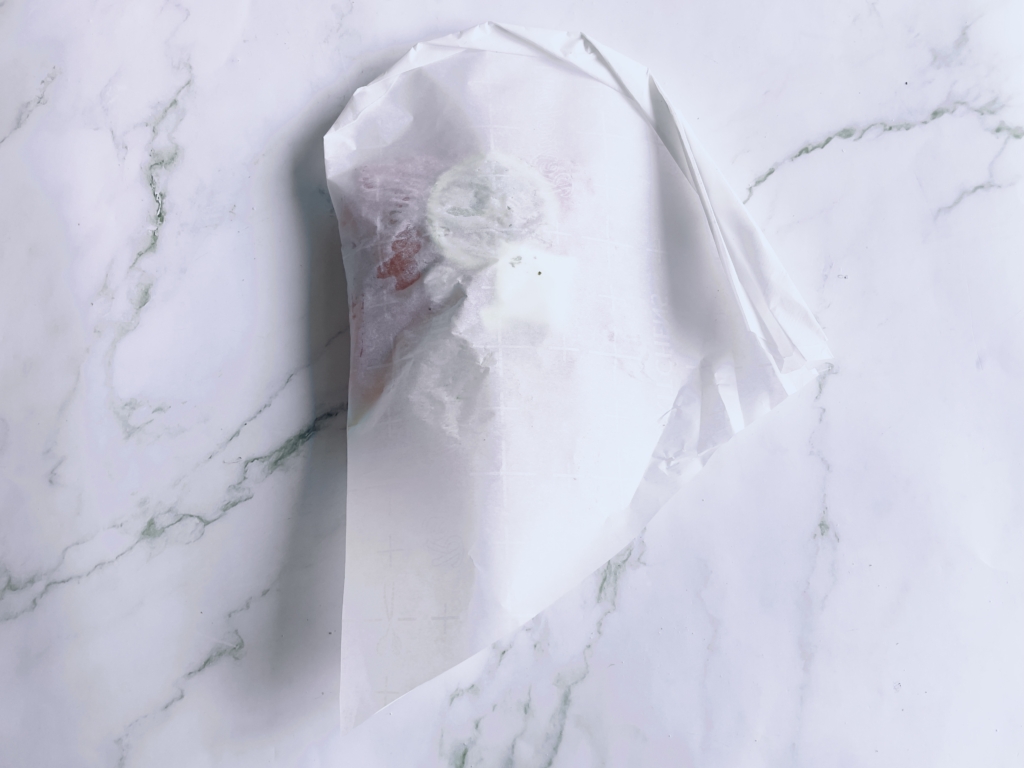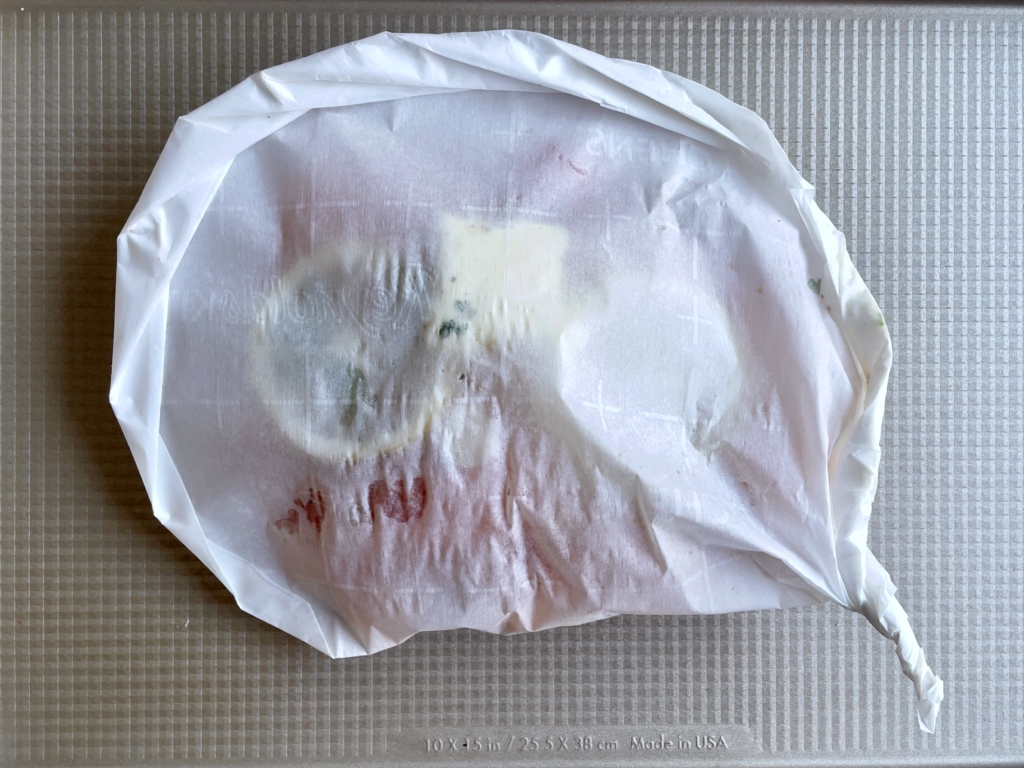 6) Place both packets side-by-side on a large rimmed baking sheet and transfer to the preheated oven for 10 to 12 minutes. The parchment will puff up slightly.
7) Serve the packages immediately. Cut open carefully, as contents will be hot and steam will escape. Discard the lemon slices if using.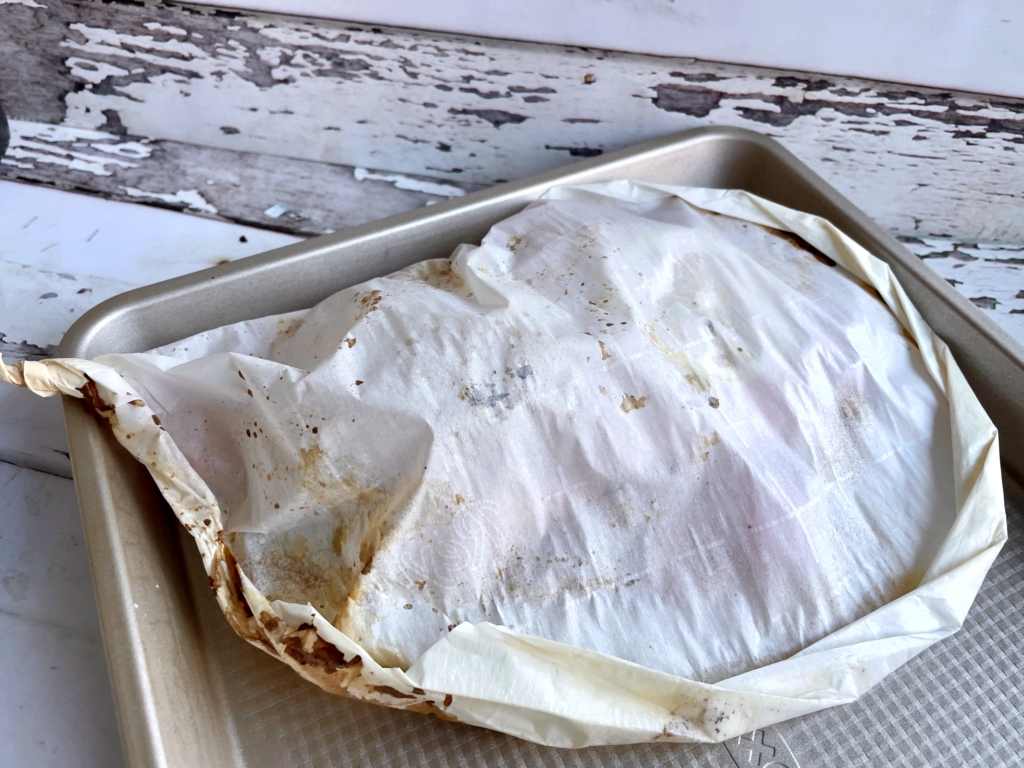 Recipes to try:
10 Minutes or Less Prep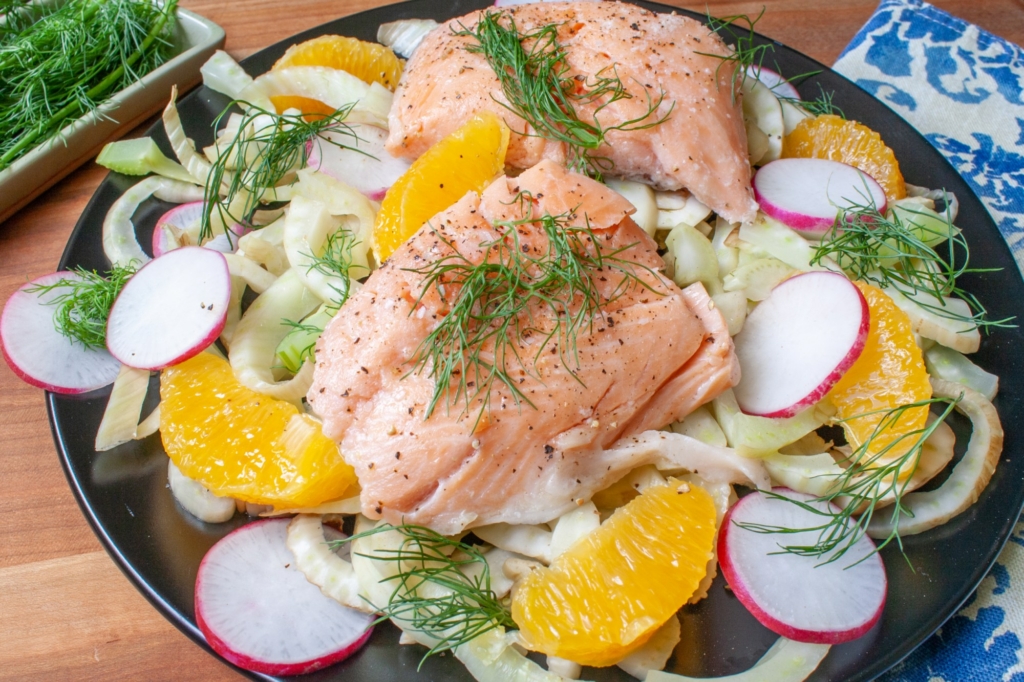 Protein Plus Salmon Guide
Miso Ginger Salmon Bowl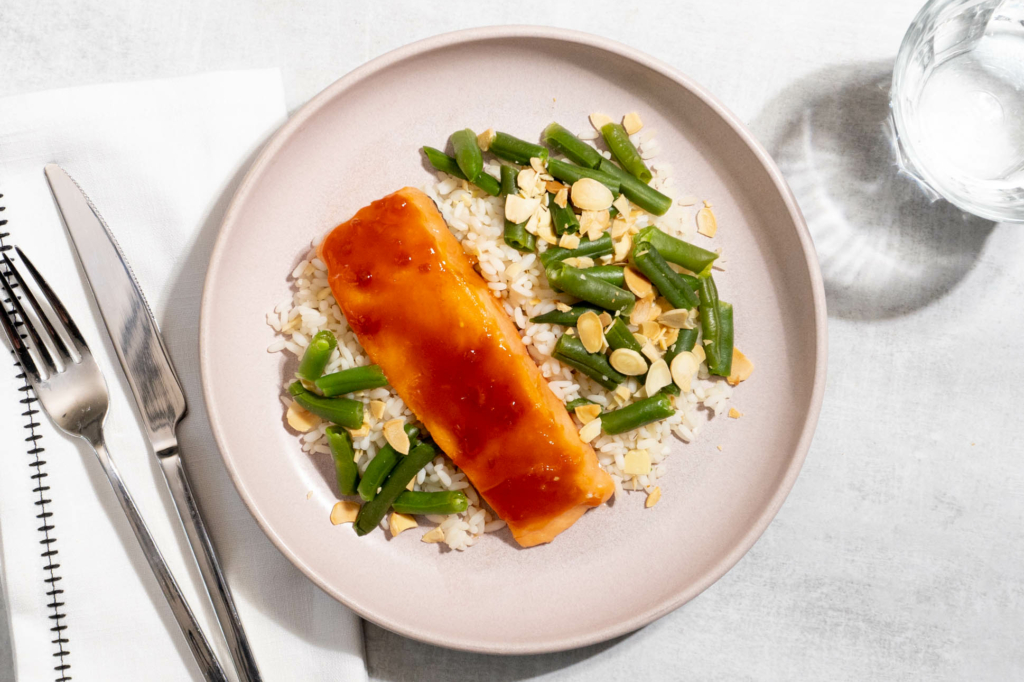 Psari Plaki (Baked Greek Fish)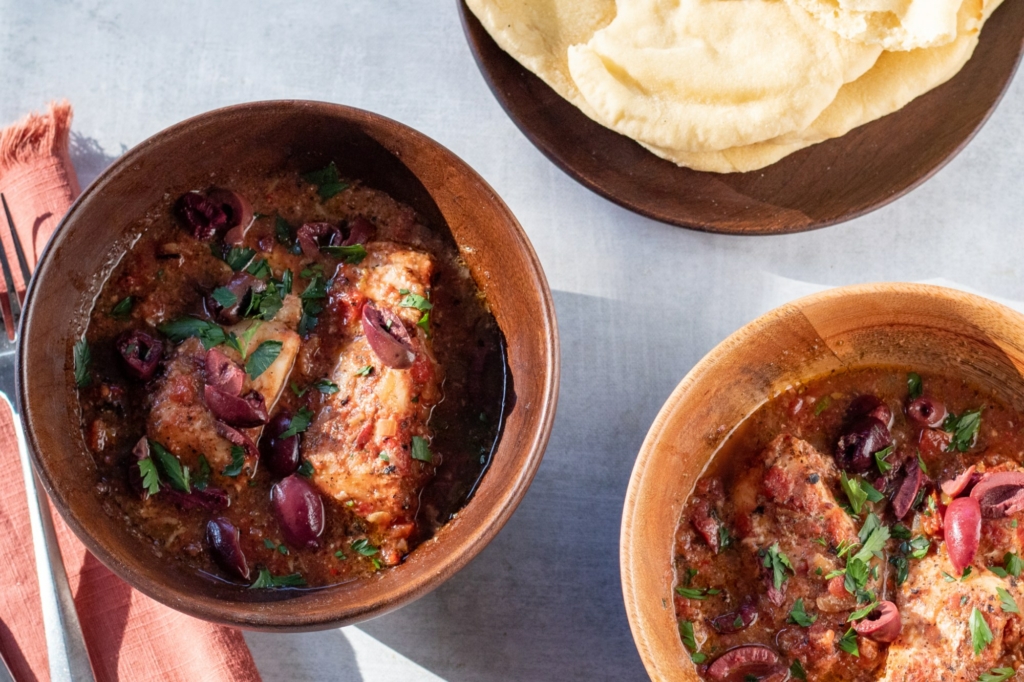 White Fish with Herb Butter over Spinach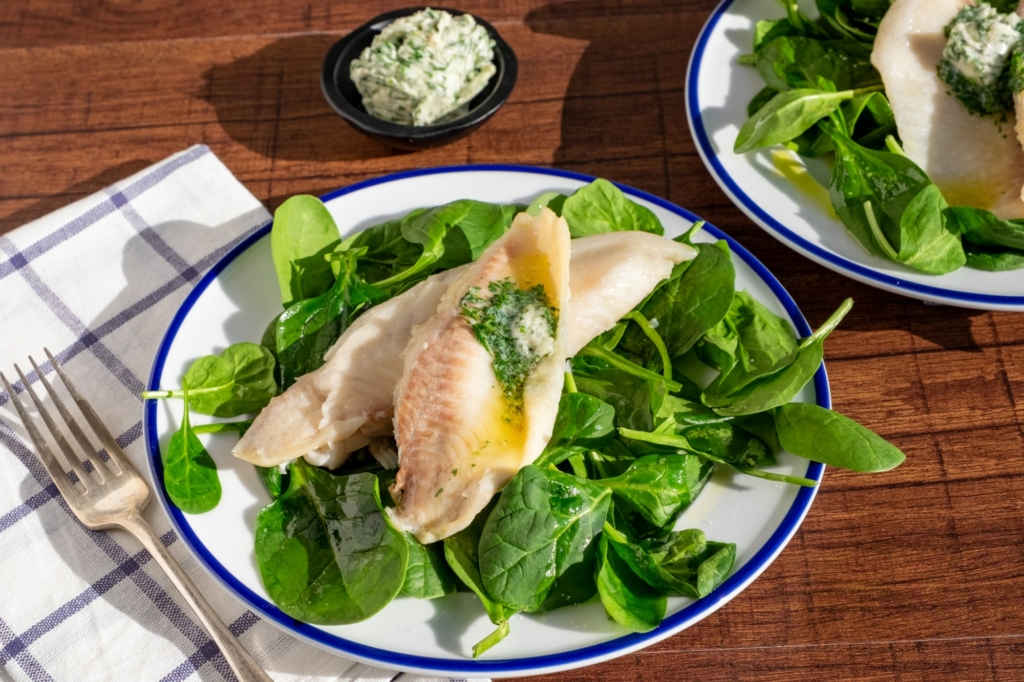 Salmon with Dill Sauce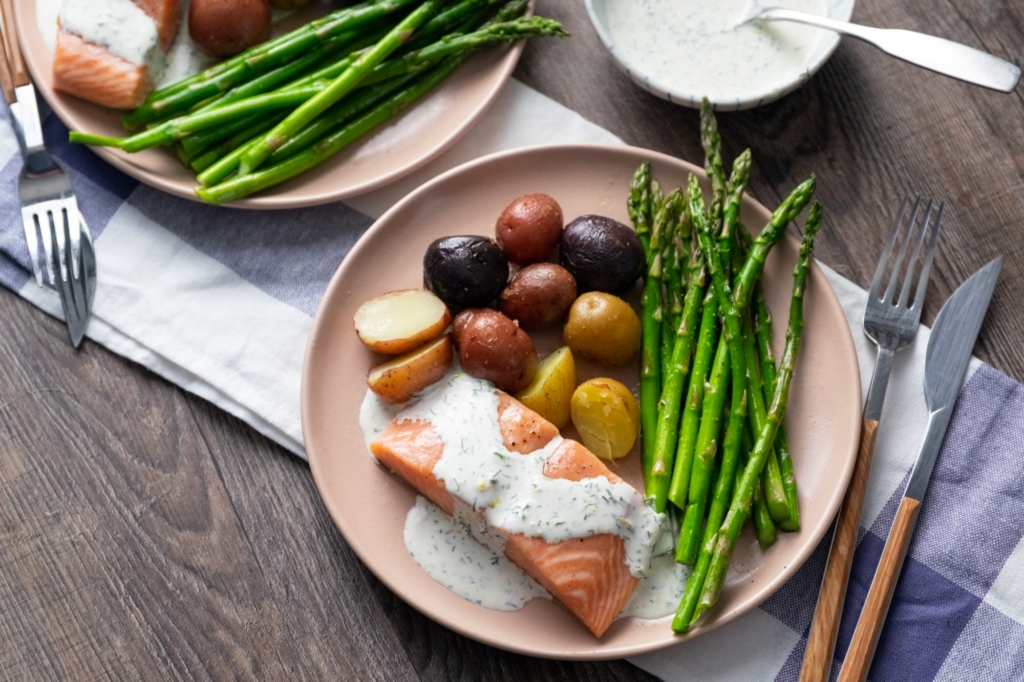 My Cook: Wild Rice Pilaf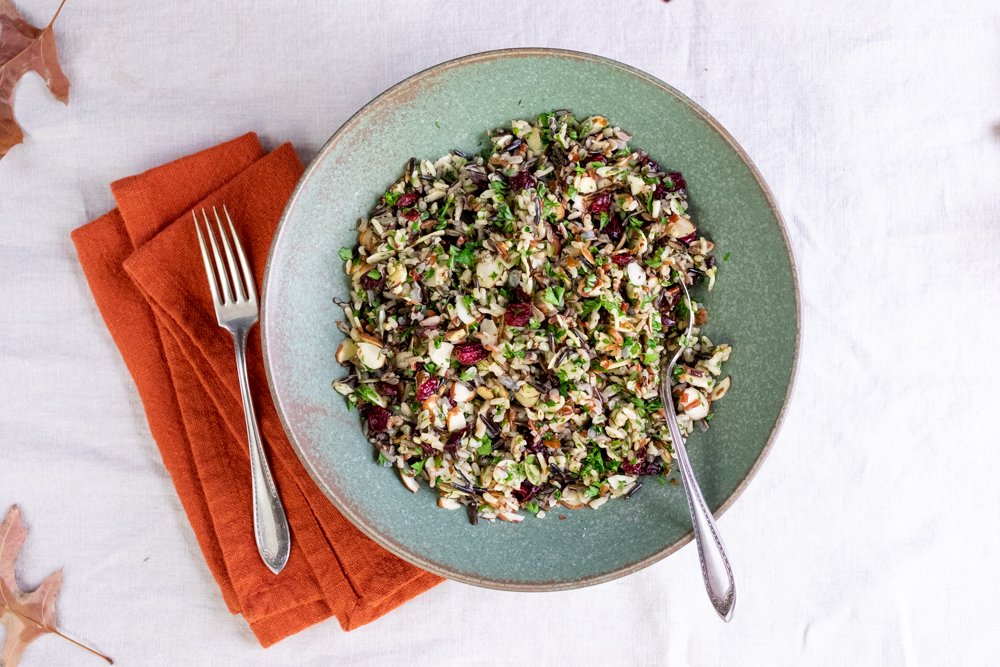 Wild Rice and Acorn Squash Salad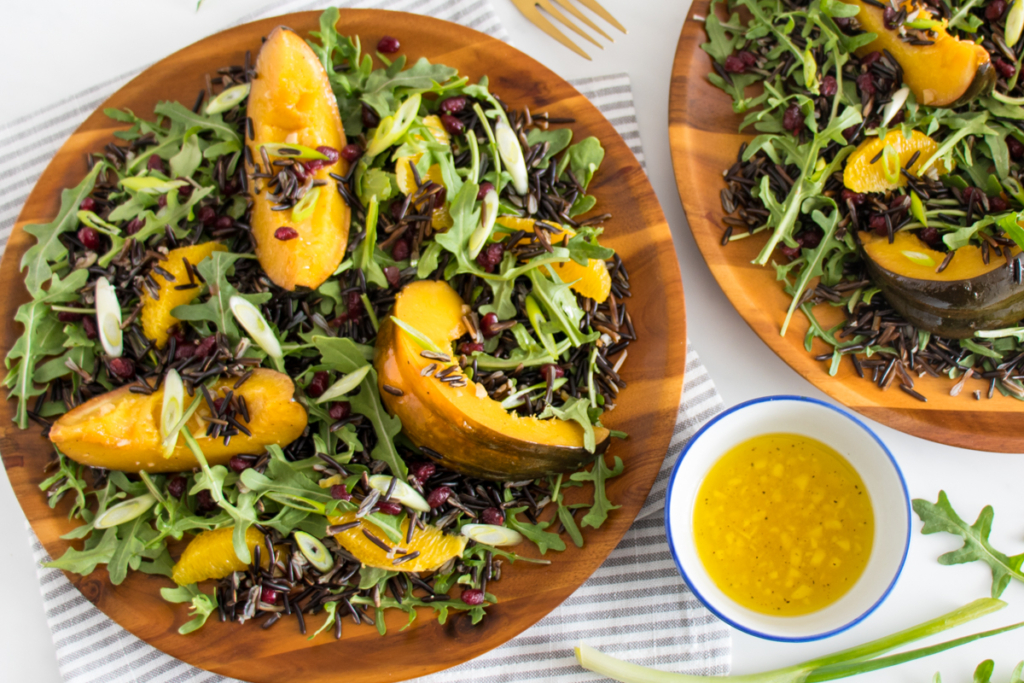 FAQs
I find crimping the paper packages too fiddly. Can I seal the packets any other way?
You could roll and bunch up the paper at the edges so it seals that way, or even use foil, which is even easier to seal.
I like my fish slightly underdone, but my husband likes his fish well done. What should I do?
You can take your package out and carefully open it to test the doneness after 7 minutes, which should be cooked to medium. Leave your husband's packet in the oven for 12 minutes, where it will be cooked through and well done.