Togarashi, also referred to as Japanese 7 spice, is a spice blend that features 7 ingredients. Togarashi typically contains two types of chili flakes, orange peel, sesame seeds, hemp seeds, ginger, and nori (seaweed). The sesame seeds add texture, and the orange peel and nori add additional depth of flavor not usually found in pepper flakes. Broiling the Togarashi on the salmon after it has been cooked sous vide is a great way to add flavor and a little crunch to the dish. Lightly pickling the cucumbers by dressing them in rice vinegar and a little sesame oil helps balance out the heat of the togarashi, and the seaweed adds another salty element to the dish. The great part about cooking sous vide with Suvie is that you can cook the grains that take a long time to cook, like brown rice, while your protein is slowly cooking to the perfect temperature.
Togarashi Salmon with Broccoli, Brown Rice, and Cucumbers
Please always check your food to ensure your food has been cooked to safe serving temperatures. Please see our guide
here
for recommended FDA Time & Temperatures.
Servings: 2
Difficulty: 1 hour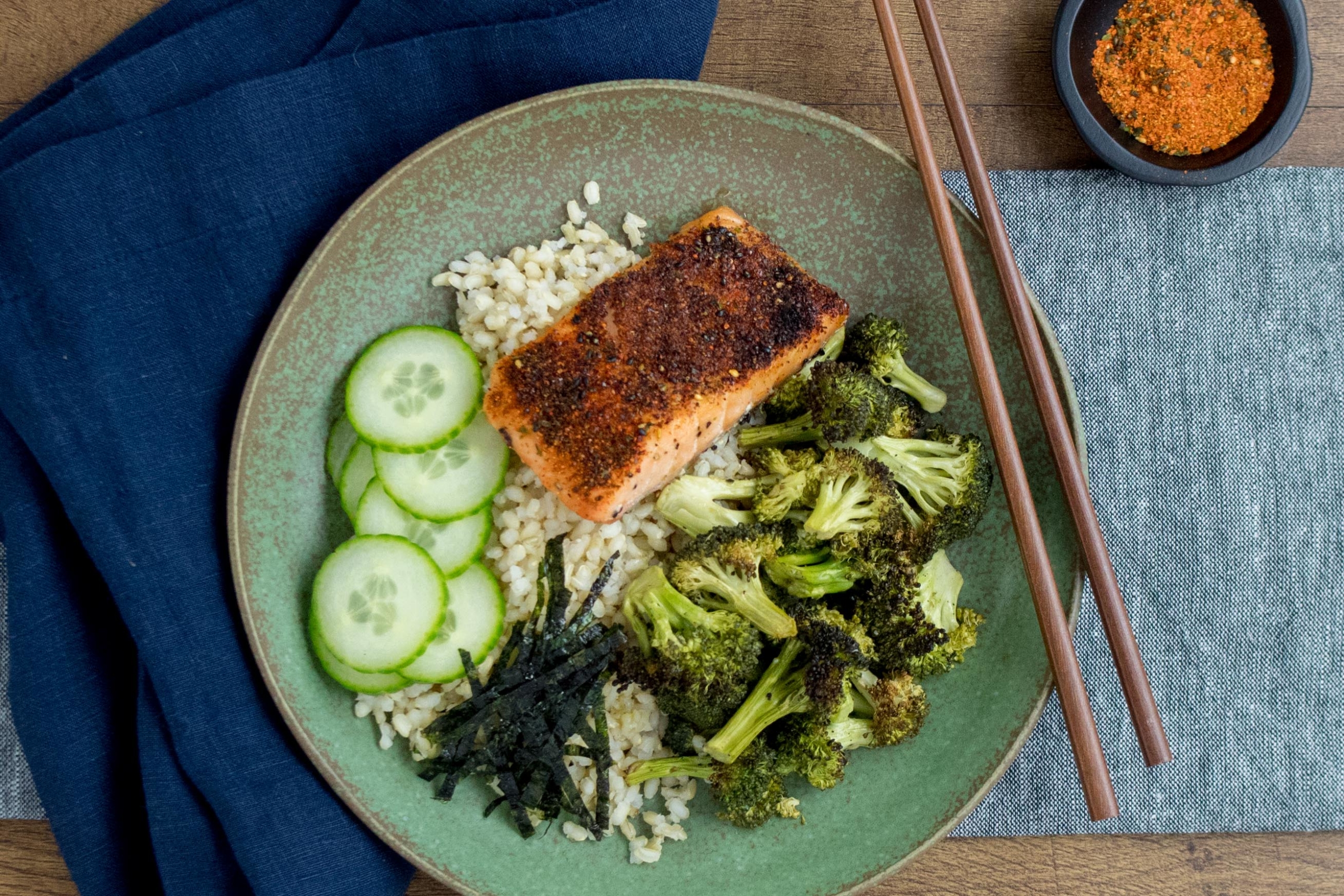 Ingredients
2 vacuum sealed, skinless salmon filets

8 oz broccoli florets

½ cup brown rice

1 small cucumber

1 tbsp rice vinegar

1 tsp sesame oil

1 packet roasted seaweed sheets

1 tbsp shichimi togarashi (also known as Japanese Seven-Spice)
Directions
Put the vacuum sealed salmon in a Suvie pan, then place in the upper right cooking zone. Add water to the pan to cover the salmon. Place the broccoli florets in another Suvie pan and insert in the upper left cooking zone. Add the brown rice and 2 tsp salt to the starch pan and place in your Suvie.
Add water to the reservoir, enter the My Cook settings and set to cook or schedule.
My Cook Settings
Protein: 125˚F for 1 hour
Vegetable: 8 minutes
Starch: 30 minutes
While food cooks, thinly slice the cucumber. Combine in a small bowl with the rice vinegar, sesame oil, and salt to taste.
Thinly slice 4-5 sheets of the roasted seaweed and set aside.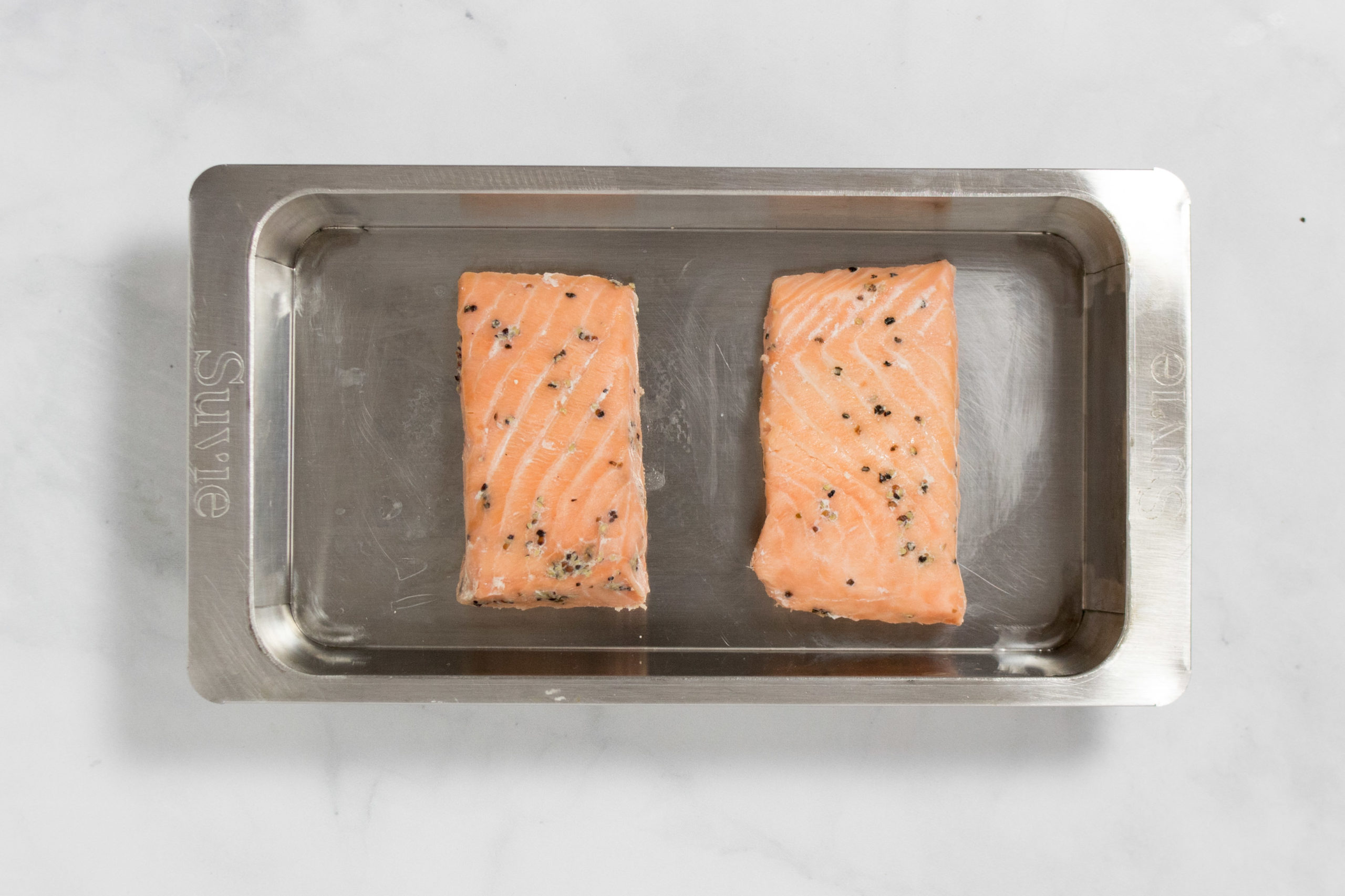 Once the salmon has finished cooking, remove from the vacuum pouch and pat dry. Brush the salmon with a little olive oil and then evenly coat with the togarashi spice blend. The togarashi can be spicy, so go easy if you don't like heat.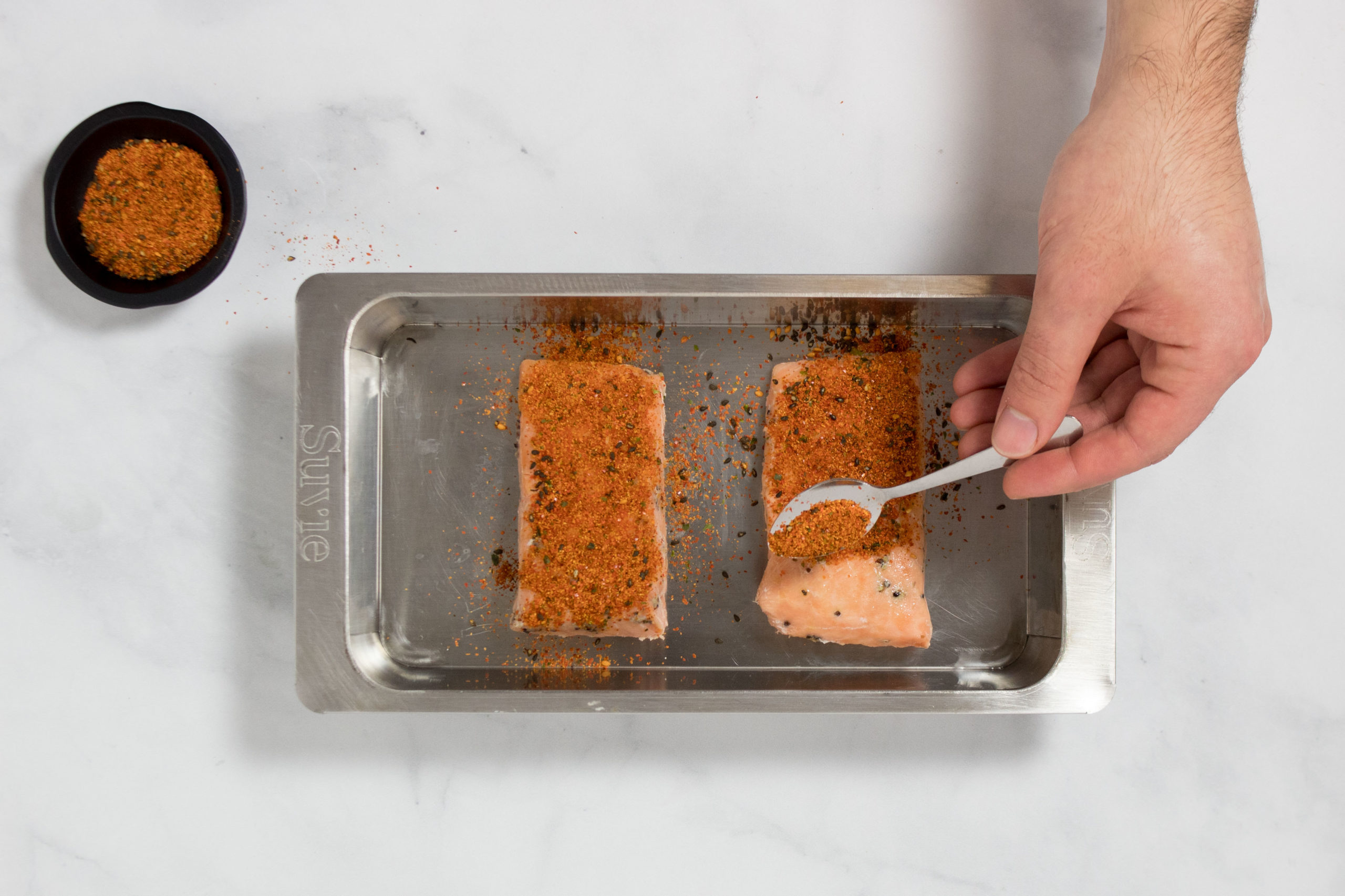 Toss the broccoli with a little olive oil and season with salt and pepper.
Return the broccoli and salmon to the Suvie and broil.
Remove the rice from the Suvie and adjust the seasoning to taste. Divide between two bowls and top with the salmon, broccoli, cucumbers, and roasted seaweed.
Wine Pairing
As it's a fairly oily fish, salmon pairs well with full-bodied white wines. We recommend pairing this meal with a glass of Chardonnay.