Everyone's favorite Christmas cocktail gets a reimagining as a classic French dessert. Meet the eggnog créme brûlée, courtesy of Suvie. The custard for créme brûlée is made up of egg yolks, cream, and sugar, which is conveniently the base for most eggnogs. All we had to do was add a few more egg yolks to bump up the richness and "eggy" flavor, a good pinch of nutmeg, vanilla, and some booze (if you so choose). Suvie makes it easy to produce a perfect custard thanks to the precise temperature control. No scrambled eggs here, just smooth and creamy custardy goodness. A dusting of sugar and quick pass with a kitchen torch makes the crackling caramel sugar topping. If you don't have a kitchen torch you can top the custards with candied nuts to replicate the crunch, or another artful dusting of nutmeg. Whichever way you go, cheers to a happy holidays!
My Cook: Eggnog Créme Brûlée
Please always check your food to ensure your food has been cooked to safe serving temperatures. Please see our guide
here
for recommended FDA Time & Temperatures.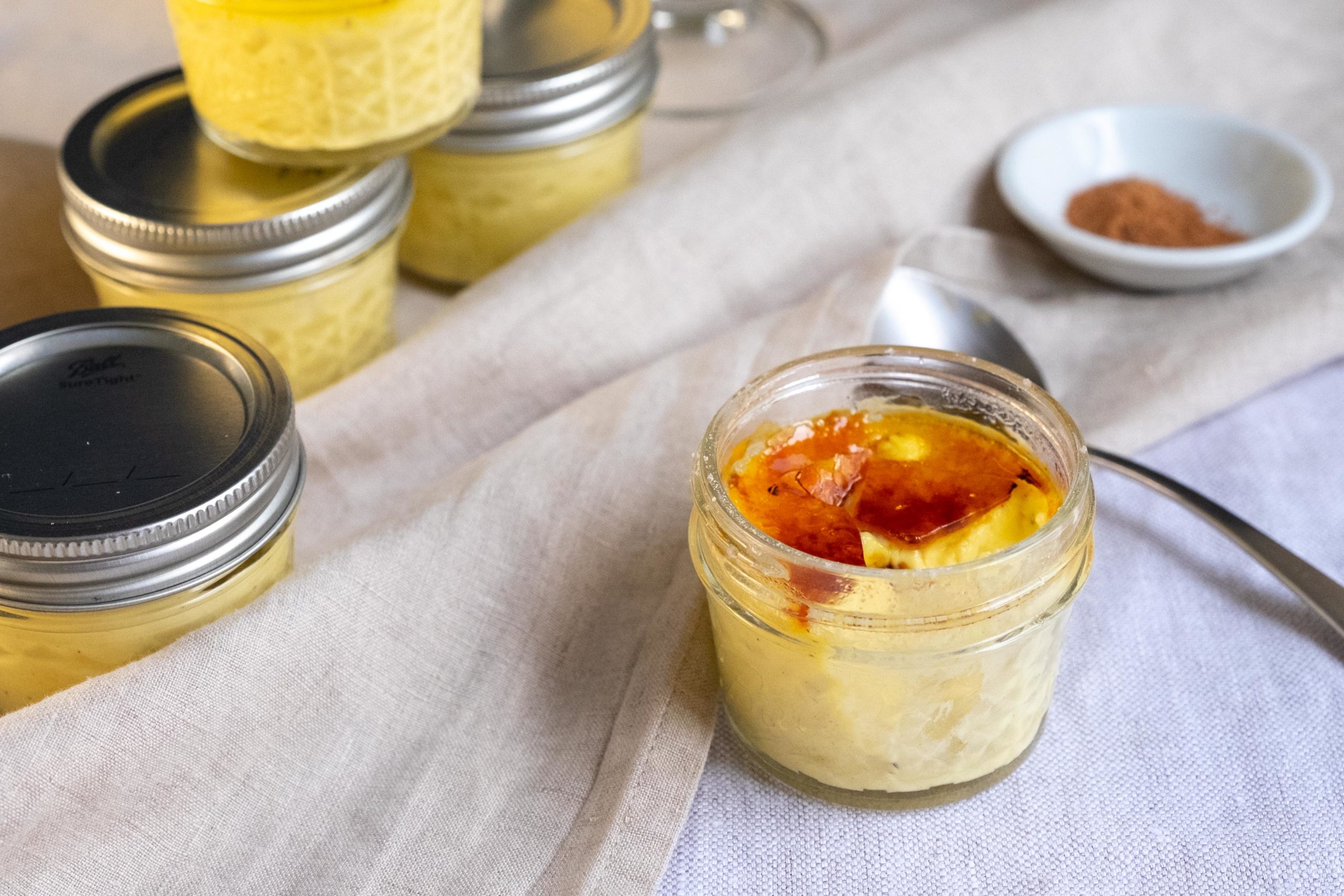 Ingredients
7 egg yolks
¼ cup sugar, plus more for the topping
1 ¼ cups heavy cream
2 tsp vanilla
1 tsp ground nutmeg
1 pinch salt
optional: 2 tbsp bourbon, brandy, or rum
Directions
Separate the egg yolks and whites. Save the whites for another use or discard.
Whisk together egg yolks and sugar until totally smooth.
Add the cream, vanilla, and alcohol.
Whisk until smooth, then add the nutmeg and pinch of salt.
Strain the mixture through a fine mesh sieve into a large liquid measuring cup or other container with an easy to pour spout. This will help eliminate any air bubbles.
Pour the custard into 5 small 4 oz jars with lids.
Lightly screw the lids on the jars, or cover with aluminum foil. Place in Suvie pan and fill with water. 
Insert pan into your Suvie, input settings, and cook now or schedule.  Custard should be set but have a little jiggle.
Suvie Cook Settings
Bottom Zone: Slow Cook Low for 2 hours
Cool the custards in the fridge for at least 4 hours or overnight. Sprinkle granulated sugar in an even layer over the custards. Wipe the edge of the jar to remove any sugar.
In a well ventilated area carefully use a small kitchen torch to caramelize the sugar (be especially careful if you added alcohol to the custard as it may not all have cooked off, so it may flare up). Keep the torch moving to evenly melt the sugar and continue cooking until the sugar bubbles and darkens.
Allow to cool and harden, then enjoy!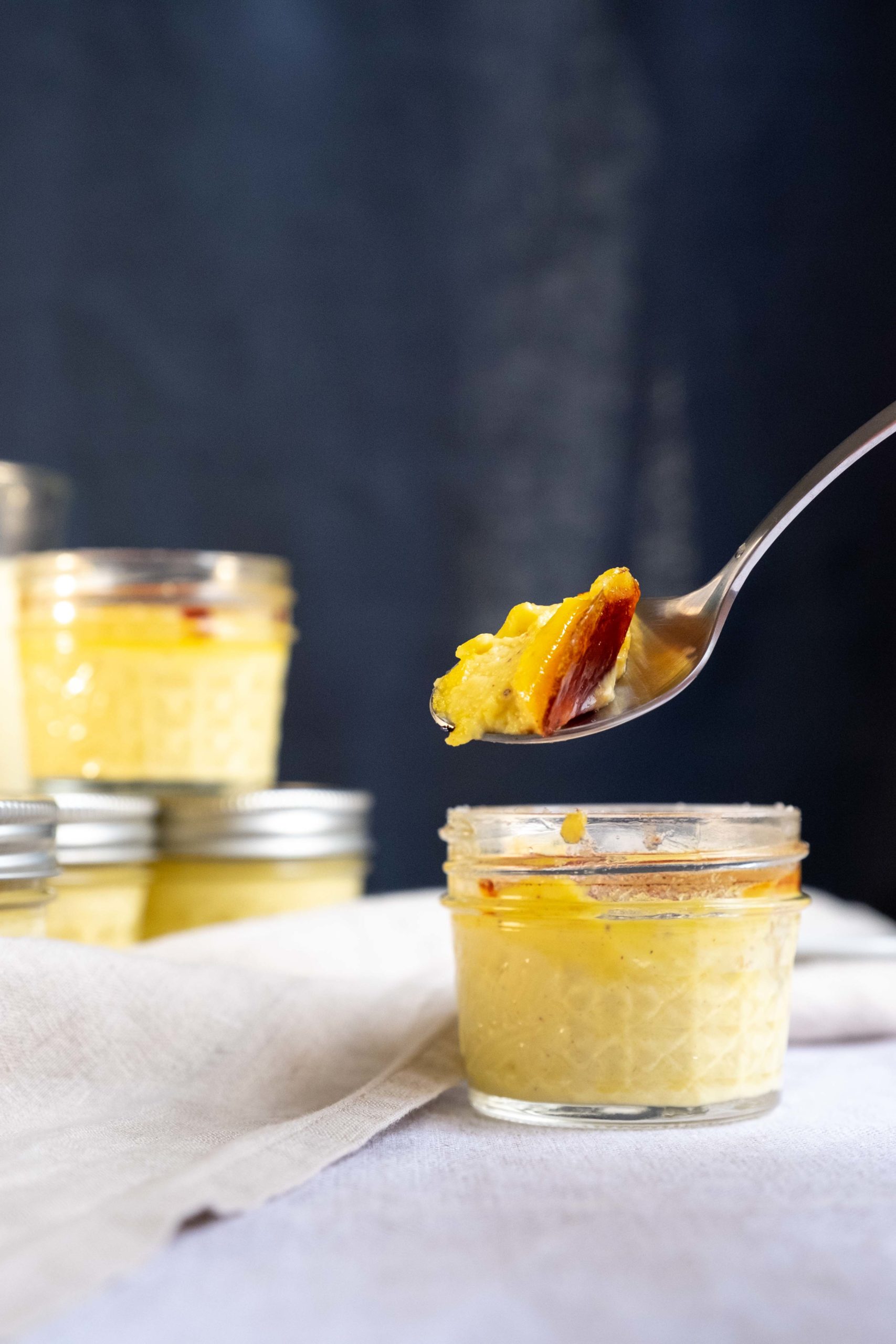 Note: If you would like to make this recipe in Suvie 1.0, insert pan into the top zone of Suvie, fill reservoir, and set to Slow Cook on Low for 2 hours.
Coffee Pairing
Along with other creamy desserts, créme brûlée is best paired with medium roast coffees. The balanced acidity of these roasts pair well with the creamy texture of brûlée. We recommend serving this dessert with a freshly brewed cup of Jamaican Blue Mountain or Hawaiian Ka'u coffee.