Meringues can be a little intimidating even to the most experienced of cooks. Still, a few helpful tips listed below will help you to create lofty meringues with a crispy shell and chewy interior. They are a stunning and easy dessert to make, especially for the holidays.
Choose Cream of Tartar
The acidity in cream of tartar helps stabilize the egg white, which means it is more likely the meringue will hold its height, which is especially helpful if making meringues and soufflés. It's recommended that you use ⅛ tsp per egg white. If you don't have cream of tartar in your pantry, then fear not! Using an equal amount of any white vinegar or even lemon juice will give similar results.
Use Room Temperature Egg Whites
Egg whites warmed to room temperature for 20 or 30 minutes help them reach full volume as reducing the chill helps loosen surface tension allowing the whites to foam more easily. 
Add Cornstarch
Cornstarch is not an essential ingredient in meringues, but it assists in soaking up excess moisture, which is helpful in an appliance where steam can build up. And steam means soggy meringues!

Superfine Sugar
Superfine sugar works very well for meringues as it dissolves quicker, which means you do not have to beat for as long, and it yields a smoother, less grainy meringue. See the FAQ below for instructions on how to create your own superfine sugar.
What Type of Bowl to Use to Beat Egg Whites
Whatever bowl you use, the golden rule is the bowl must be sparkly clean. Even the slight smear of grease or dirt in what you "thought" was a clean bowl out of your cupboard (or maybe that's just in my house!) could have detrimental effects on your egg whites gaining volume. Stainless steel or any metal bowl is recommended if you're not beating your eggs in a stand mixer. It's thought the metal can help the egg white 'climb' or hold onto the bowl instead of a slippery glass or ceramic bowl. 
There's a science behind why some chefs insist on using copper bowls to beat egg whites which is based on the reaction copper properties give to egg white protein that helps increase volume and stability. Still, after testing this in culinary school, I personally believe a stand mixer metal bowl gives just as good results, but I do know some chefs insist on using nothing else.
Different Types of Meringues
There are three main types of meringues and different methods on how to make them:
1) French Meringue
The classic meringue is probably most commonly used and that we are most familiar with, which is made by beating egg whites and gradually beating in sugar until glossy, stiff peaks have formed. It creates a crisp meringue with a chewy texture. Or if you prefer a crisper meringue (like the store-bought kind), then they need to dry out for longer at a very low temperature. This meringue type is typically used for pavlovas, meringue nests, meringue cookies, or the dessert Eton Mess. 
2) Swiss Meringue
The egg whites and sugar are whisked gently over a water bath on the stovetop to create Swiss meringues. Then once it has thickened, it's taken off the heat and whipped until cool and increased in volume. This meringue is commonly used in buttercreams, fruit mousses, or desserts such as Baked Alaska.  
3) Italian Meringue
Italian meringue is made by whipping hot sugar syrup into egg whites that have already been whipped to a firm peak with a touch of sugar. It is whipped until it's cooled, which gives a softer, fluffier, chewy meringue. This technique is used to make divinity candy, cake frosting, nougat, and some parfaits. Although Italian may look similar to Swiss meringues, the Italian meringue is more "cooked" because the higher syrup temperature makes it more stable.
Recipe: Mini Pavlovas with Mixed Berries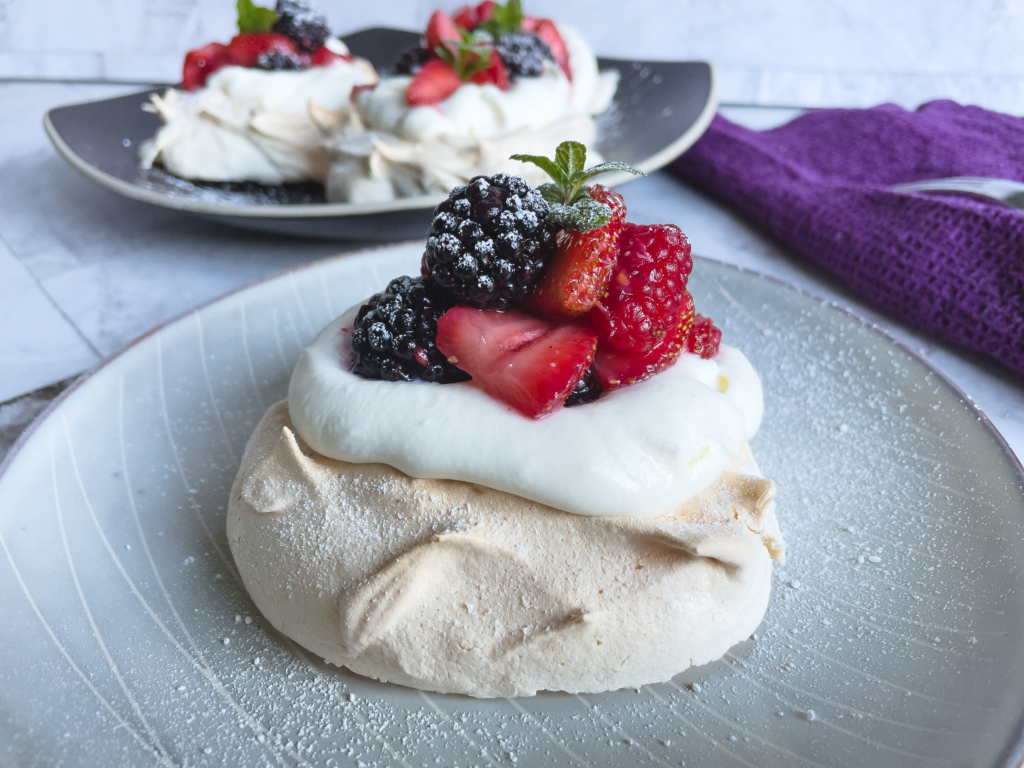 | | | |
| --- | --- | --- |
| Servings | Active Time | Cook Time |
| 4 | 20 minutes | 35 minutes, plus 10 minutes preheating, and 1 hour cooling time |
Ingredients and Tools
Equipment
Stand mixer with whisk attachment or hand held electric whisk
Medium bowls
Silicone spatula
Parchment paper
2 spoons
Ingredients
2 large egg whites, at room temperature 
¼ tsp cream of tartar or ¼ tsp white-wine vinegar 
Pinch kosher salt 
½ cup superfine sugar, plus 2 tbsp, divided
1 tsp cornstarch 
1 ½ tsp vanilla extract, divided 
1 tsp finely grated lemon zest 
3 cups mixed fresh berries
1 cup heavy cream 
Fresh mint leaves and powdered sugar to serve, optional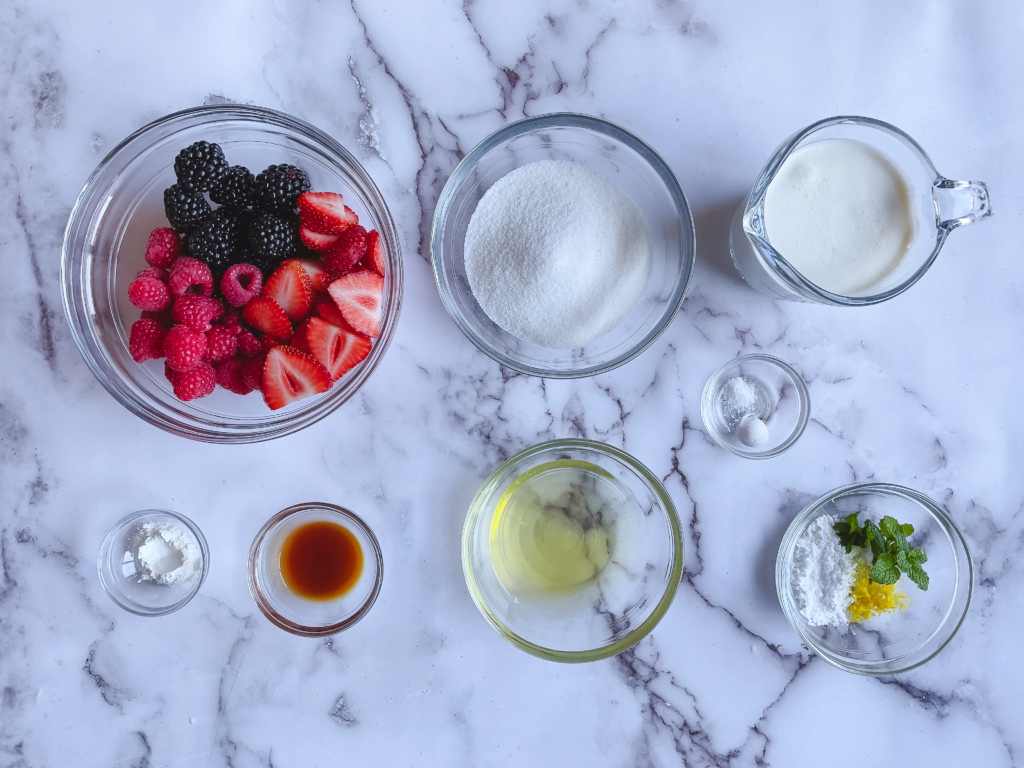 Directions
1. In a stand mixer bowl fitted with the whisk attachment, beat 2 egg whites on medium-low speed for 30 seconds. Add ¼ tsp cream of tartar (or vinegar) and pinch kosher salt. Beat for 1 ½ minutes until foamy.
2. Increase speed to medium for 1 minute, then increase to high until stiff peaks form, about 2 minutes more. With mixer running on high speed, gradually add ½ cup superfine sugar in 1 tbsp increments until sugar has dissolved and mixture looks glossy and stiff, about 2 more minutes. Scrape down sides with a silicone spatula if needed. In the last few seconds, sprinkle 1 tsp cornstarch and ¾ tsp vanilla extract and whisk briefly until just combined.
3. Line the base and sides of 2 Suvie pans with parchment, using a dab of meringue mixture on the corners to help paper stick to pan. Divide mixture into quarters, mounding meringue into 2 nests per pan, spaced 1½-inches apart. Use 2 spoons to help scoop and shape, using the back of one spoon to make an indentation in the center to create a nest shape. Use a spoon or a fork to create texture and mini pointy peaks on each nest. Set pans aside.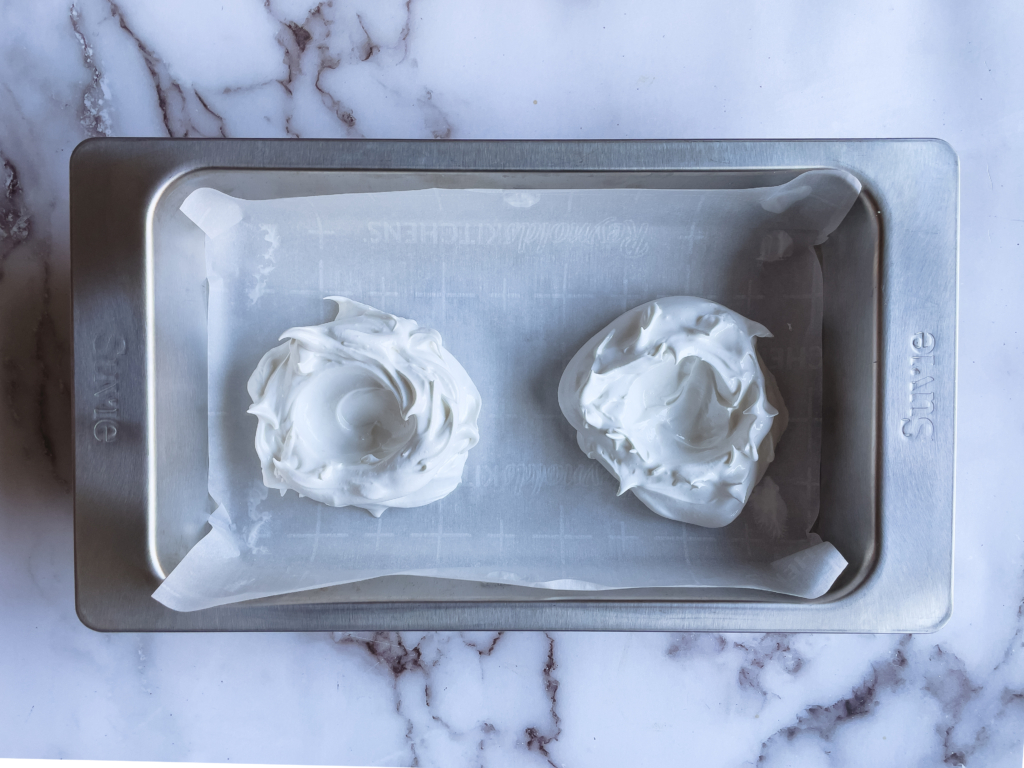 4. Wipe down the inside of Suvie to ensure appliance is dry. Input settings and cook now (do not put pans into Suvie).
Suvie Cook Settings
Bottom Zone: Bake at 375°F for 45 minutes 
Top Zone: Bake at 375°F for 45 minutes 
5. While Suvie is preheating, stir together 1 tbsp sugar, 3 cups mixed berries, and 1 tsp grated lemon zest in a medium bowl. Set aside at room temperature until ready to serve.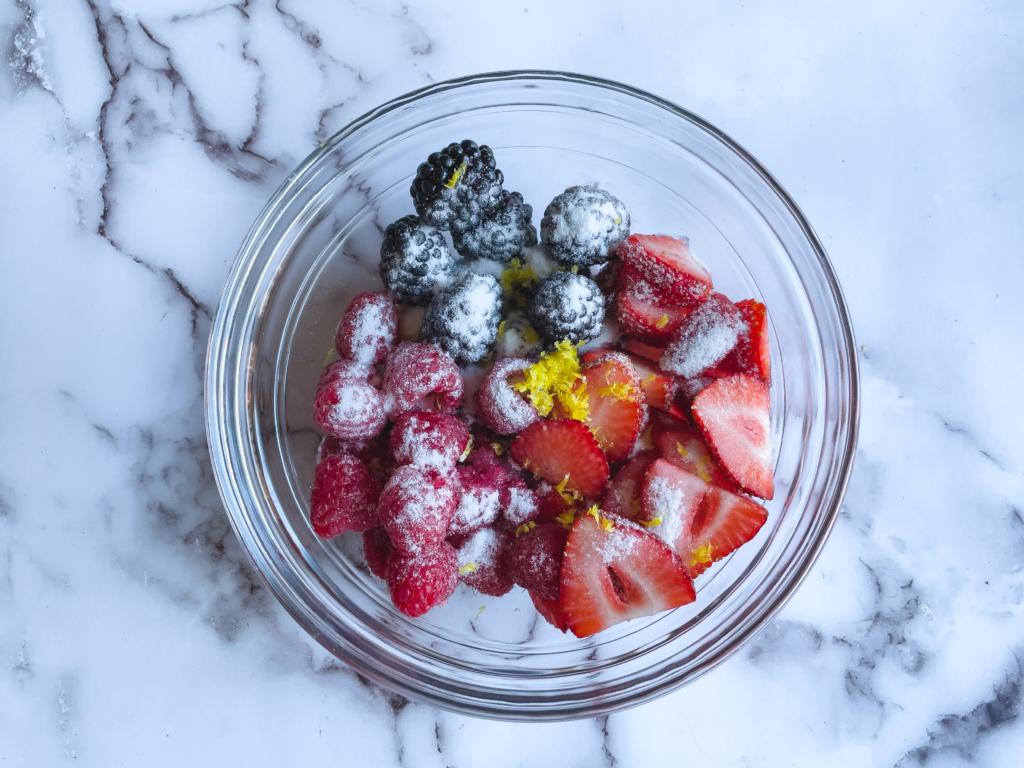 6. After 10 minutes of preheating, insert Suvie pans into Suvie. Bake for 10 minutes, then open door for 2 minutes while still cooking (this helps reduce moisture and yields a crisper meringue). Close door and continue to cook for 10 minutes, then repeat process of opening door for another 2 minutes, then close door for final 10 minutes. If you notice during cooking that the meringues in one pan look more golden than the other, swap pans from top to bottom and rotate from front to back.
7. Turn off Suvie, but keep pans in with door ajar for 30 minutes, which helps to create a chewy, marshmallow-like center. Using parchment paper as a sling, transfer to a drying rack to completely cool.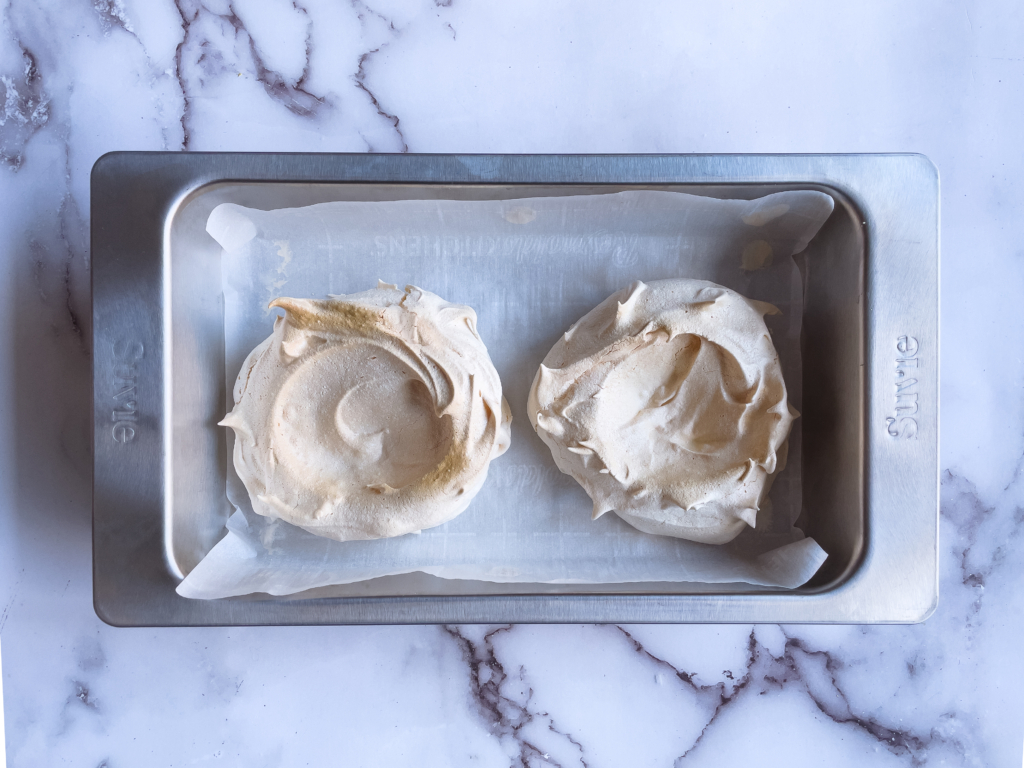 8. Meanwhile, whisk 1 cup heavy cream with remaining ¾ tsp vanilla extract and remaining 1 tbsp sugar until soft peaks form. Transfer to refrigerator until ready to serve.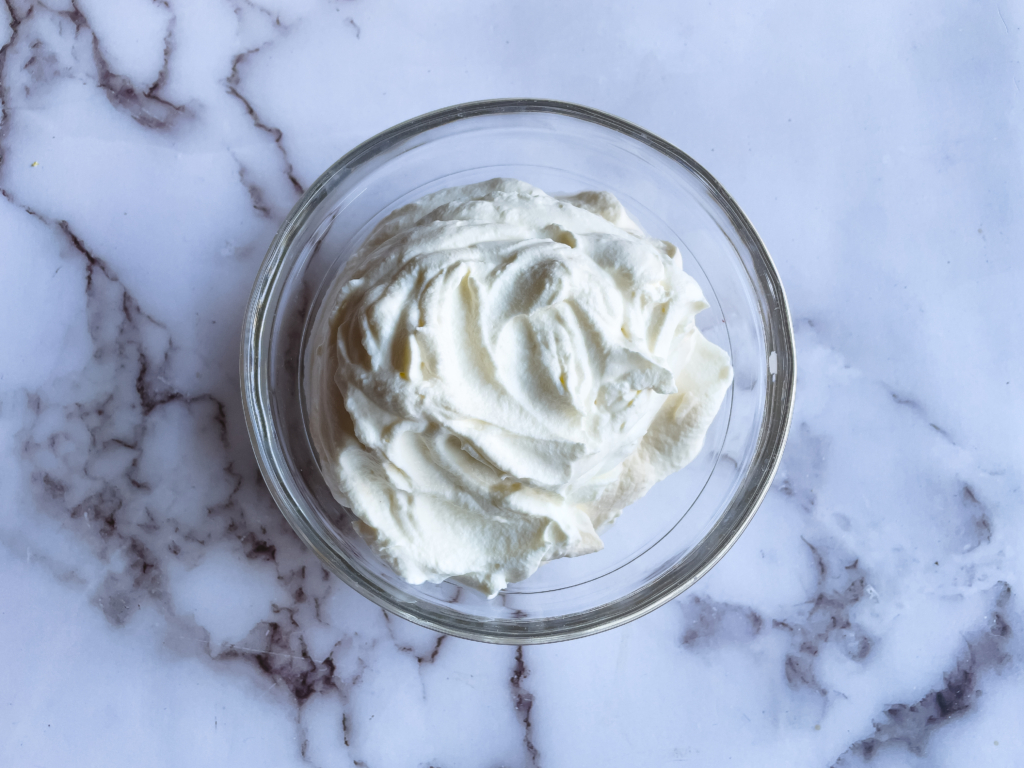 When meringues are ready to serve, carefully remove from parchment paper as they will be very fragile. Top each meringue with a generous dollop of whipped cream and spoon over macerated berries. Dust with powdered sugar and garnish with fresh mint leaves, if using. Serve immediately.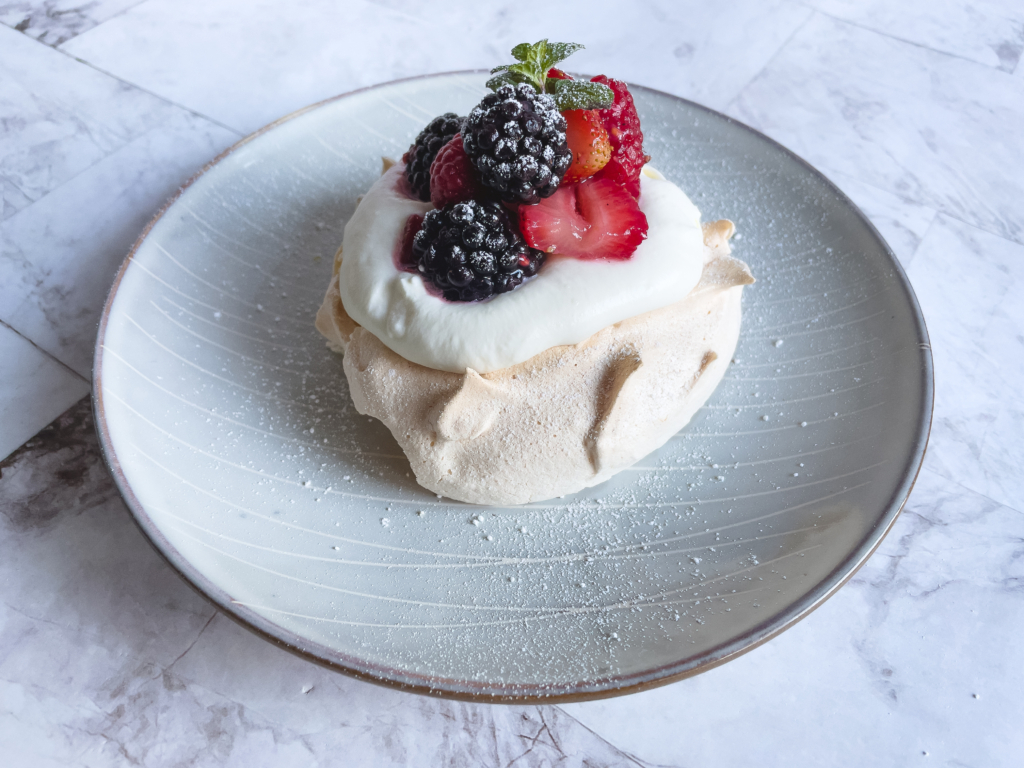 RECIPES TO TRY: 
How to Make Gougères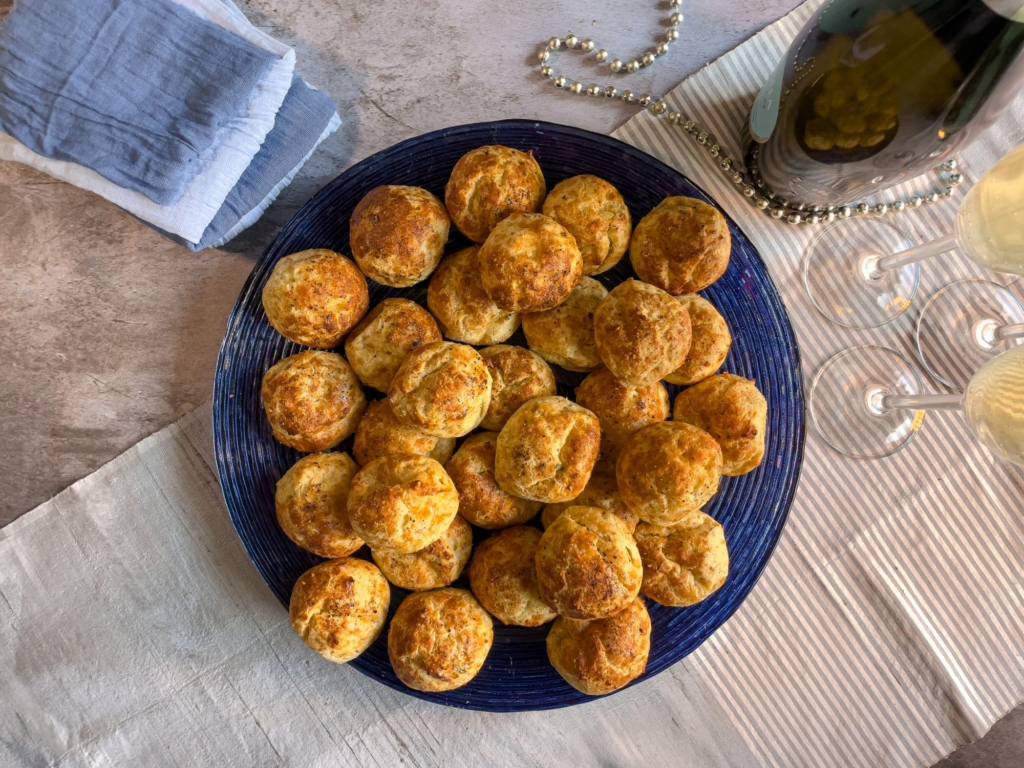 How to Sous Vide Boneless Rib Roast / Prime Rib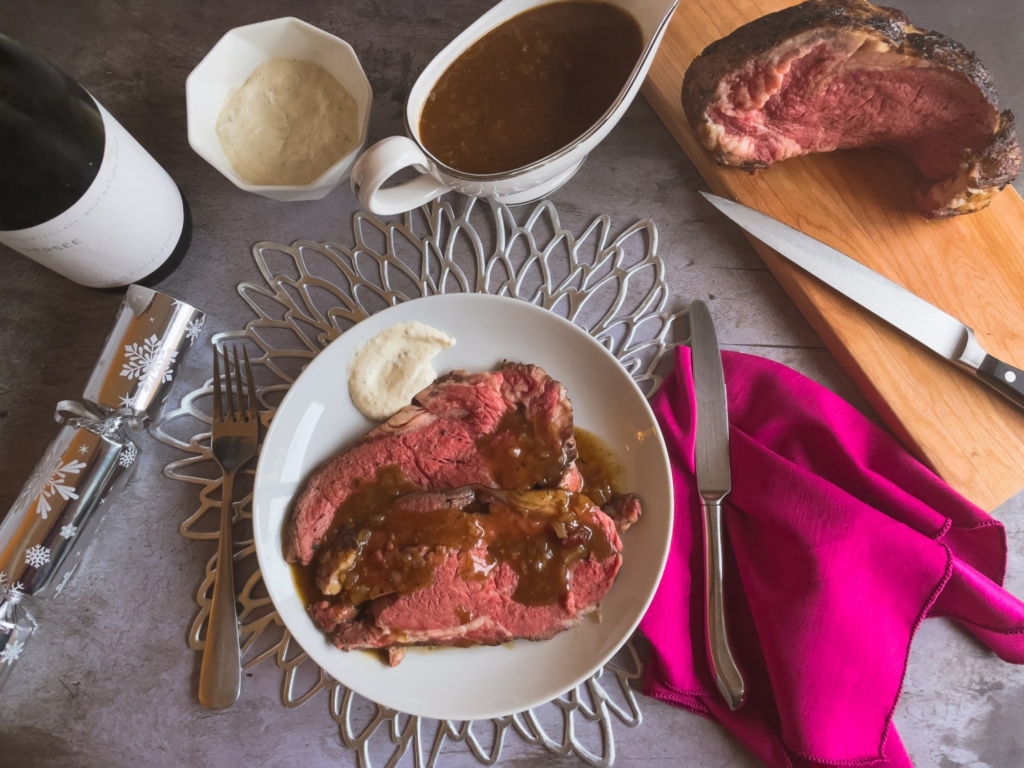 Sugar Cookie Bars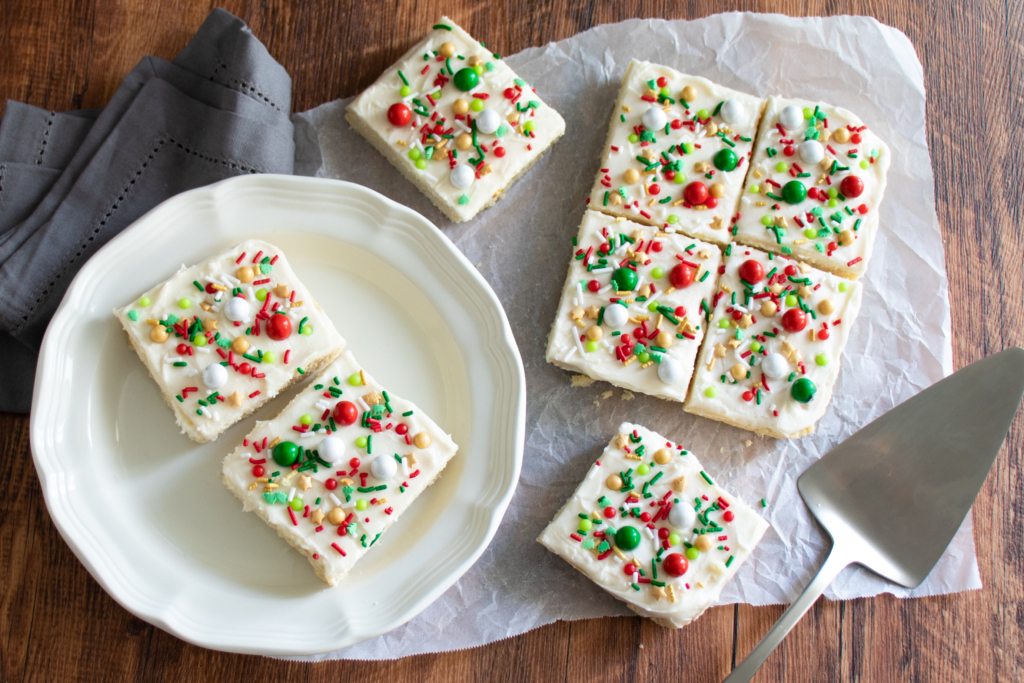 Our Favorite Holiday Recipes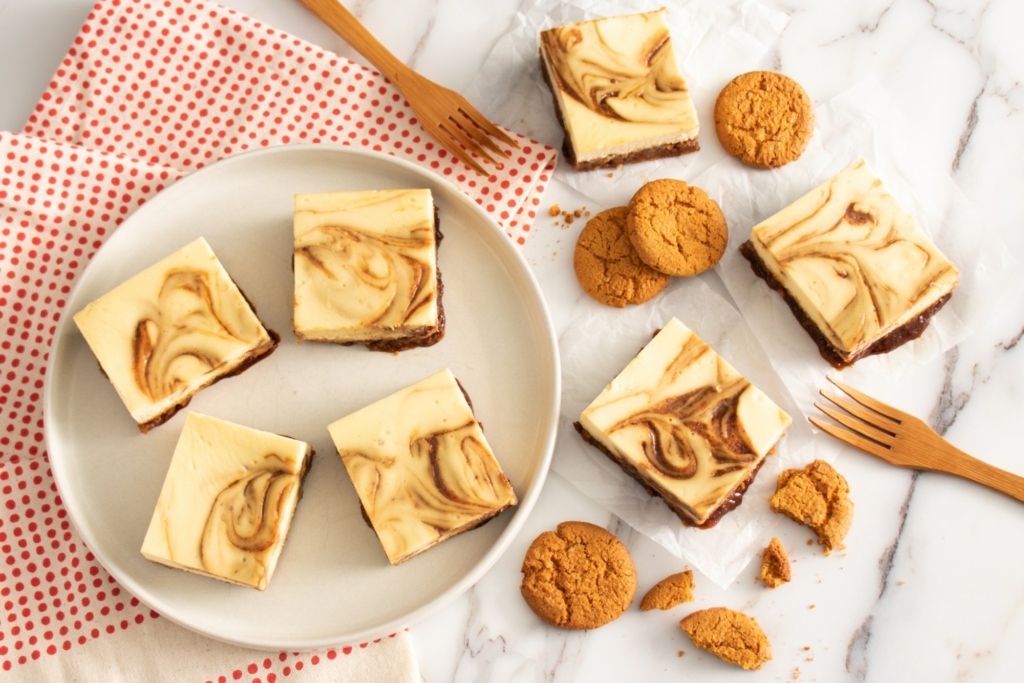 How to Cook Scallops in Suvie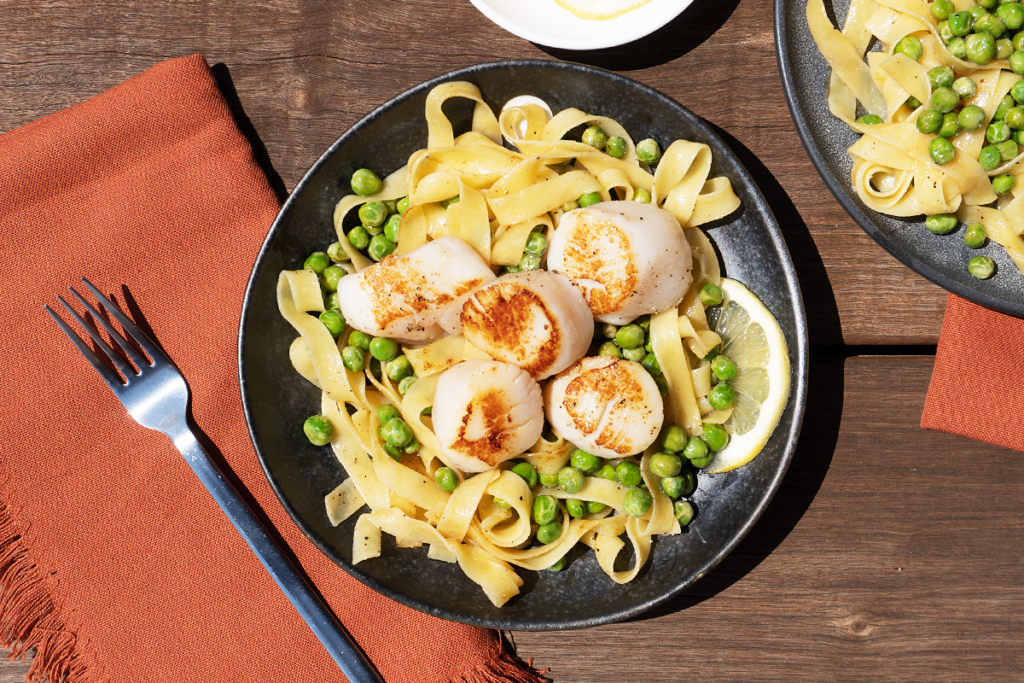 Eggnog Custard Jars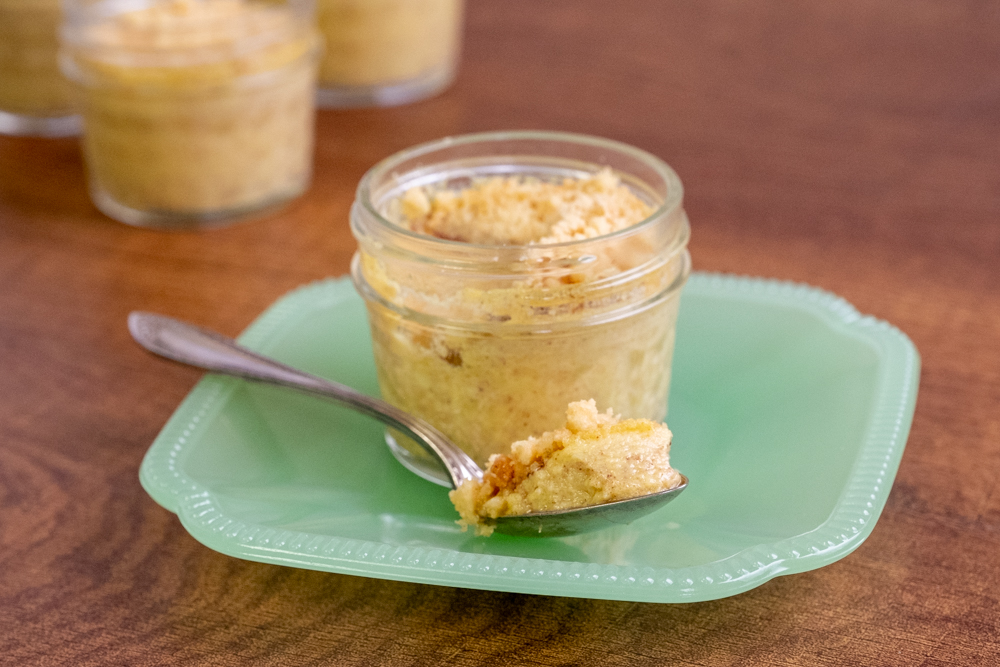 FAQ
My egg whites won't firm up and are just foaming and not getting volume. What happened?
This most likely is because either the bowl wasn't completely clean and maybe had some remnants of grease in there, or maybe a tiny bit of yolk got into the mixture, these are both the most common reasons for failed beaten egg whites. 
How long will my meringues keep for?
You can refrigerate undressed meringues in an airtight container for 1 to 3 days at room temperature.
Can you eat meringues during pregnancy?
Yes, you can if the meringue has completely cooked through and dried out, but it's best to avoid in meringues that have been torched or not cooked through, such as lemon meringue pies.
I don't have any superfine sugar, what can I do?
If you add 1 cup plus 2 tbsps of granulated sugar to a food processor and pulse for 30 second, you can create your own superfine sugar. This will create about 1 cup of superfine.