With Thanksgiving fast approaching, you will most likely be thinking about your menu for turkey day. One dish that is essential on many Thanksgiving tables is candied yams. This decadent sweet treat is the perfect accompaniment to savory gravy, meaty turkey, and tart cranberry sauce.
Why Bother Using the Sous Vide Method for Yams?
Using the sous vide method to cook sliced yams in maple syrup, butter, and spices infuses the yams with flavor, gives them a perfectly soft texture, and creates a delicious poaching liquid, which is boiled down into a thickened syrup and poured over the finished yams. The layered yams are topped with orange zest, chopped toasted pecans, and marshmallows. You can transfer the sous vide yams to the oven for 10 to 15 minutes to warm them through and toast the marshmallows until golden brown.
Am I Shopping for Yams or Sweet Potatoes?
It can be confusing when shopping for yams, as some grocery stores call yams sweet potatoes and vice versa, but the vegetables used in this classic dish are actually sweet potatoes. A true yam is not related to the sweet potato family and is native to Asia and Africa. They have rough, dark-brown skin, similar to bark, and usually have white or purple flesh. Yams are starchier and drier than sweet potatoes, and not what you want for this holiday dish.
At the grocery store, look for orange-fleshed garnet or jewel sweet potatoes (sometimes erroneously labeled yams, as mentioned above) for traditional Thanksgiving dishes. If your store has sweet potatoes with orange flesh and no "yams", then these are the same thing! When in doubt, lightly scratch the surface of the yam in the store, if you see a deep orange-colored flesh underneath, then buy them!
Other Toppings You Can Add
Marshmallows can be polarizing. So if you want to try other toppings instead of marshmallows on your candied yams, here is what we recommend:
1 cup crispy chopped bacon
1 ½ cups nut-based granola
1 ½ cups Streusel topping
½ cup turbinado or demerara sugar
The Best Spices for Candied Yams
This recipe has a touch of pumpkin spice, but you could swap this out for ground cinnamon, ground allspice, ground nutmeg, red pepper flakes, ground cloves, ground ginger, paprika, cayenne pepper, or ground black pepper. A little spice is the perfect counterpoint for all the sugar.
Make-Ahead for Thanksgiving
You can make this dish the day before thanksgiving; prepare the yams through Step 10, tightly cover in foil, and store in the refrigerator overnight. About 40 to 50 minutes before serving, bake straight from the fridge, still covered, in a preheated oven at 375°F for 35 minutes. Remove foil and then top with the orange zest, pecans, and marshmallows. Continue to bake for another 10 to 15 minutes until the marshmallows are toasted and the yams are heated through.
What to Do When Your Oven is Already Crammed and You Need to Toast the Marshmallows
If you have a separate broiler, then you can pop it under a preheated broiler on low heat, using the furthest rack away from the heat source. But, do watch closely! It can take anything from 30 seconds up to 5 minutes, depending on your broiler. Or, if you want to be really fancy and cheffy, you could use a blow torch, which works perfectly to toast marshmallows and is great for show-stopping theatrics!
What to Do with Leftover Candied Yams
You can refrigerate any leftover candied yams stored in an airtight container or freezer-safe resealable bag for 3 to 5 days in the refrigerator.
Temperature and Cooking Times for Candied Yams
| | | |
| --- | --- | --- |
| Device | Temperature | Time |
| Suvie | 185°F | 1 hour |
| Immersion Circulator | 185°F | 1 hour |
Recipe: Sous Vide Candied Yams with Toasted Marshmallows & Pecans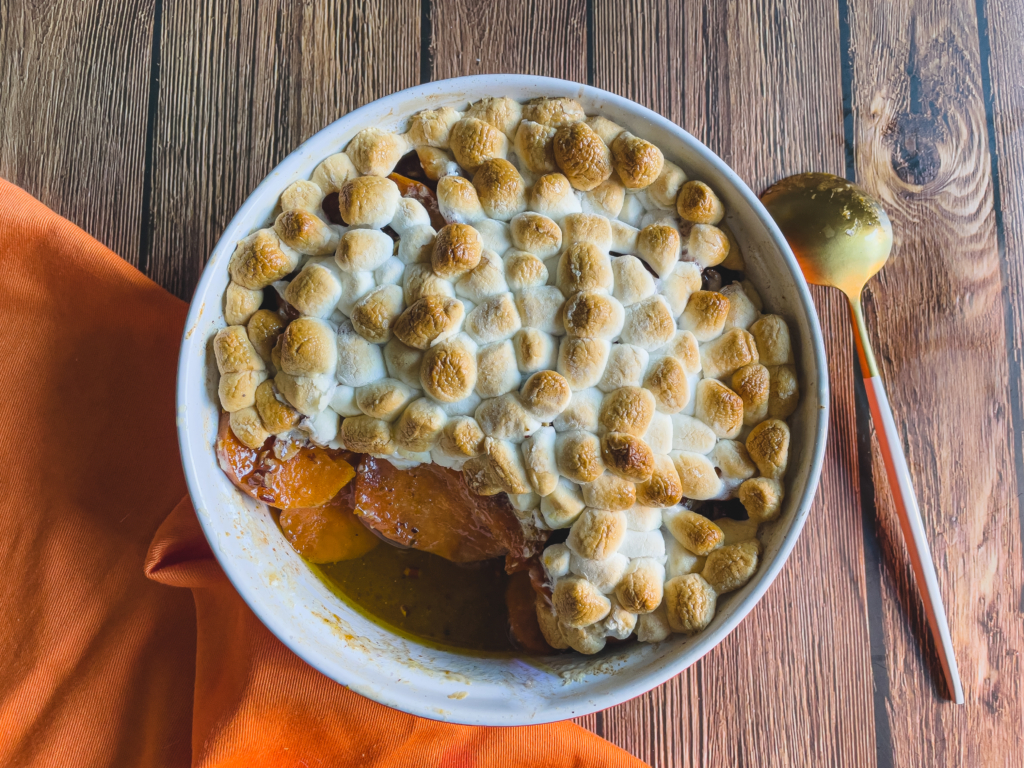 | | | | |
| --- | --- | --- | --- |
| Servings | Active Time | Preheat Time | Cook Time |
| 6 | 15 minutes | 45 minutes | 1 hour and 25 minutes |
Ingredients and Tools
Equipment
Suvie or immersion circulator
Large pot or sturdy container (if using an immersion circulator)
1 large vacuum sealer bags or 1 gallon freezer-safe resealable bag
Vegetable peeler
Chef's knife
Tongs
Small saucepan
Ingredients
2 lbs jewel or garnet yams/sweet potatoes, peeled and cut into ¼-inch slices
8 tbsp unsalted softened butter, divided
4 tbsp maple syrup, divided
1 orange
1 tsp pumpkin spice blend, divided
1 tsp salt, divided
¼ packed cup light brown sugar
½ tsp vanilla extract
3 cups mini marshmallows
¾ cup chopped toasted pecans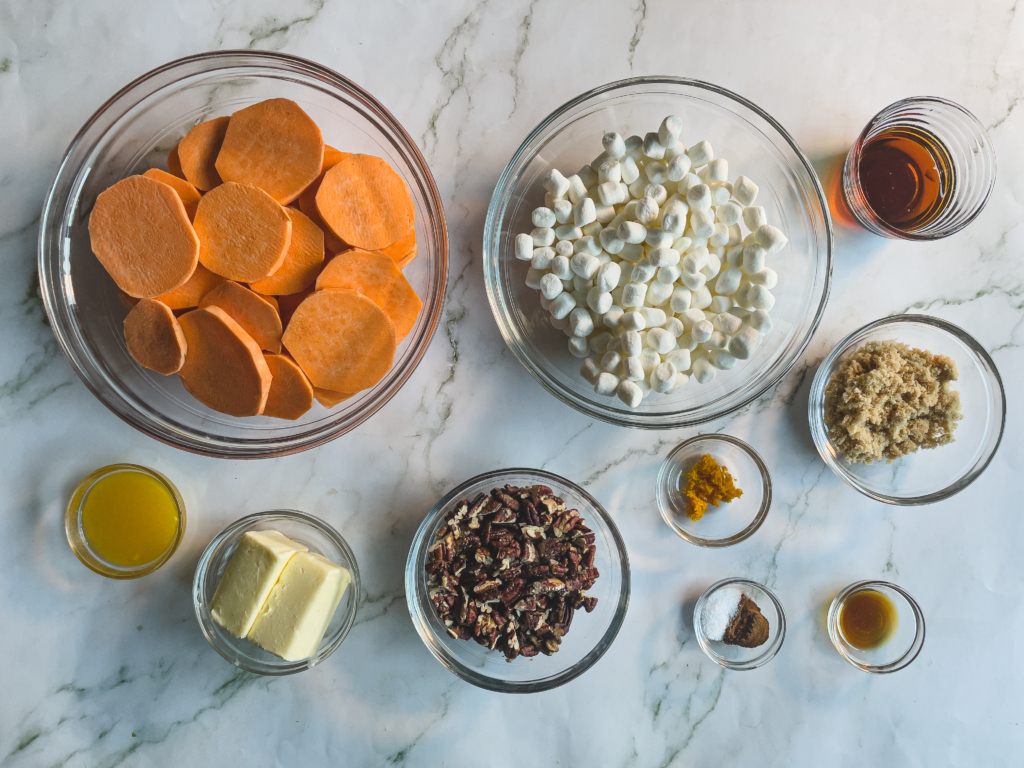 Directions
1) If you're using a sous vide immersion circulator, preheat your water bath to 185°F.
2) Transfer sliced sweet potatoes to a vacuum bag or resealable bag. Add 4 tbsp unsalted butter, 2 tbsp maple syrup, ½ tsp pumpkin spice, and 1/2 tsp kosher salt and seal bag. If you're using a resealable bag, use the water displacement method to seal.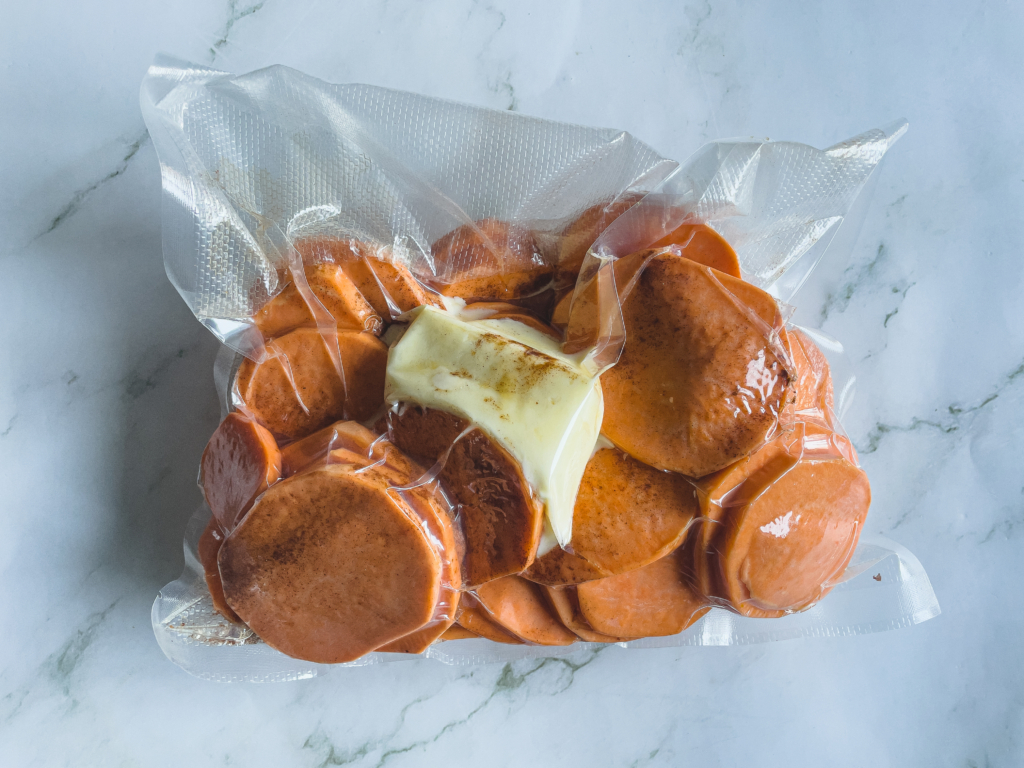 3) Lower the bag into the heated water bath and cook for 1 hour. You may need to add a layer of ping pong balls to keep the yams underwater. Alternatively, you can try and weigh down the bag with a couple of large metal serving spoons. If you are not using ping pong balls, cover the water bath with foil or cling wrap to keep the water from evaporating and to sustain a high water temperature.
If you are using your Suvie, place the bag into a Suvie pan and cover entirely with water. Insert pan into the bottom of your Suvie and input the following settings.
Suvie Cook Settings
Bottom Zone: Sous Vide at 185°F for 1 hour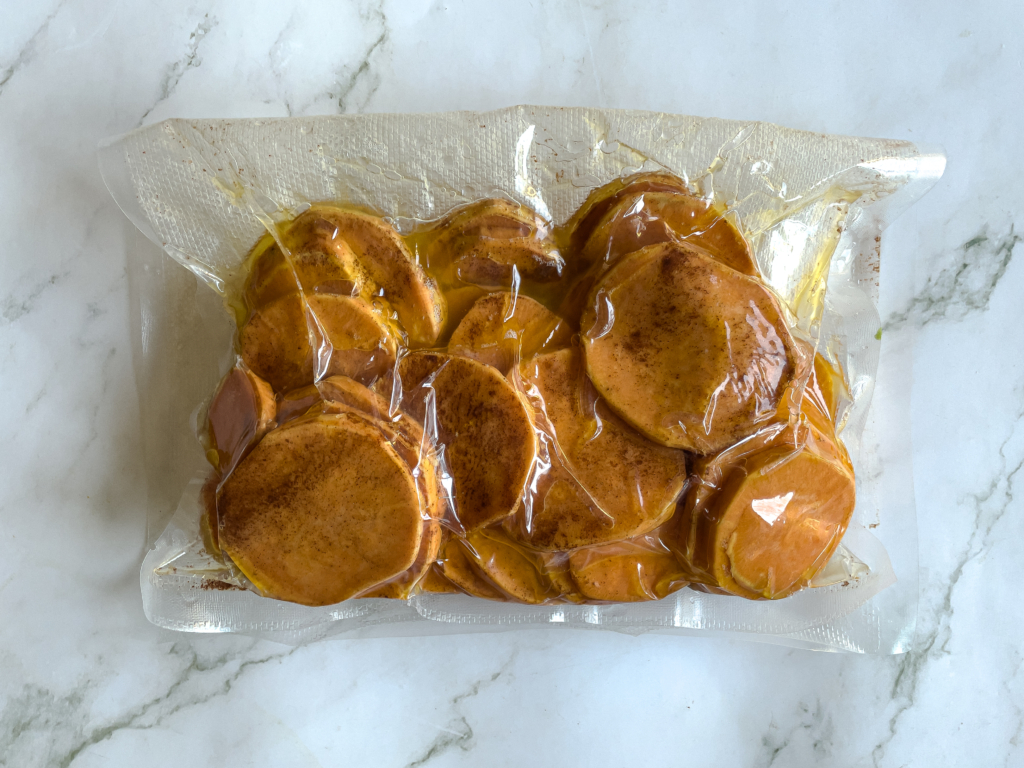 4) Meanwhile, zest and juice 1 orange until you get 1 ½ tsp zest and 3 tbsp juice. Use 1 ½ tbsp butter to grease an 8×8-inch baking dish.
5) Remove yams with tongs, carefully open the bags, and pour the liquid into a small saucepan with 3 tbsp orange juice, ¼ cup packed brown sugar, remaining 2 ½ tbsp butter, remaining 2 tbsp maple syrup, ½ tsp vanilla extract, ½ tsp salt, and remaining ½ tsp pumpkin spice.
6) Arrange a rack in the middle of the oven and heat oven to 350°F.
7) Bring mixture in saucepan to a boil over medium-high heat. Reduce heat to medium and simmer until reduced by half and syrupy, about 8 to 10 minutes.
8) Meanwhile, layer the yams evenly in the buttered baking dish.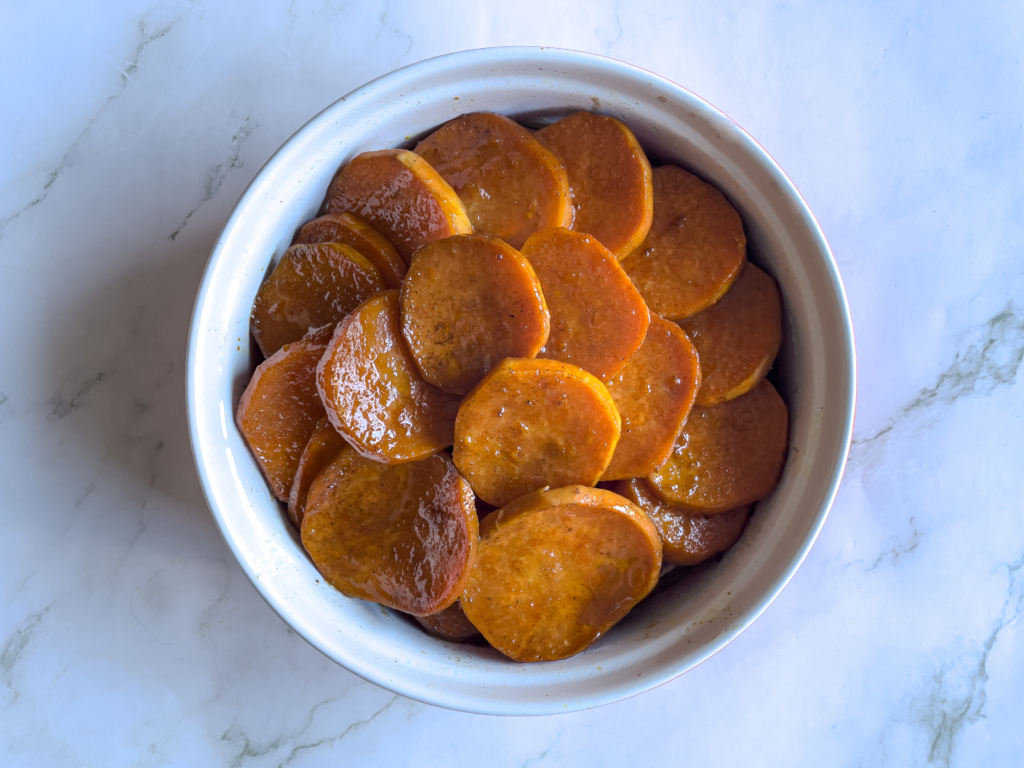 9) When syrup has thickened, pour mixture over the yams. Top with 1 ½ tsp orange zest, ¾ cup chopped toasted pecans, and 3 cups mini marshmallows.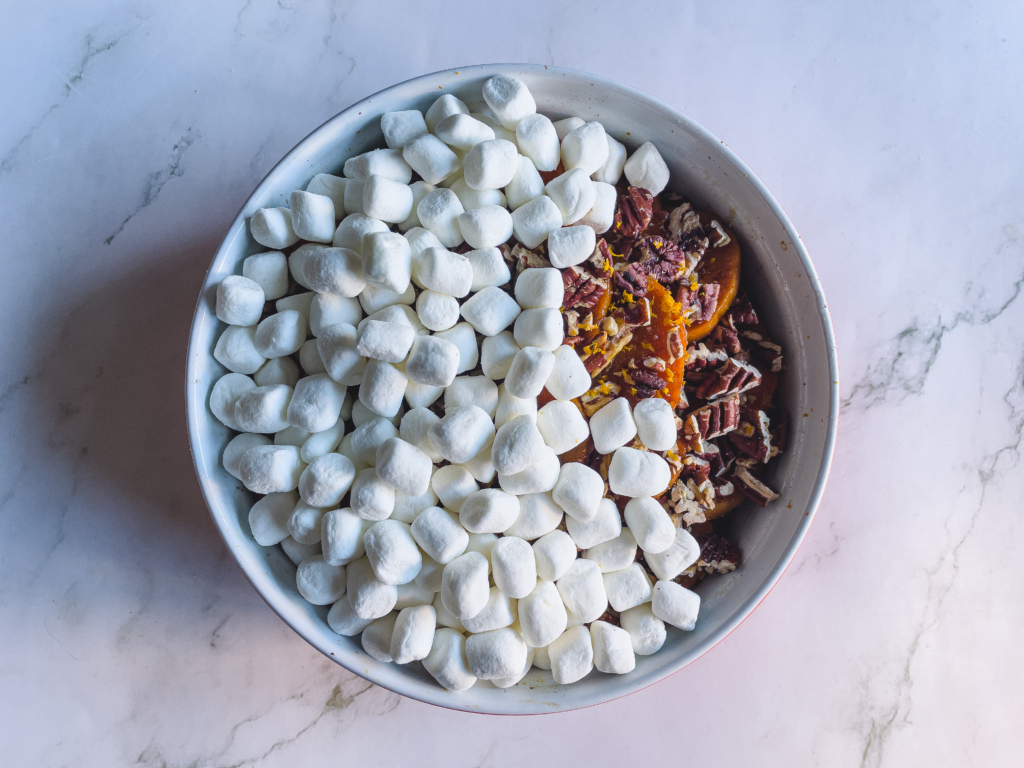 10) Transfer yams to oven and bake for 10 to 15 minutes until marshmallows are toasted and yams are warmed through.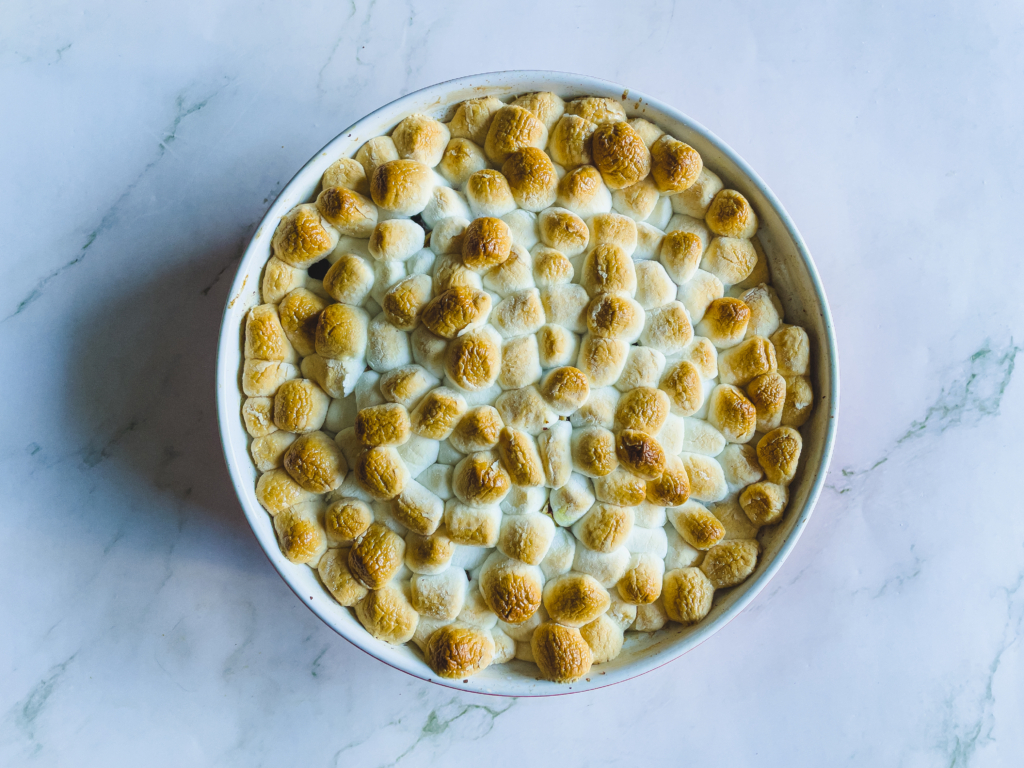 RECIPES TO TRY:
Thanksgiving Dessert Duos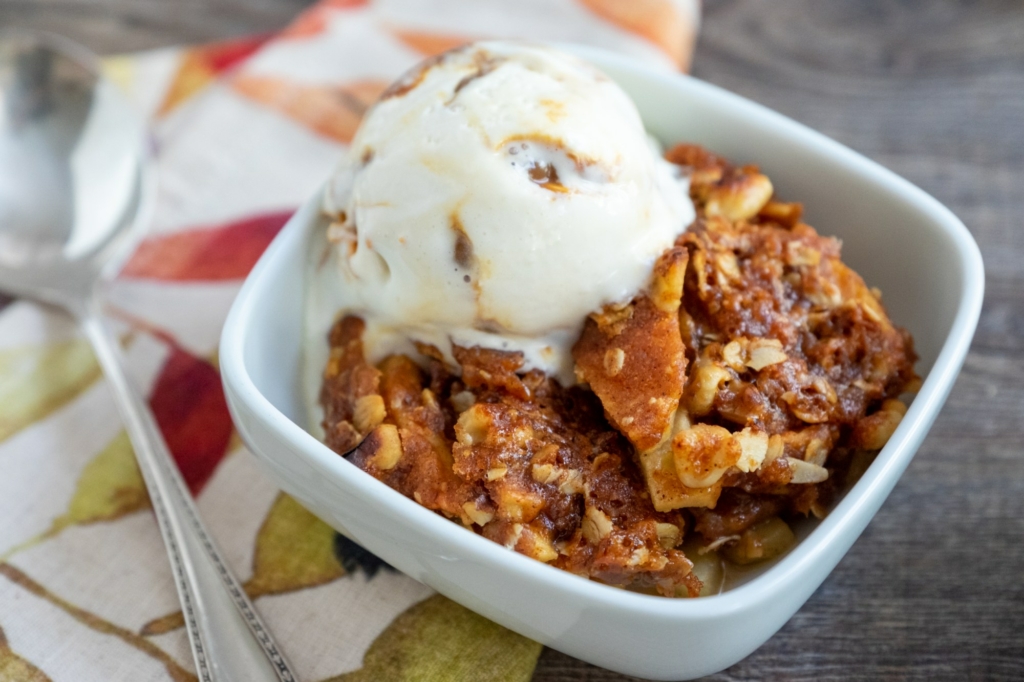 Thanksgiving Stuffing Two Ways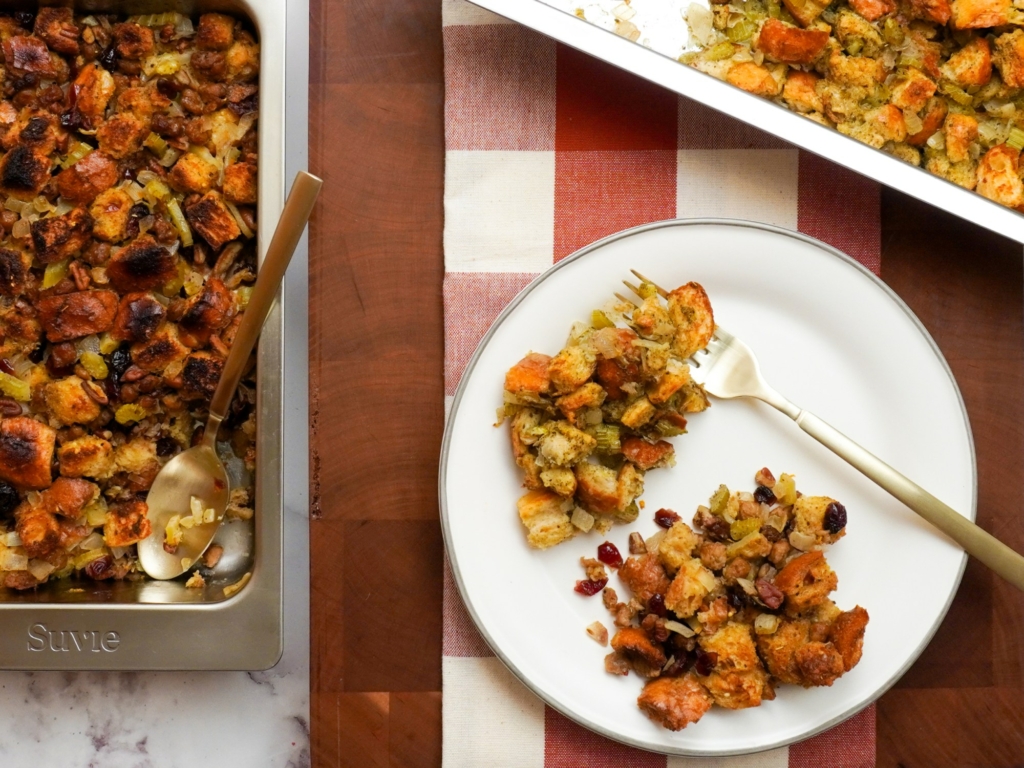 Best Baked Apples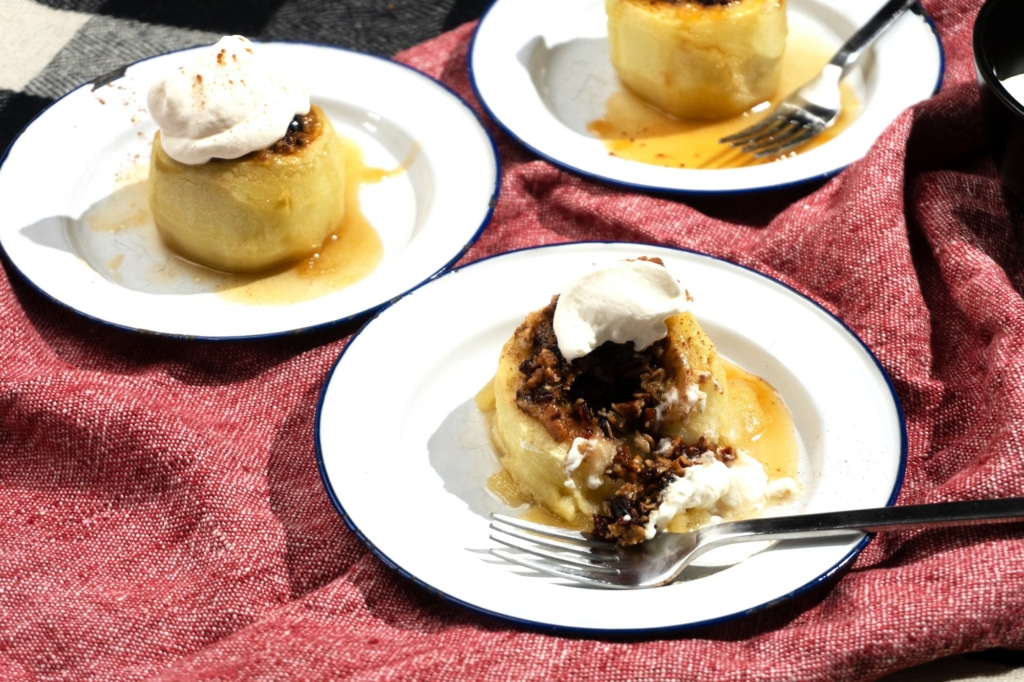 Six Showstopper Suvie Thanksgiving Recipes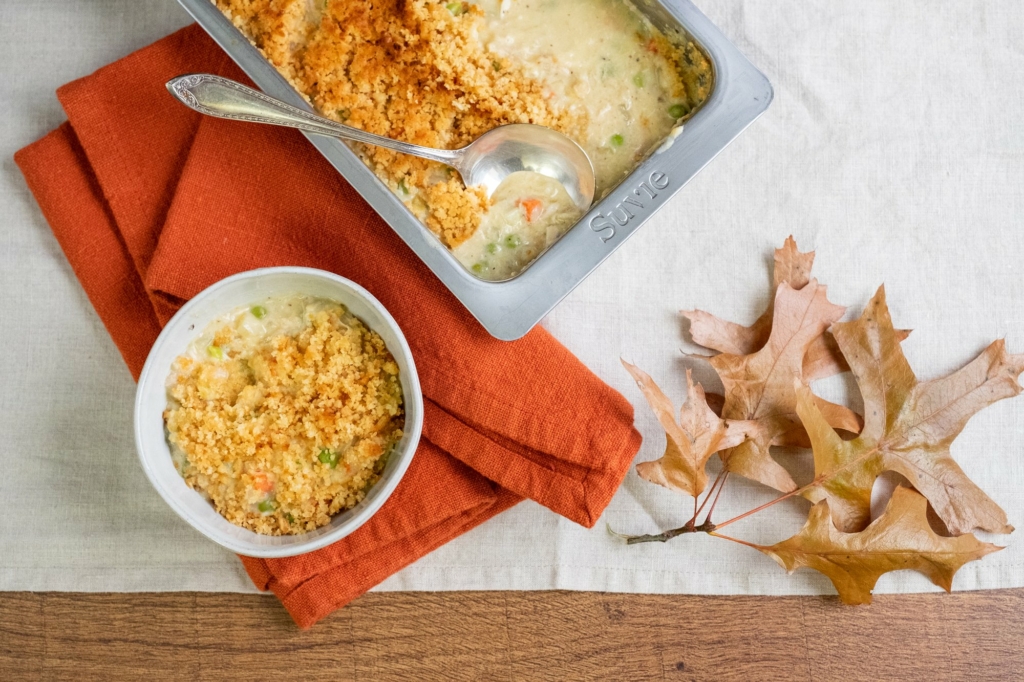 Green Bean Casserole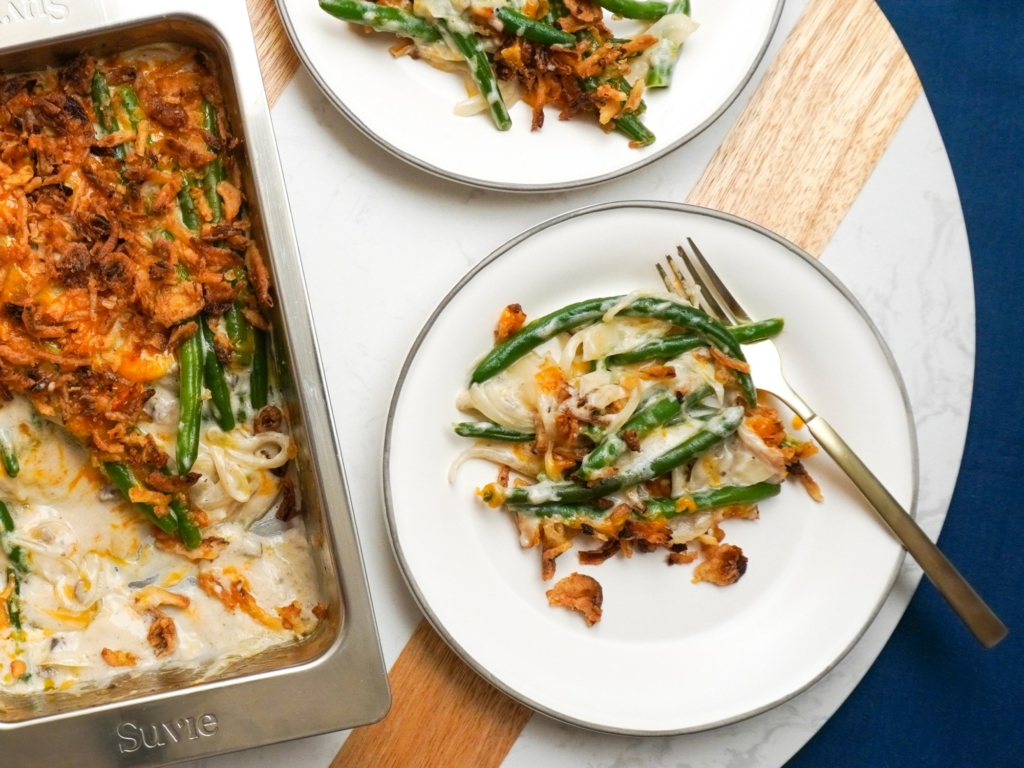 My Cook: Pumpkin Cheesecake with Gingersnap Crust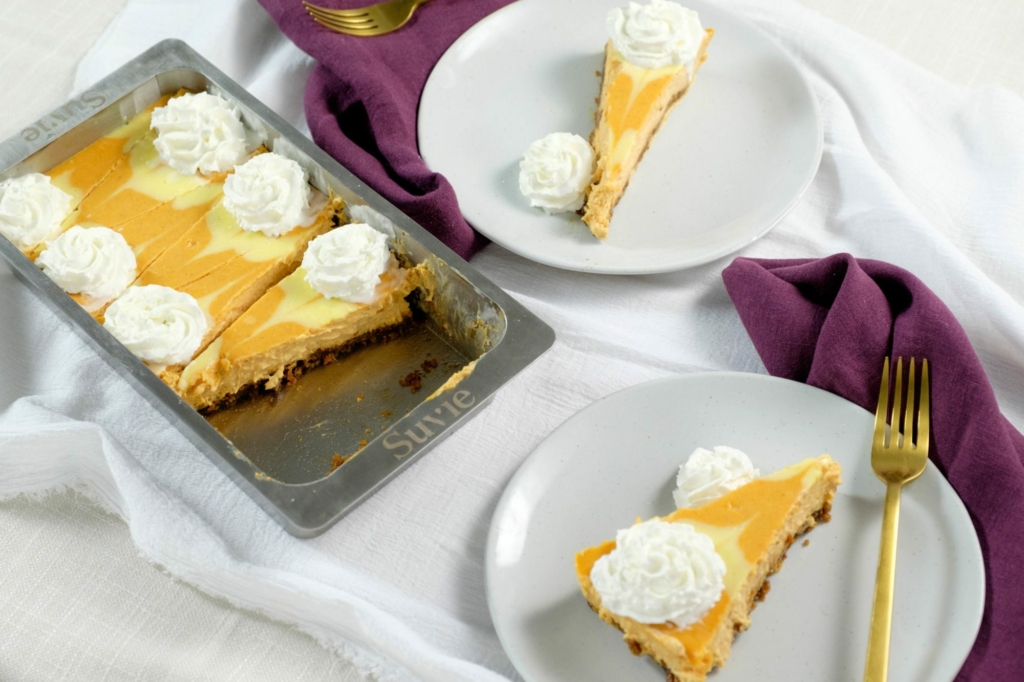 Slow Cook: Sausage, Apple, and Pecan Stuffing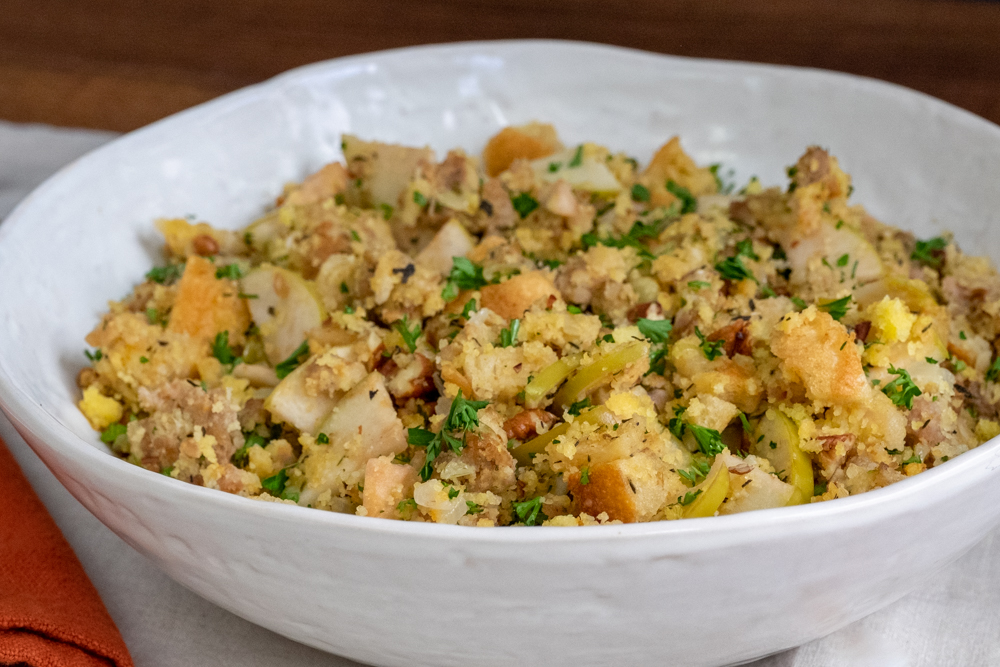 Three unusual ways to use Thanksgiving leftovers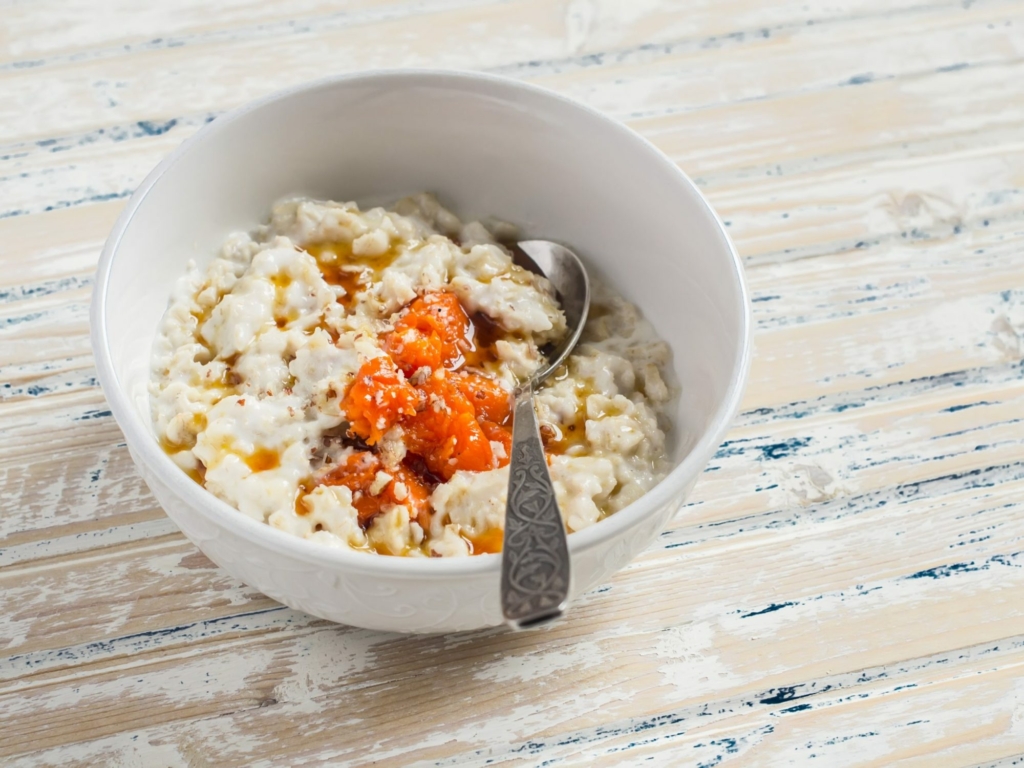 FAQs
Can I use any type of plastic bag?
You can, however, make sure that they are made from polyethylene. Some branded bags are made using polyethylene, a BPA and dioxin-free plastic that can safely handle sous vide cooking temperatures up to 190°F. Some generic branded plastic bags are made using cheaper polyvinyl chloride (PVC), which cannot handle high temps and contains chemicals that can leach into food.
Can I leave my yams in the water bath indefinitely?
You can, but it's best when it's removed after 1 hour; otherwise, the yams may not retain the texture.
The bag with the sliced yams won't stay underwater; what do I do?
This is often a problem with certain proteins, fruit, and vegetables. There are a few ways to prevent the bag from floating at the top of the water bath. A layer of ping pong balls in the immersion bath will keep the food underwater. Alternatively, you can try and weigh down the bag with a couple of large metal serving spoons.