You may think caramelizing onions using the sous vide method seems redundant, especially as you start the process in a skillet. Still, it truly adds a depth of flavor and a melt-in-the-mouth texture hard to achieve on the stovetop. Into the skillet with the sliced onions, you add a little butter, olive oil, salt, pepper, a touch of sugar (this is optional, but it helps to kick off the caramelization process), and a dash of balsamic vinegar to bring a slight acidity and a touch more sweetness.
You can cook in the water bath for 3 to 24 hours —the longer the cook-time, the deeper the color and flavor. However, I found that 6 hours was the sweet spot!
Temperature and cooking times for caramelized onions
| | | |
| --- | --- | --- |
| Device | Temperature | Time |
| Suvie | 185°F | 6 hours |
| Immersion Circulator | 185°F | 6 hours |
Caramelized onions can be used in a multitude of ways, adding to frittatas, steak sandwiches, and of course, adding as a topping for burgers and hot dogs. You could even use them and get a headstart on this French onion soup. They are incredibly versatile and always great to have stored in the freezer.
Goat cheese, caramelized onions, and thyme are a match made in heaven and a combo that dates back for many years, but somehow it never gets old.
However, combining all three as a pizza topping, adding mozzarella, red pepper flakes for a spice kick, and adding peppery arugula after it's cooked —takes it to the next level. A drizzle of balsamic glaze not only looks pretty but also rounds off the flavors perfectly. If you can't find any at your local store, you can make a quick homemade version by bringing 1/2 cup balsamic vinegar and three tablespoons of honey to a boil, then simmer until reduced by half.
This pizza is a super-quick and easy midweek supper using store-bought pizza crust for speed and ease. You can use these toppings below on store-bought pizza dough. Like we used in this flatbread recipe, or you could also make quick pizza dough if you have the time.
You can refrigerate caramelized onions in an airtight container or resealable bag for 3 to 5 days in the refrigerator, or for 10 to 12 months in the freezer.
| | | | |
| --- | --- | --- | --- |
| Serving | Active Time | Preheat Time | Cook Time |
| 2 cups | 20 minutes | 1 hour | 6 hours |
Ingredients and Tools
Equipment
Suvie or immersion circulator
Large non-stick skillet
Wooden spoon
Large pot or sturdy container (if using an immersion circulator)
Vacuum sealer bags or freezer-safe resealable bags
Cutting board and chef's knife
Ingredients
1 tbsp unsalted butter
1 tbsp olive oil
2 lbs yellow onions
1 large sprig fresh thyme
1 tbsp balsamic vinegar
¼ tsp granulated sugar
Directions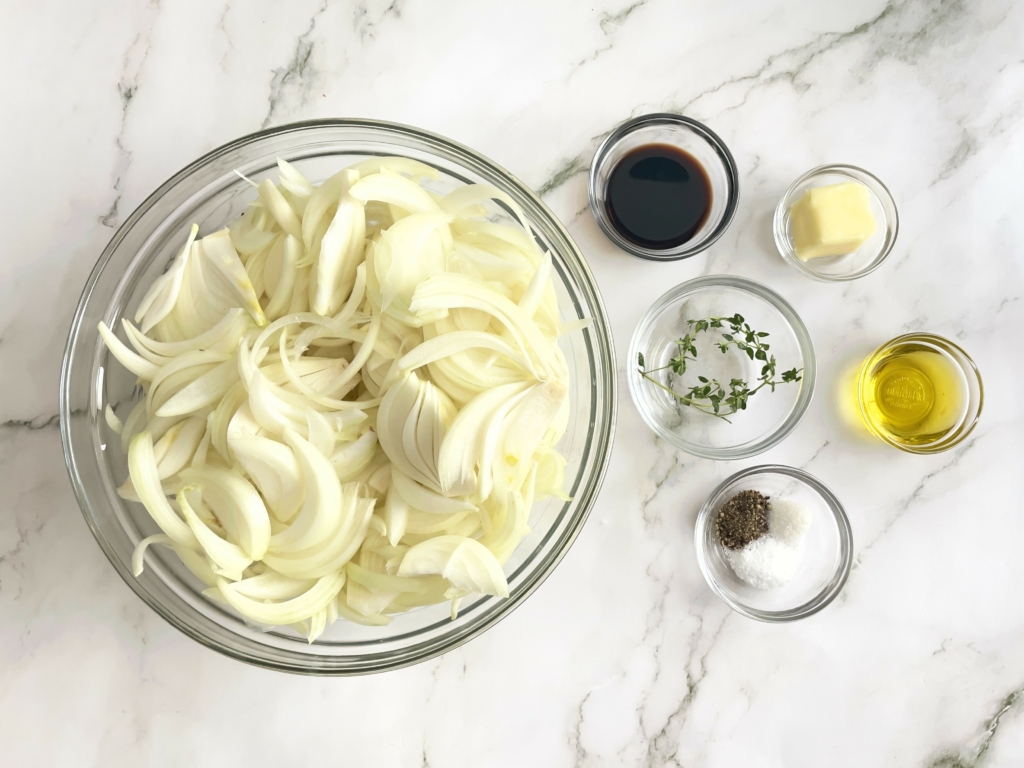 1) If you're using a sous vide immersion circulator, pre-heat your water bath to 185°F. (This can take up to an hour).
2) Peel onions, trimming roots to keep them slightly intact, halve onions lengthwise, and slice (from root to base) into thin ¼-inch wedges.
3) Heat a large skillet over medium heat. Add 1 tbsp butter, 1 tbsp olive oil, and once butter has melted, add 2 lbs sliced onions, 1 large sprig fresh thyme, 1 tbsp balsamic vinegar, ¾ tsp salt, ½ tsp black pepper, and ¼ tsp granulated sugar, and occasionally stir until the onions pick up a little color and become slightly translucent, around 6 to 8 minutes. Remove from heat and allow to cool slightly. Discard thyme sprig.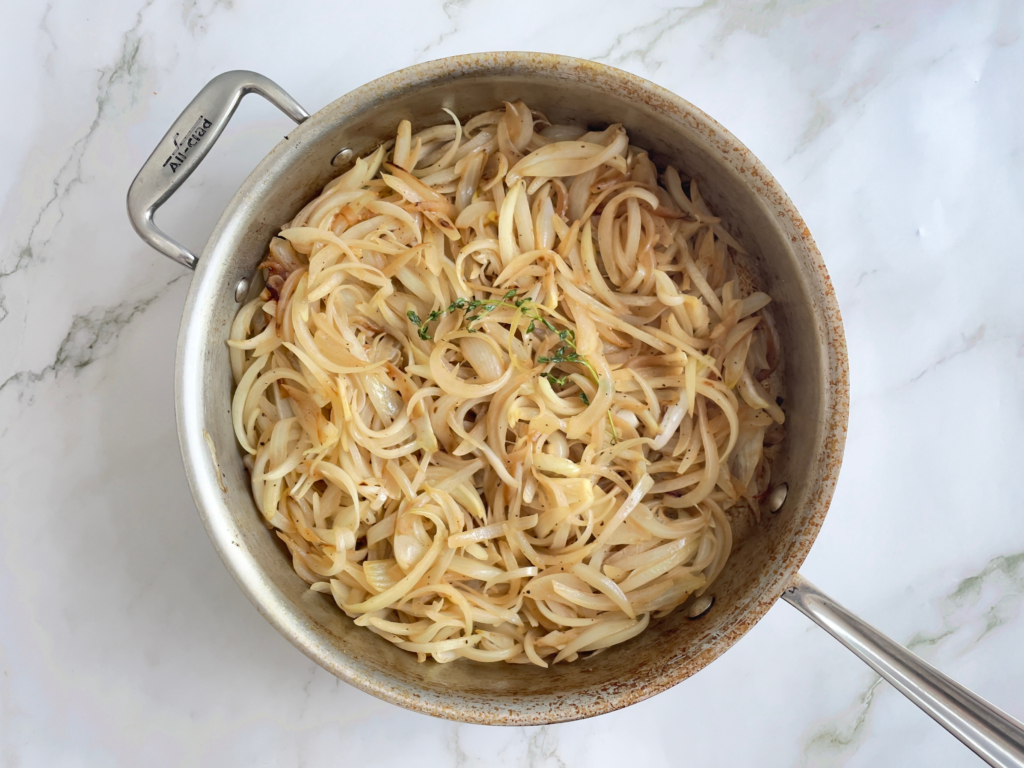 4) Transfer onions to a vacuum bag or resealable bag and seal bag (if using Suvie, you may want to divide between 2 bags to ensure they fit in the pans). If you're using a resealable bag, use the water displacement method to seal.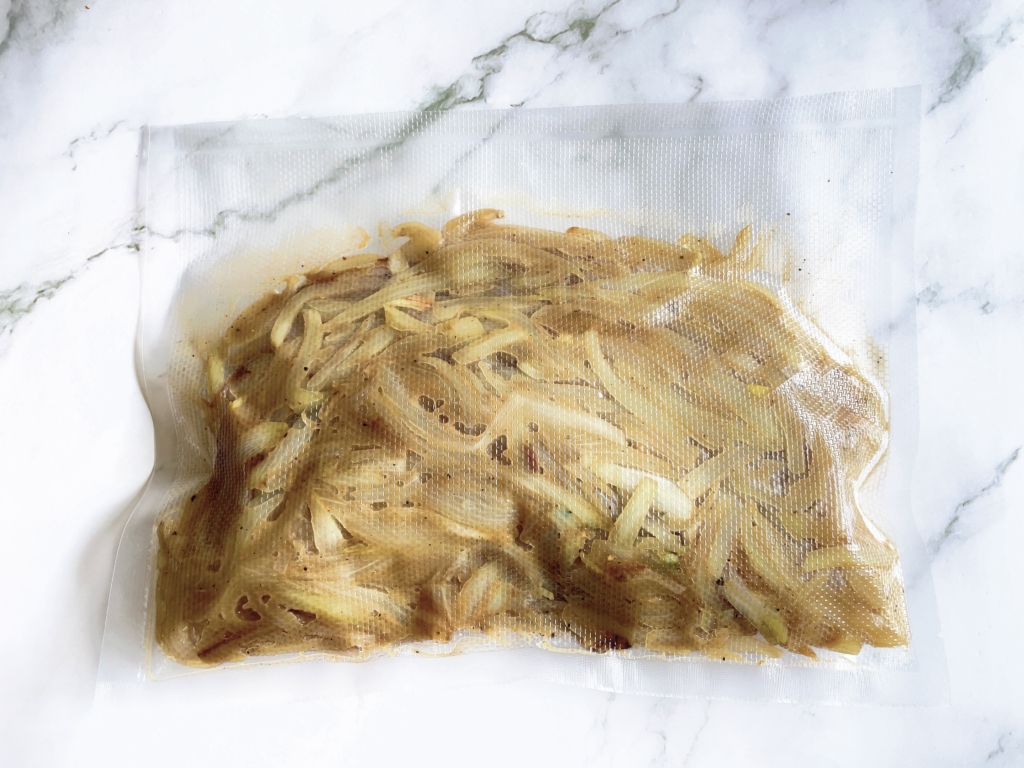 4) Lower the bag into the heated water bath and cook. Cover the water bath with foil, cling wrap, or a layer of ping pong balls, to avoid the water evaporating to sustain the high water temperature.
If you are using Suvie, place the bag into a Suvie pan (or pans) and cover entirely with water. Insert pan into the top or bottom of your Suvie.
Suvie Cook Settings
Bottom Zone: Sous Vide at 185°F for 6 hours 
Top Zone: Sous Vide at 185°F for 6 hours
5) Once the cook is finished, remove the bag from your Suvie or water bath. Drain onions in a fine-mesh strainer to remove excess moisture. You may wish to add another ¼ to ½ tsp salt to taste.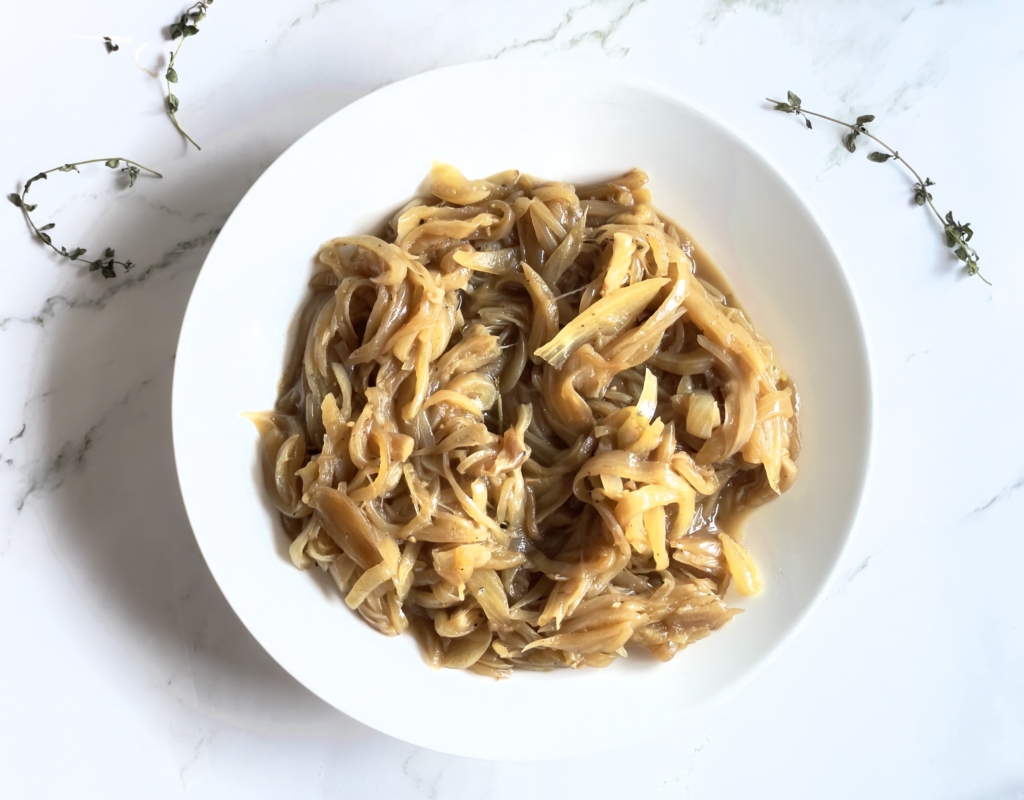 Caramelized Onions, Goat Cheese & Arugula Pizza
Please always check your food to ensure your food has been cooked to safe serving temperatures. Please see our guide
here
for recommended FDA Time & Temperatures.
Servings: 2
Difficulty: 6 to 11 minutes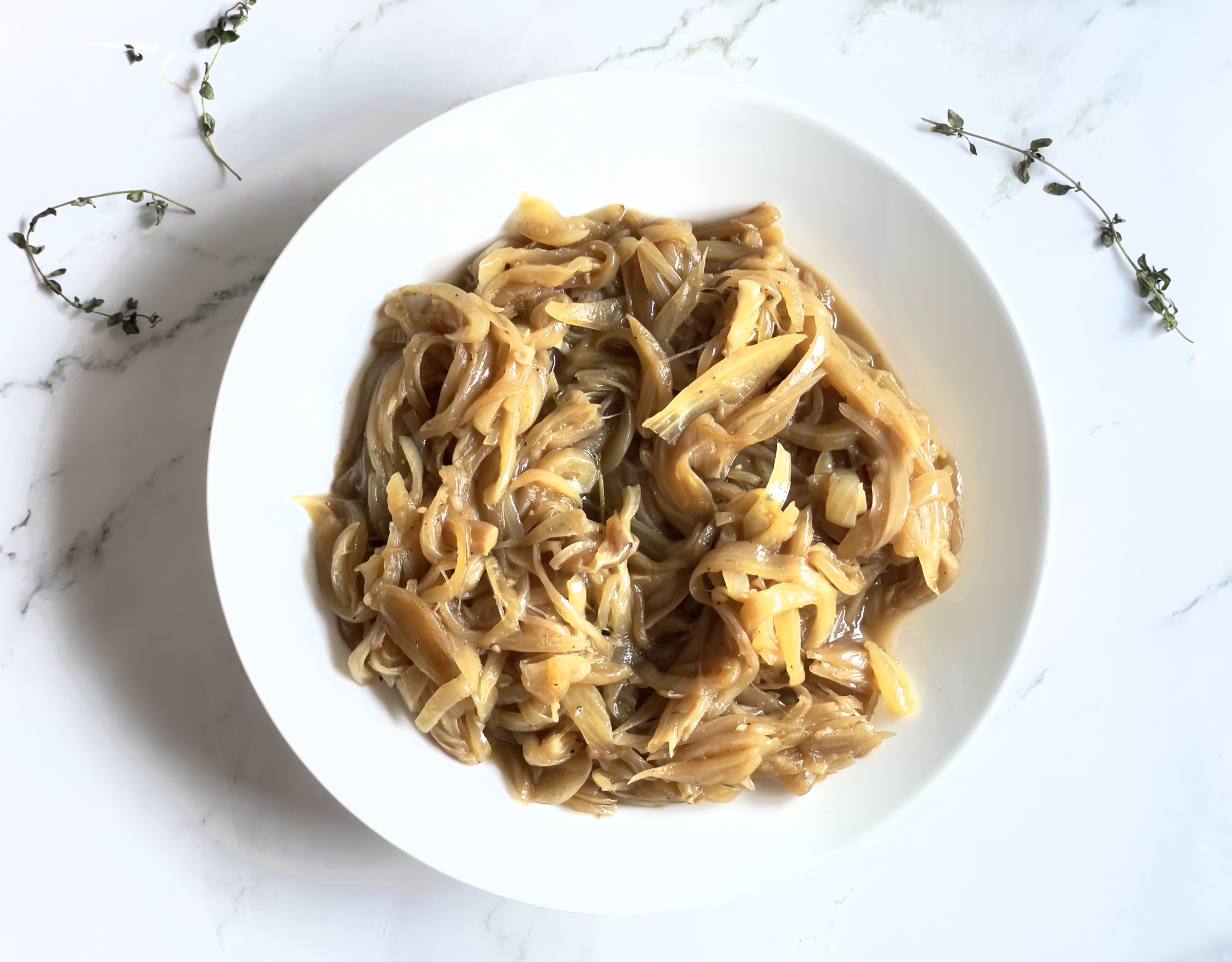 Ingredients
1 (4 oz) goat cheese log
1 tbsp whole milk
¼ tsp red pepper flakes, plus more for serving (optional)
1 (10 to 11-inch) store-bought thin crust pizza crust
1 cup shredded whole-milk low-moisture mozzarella
1 tbsp fresh thyme leaves
½ cup caramelized onions, drained and patted dry
Extra virgin olive oil for drizzling, plus more for serving
2 cups baby arugula
Balsamic glaze, for serving
Directions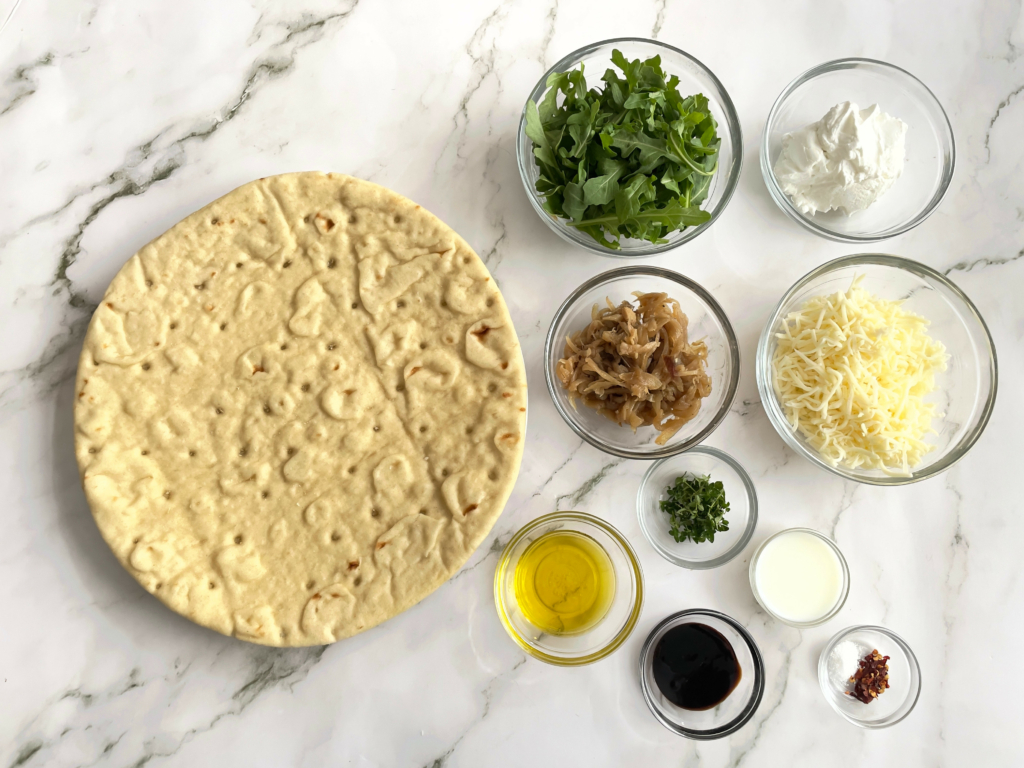 1) Arrange an oven rack in the top third of the oven. Preheat to 425°F.
2) In a small bowl, mix the 4 oz goat cheese, 1 tbsp milk, ¼ tsp kosher salt, and ¼ tsp red pepper flakes (if using) until combined. Spread in a layer on the pizza crust, leaving about a ¼-inch edge of crust.
If using your Suvie, cut the crust into slices that will fit in the 6-inch by 9-inch Suvie pans before adding the toppings.
Use this Easy Cheesy Pizza recipe as a Suvie cooking guide to broil your pizza.
3) Sprinkle 1 cup shredded mozzarella evenly on top of the goat cheese, 1 tbsp thyme leaves, then a layer of ½ cup caramelized onions. Drizzle with olive oil.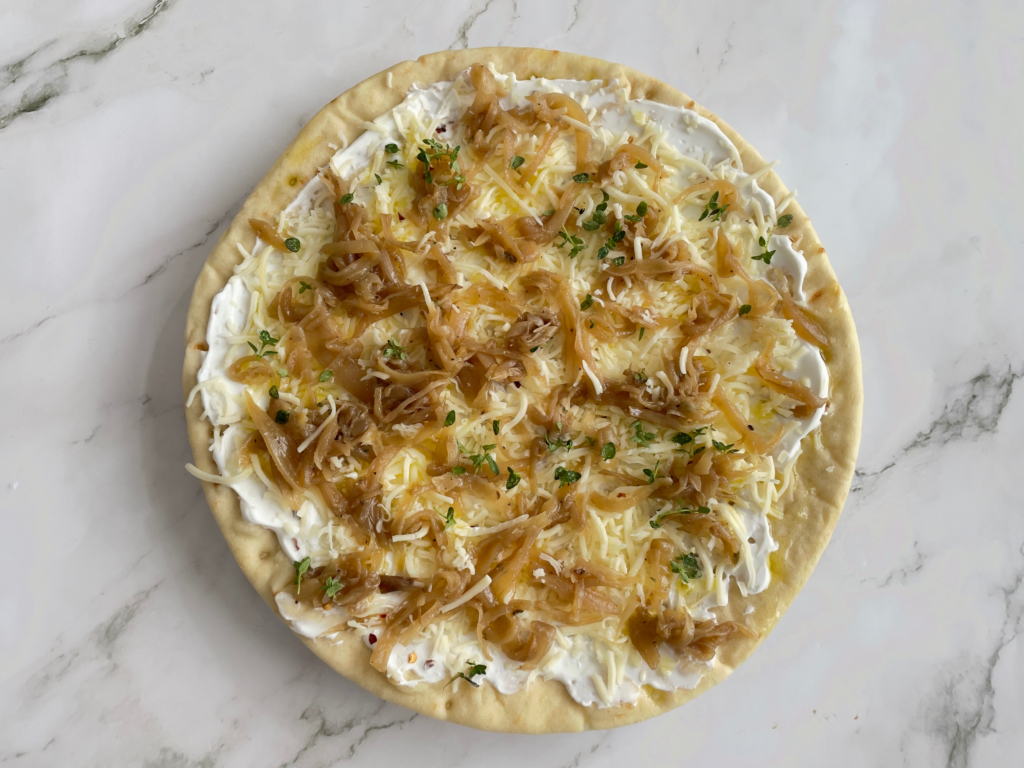 4) Carefully place pizza directly on the top oven rack and bake for 6 to 11 minutes, depending on how crisp you like it. For a softer crust, place on a baking sheet for 8 to 9 minutes.
5) Once the mozzarella is melted and the base is crisp to your liking, remove pizza from oven and transfer to a cutting board. Just before serving, sprinkle with 2 cups baby arugula, another drizzle of olive oil, and a drizzle of balsamic glaze. Serve with more red pepper flakes alongside, for any fiery fans!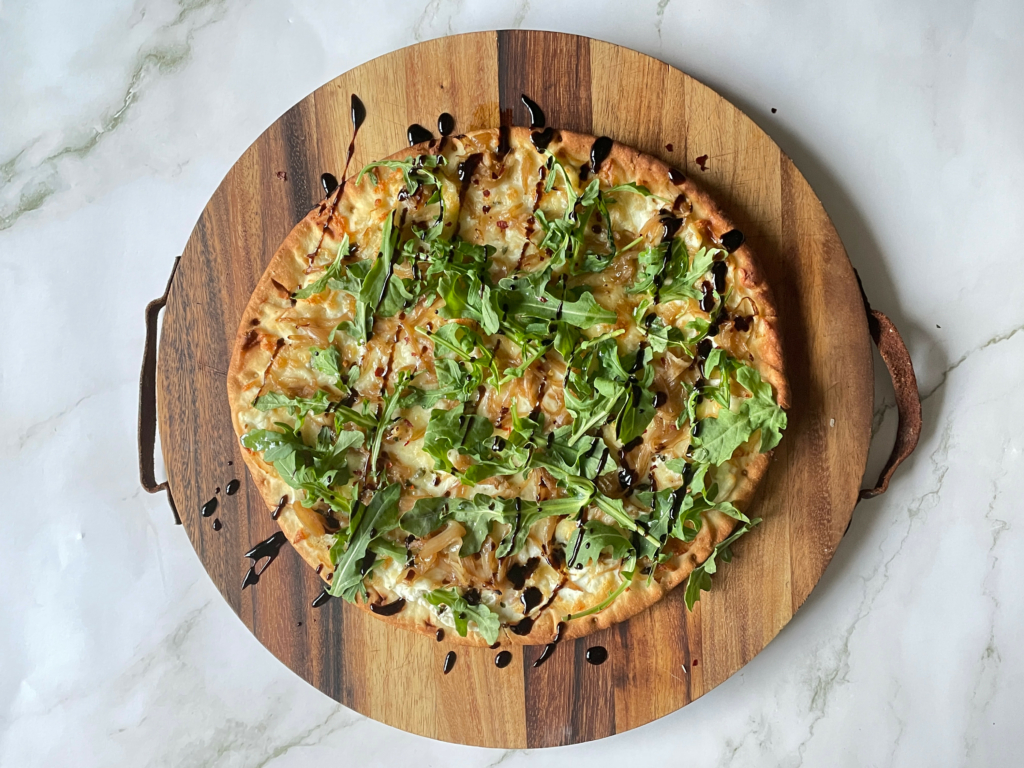 Nutrition
Nutritional Information per serving (2 servings per recipe): Calories 1111, Total Fat 67g, Total Carbohydrates 89g, Total Sodium 1861mg, Total Protein 38g,
FAQs
Can I use any type of plastic bag for my onions?
You can, however, make sure that they are made from polyethylene. Brand name resealable bags are made using polyethylene which is a BPA and dioxin-free plastic that can safely handle sous vide cooking temperatures up to 190°F. Some generic branded plastic bags are made using cheaper polyvinyl chloride (PVC), which cannot handle high temps and contains chemicals that can leach into food.
The bag with the onions won't stay completely underwater. What should I do?
This is often a problem with certain proteins and vegetables. There are a few ways to prevent the bag from floating at the top of the water bath. A layer of ping pong balls in the immersion bath will keep the food underwater. Alternatively, you can try and weigh down the bag with a metal spoon.
Can I leave the onions in the water bath indefinitely?
You can, but it isn't advisable for longer than 24 hours, as it will have a negative effect on the overall texture and may break down the onions too much.