It's fall, y'all! Which means it's apple picking season. If you have an abundance of apples and you don't quite know what to do with all of them once you've made the obligatory apple pie, homemade applesauce, and apple cider, then you've come to the right place!
How to Make Spiced Apples with Salted Caramel Sauce
Baked apples are a perfect autumnal dessert. Of course, you can bake apples the conventional way, but the beauty of using the sous vide method to cook apples is that not only do they taste incredible, but they also keep their shape, color, and nutrients. The apples are peeled, cored, and stuffed with sugar-spiced butter and dried fruits. After 2 hours in the sous vide water bath, the apples are perfectly cooked. The dried fruit stays inside the apple and the butter melts to create a flavorful liquid, which when boiled down on the stovetop, produces a delicious, slightly salty, spicy, and fruity caramel.
The Best Dried Fruits for Spiced Apples
You can choose any mix of dried fruit that you wish. Larger fruits, like dried figs and dates, need to be chopped down to the size of a raisin. You can mix up whatever fruit you may have to equal one half cup, such as:
Golden raisins
Raisins
Currants
Candied orange peel, finely chopped
Dried figs
Medjool dates, pitted and finely chopped
Dried apricots, finely chopped
Dried sweet-tart cherries
Dried cranberries
The Best Spices for Spiced Apples
This recipe has a mix of various spices, however, you could use 1 tablespoon of pumpkin spice blend for convenience, or you could use only cinnamon if your spice rack is looking spartan. You could replace the nutmeg with ground ginger, which is a great accompaniment to apples. This spice blend is versatile to your personal preference or what you have in your pantry.
What to Do with Leftover Spiced Apples
You can refrigerate any cooked leftover apples stored in an airtight container or freezer-safe resealable bag for 3 to 5 days in the refrigerator.
Temperature and Cooking Times for Whole Apples
| | | |
| --- | --- | --- |
| Device | Temperature | Time |
| Suvie | 182°F | 2 hours |
| Immersion Circulator | 182°F | 2 hours |
Sous Vide Spiced Apples with Salted Caramel Sauce Recipe
Serves: 4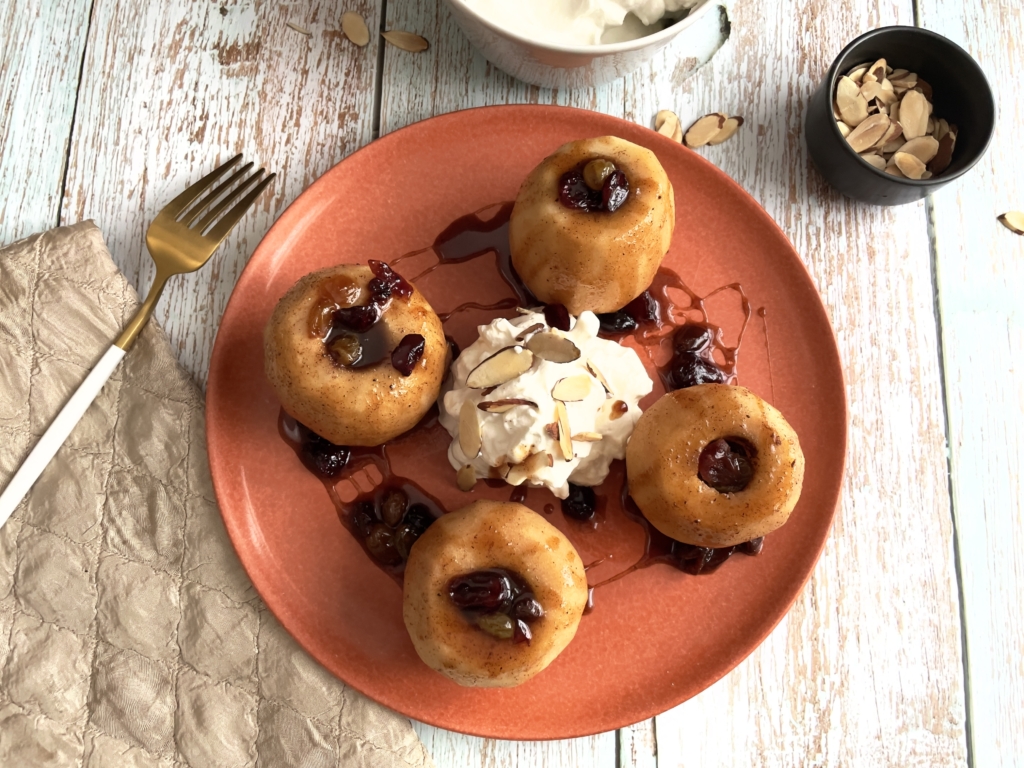 | | | |
| --- | --- | --- |
| Active Time | Preheat | Cook Time |
| 10 minutes | 45 minutes | 2 hours |
Ingredients and Tools
Equipment
Suvie or immersion circulator
Large pot or sturdy container (if using an immersion circulator)
2 to 4 vacuum sealer bags or freezer-safe resealable bags
Vegetable peeler
Apple corer
Pastry brush
Small bowl
Fork
Small offset spatula or knife
Tongs
Small saucepan
Ingredients
4 large apples (use this guide to help you choose the right variety)
¼ cup unsalted butter, softened
½ cup mix of dried fruit
¼ cup dark or light brown sugar
2 tsp ground cinnamon
1 tsp vanilla extract
½ tsp ground nutmeg
¼ tsp ground allspice
¼ tsp ground cloves
¾ tsp kosher salt, divided
2 tbsp lemon juice
4 tbsp maple syrup, divided
4 tbsp bourbon, divided, optional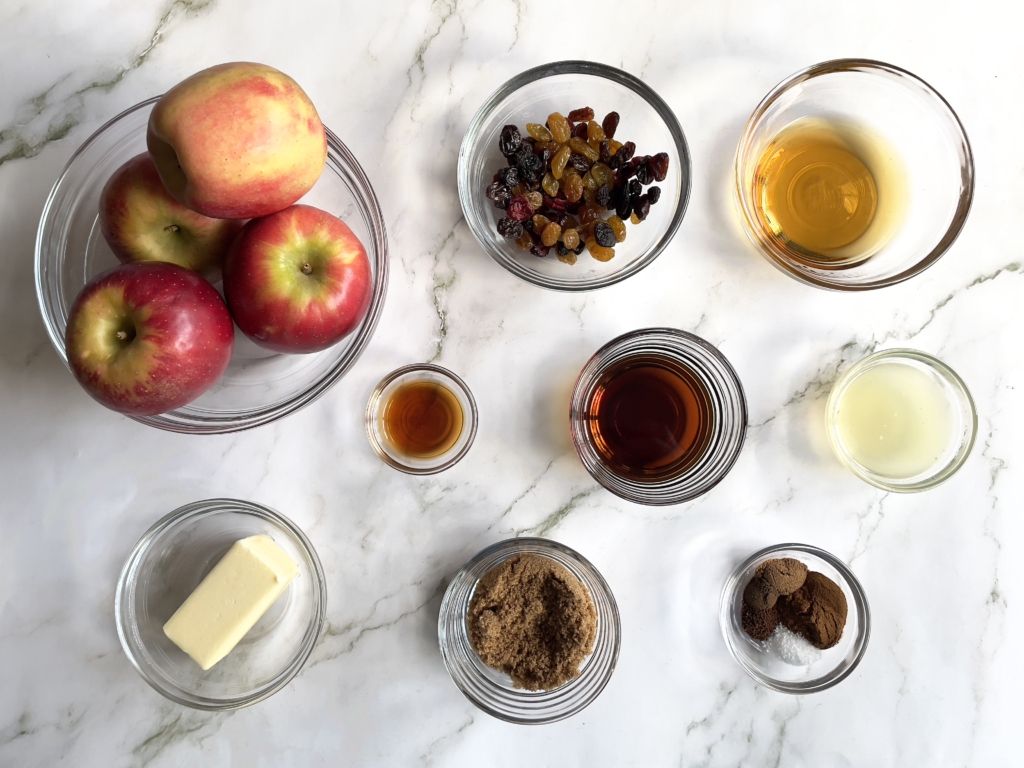 Directions
1) If you're using a sous vide immersion circulator, pre-heat your water bath to 182°F.
2) In a small bowl, mix ¼ cup softened butter, ½ cup mixed dried fruit, ¼ cup brown sugar, 2 tsp cinnamon, 1 tsp vanilla extract, ½ tsp nutmeg, ¼ tsp allspice, ¼ tsp ground cloves, and ¼ tsp kosher salt with a fork to form a paste. Set aside.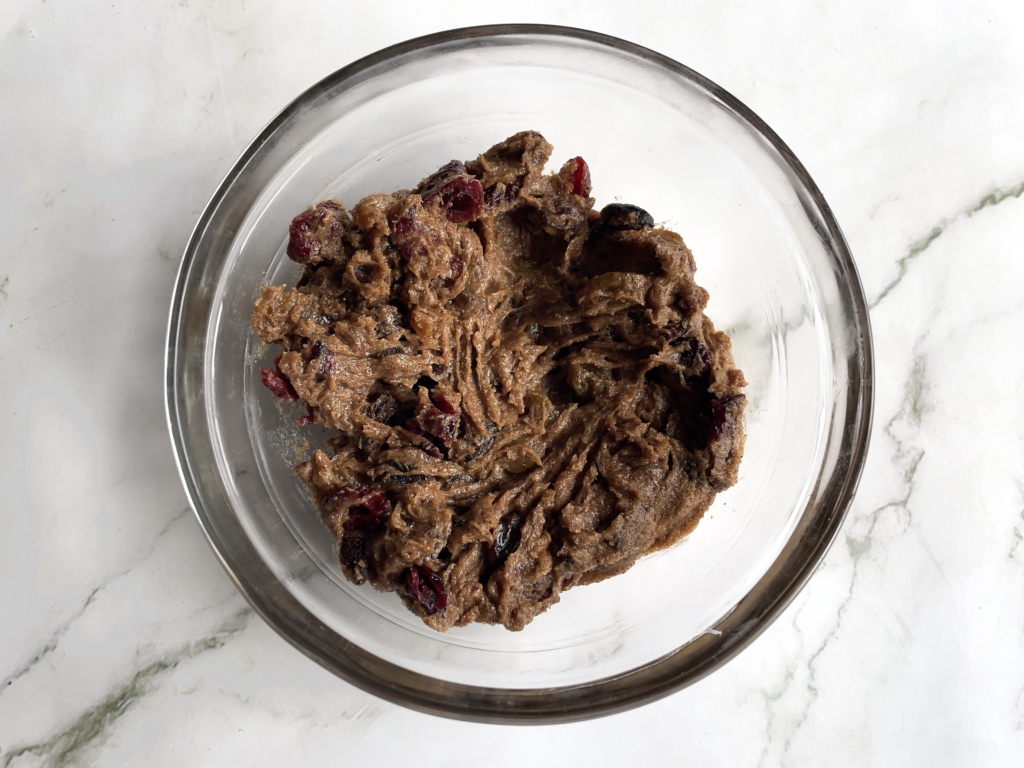 3) Peel and carefully core the apples (using an apple corer or a knife), keeping the apple intact. Brush apple all over with lemon juice to avoid discoloration.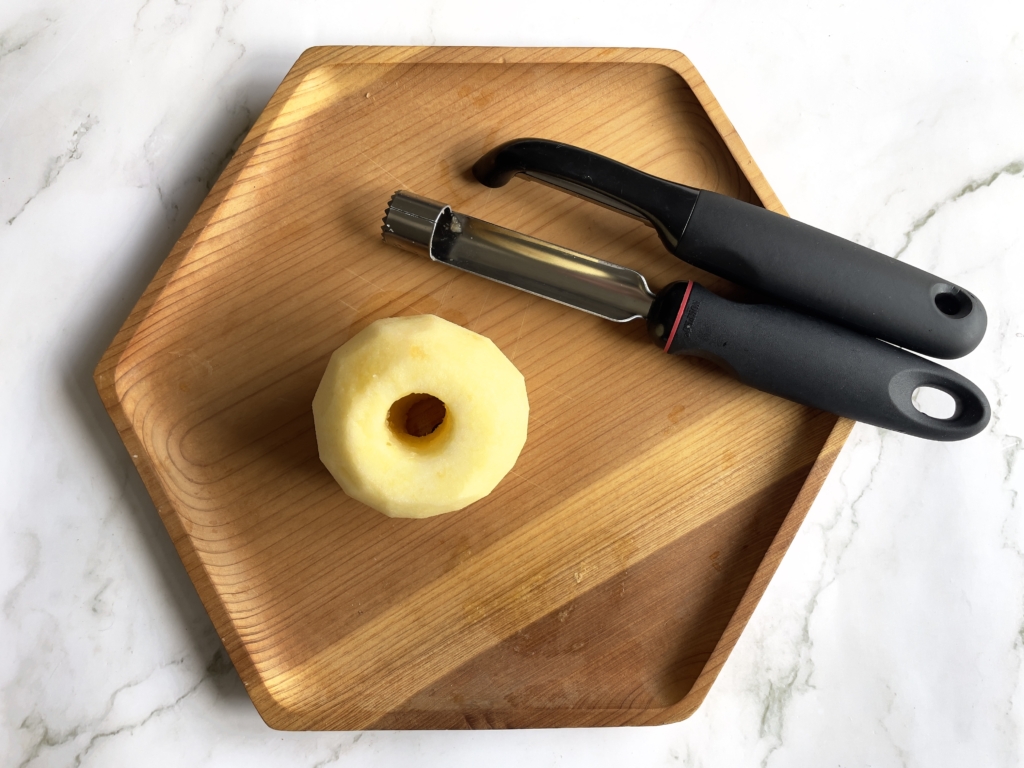 4) Using a small offset spatula, a knife, or your fingers, tightly pack the holes with the spiced fruit butter. Transfer leftover mixture to a small saucepan with any leftover lemon juice, and set aside.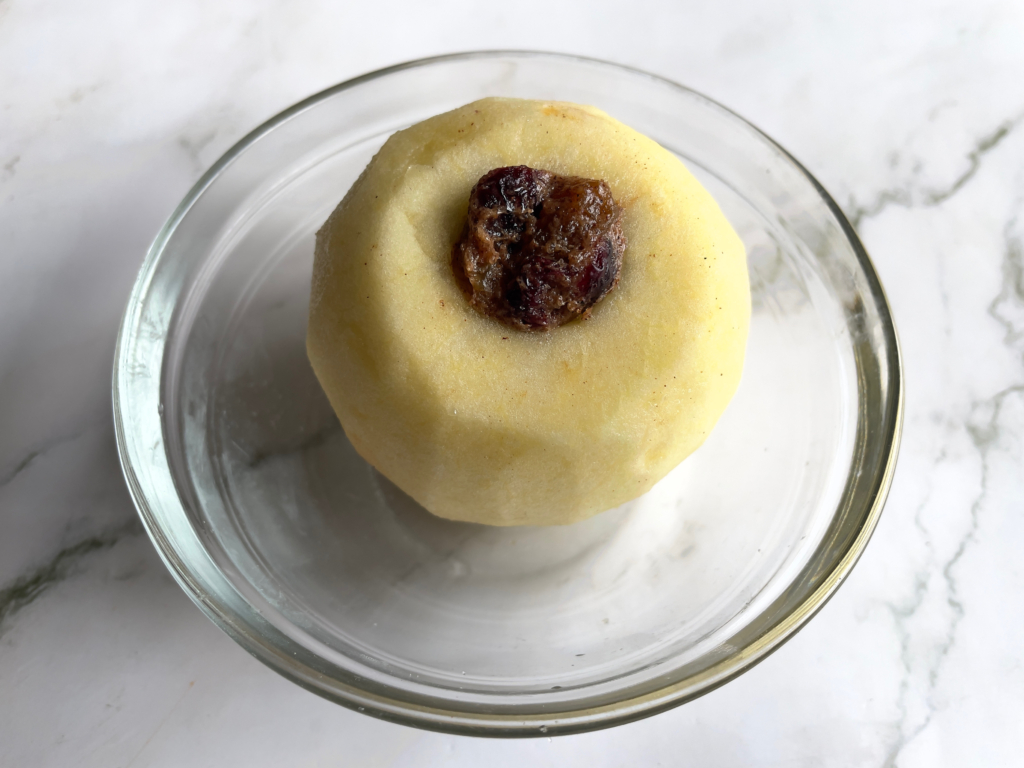 5) Transfer 1 to 2 apples to a vacuum bag or resealable bag. Add 1 tbsp maple syrup and 1 tbsp bourbon (if using) per apple, and seal bag. If you're using a resealable bag, use the water displacement method to seal.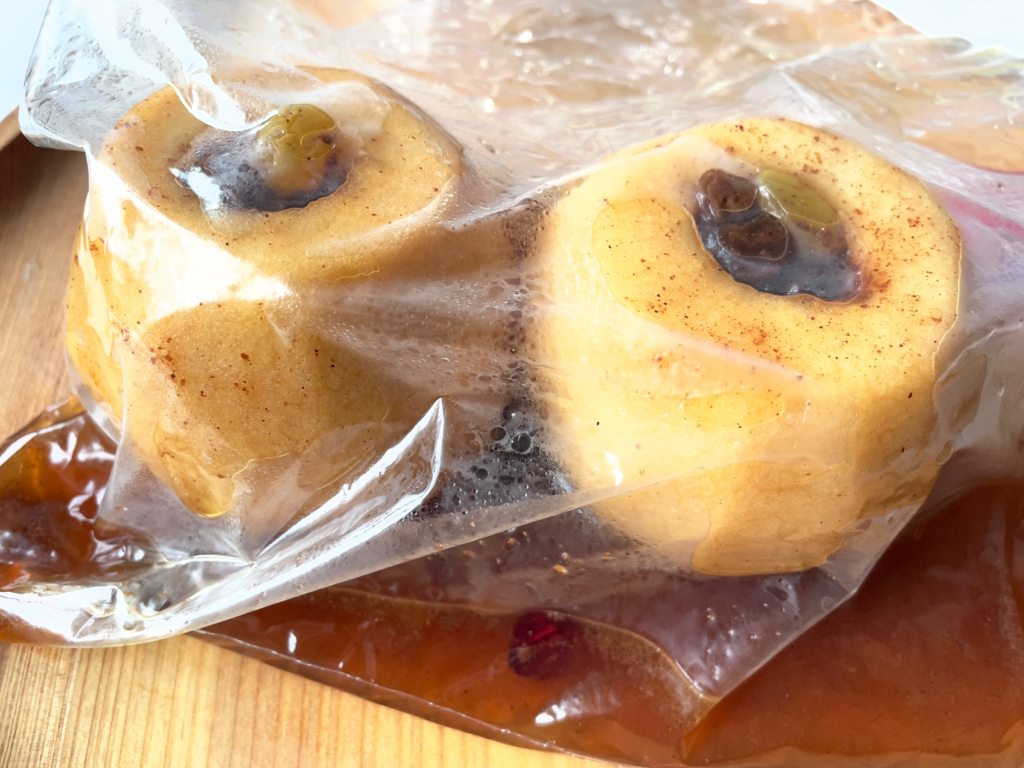 6) Lower the bags into the heated water bath and cook for 2 hours. You may need to add a layer of ping pong balls to keep the apples underwater. Alternatively, you can try and weigh down the bag with a couple of large metal serving spoons. If you are not using ping pong balls, cover the water bath with foil or cling wrap to keep the water from evaporating and to sustain a high water temperature.
If you are using your Suvie, place the bag into a Suvie pan and cover entirely with water. Insert pan into the bottom of your Suvie and input the following settings.
Suvie Cook Settings
Bottom Zone: Sous Vide at 182°F for 2 hours
7) Remove sealed bags of apples with tongs, carefully open the bags and pour the liquid from all the bags into the saucepan with the spiced butter mixture.
8) Melt butter and bring to a boil over medium-high heat. Add ½ tsp salt. Reduce heat to medium and simmer until it reduces by half and it turns thick and syrupy, around 6 to 7 minutes.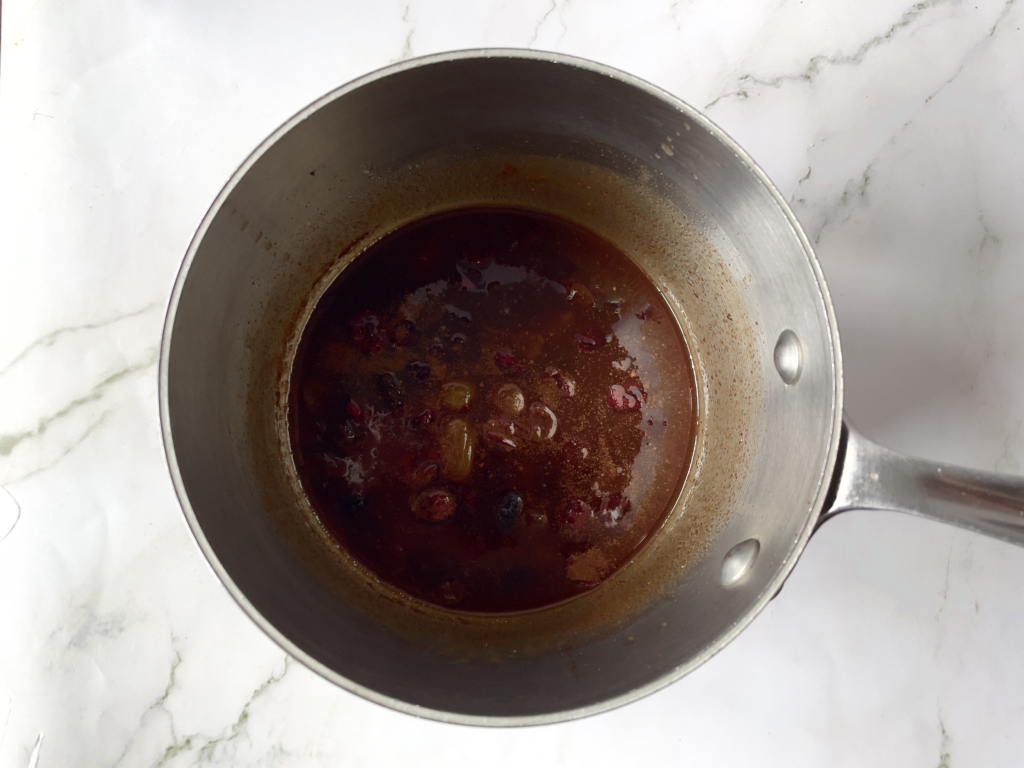 9) Serve apples warm with salted caramel spooned on top, with whipped cream or ice cream, and toasted nuts.
RECIPES TO TRY:
Best Baked Apples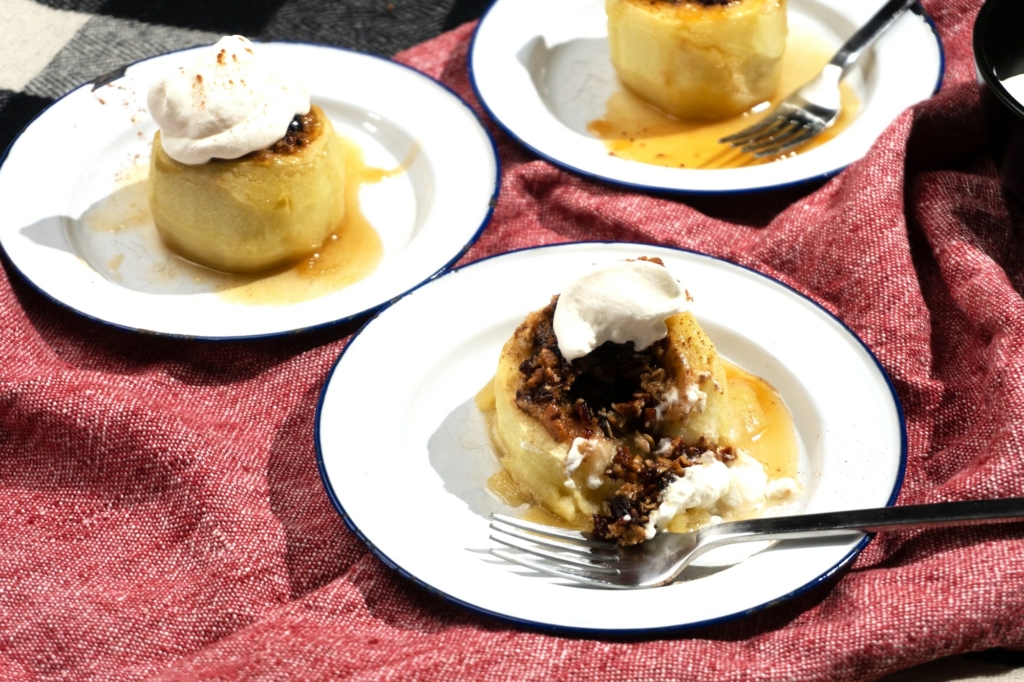 Apple Cinnamon Breakfast Bread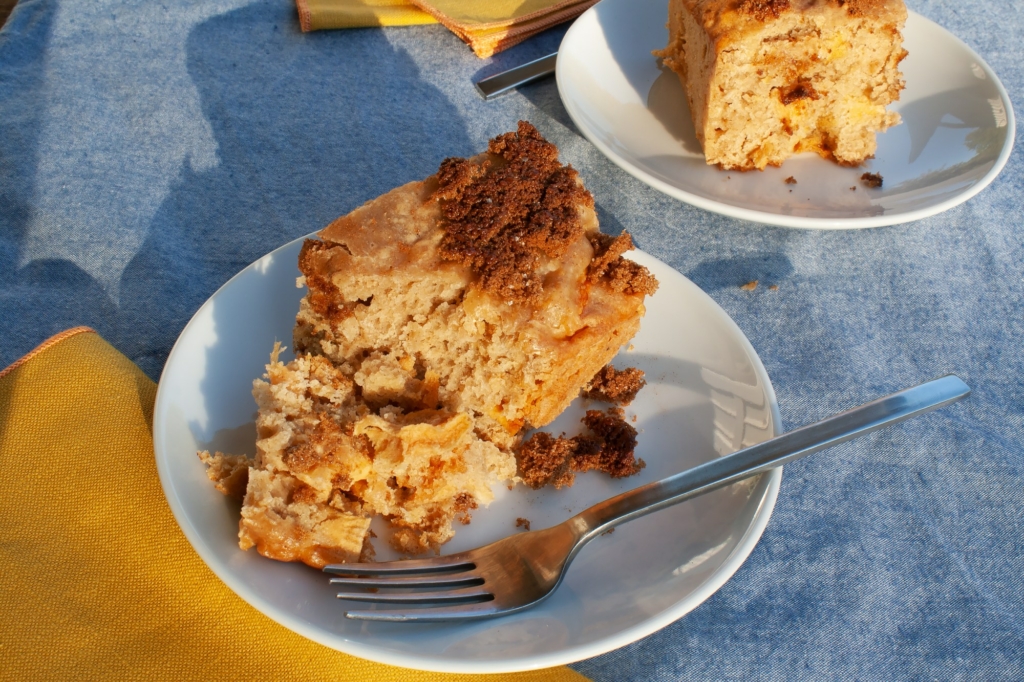 Six apple-icious recipes to use up autumn's bounty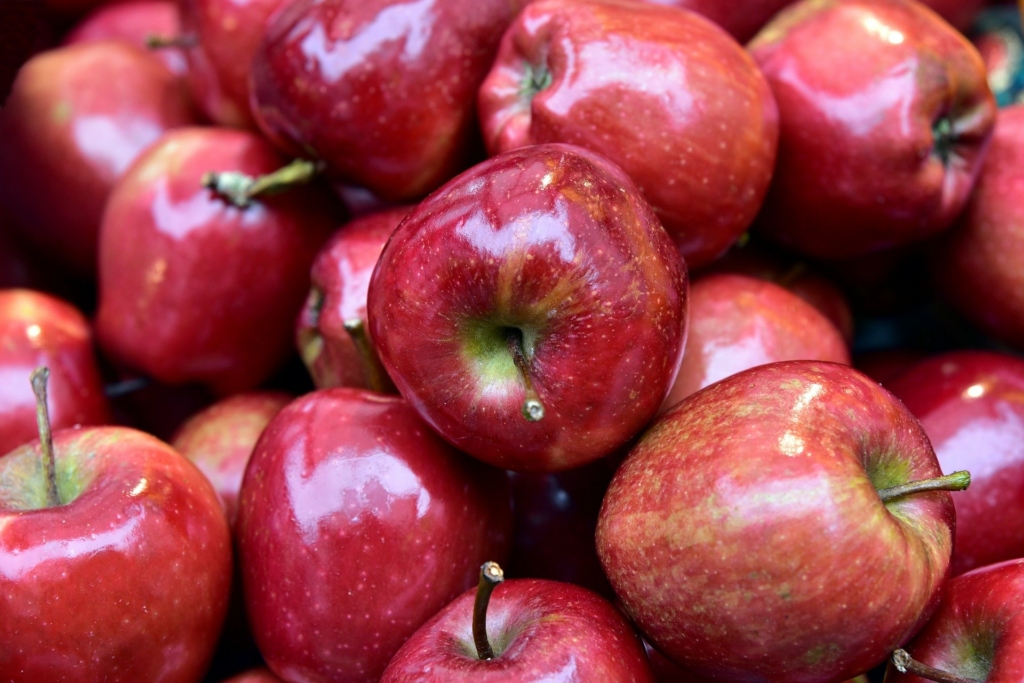 Easy Apple Sauce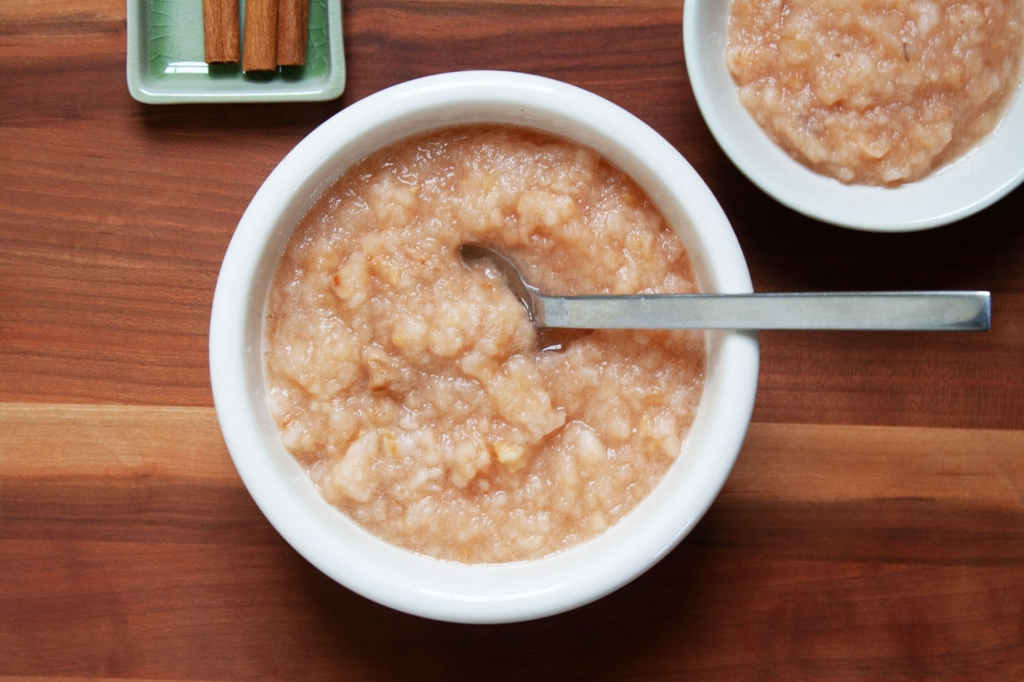 Apple and Pear Galette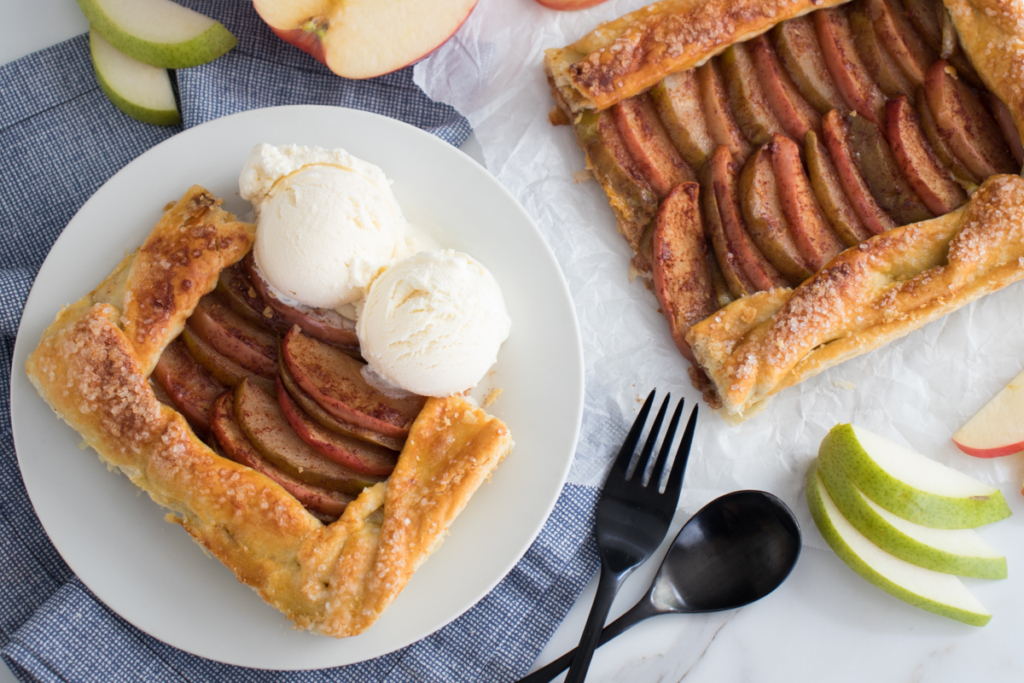 FAQs
Can I use any type of plastic bag?
You can, however, make sure that they are made from polyethylene. Some branded bags are made using polyethylene, a BPA and dioxin-free plastic that can safely handle sous vide cooking temperatures up to 190°F. Some generic branded plastic bags are made using cheaper polyvinyl chloride (PVC), which cannot handle high temps and contains chemicals that can leach into food.
Can I leave my apples in the water bath indefinitely?
You can, but it's best when it's removed after 2 hours; otherwise, the apples may not retain the texture.
The bag with the apples won't stay underwater; what do I do?
This is often a problem with certain proteins, fruit, and vegetables. There are a few ways to prevent the bag from floating at the top of the water bath. A layer of ping pong balls in the immersion bath will keep the food underwater. Alternatively, you can try and weigh down the bag with a couple of large metal serving spoons.