Bhel Puri, or bhel, is akin to the food family of chaats, described as salty, spicy-sour snacks, however, some chaats are sweet as well. Bhel puri is sold on carts and stalls around the busy streets of India, Pakistan, and other South Asian countries. This colorful dish is made of puffed rice, vegetables, and zesty sauces that are best enjoyed in summery weather. Bhel puri is a customary snack among kids and grown-ups in India.
History of Bhel Puri
Bhel puri is often described as a "beach snack" because beaches in Mumbai, including Chowpatty and Juhu, have been its selling hotspots for a long time. According to many historians, bhel puri emanated either from Gujarati cafes or the streets of Bombay, and later spread to other parts of India. Another theory suggests that Bhel puri might have originated from Bhadang, a spicy-salty dish of puffed rice.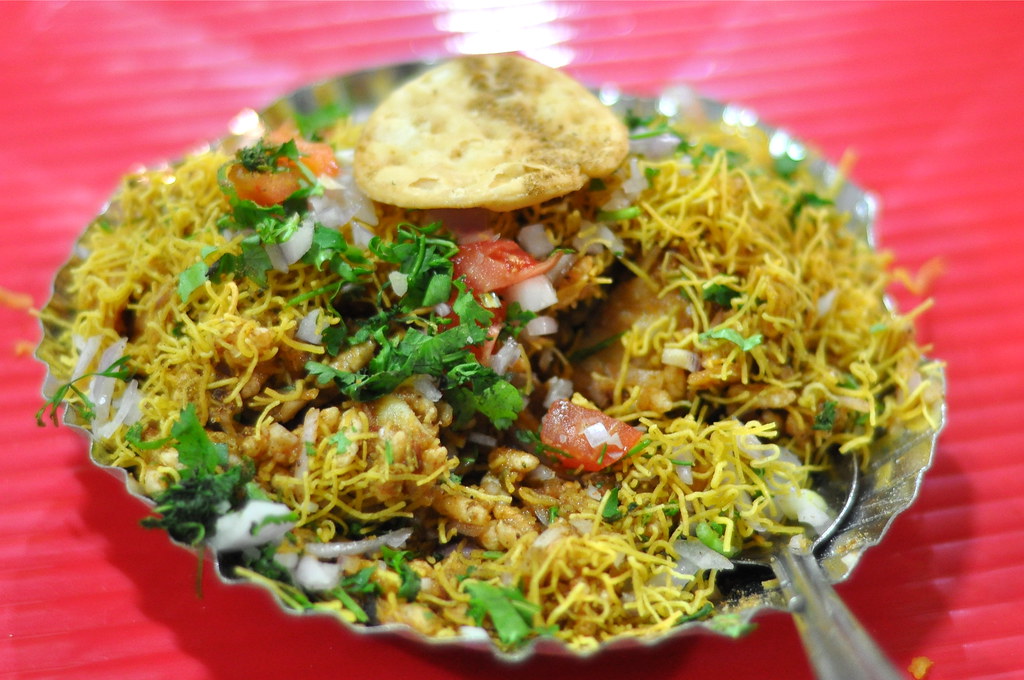 What does Bhel Puri taste like?
Just like chaat, bhel puri offers a mish-mash of flavors and textures including sweet, sour, tangy, spicy, crunchy, and soft. The flavor of bhel puri is majorly defined by the chutneys added including sweet tamarind chutney, spicy green chutney, and hot garlic chutney. Puffed rice, roasted peanuts, crisp sev (fried gram flour noodles), onions, and crushed papri (fried dough) add a nice crunch to bhel puri while the tomatoes, coriander, lemon juice, and chaat masala gives it a vibrancy and an appetizing touch.
How is Bhel Puri Made?
Bhel puri is a quick snack that takes no more than 2 minutes to assemble. Puffed rice is slightly roasted in a little oil and transferred to the serving bowl where tamarind chutney, green chutney, and garlic chutney are thoroughly mixed into it. Chopped vegetables including tomatoes, onions, and boiled potatoes are added to the rice mixture followed by adding layers of sev, papri, and a sprinkle of chaat masala. Some people also add yogurt over their bhel puri to make it less spicy and more flavorful.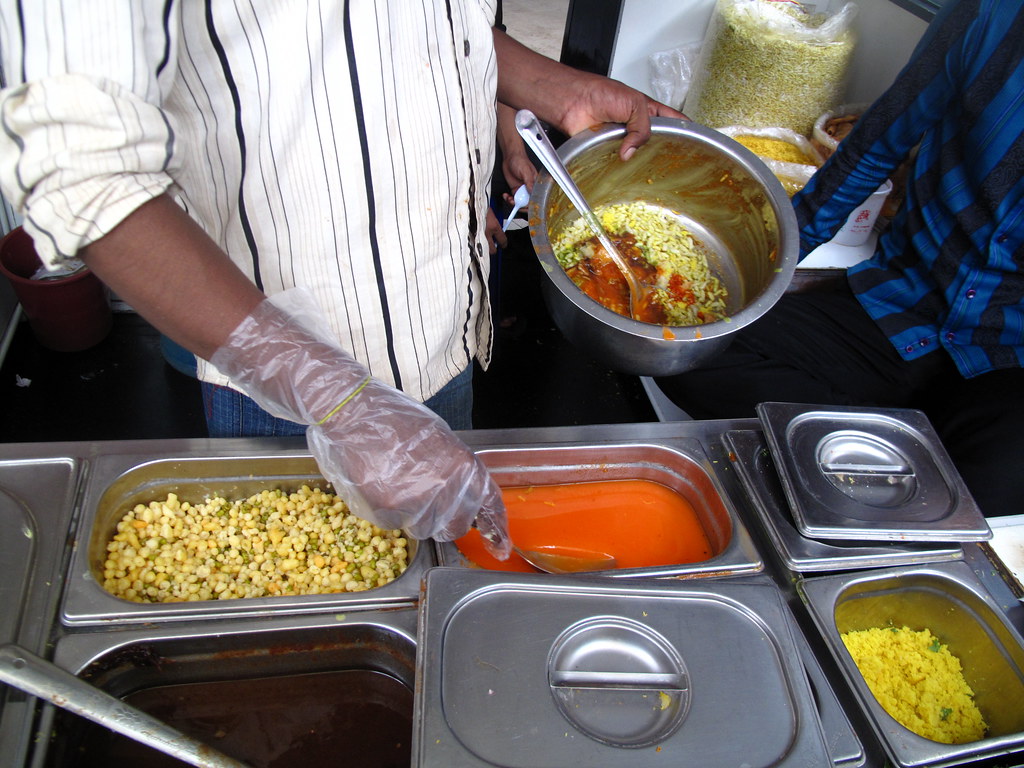 Bhel puri is served alongside puri, round fried pieces of bread that serve the purpose of an edible spoon to scoop up the bhel. The puri can also be torn and topped over the chaat for added crispness. Some vendors sell bhel puri in paper cones while others serve it in palm-size bowls with a spoon.
Bhel Puri Variations
1. Wet Bhel Puri is the original form of bhel puri that's also called "geela bhel" in India. In this version, chutneys are used with other bhel ingredients.
2. Dry Bhel Puri, also called "sukha bhel" in India, includes puffed rice mixed with roasted peanuts, masala chana daal, spiced salts, papri, and sev. It is slightly different from "wet bhel puri" because it does not include any liquid chutneys.
3. Other variations of Bhel puri are Jhal Muri from Kolkata and Churumuri from Karnataka which slightly differ in spices and seasonings compared to the original recipe.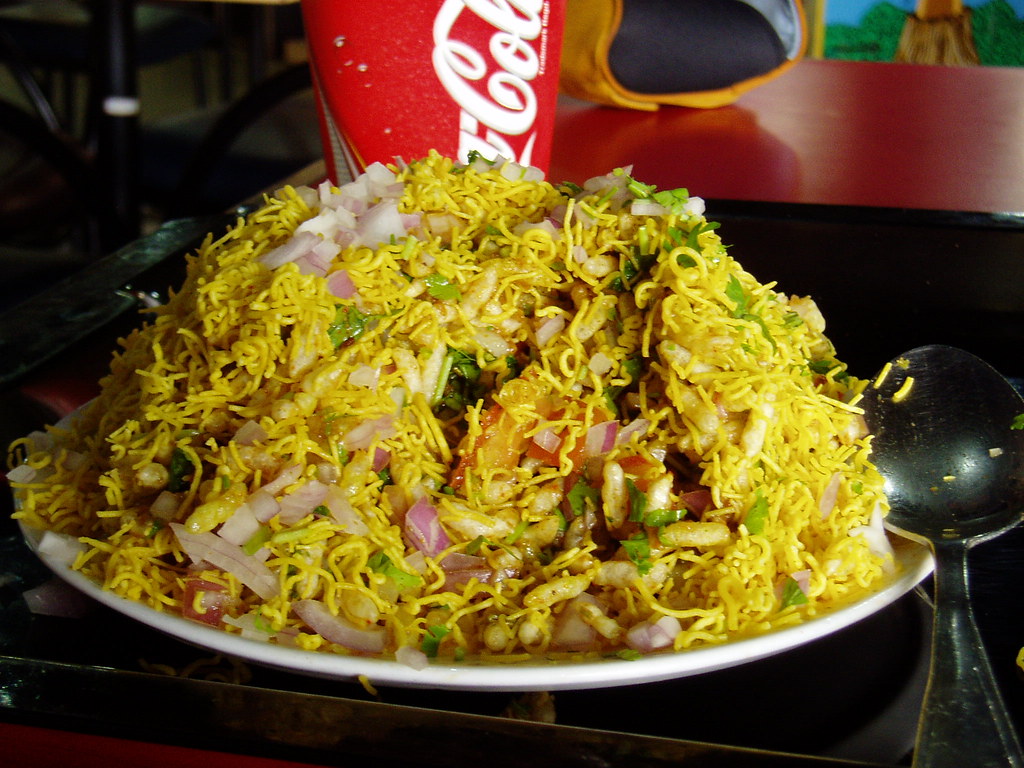 Feature Image: Flickr user gsz ( CC BY-NC-ND 2.0 )