There are times when you crave pizza, and you want it now! So there is definitely a time and place for quick pizza dough. However, sometimes you want a lighter, chewier pizza, and you have time on your hands for a project, and let's be honest, making classic pizza dough is a project, but it is definitely worth the effort.

Many pizza aficionados say you should only use 00 flour; some say a blend of all-purpose flour and 00 flour works best for flavor; you can even make it with only all-purpose flour or just bread flour. I've tested all of the above, and my personal favorite is below.

Many Italians would turn in their grave at the thought of adding sugar to pizza dough because traditionally, Neapolitan pizza should only contain four ingredients: flour, yeast, salt, and water. Sugar is not necessarily needed with a long ferment, as it is mainly used to kickstart the yeast. With the extended time, the yeast will naturally kick in, so sugar is not essential. The benefit of adding sugar is that it can help to brown the crust. Typically, the high heat from a pizza oven will naturally char any pizza dough. With a conventional oven it can be difficult to replicate this process. Adding a touch of sugar to your pizza dough allows you to get the same browning, but in a conventional oven.
In this pizza dough recipe I used a trick I learned at culinary school by mixing a touch of honey into the water and yeast. The natural sugars in the honey slowly ferment without rushing the fermentation process, yielding a lighter crust and an additional slight flavor.

In this recipe, the dough rests at room temperature for 4 hours before being transferred to the fridge for 24 hours (or atleast overnight). The cold fermentation process is the secret to a light and airy pizza crust. The dough is then divided in half and proofed for 1 hour at room temperature, which makes the dough malleable and easy to shape. If you want to make this dough in advance, you can let it sit in fridge for up to 72 hours. I have tried 48 hours, and the resulting crust was a little fluffier and chewier than the 24 hour rest, but who can wait two to three days for pizza? (Not me!).

Once shaped into 10-inch rounds, you can use any toppings of your choice or use the dough to make salad flatbread, sausage pizza, or pesto-spinach ricotta flatbread. Once you have added your toppings, you can either cook your pizza on a stone in a searing hot oven, on a red-hot grill with the lid closed, or in your conventional oven cranked up to the highest temperature on an oiled baking sheet for 7 to 10 minutes. You can finish off the top of the pizza under the broiler for 1 minute to replicate the charred top that you would get from a pizza oven.

I made a classic Neapolitan Margherita with my dough. Each pizza round only needs about five tablespoons of crushed tomatoes (mixed with a large pinch of salt beforehand). I stirred some finely chopped fresh oregano into the tomatoes to add a layer of flavor. I spread the tomatoes all over the base, leaving about a 1-inch edge for the crust, brushed the edges with extra-virgin olive oil, and then topped it simply with some thin slices of fresh mozzarella and some torn fresh basil leaves. You may like to add the basil after cooking for added freshness.
| | | | |
| --- | --- | --- | --- |
| Serving | Active Time | Preheat | Cook Time |
| Makes 2 (10-inch) pizza rounds | 30 minutes, plus proofing, resting, and rising | 30 minutes | 8 to 12 minutes |
Ingredients and Tools
Equipment
Small and Large bowl
Cutting board
Large sheet pans
Whisk
Ingredients
2 cups bread flour (11½ oz), plus more for kneading
1½ tsp kosher salt
1 cup warm water
1½ tsp honey
1½ tsp active dry yeast
1½ extra-virgin olive oil, plus more for greasing
Directions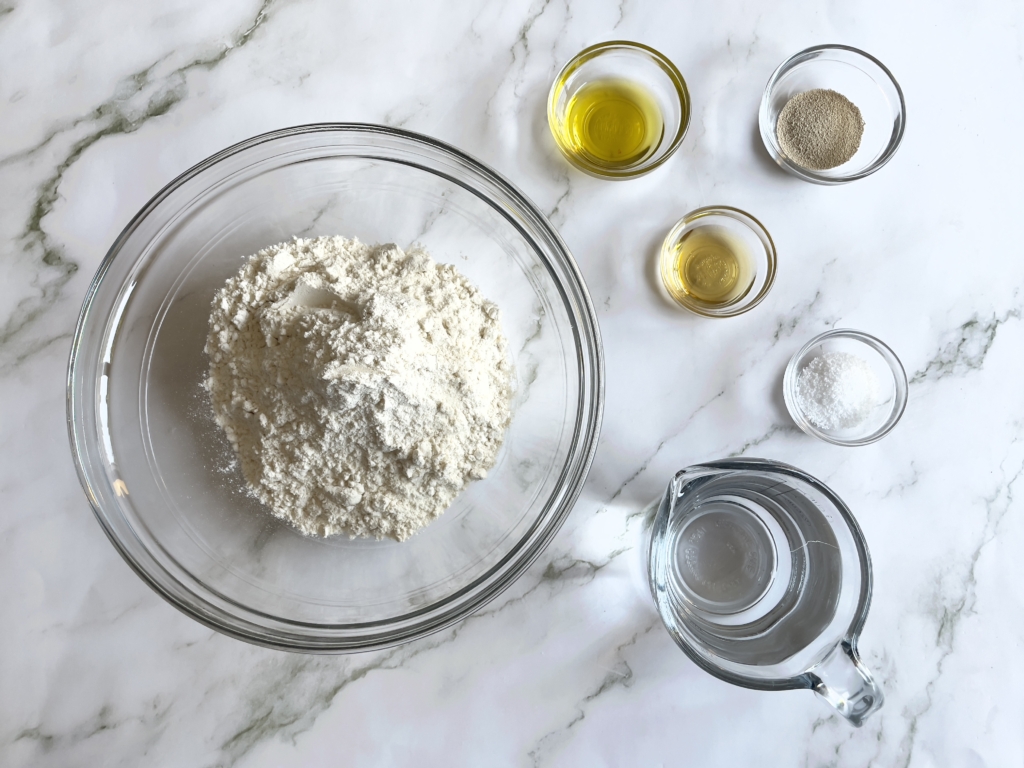 1) In a large mixing bowl, whisk together 2 cups bread flour and 1½ tsp salt.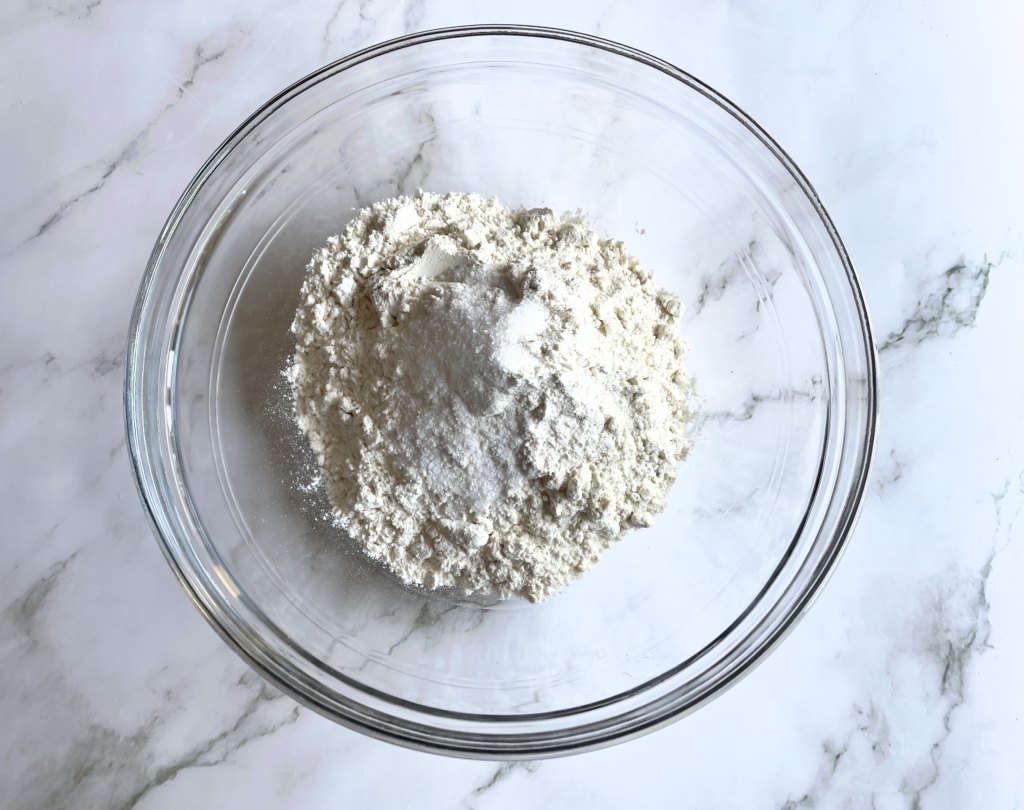 2) In a small bowl or measuring cup with pouring spout, whisk 1 cup of warm tap water (ideally around 110°F) with 1½ tsp honey until dissolved. Sprinkle in 1½ tsp active dry yeast. Allow to rest for 5 to 10 minutes to allow the yeast to bloom and create a frothy surface. Then stir in 1½ tsp olive oil.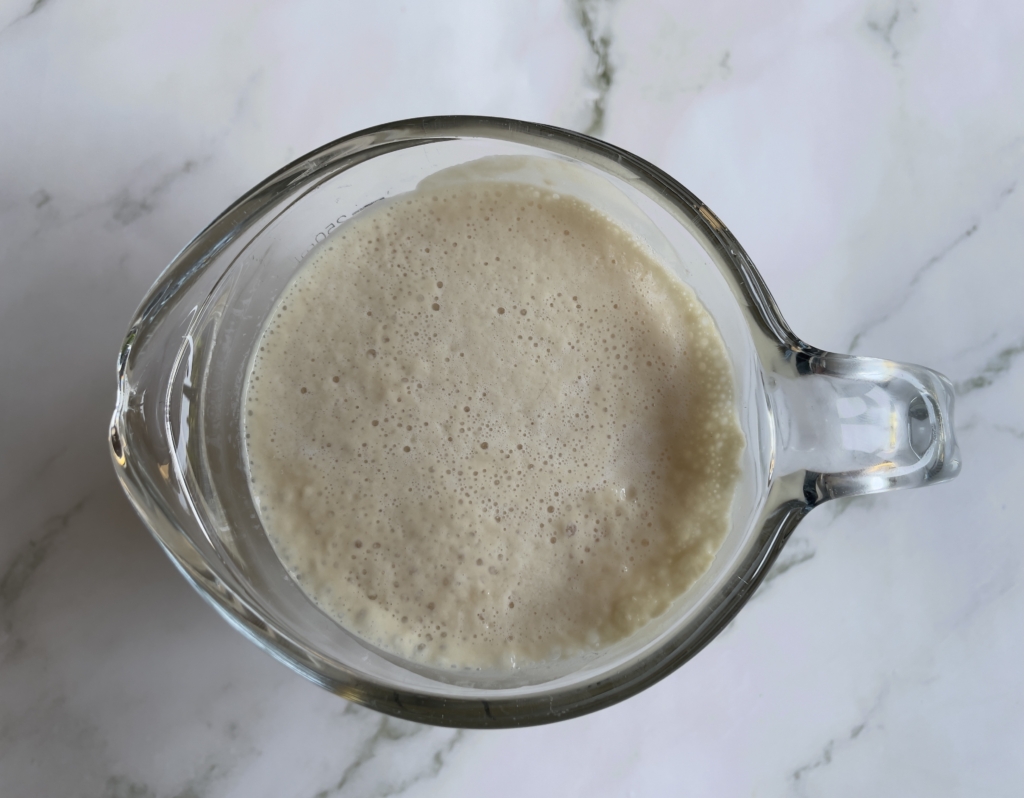 3) Pour yeast mixture into the large bowl with flour and salt. Combine and knead for around 3 minutes until a shaggy dough has formed. It may be sticky at this stage. Allow to rest for 15 minutes.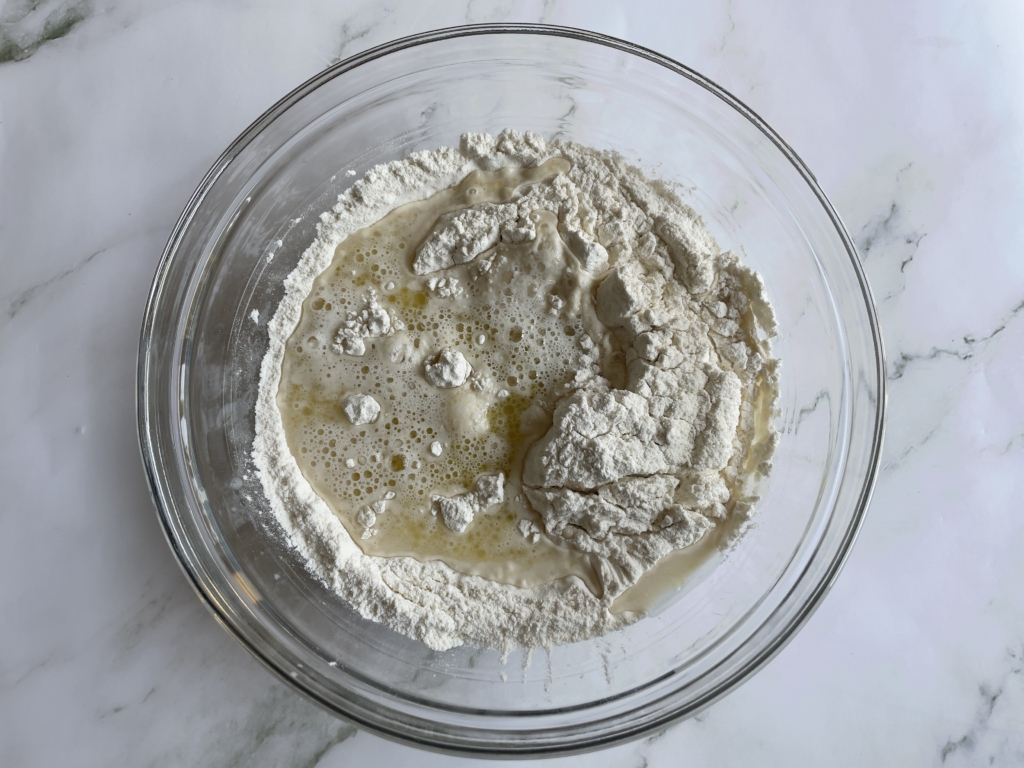 4) Turn dough out onto a heavily floured board; knead for a further 3 minutes. Depending on the day's humidity, you may need to add an additional tablespoon or two of water to the dough before turning it out if it is too dry, or a sprinkle of extra flour if it's too wet.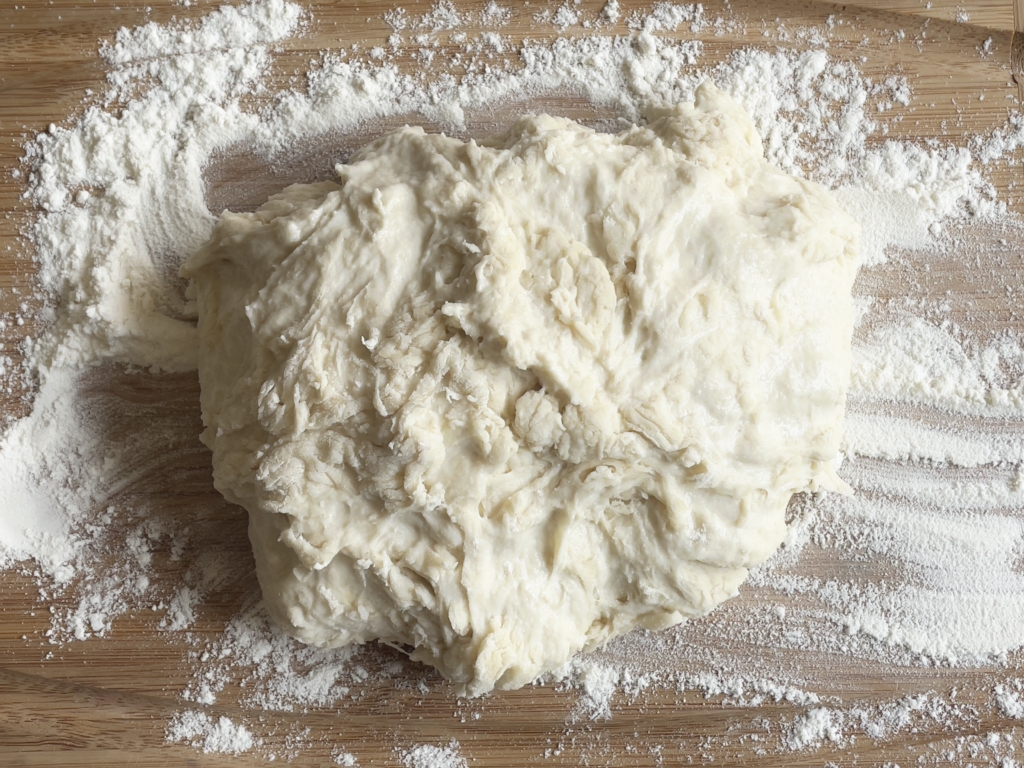 5) Transfer to a large greased bowl, rubbing a little oil onto the surface of the dough to avoid a skin forming. Cover with cling wrap and allow to rest and rise at room temperature for 4 hours.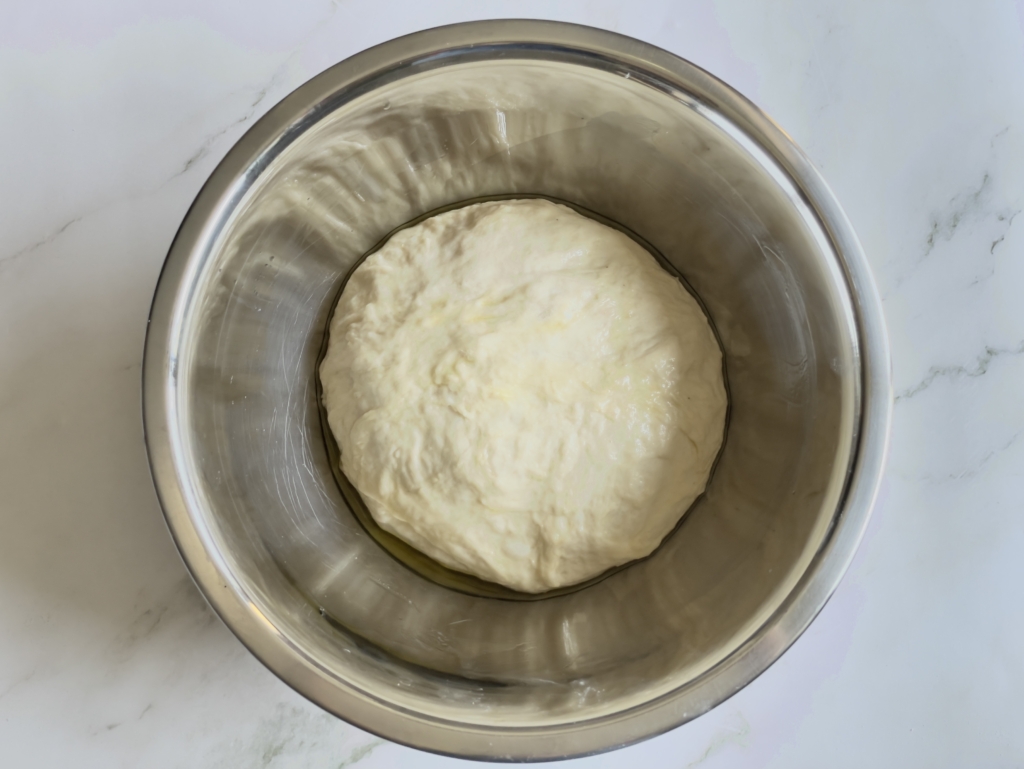 6) Making sure it is securely wrapped, transfer bowl to the refrigerator for 24 hours or at least overnight.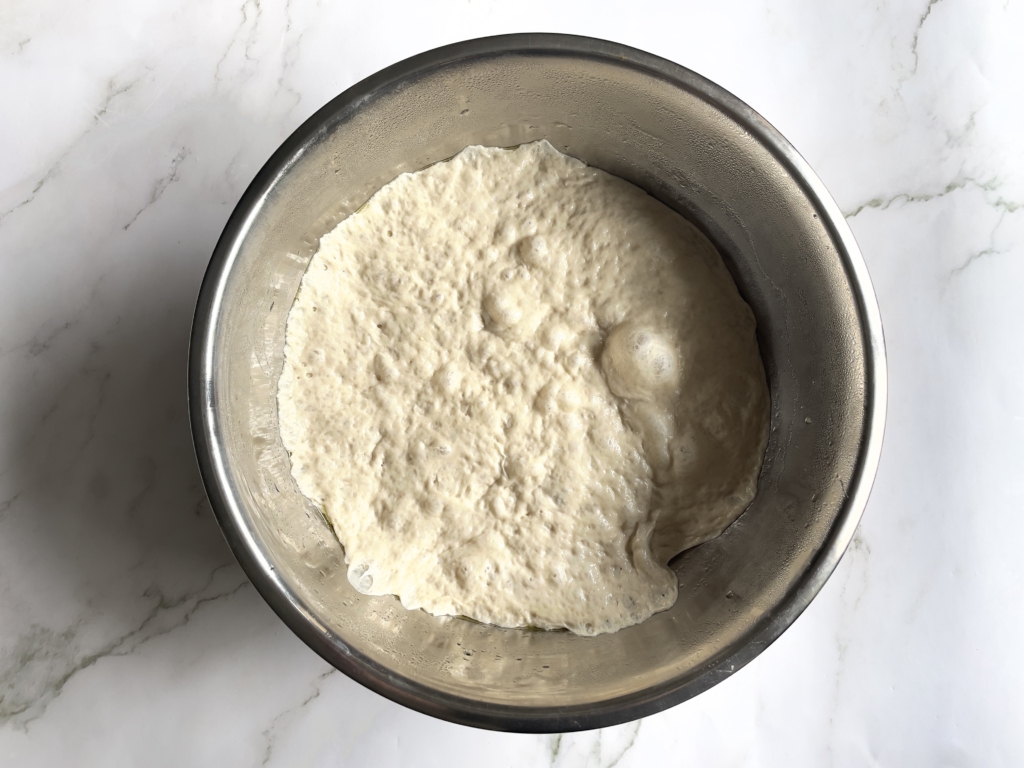 7) Turn dough out onto a heavily floured board. Cut into 2 equal pieces using a bench scraper or knife. Shape into 2 balls, making sure the seam is underneath. Transfer to a floured board or baking sheet. Lightly cover with a clean, dampened dishcloth or greased cling wrap. Allow to rest for around 1 hour until it gets to room temperature. Depending on the room's temperature and humidity, this may take less or more time.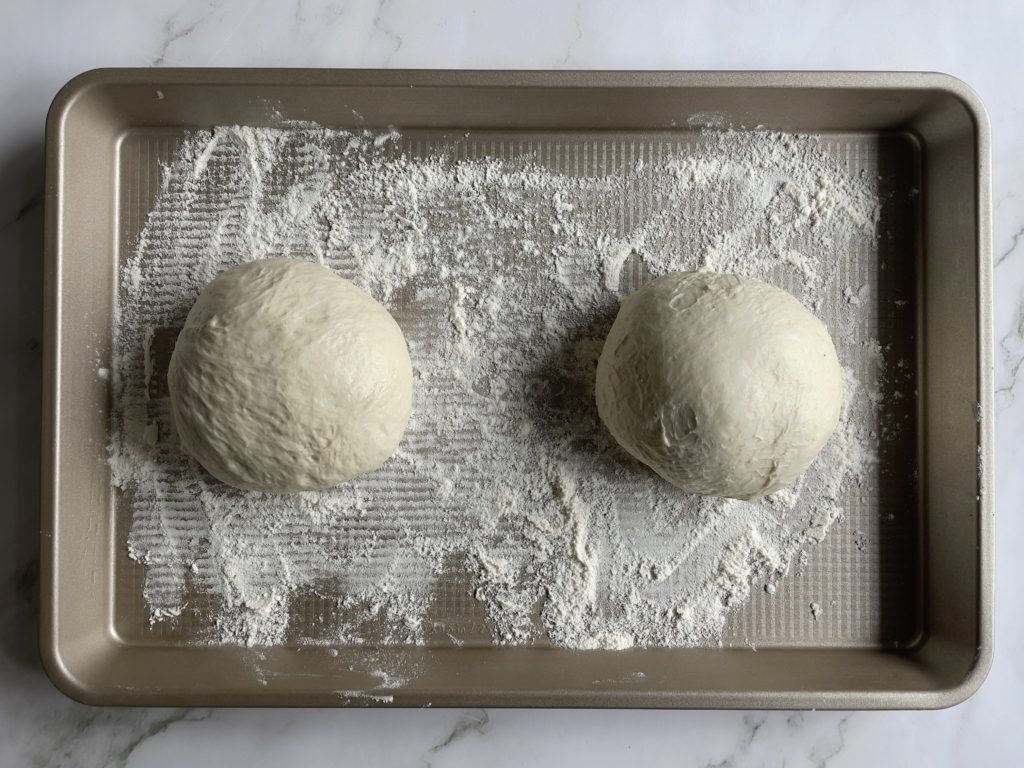 8) When ready to cook, preheat your oven to the highest setting (around 500°F). Place each dough ball on a separate greased sheet pan and use your fingers to stretch, then lift the dough and hold at 10 and 2 o'clock positions with your knuckles underneath, rotating and stretching from underneath into 10-inch rounds. Add toppings of your choice and bake for around 7 to 10 minutes. Finish off under the broiler for 1 minute to create a charred, browned crust and bubbly top. Garnish with torn fresh basil or oregano leaves.
Suvie Cook Settings
Bottom Zone: Roast at 400°F for 30 minutes
Top Zone: Roast at 400°F for 30 minutes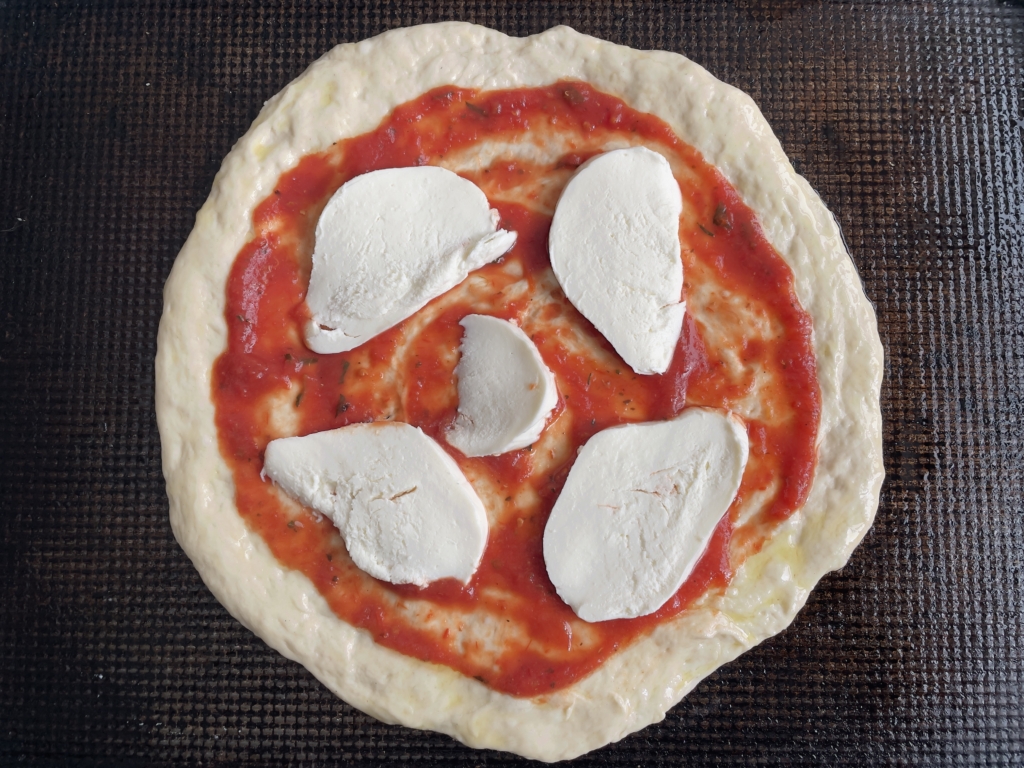 9) After roasting, broil pizza at 500°F for 2-3 minutes or until charred in spots and bubbling.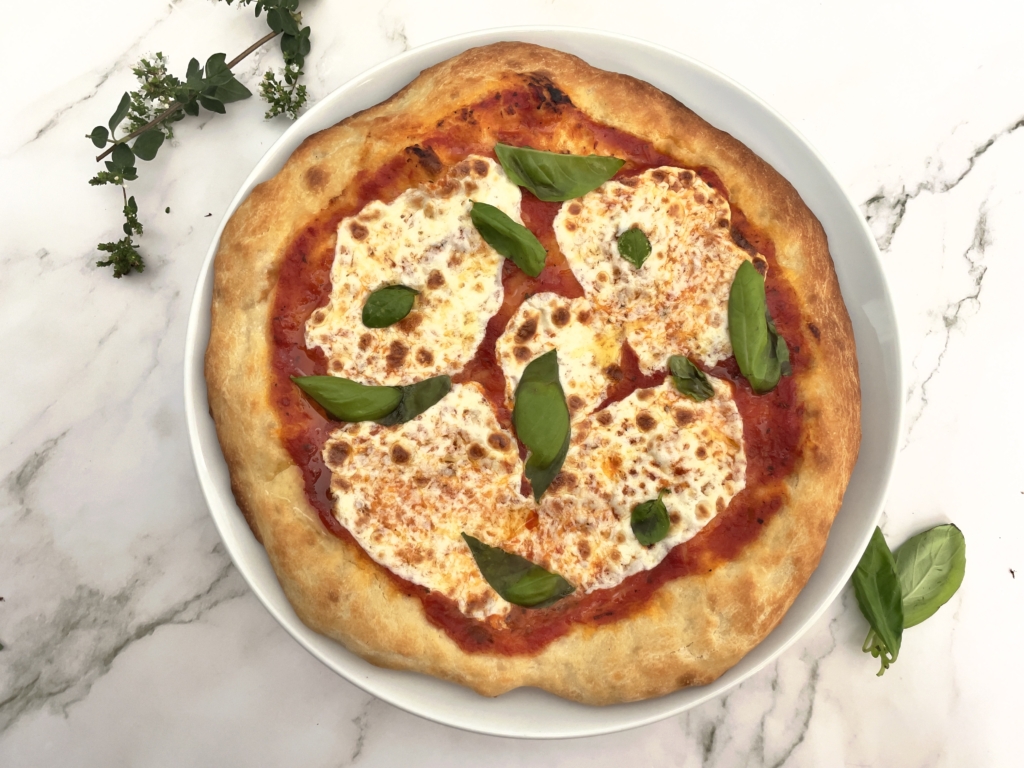 Recipes to try
FAQs
Do I need to use 00 flour?
I've tested pizza dough with all types of flour, even using purely all-purpose flour. They all bring something different to the party, but I found a 50/50 all-purpose flour and 00 flour gives the best flavor, but 100% bread flour gives the best chewiness, but honestly, any flour would work!
Help, the dough is too sticky!
A few things can cause sticky dough; either the dough is over-hydrated and needs a little more flour, or it just needs to be kneaded for longer for the gluten to develop. Make sure to use a well-floured surface when kneading the dough, and rub some flour into your hands before you start. If the dough is still too sticky after a minute or so, try adding a little bit of flour.
Can I make the dough and store it for later?
The dough will last in the fridge for 3 days, and some say the longer, the better, and it's better for it! You can freeze pizza dough for 3 to 4 months, but you should defrost overnight in the fridge beforehand.
Can I make the dough in my stand mixer with a dough hook?
Yes, you can. Pour the warm water, olive oil, honey, and yeast into the stand mixer bowl, and briefly mix for 15 seconds. Allow to rest for 5 to 10 minutes. Add the flour and salt and use the dough hook on a low setting for 5 to 7 minutes. You may need to sprinkle the dough with a little extra flour if it's sticking to the bowl. Then continue with the 4-hour room temperature rise, then the 24-hour refrigerator cold ferment.